Deadly floods that have engulfed the northern Italian region of Emilia Romagna, killing at least 14 people, are another sign of the accelerating climate crisis, according to researchers.
The floods come after years of severe drought in the region, which has compacted the soil, reducing its ability to abemsorb rainfall.
"Rising temperatures intensify drought episodes, drying up the soil and changing its permeability in different ways," Mauro Rossi, a researcher at the Research Institute for Geo-Hydrological Protection, part of the Italian National Research Council, said on Wednesday n a press release.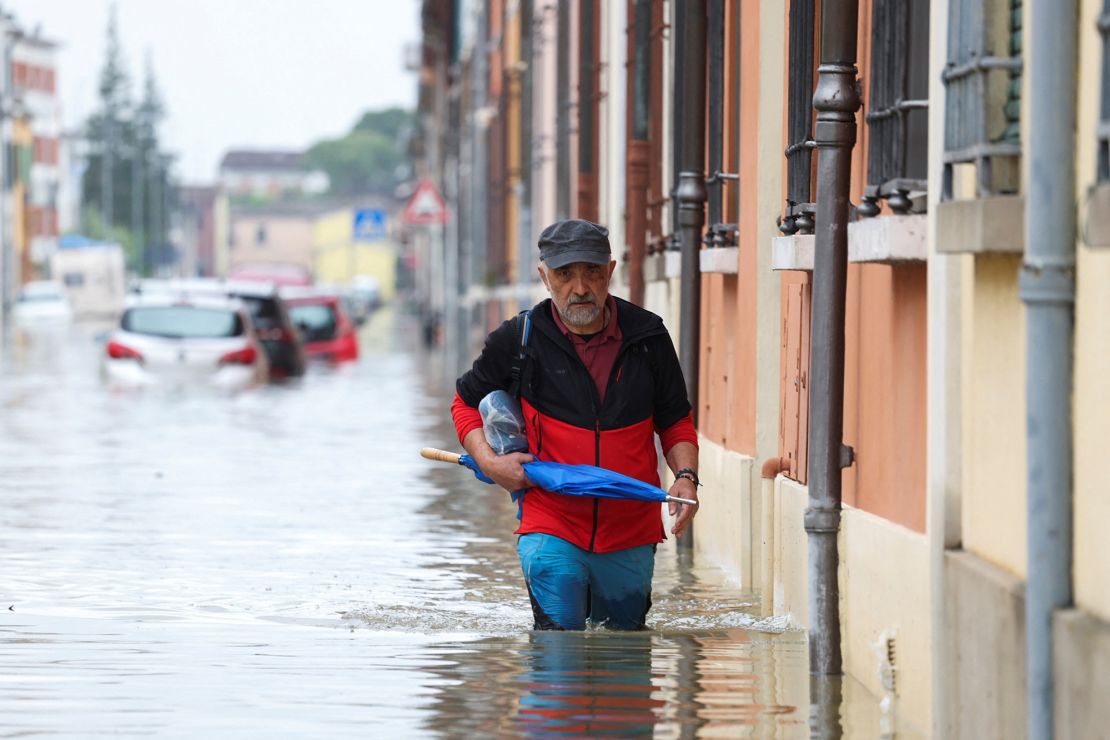 Extreme amounts of water falling over a short period of time exacerbate runoff, Rossi said, causing excess water to drain toward the rivers, which respond by "overflowing, burrowing and changing their riverbeds."
More than 20 rivers in the region have burst their banks, prompting a wave of 280 landslides, the Civil Protection department said Thursday.
Among those killed was an 84-year-old man, whose body was found in the mud in the courtyard of his house in the town of Faenza. Further east, in the village of Ronta di Cesena, a married couple also died.
Up to 20,000 people have been forced to leave their homes and as many as 27,000 have been left without power, according to Enel, the Italian multinational manufacturer and distributor of electricity and gas.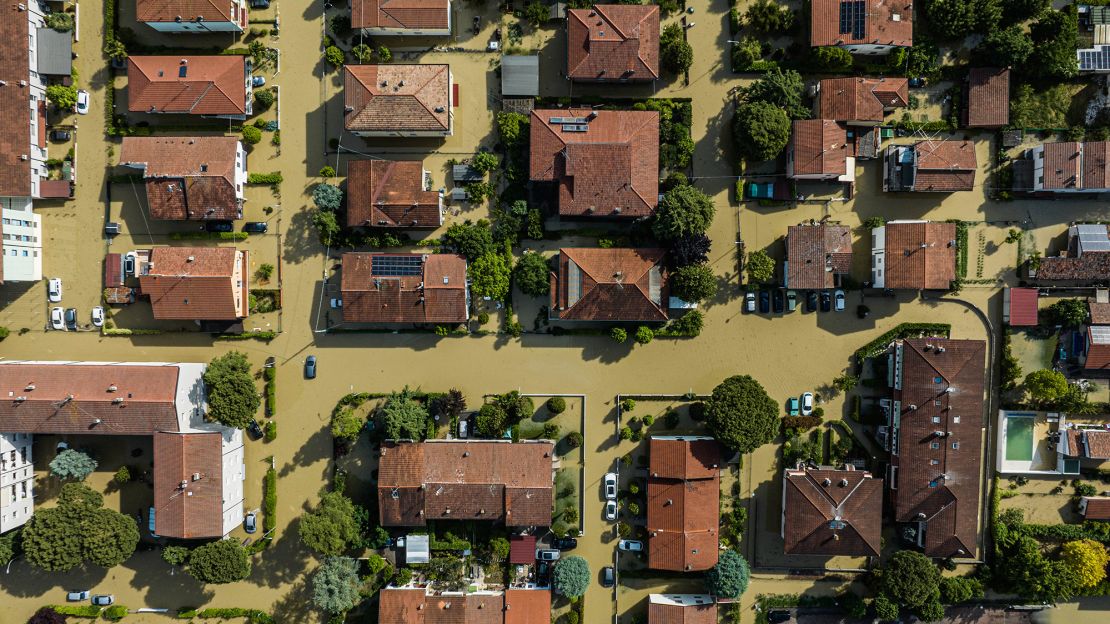 The floods have also devastated farmland.
According to Coldiretti, a farmers association, more than 5,000 farms were under water in Emilia Romagna, which includes an area known as "Fruit Valley," as well as corn and grain fields.
Greenhouses and stables have also been flooded, with reports of drowned animals, Coldiretti said Thursday in a press release.
A 'new earthqake'
Stefano Bonaccini, the president of Emilia Romagna, described the scale of the destruction as a "new earthquake," just days before the anniversary of the earthquake that ripped through the region in 2012, killing 28 people.
"We have rebuilt almost everything, but today we are facing another earthquake," Bonaccini said at a press conference on Thursday.
"We must have strength," he said, adding that the government needed to implement "urgent and extraordinary measures."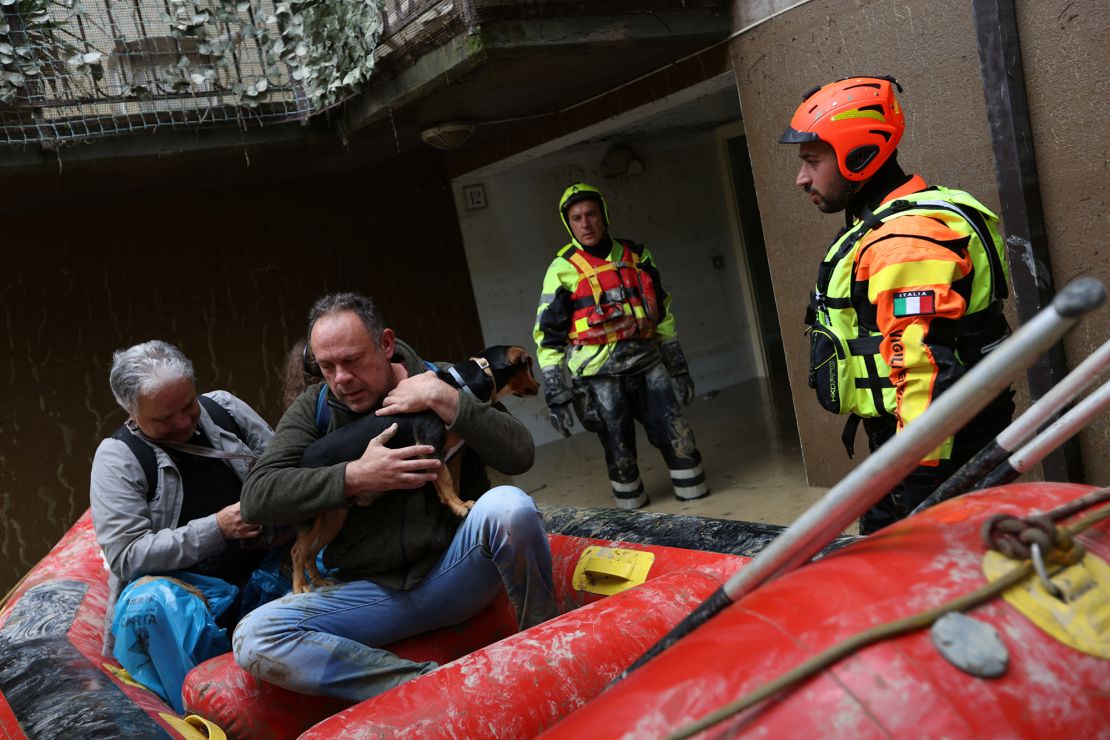 Relief operations are ongoing, with 1,097 firefighters deployed in the region, according to authorities
Some Italian environmentalists have criticized the government for a lack of preparedness.
The climate crisis "is affecting territories with increasingly intense extreme events, with risks to people's lives, and impacts on the environment and the economy. And Italy once again proves unprepared," Italian environmentalist association Legambiente said Thursday in a press release.
While it's too soon to know for certain what role climate change played in the floods, scientists say that, as levels of planet-heating pollution increase, the world can expect more frequent and more severe extreme weather.
Italy is particularly vulnerable to climate change due to its geography, which puts it at high risk of landslides, and because it is surrounded by the warming Mediterranean Sea, increasing the chance of strong storms.
Federico Spadini, a spokesman for Greenpeace Italy's climate campaign, said extreme weather events "risk becoming the norm if we do not urgently address the causes of the climate crisis."
"We are not facing simple episodes of bad weather, but real tragedies fueled by global warming that have clear perpetrators. Continuing to extract and burn gas and oil is a crime that will increasingly aggravate the climate emergency, with loss of life, environmental destruction, and serious economic and social impacts," Spadini added.
CNN's Niamh Kennedy and Barbie Latza Nadeau contributed reporting.