Camera trained on a ball hanging precariously over the hole, golf fans tuning in to the PGA Championship on Saturday might have been forgiven for thinking their TVs had frozen.
That was the picture, unmoving, for more than 30 seconds. Then, it dropped in.
Satisfaction for an elated crowd, but not for the ball's owner Lee Hodges, who was subsequently hit with a one stroke penalty.
The American golfer had been putting to save par at the 17th hole of a rain-soaked third round at Oak Hill Country Club in Rochester, New York when his ball paused on the edge of the cup.
"I think it's gonna go," playing partner Jordan Spieth correctly predicted, but Hodges was deemed to have violated Rule 13.3a of the Rules of Golf, which states that a player is allowed "reasonable" time to reach the hole and 10 further seconds to wait and see if the ball drops in.
Hodges would have made par had his ball dropped in during this time, but as it was classed as being "at rest", an additional penalty stroke saw him card a bogey for the hole.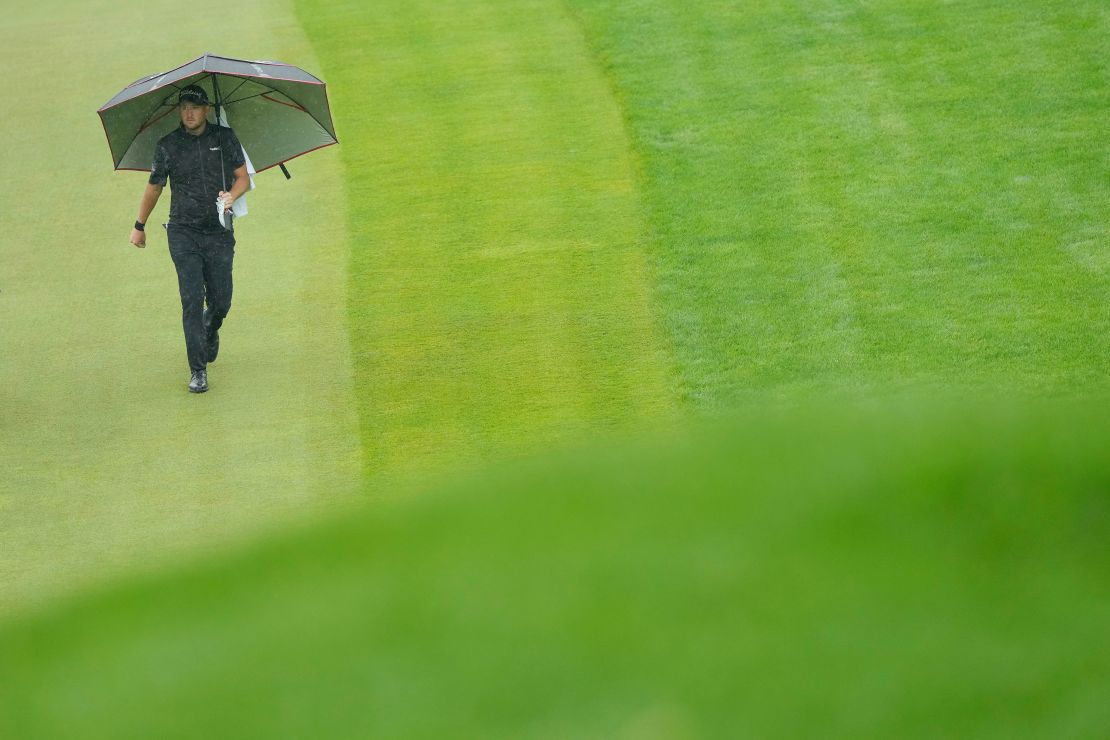 "During play of the 17th hole, Hodges played his first putt to the edge of the hole and after having walked up to the hole, behind his ball, he then waited more than 10 seconds," the PGA Championship Rules Committee said in a statement.
"The ball then fell into the hole, after the 10-second limit provided for in the Rule. As a result, Hodges received a one-stroke penalty, under Rule 13.3a, and the ball was holed."
Hodges finished with a third consecutive bogey to card a five-over 75 for the round and 10-over overall. The world No. 143 shot 75 and 70 to make the cut on his debut at the major.
Three-time major champion Spieth is four strokes ahead of his compatriot at six-over overall. The Dallas-born golfer arrived in Oak Hill bidding to become just the sixth golfer to win all four majors in the modern era, but will require a minor miracle to achieve the feat come Sunday.
Six-over par was 11 shots adrift of the score shared by the leading trio Scottie Scheffler, Corey Conners, and Viktor Hovland after the second round.