When Erin Kennedy returns to the boat at the upcoming European Rowing Championships, the occasion will certainly be a joyful one.
The first day of competition in the championships, which run from 25-28 May in Slovenia, will be exactly one year to the day since the 2020 Paralympic champion was diagnosed with breast cancer.
Kennedy describes the past year as "really humbling" and a "slog," but says it feels "amazing" to once again be selected to represent Team GB in an international competition.
"It's been emotional, to be honest," she told CNN Sport's Amanda Davies. "It's something I've been sort of dreaming of and kind of manifesting and trying to work towards for the last year.
"And so to actually be here and talk about the European Championships, which is actually happening next week, and I'm going to be going and racing a year after diagnosis, is pretty incredible."
Kennedy, a coxswain for Team GB, won gold at the 2022 European Championships in Munich in the PR3 mixed coxed four after her diagnosis, but then stepped away from the sport to focus on her cancer treatment.
In the last year, the 30-year-old has undergone 15 rounds of chemotherapy – the final round only finishing in December – and in January underwent a double mastectomy before she was given the all clear.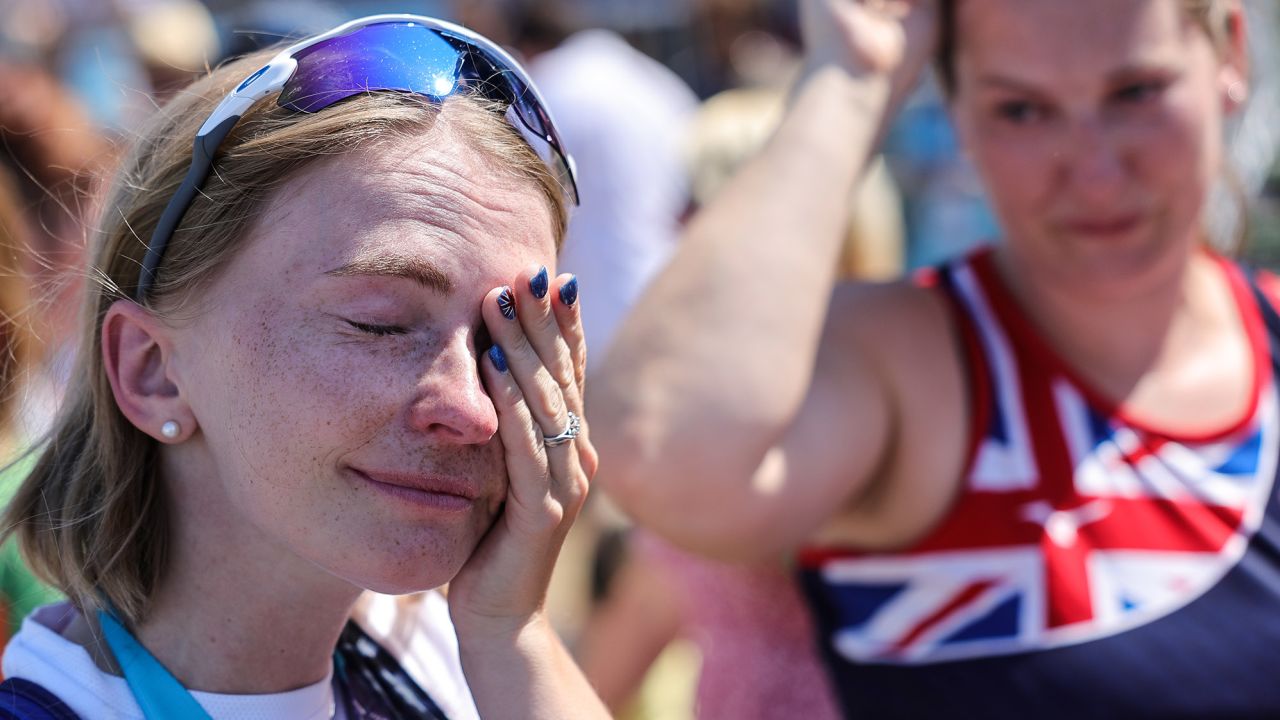 "It's been a slog, I'm not going to lie," she said. "I wouldn't recommend it to anybody, but it's been something that's been really humbling. It's been very real. I have just kind of gone through things I never thought I would as a 29, 30-year-old, from fertility preservation through to kind of chemotherapy, hair loss.
"You've seen some of these pictures, I had a lot of lovely, long blonde hair. It's all gone. All these sorts of things, and then a double mastectomy, which is essentially an amputation, all the way through to coming back.
"It's been big. There's been loads of highs and lows but I think I've tried to really approach it with gratitude for the people around me and I think with gratitude breeds positivity and optimism. Actually, if you think: 'Okay, not what I can't do, but what can I do, what do I have?'
"And that's really helped me sort of build towards coming back and getting selected."
Kennedy, Paralympic champion in the PR3 Mix4+ at Tokyo 2020, said she approached her diagnosis "just like an athlete" and was thankful many of the skills she learned from rowing were able to be transferred to her cancer recovery.
After speaking with her surgeon ahead of the operation, Kennedy said she did extensive "pre-hab" – which included activation stretching and mentally preparing herself for how her body would change – to aid her recovery as best she could.
But above all, she said the team around her has been the key to her returning to the boat.
"Sport has been everything to me in the last five, 10 years of my life," she said.
"But it's actually been so much more important to me during this last year and everything that's [been] going on because it's enabled me to compartmentalize, it's helped me to goal set, it's helped me to be physically fit.
"And the teammate aspect that I'm so used to in a rowing boat, my team's just got bigger and bigger, from my oncology team to my husband, my parents, my family, everyone. It's been a big team effort to essentially get me to where I am and keep me on the right track."
Kennedy's initial goal was just to make the Team GB training camp in Varese, Italy – she says she cried getting on the flight – and it was far from a given that she would get her seat back.
Her task was made all the more difficult given she started the season with nine rounds of chemotherapy, but with everything she had already overcome to date, Kennedy admitted she has allowed herself to dream of becoming European champion again.
"I've started trying to kind of process it," she said. "I do a lot of visualization preparing for races anyway and I've had to do quite a lot of it already, just starting to think about not letting my emotions get the better of me because actually it's a really joyful thing to be able to go and do it.
"But I also have a job to do and I need to make sure that I do my best and the emotions can come afterward.
"I saw some of those pictures of the Europeans last year in August and the emotions are running high, but only after the events. So that's that's my goal: if I can keep the tears in until after we finished, hopefully on the top of the podium."