Katie Taylor is one of women's boxing's 'Mount Rushmore' figures.
The undisputed lightweight world champion, Taylor holds 18 gold medals – including an Olympic gold – and sits second in the Ring's women's pound-for-pound rankings.
Yet, at 36 years old, Taylor has never fought professionally in her native Ireland.
She's fought in England, Wales and the US but featuring in a major event in Ireland has been a long time coming – until now.
On May 20, national hero Taylor will face Chantelle Cameron – the undisputed super-lightweight world champion – at the 3Arena in Dublin in front of a partisan home crowd as she attempts to become a two-weight undisputed world champion.
With two undefeated fighters at the peak of their powers, the event is one of the most highly-anticipated bouts of the year.
However, Saturday's fight is also another landmark moment for Ireland – major boxing promotions moved away from the country after gunmen killed one person during a weigh-in for a boxing match in a Dublin hotel in 2016.
Gunmen, including two disguised as police and another one as a woman, fired shots inside and outside the weigh-in room killing one and injuring two others.
The shooting was not an act of terrorism, a police representative told CNN at the time. Investigators were looking into whether it was gang-related.
Two years before the Dublin hotel shooting, Jamie Moore – Cameron's trainer – was shot in Marbella, Spain, in 2014, outside of the house of Daniel Kinahan, according to the BBC.
On an appearance on 'The All or Nothing Podcast in 2021, Moore said that he has nerve damage in his leg and a bullet in his hip from where he was shot twice. He said his shooting was a case of "wrong place, wrong time."
Kinahan was named as one of the leaders of the Kinahan Transnational Criminal Organization by the US Department of State last year. The US Treasury Department described the group as "a murderous organization involved in the international trafficking of drugs and firearms."
Kinahan's lawyers have denied any criminal wrongdoings. CNN has not been able to independently confirm the allegations made against Kinahan.
Moore trained fighters for MTK Global, a boxing agency who Kinahan had ties to.
MTK Global ceased operating in April 2022.
Before it ceased operations, MTK Global said that it would "comply fully with the sanctions made by the US government against Daniel Kinahan … We will cooperate fully with all authorities and assist with any ongoing investigations."
According to media reports, Moore refused to answer any questions on his links to Kinahan in a press conference in March. CNN has reached out to Moore via his gym in Salford, in northern England, to offer him a right of reply to his alleged links to Kinahan.
Cameron, the 32-year-old from Northampton, United Kingdom, was previously signed to MTK Global but is now signed to Matchroom Boxing alongside Taylor.
Four international boxing promotions have been held across Ireland over the last six months, according to Mel Christle, chairman of the Boxing Union of Ireland.
"It is true to say that there has not been a boxing event of this magnitude ever in Ireland," Christle told CNN of the bout between Taylor and Moore.
"There are no fewer than three world title events on the 3Arena bill. The presence of Katie Taylor headlining the bill, in her hometown, is making it a huge sporting event for Ireland," added Christie.
The Irish police, An Garda Síochána, told CNN in a statement that it "puts in place appropriate and proportionate policing plans for major events."
Taylor has developed into the biggest name in women's boxing, beating allcomers, including a mammoth clash against Amanda Serrano in April last year – the first women's boxing match to headline Madison Square Garden.
But outside of all her achievements so far in her career, coming home to fight in front of a home crowd in a professional bout for the first time – she has previously fought in amateur fights in Ireland – means even more to her.
"This is absolutely incredible. One of the things that I wanted to achieve when I first turned pro six years ago was to fight here at home," she said during a pre-fight press conference. "And this is a nation who love their sport, who love their boxing.
"For a very small nation, we're very, very good at it as well so its amazing to be bringing bigtime boxing back to this nation again where it belongs. And this isn't any normal fight. This is undisputed champion vs. undisputed champion. This is a very special fight, one of the biggest fights of boxing I believe.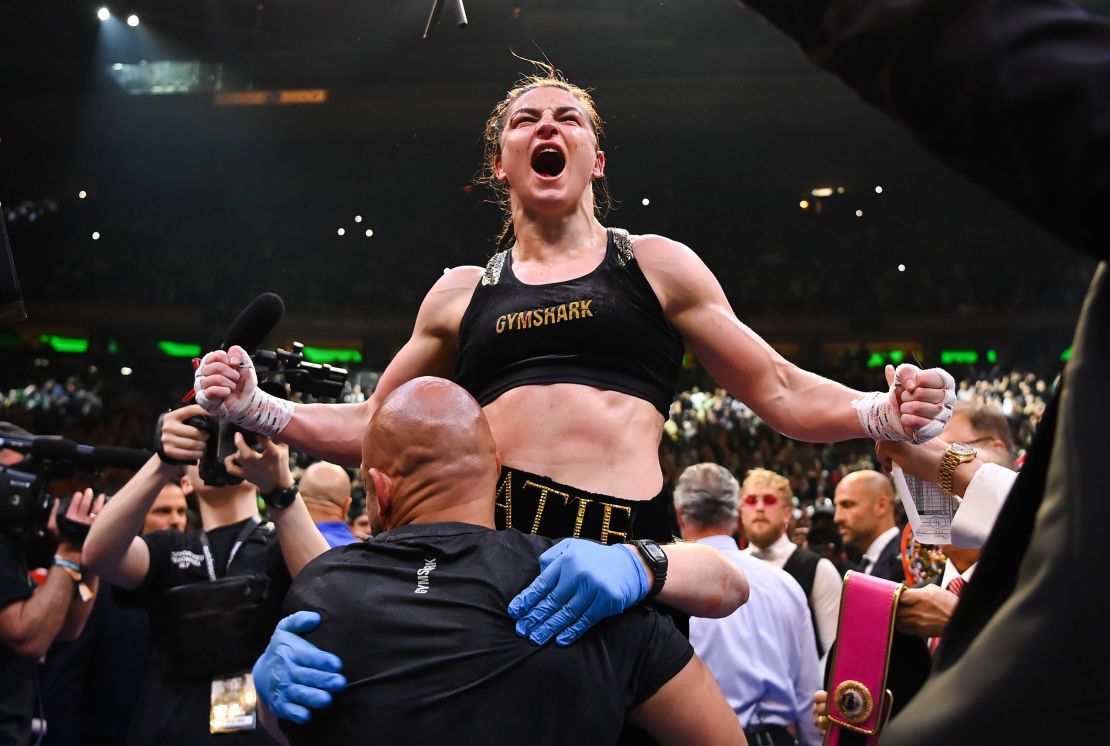 "I think we're definitely turning over a new leaf for Irish boxing. Hopefully this is the first night of many nights here in Ireland.
"And even looking at the public workout the other day, just looking at so many young fighters there, young girls watching there watching the public workout, they're looking up to myself and Chantelle and all these other fighters, it's absolutely fantastic. It's great to be in the position where you're influencing the next generation of fighters. They're going to grow up with big dreams and big ambitions as well which is absolutely as well."
According to the 3Arena website ticket prices to watch Saturday's event range from €80 ($86) to €750 ($808), with a VIP package costing €1,500 ($1,616).
Eddie Hearn, chairman of Matchroom Sport, said that the promoters had originally wanted the fight to be staged at Croke Park, which has a capacity of 82,000, but had to settle for the 3Arena which has 10% the capacity.
Hearn said Taylor's appearance in Dublin is just the first of many boxing events that he wants to bring to the city.
"What we love is to come to cities and places that have passion, love a great night out, love entertainment, make noise, produce great TV, great visuals and great atmospheres and nights we'll never forget," he said during an interview earlier this week.
"And as far as I'm concerned, Dublin is the No. 1 place for that. It's amazing to think that world championship, big time boxing is back in the city this Saturday.
"It's a brilliant night of boxing and I believe it's going to be the first of many back in this city."