It has been described as one of the most incredible moments in sports, brothers-in-arms at the end of a grueling triathlon race in Cozumel, Mexico.
In September 2016, over what were the last 400 yards of the season, triathlete Alistair Brownlee rounded a bend to find his younger brother Jonny in considerable medical distress.
Jonny had been leading the race and was just moments from clinching the world title, but now he could barely stand. They'd been competing in temperatures of 95 degrees with 90% humidity, and the pallor of his cheeks indicated that he was suffering from heat exhaustion.
Alistair instinctively put his arm around him and ran with Jonny to the finish line – pushing him forward to take second place. Alistair then stepped over the line behind him, to claim third.
It was a selfless act that immediately went viral; browsing through the accompanying comments of the various clips on YouTube, it's clear that viewers were profoundly moved by the scene.
Most described their personal emotions as the drama played out; many wrote of the tears they were shedding.
As Jonny was being led away for urgent treatment, Alistair denied that it was an act of brotherly love.
"I've been in that position before," he told the post-race interviewer. "It's as close to death as you're going to be in sport.
"If it would have happened to anyone, I'd have helped them across the line. I just wish the flippin' idiot had paced it right and crossed the finish line first!"
Instinctive action
Seven years later, the brothers are still among the biggest names in triathlon, a sport that is growing in popularity and starting to realize its commercial potential with the creation of the Professional Triathletes Organization.
Both are Olympic champions; Alistair had already won gold at London 2012 and Rio 2016, whilst Jonny went on to win the mixed relay at Tokyo 2020.
They've won 10 world titles between them, but despite all their accomplishments, this is the moment that everyone remembers, and Alistair concedes to CNN that he's asked about it "too often."
"I was running along, thinking about having a cold alcoholic beverage, and I wasn't massively worried about where I finished," he recalls.
Just weeks before, the brothers had claimed gold and silver in Rio, and now it looked as though Jonny would be writing the Brownlee family name into the history books again.
"This is the perfect end to the perfect year," says Alistair, remembering what he was thinking at the time. "And I literally pulled around the last corner to see Johnny stumbling over, slumped into a marker on the side of the course.
"I didn't really have time to make a lucid decision, so within a split second, I grabbed him and started running towards the finish line."
He says it was an instinctive action, and he still can't explain why he did it.
"I've been asked a thousand times why, and in truth I can't really answer."
At the Olympics in Rio, Alistair says that his attitude towards his brother was very different.
"I knew we were going to come first and second in Rio, and he said to me, 'relax, don't overheat,' and at that point I sped up," he says.
"I was making the most of a weakness in my younger brother to win the Olympic Games, unashamedly so. I guess if you're not going to do it at the Olympics, then when are you going to do it?"
But the picture could hardly have been any more different in Mexico, where Alistair propped up his brother, supporting him to the finish, barking encouragement and perhaps even trying to prevent him from slipping into unconsciousness.
He says he was frustrated that his brother had "messed it up," and although he can't remember exactly what he said, he can imagine the type of language he would have been shouting over the sound of the crowd.
"I think I was probably yelling expletives at him … Maybe I should I go back and lip-read it at some point!"
However, what seemed like a euphoric moment was actually fraught with concern. For one, Jonny's condition was serious.
"I was obviously worried, very, very worried for my brother. I was on the phone with my parents at home, because they were panicking."
Both of their parents are doctors, who understood the severity of the situation.
"They've seen us both on intensive care beds, being brought back to consciousness. It must have been awful to watch. Actually, my mum was yelling down the phone, 'What have you done with your brother?'"
Alistair was also concerned that they might have broken the rules and could therefore be disqualified. They hadn't, although the rules were later changed to prevent an athlete in the future aiding the forward motion of another.
And as he put his head on the pillow that night, with his emotions swirling, he was also worried that he may have upset the other athletes, some of whom had previously expressed concern that brothers racing in the same field might have an advantage over the rest.
By morning, though, it was clear that the finish-line drama had only inspired a positive reaction globally.
"I woke up and it was a complete surprise, how mad it had gone," he says.
Brotherly connection
Messages and interview requests were soon pouring in from all over the world. Whilst he had never intended for any of this to happen, he can see that it was a moment that transcended sports, capturing so many hearts and triggering so many emotions.
"Winning in sport is incredibly important, but sometimes there are things more important than that. Family, health, the brotherly connection, I think those were the values that people saw.
"In the spur of the moment, it was the right thing to do. Almost certainly, it's the thing I've done in sport that's had the most reach."
For all that so many others want to talk about this race, Alistair says that he and Jonny have barely discussed it between themselves.
"I don't think we've ever spoken about it seriously," he muses. "We speak about it in light terms. He used to joke that for the next six months, every time we went into a café or restaurant, I'd ask him to pay. He says he's repaid his debt now."
Alistair thinks that because Jonny suffered so much, and because he needed to be helped so publicly by his older brother, that it might be harder for him to discuss.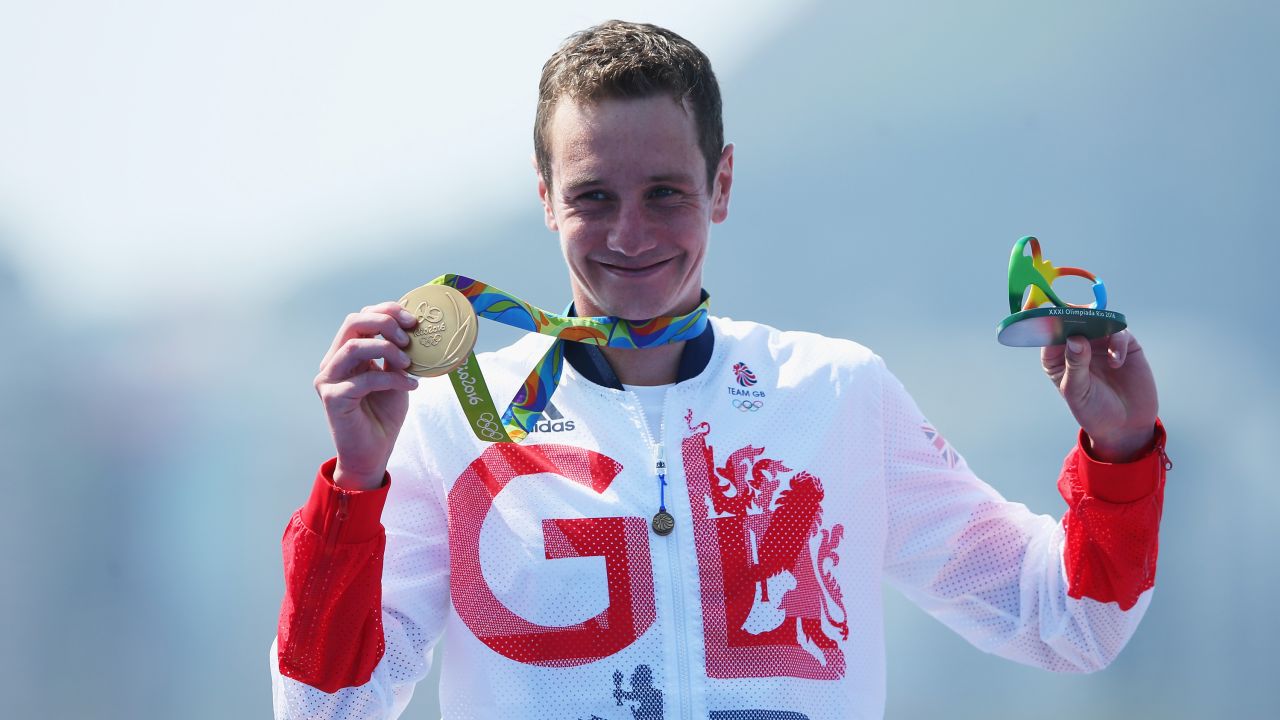 Certainly, when they made a television appearance in the UK several days later, Jonny couldn't even watch it.
"You feel incredibly stupid," he explained, "because I gave away a world championship gold medal. And as an athlete, you don't want to see yourself go through that and go to your next race with those memories."
In 2010, when something similar happened to Alistair in London, he said he had no recollection of the last five minutes of the race when eight runners passed him; an hour later, he woke up in a hospital bed.
It just so happens that one of those runners was Jonny, proving that whilst there is undoubtedly a generous amount of brotherly love between them, there is also a healthy dose of sibling rivalry.