Turkey's third-placed presidential election candidate, Sinan Ogan, on Monday backed frontrunner Recep Tayyip Erdogan in a boost ahead of the scheduled runoff vote.
Ogan, who received 5.17% of votes in the first round of the presidential election that took place on May 14, told a news conference in Ankara that he will back the incumbent Erdogan, rather than his challenger Kemal Kilicdaroglu, in the presidential runoff planned for May 28.
Erdogan received 49.52% of votes in the first round, giving him a five-point lead over Kilicdaroglu.
"I announce that we will support the candidate of the People's Alliance President Recep Tayyip Erdogan and invite the voters who voted for us in the first round to vote for Mr. Erdogan," Ogan said.
The decision was made "after deliberation and because we believe that it is the right thing for our country and our people," he added.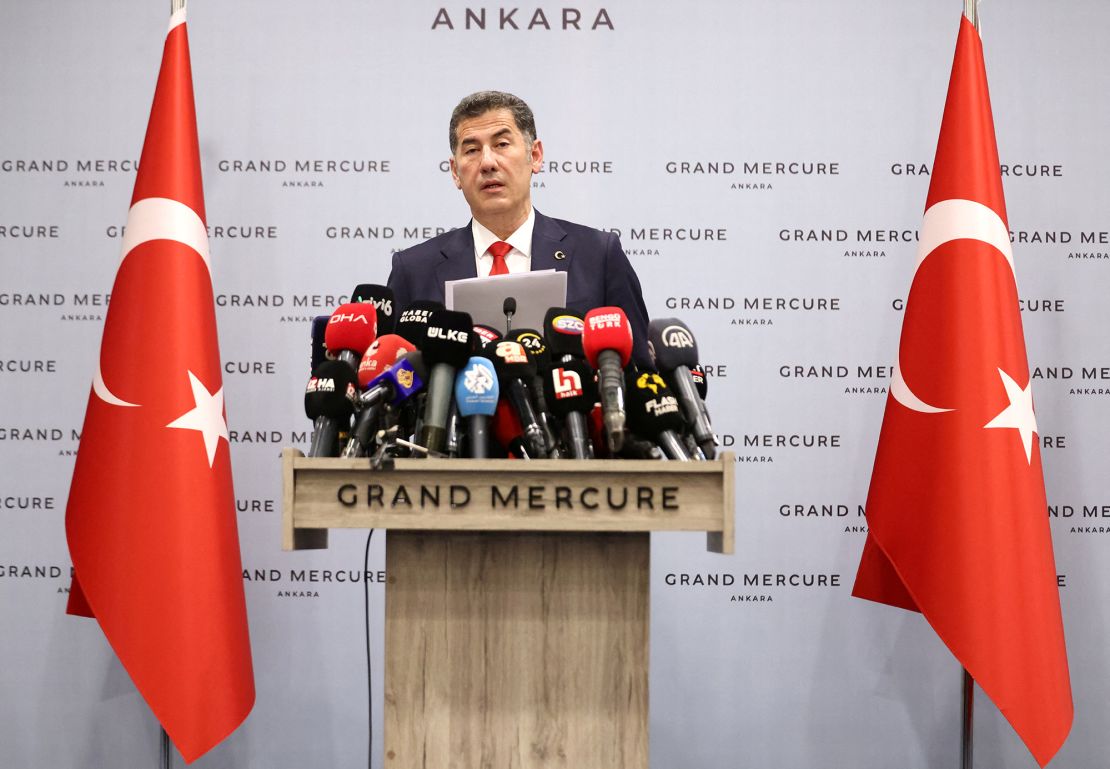 Ogan had conditioned his endorsement of either candidate on hardened policies towards refugees and some Kurdish groups he perceives as terrorists.
"The National Alliance has failed to convince us," he said, speaking of the main opposition group in Turkey, led by Kilicdaroglu.
Ogan claimed that Turkey was at a "critical juncture," and laid out four priorities he said needed to be addressed urgently.
First is the issue of refugees and migrants in Turkey, he said. Second, the "urgent national security threat" following the recent earthquakes. Third, the economic problems "caused by domestic and foreign dynamics that have caused deep issues in the public." And fourth, the fight against terrorism in Turkey, which he said needed to be "addressed on all fronts, including financially."
"Everyone has the right to be in politics and that must be guaranteed but the political extensions of terror groups must be cleansed from Turkish politics," Ogan added.
The Ancestral Alliance – the right-wing electoral alliance that nominated Ogan as its presidential candidate – has announced that each party within the alliance will make a decision independently.
The main party within the alliance, the Victory Party, is expected to make an announcement on Tuesday.
Responding to reports that Ogan had endorsed Erdoğan, Kilicdaroglu said in a tweet Monday that "it is clear who sides with those who sell out this beautiful country."
"We are coming to save this country from terrorism and migrants. This is a referendum. Let's not allow anyone to fool anyone anymore. I invite all of the youth and the 8 million citizens who didn't vote to come to the ballot boxes," Kilicdaroglu wrote.
Before the first round of the election, Ogan was a fringe, ultranationalist politician virtually unknown outside Turkey. But the votes he won may now make him a kingmaker.
In an interview with CNN last week, Ogan claimed: "Our electorate is very bonded with us, of course where we need, they will come with us."