Editor's Note: A version of this story appears in CNN's Meanwhile in the Middle East newsletter, a three-times-a-week look inside the region's biggest stories. Sign up here.
In his first speech to a major regional summit in more than a decade, Syria's Bashar al-Assad on Friday told fellow Arab states that a new world order called for a rearranging of international affairs without "Western interference."
Assad, 57, was warmly welcomed by summit host Saudi Crown Prince Mohammed bin Salman, 37. In a landmark meeting, the two leaders were seen embracing before posing to be photographed together. During his address, Assad presented himself as an elder statesman, lecturing his neighbors about the need to take advantage of changes in global politics.
In a move seen by observers as a victory for the former pariah, the Syrian president made a comeback at the Arab League meeting nearly 12 years after being shunned by the international community over his brutal suppression of an uprising that sought to unseat him.
"Today we are faced with an opportunity of change in the global order, which has become multipolar due to the hegemony of the West, which is devoid of principles, morals, friends or partners," Assad told the summit, held in the Saudi port city of Jeddah. "It is a historic opportunity to rearrange our affairs with the least amount of Western interference."
Talk of multipolarity and a changing world order may have resonated with his Saudi hosts and other regional heavyweights like the United Arab Emirates, both of whom have been reassessing their international relations in ways that haven't been entirely in line with the wishes of their traditional Western allies. In his opening remarks, Arab League Secretary General Ahmed Aboul Gheit said that Arab nations have no choice but to work together as a bloc "in the face of multipolar pressures."
Both Saudi Arabia and the UAE have been at the forefront of Syria's regional rehabilitation even as the regime remains under heavy American sanctions. They have also mended ties with Iran, one of the most heavily sanctioned nations on earth, and touted investments in the country. Meanwhile, their links with Russia and China have only grown.
"The fact that the Arab world now is normalizing is clearly a very good sign for Assad, because he sees it as the Arab world joining him in opposition to the US," Joshua Landis, a Syria specialist and director of the Center for Middle East Studies at the University of Oklahoma, told CNN, adding that Syria will count on the Arab world to defy the United States and Europe, and "drag them along, kicking and screaming, towards normalization with Syria."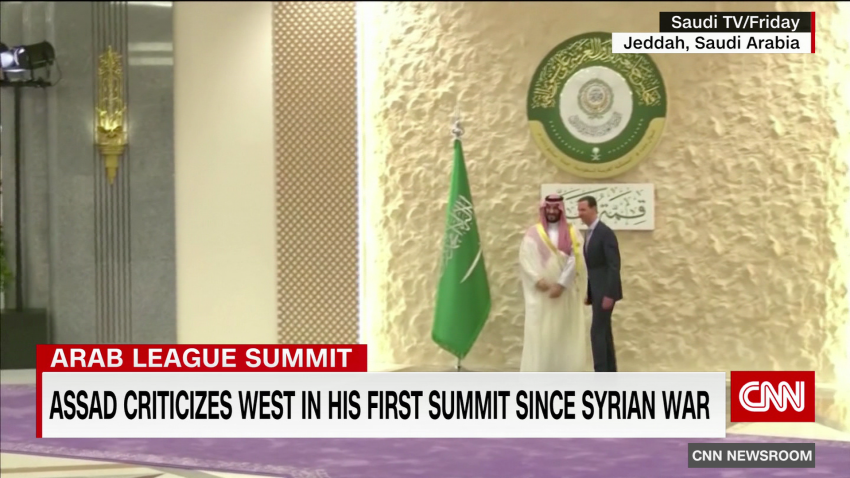 Syrian President Assad attacks West during first speech to Arab League Summit in more than a decade
Arab states have stressed that as the world becomes increasingly polarized following Russia's invasion of Ukraine, they will not be dragged into an East-West rivalry. But they're also wary of alienating their Western allies, on whom they have been economically and militarily dependent for decades.
Four days after Syria's readmission into the Arab League, a number of US lawmakers introduced an "Assad Anti-Normalization Act," which aims to bar the US from normalizing ties with Assad, as well as tighten sanctions against the regime and prevent it from finding loopholes to survive financially.
In an interview with France24 a week before the summit, the Arab League's Assistant Secretary General Hossam Zaki said that while many Arab countries have expressed readiness to help Syria rebuild, all states are aware of the existing sanctions and do not intend to breach them.
"No party has the wish or intention of clashing with the US on this issue," Zaki said. "No one has the intention of standing up to these sanctions or to deal with them as if they do not exist… No one wants to take a risk in that direction."
That raises questions as to whether a pariah regime like Syria can be rehabilitated internationally without the West's blessing.
Damascus may be looking at two of its closest allies as examples of resilience in the face of punitive international measures. Western states piled sanctions on Russia and virtually severed energy ties with it in an effort to cripple its economy after it invaded Ukraine, but that hasn't resulted in a palpable change in its behavior. Iran hasn't changed course either, and is in the process of mending ties with its former Arab foes.
Friday's Arab League summit was preceded by a number of high-level meetings in Jeddah, where the Syrian minister of economy and international trade, Mohammad Samer Al-Khalil, called on his Arab counterparts to invest in Syria "in light of the current important opportunities, promising prospects and new laws that are attractive to investors," the Syrian state news agency SANA reported last week.
But observers have differed as to whether real economic cooperation with Syria is possible without access to the Western financial system, which has been blocked by Western sanctions on the country.
Mohammed Baharoon, director of the Dubai Public Policy Research Center, known as B'huth, said that while there are several business opportunities in Syria, their success will be dependent on access to funding through banking systems.
"The current sanctions are preventing it, and therefore there are no major investment projects," he told CNN. "This however is not sustainable and its impact on the wellbeing of the Syrian people and the stability in the region is huge. This is not in the best interest of regional countries or (the) international community."
Hussein Ibish, a senior resident scholar at the Arab Gulf States Institute in Washington, DC, said that while business with Syria can only be done "with limits," there are opportunities that don't need "sanctions-busting or calling too much attention from the US Treasury Department."
"Humanitarian and reconstruction work can be done under the auspices of various NGOs, the United Nations, and so on," he told CNN.
"They can also try working with or through Russia, and possibly with and through Iran – although that carries its own obvious risks," he said, referring to Arab states that want to do business in Syia. "They can also construct barter-like relationships and buy into long-term shares of things that are constructed in the form of direct transfers of regional currencies. There are plenty of ways of doing this."
Assad's ultimate goal however, said Landis, is to get sanctions lifted with the help of Arab states.
"Obviously Syria is too weak to get sanctions lifted on their own, and this Arab gambit, going back into the bosom of the Arab world, is the only path forward for him."