Editor's Note: The following contains major spoilers about the ninth episode of "Succession's" fourth season, "Church and State."
Media giant Logan Roy was laid to rest on Sunday in the airy gilded interior of the Church of St. Ignatius Loyola, located on New York's Upper East Side. "Succession" has treated us to both a wedding and a funeral as fate of the Roy siblings spin out towards its finale (which is produced by Warner Bros. Discovery, parent company of CNN), and its penultimate episode gave us mourning dress codes in a grand Catholic setting.
Enter the brothers in black suits and ties; Shiv (Sarah Snook) in a dramatic neckline with high wide lapels; and Marcia (Hiam Abbass) playing the grieving widow in a slim double-breasted blazer over a mesh striped shirt with a layered necklace and a veiled hat — "Marcia's looking chic. Yummy. Sexy funeral lady," Roman (Kieran Culkin) quips. Kerry (Zoë Winters), who had a long-running affair with Logan (Brian Cox), seems to have missed the memo to wear a hat as she sits between Marcia and Caroline (Harriet Walter), Logan's first wife. (Sally Anne, who Caroline introduces as her "Kerry," doesn't wear a hat either).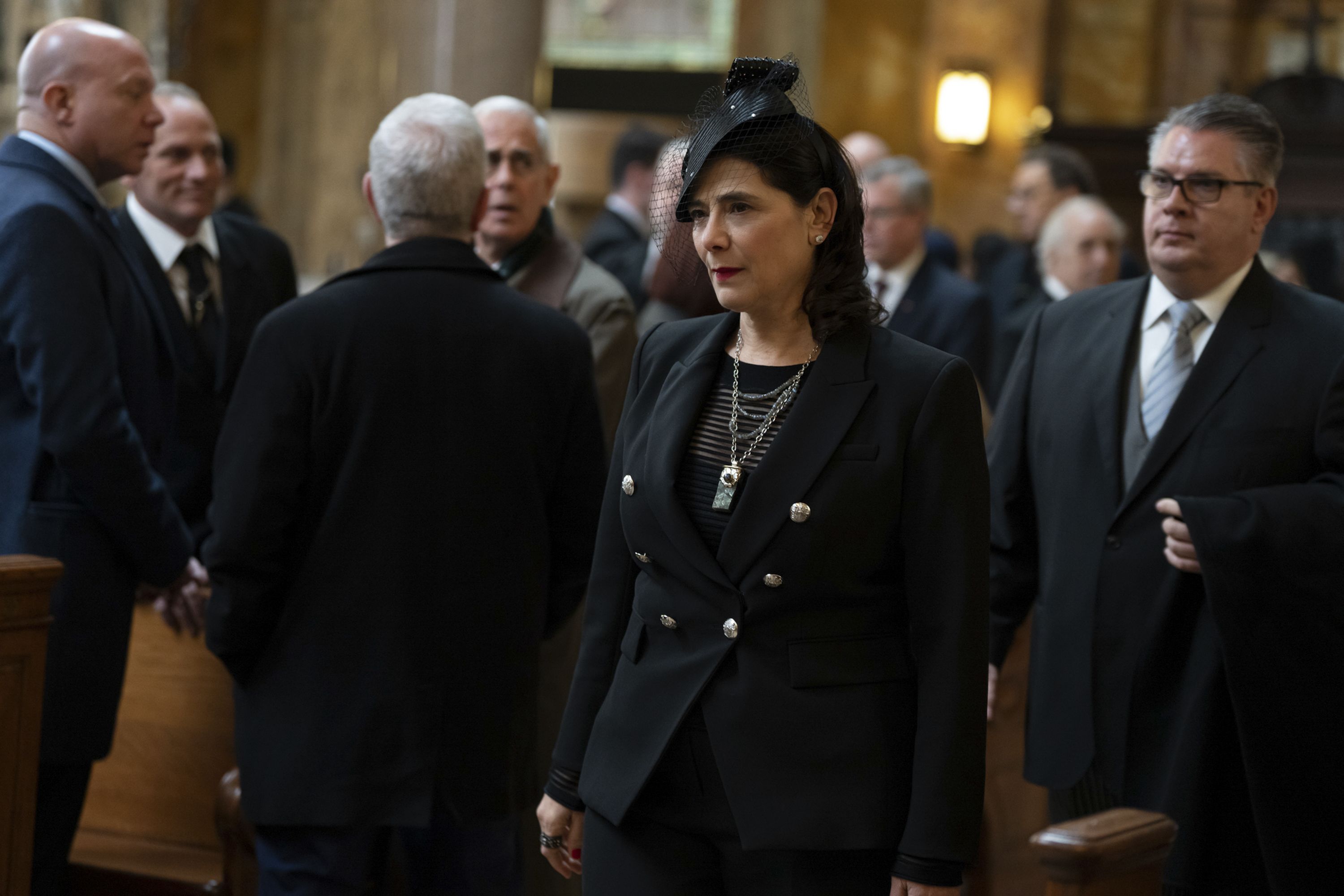 Surrounding the cast, marble Corinthian pillars, religious frescoes and sculptures of saints became the latest backdrop for new political machinations, which, like in every setting of "Succession," continue at Logan's funeral. "I can do anything — my dad just died," Shiv responds when asked for a favor at the mass.
The setting and looks were based on the real-life service of former General Electric CEO Jack Welch, which took place in Midtown's Saint Patrick's Cathedral in 2020, according to the show's costume designer Michelle Matland.
"The most important factor for the funeral was authenticity, because in the world of the 1%, as you would with the pope, every single funeral episode must be dealt with great accuracy," Matland explained to CNN.
Funeral power-dressing
Fashion on "Succession" has become an unexpected pillar of the show, creating an archetype of logo-less "stealth wealth" — leaving those who have broken it, such as Cousin Greg's (Nicholas Braun) date with the "ludicrously capacious" Burberry bag earlier this season, to be ridiculed. But it has also subtly reinforced each character's development. Shiv adopted a feminine corporate uniform to come into the fold at Waystar Royco, while Kendall (Jeremy Strong) oscillates between dark Kendall (Tom Ford sweaters, incognito baseball cap and sunglasses) and manic Kendall (flashy Gucci bomber jackets, gold pendants).
By episode nine, with the company in a shaky post-Logan transition, the optics of how the Roy siblings perform at the funeral hold a lot of weight. In attendance are two of the season's antagonists: the (contested) President-elect Mencken, who may hold the regulatory fate of their news network ATN in his hands, and future Waystar Royco owner Lukas Matsson (Alexander Skarsgård), who chaotically plays the game but has nevertheless ditched his gold velvet bomber jacket in favor of a demure suit.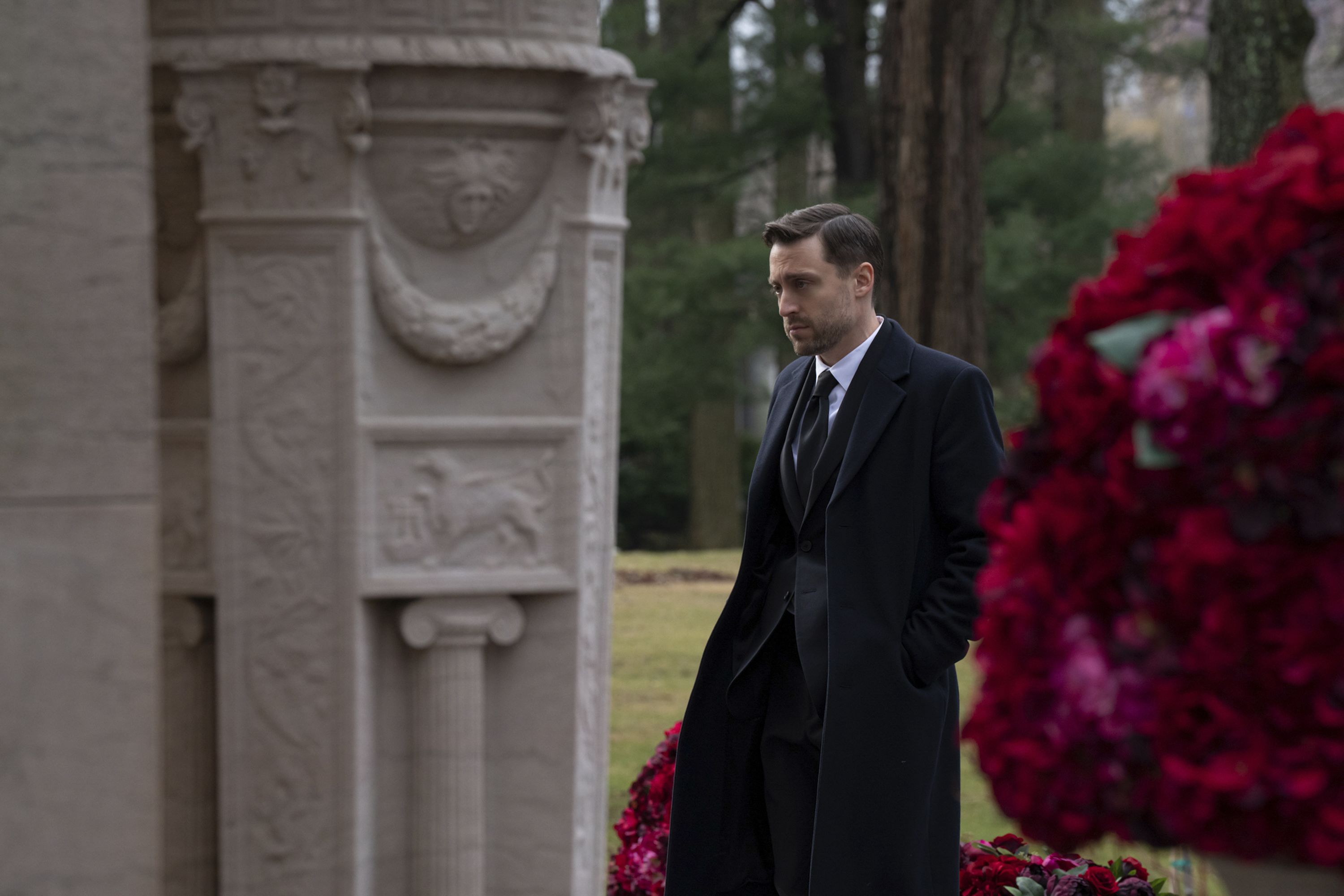 The Roy siblings deal with optics to different degrees of failure and success, with Roman noting early on that Kendall will "win" the funeral thanks to his emotion-obscuring sunglasses. Perhaps the most precariously placed is Shiv, who has betrayed her brothers to partner up with Matsson in hopes of becoming CEO. Pregnant and starting to show (a detail not missed for even a second by their newly resurfaced mother, Caroline) Shiv is maneuvering through high stakes at a public event, concealing a potential gendered bombshell to her career. The wide sculptural neckline she opts for serves a few purposes — it's a subtle show of power, it draws the eyes away from any visible bump — but it's also awkward, a symbol of her complicated emotional state and its "discomfort," according to Matland.
"Everything that happens in Shiv's costumes after the pregnancy reveal relates to her complications with her incredibly difficult placement at that moment," Matland said. "She is still trying to maintain her affiliation with the family and (is) now trying to understand the relationship she has personally with Tom and her siblings."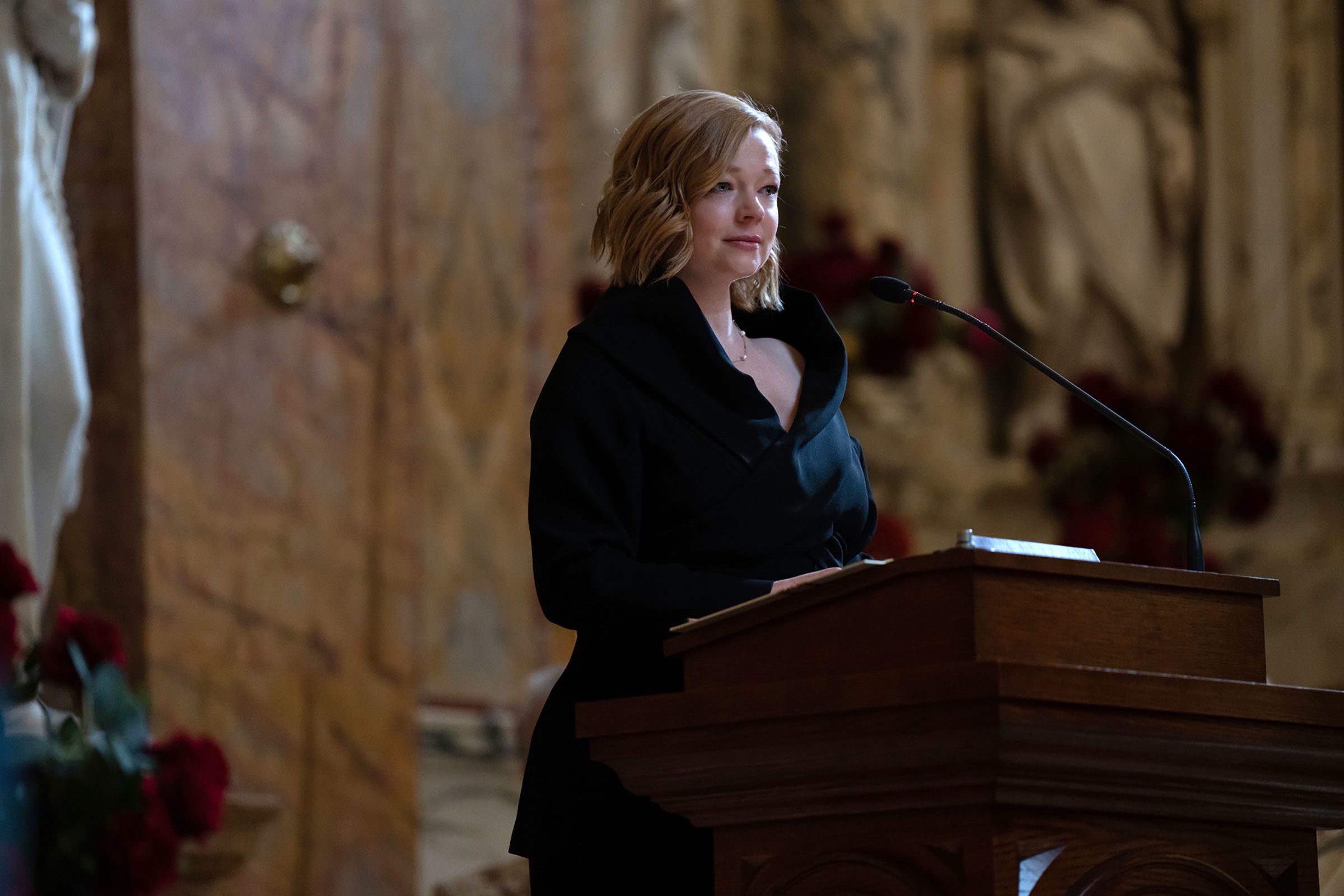 At Connor's (Alan Ruck) summery yacht wedding, Shiv's black Tom Ford Padlock blazer struck a similarly discordant note. But it soon made sense as the already fraught wedding devolved into an afternoon of despair, with Logan dying on an airplane and the siblings phoned in to hear it. Matland said her styling choices for the episode weren't just foreshadowing, but were also reflective of everyone's mood going into the event.
"Everyone's feelings about this wedding were so problematic," she said. "So I think it's just the structure of that part of the storyline — it needed a little bit of darkness."
Part of the façade
As the Roy siblings attempt to eulogize their complicated father without shaking the company's already mercurial stock price, it's clear that optics are all they have. Emotions must be stamped down, they maintain a fragile façade, and getting too close to the truth of Logan Roy is met with a wall of cognitive dissonance.
After all, that's the bubble the characters from "Succession" live in. The Roys are insulated from the impacts their decisions make on the wider world as they move room to room, building to building, with reality only occasionally knocking at the glass. In this case it comes in the form of protests sweeping the city at Mencken's declared presidency, who are mostly relegated to background noise until the episode reaches its fever pitch and Roman finds himself among them, an angry rich guy glaringly out of place in a luxury suit, commanding no attention or respect, agitating the crowd in his grief.
As the series winds down to a close, Matland has continued to emphasize each character's distinctive journeys through their styling, every small idiosyncrasy contributing to the larger whole.
"To see the transitions for these actors through the seasons has been a real pleasure… even if the costume is inappropriate, perhaps, for what you feel the moment is, that's part of the story," Matland said. "And I think when something is slightly wrong, that's when it's right. It's just the way we are in life; we have our flaws."