Sixty percent of Americans say Congress should only raise the nation's debt ceiling if it cuts spending at the same time, according to a new CNN Poll conducted by SSRS, as the government's June 1 "hard deadline" to avoid economic catastrophe looms large over Washington. Few see President Joe Biden or the Republicans in Congress as acting responsibly in negotiations over the debt limit, with most in both parties more concerned that their side will give up too much than that the United States will default on its debt.
Still, a broad majority of Americans favor raising the debt ceiling (84%), with just 15% saying Congress should not do so under any circumstances. Besides the 60% who support raising the ceiling alongside spending cuts, 24% say it should happen no matter what.
These findings come amid widespread doubts about the nation's political leaders more broadly. Few Americans say that Biden (31%) or the Republican leaders in the House of Representatives (29%) have the right priorities. Among independents, 60% say that neither Biden nor GOP leaders are paying enough attention to the country's most pressing problems.
Though 71% of all Americans say that not raising the debt limit would cause a crisis or major problems for the country – and many foresee a major negative impact on the stock market (60%), the nation's credit rating (59%) and the overall economy (58%) – relatively few see a deeply negative impact on their own finances as a likely outcome (35%). Less than half say that failure to raise the debt ceiling would cause a major negative impact on the unemployment rate (43%).
About half of Americans say they have been following the negotiations over the debt limit very (14%) or somewhat closely (36%), below the 70% who said they were following very or somewhat closely in 2011, when President Barack Obama and Republicans in Congress were negotiating a debt ceiling increase.
Majority support for raising the debt ceiling in some fashion cuts across party lines, but most Republicans (79%) and independents (58%) say the limit should only be raised if spending cuts are enacted at the same time, while Democrats are split between supporting a debt ceiling increase no matter what (46%) and raising it only alongside spending cuts (45%).
Democrats who say they are very or somewhat closely following the negotiations are most likely to say that Congress should raise the debt ceiling no matter what (64%), but that drops to 29% among Democrats following less closely. Among independents and Republicans, the gap between those following closely and those less tuned in is far smaller (27% of more tuned-in independents say it should be raised no matter what compared with 18% among those following less closely; for Republicans, those figures are 7% and 5%, respectively).
Partisan divides are less pronounced in assessments of the potential harm of not raising the debt limit: Most Democrats (77%), independents (71%) and Republicans (65%) see not raising it as a major problem or worse for the country, and majorities across party lines likewise see a failure to raise the limit as likely to have a major negative impact on the economy (63% among Democrats, 60% of independents and 52% of Republicans).
Despite the high stakes and broad agreement that the limit should be raised, most Americans with any sort of partisan lean say it would be a bigger problem if their side gave up too much in the ongoing negotiations than if the government were unable to pay its bills. Among Democrats and Democratic-leaning independents, 73% say they are more concerned that Democrats will give up too much and important government programs will no longer be funded than that Democrats will fail to compromise and the government will not be able to pay its existing debts (26% are more concerned about that possibility). Among Republicans and Republican-leaning independents, a matching 73% say they are more concerned that Republicans will give up too much and government spending will continue at its current level than that Republicans will fail to compromise and the government will not be able to pay its existing debts, with 27% more concerned about default.
Negative outlook on Biden, economy continues
Biden's approval rating in the new poll stands at 40%, with 60% saying they disapprove. That's about on par with where he stood in a March CNN poll (42% approved then) but continues a downward trend since January, when 45% approved of his performance.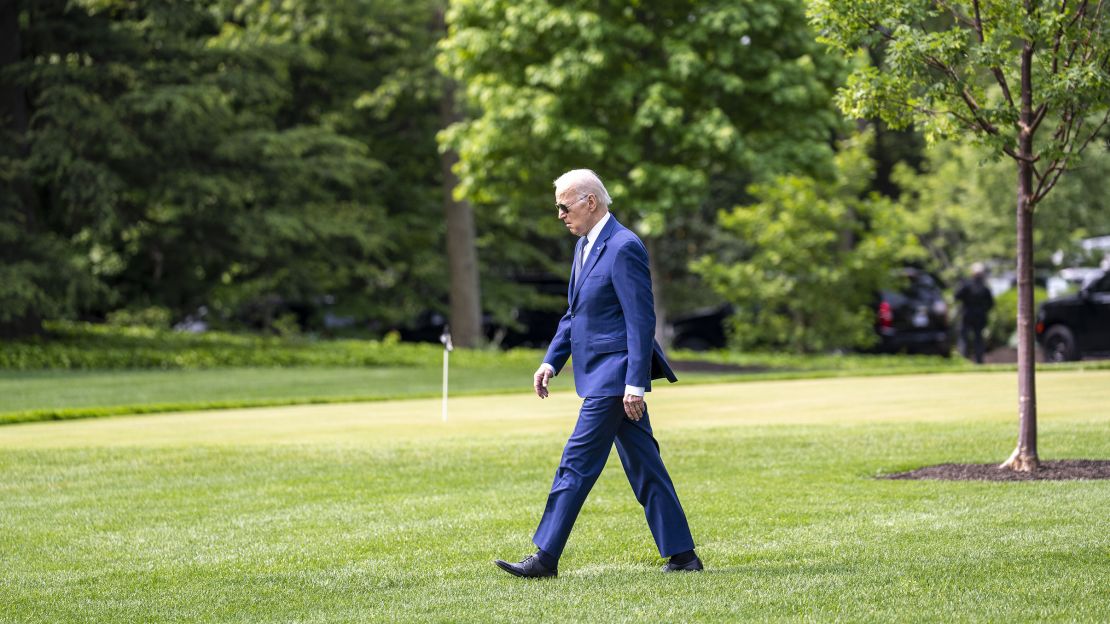 Approval ratings for Biden's handling of key issues nearly all stand below his ratings for handling the presidency generally. Just 35% approve of the way he's handling the federal budget, 34% his handling of the economy and 30% his handling of immigration. Biden earns majority approval (52%) for his handling of government policies on Covid-19.
The economy remains lackluster in the eyes of most Americans, with 76% describing it as in poor shape, up from 71% who felt that way in March. What could turn that around? When those who say economic conditions are poor are asked to choose which of five things would most improve their view of the economy, 37% say a lower rate of inflation would help, 36% a change in political leadership in Washington and 11% a positive change in their personal financial situation, with 5% or fewer selecting an increase in the stability of the banking system or a sustained rise in the stock market. Democrats (47%) and independents (42%) are more apt to say that a lower rate of inflation would do the most to improve their view of the economy over any of the other options, while for Republicans, 53% say a change in political leadership would do it.
About half say Biden administration worsening situation at border
The poll was conducted entirely after the national emergency declared at the start of the coronavirus pandemic had expired. That expiration also marked the end of the Covid-era immigration policy known as Title 42, which had allowed authorities to swiftly turn back migrants at the US-Mexico border.
The US hasn't yet seen a sharp increase in migrants seeking asylum following the expiration of Title 42. The poll suggests, however, that there has been a rise in the share of Americans who describe the situation at the southern border as a crisis compared with last year. In the new poll, 77% say it is a crisis, up from 68% who said the same last spring. That increase has come more among Democrats (65%, up from 54%) and independents (76%, up from 58%), as Republicans had already been near universal in their view of the situation as a crisis (91% feel that way in the new poll).
About half of Americans (52%) say the Biden administration's handling of the situation has worsened things at the border, while only 12% say it has improved and 37% feel it's made no difference. More than 8 in 10 Republicans say Biden has worsened the situation at the border (84%), while Democrats and independents are more divided. Among Democrats, 51% say that Biden's handling has made no difference, 28% that he's helped and 21% that he's hurt, while among independents, 49% say that Biden has worsened things, 44% that he's made no difference and just 7% that Biden has improved the situation.
The CNN Poll was conducted by SSRS from May 17-20 among a random national sample of 1,227 adults drawn from a probability-based panel. Surveys were either conducted online or by telephone with a live interviewer. Results among the full sample have a margin of sampling error of plus or minus 3.7 points; it is larger for subgroups.
CNN's Ariel Edwards-Levy contributed to this report.