It's Cannes Film Festival, and although the south of France been uncharacteristically "raining and freezing cold," the weather has not dulled Irina Shayk's excitement to be back.
Stepping onto the famed Croisette red carpet for the first time since 2018, the supermodel has made headlines with a succession of game-changing outfits, eschewing the event's traditional — albeit unofficially so — dress code.
"What is expected at Cannes is beautiful and elegant gowns, and I wanted to have a little bit of fun with that," she explained over the phone from the festival.
Shayk's first red carpet was for Martin Scorsese's 'Killers of the Flower Moon' premiere which she attended with Riccardo Tisci, her best friend and Burberry's former chief creative officer. Clad in a dramatic, plunging Armani Privé gown in navy blue with a full tulle skirt, it was a sultry yet somewhat classic look, pared with winged eyeliner and nude lips.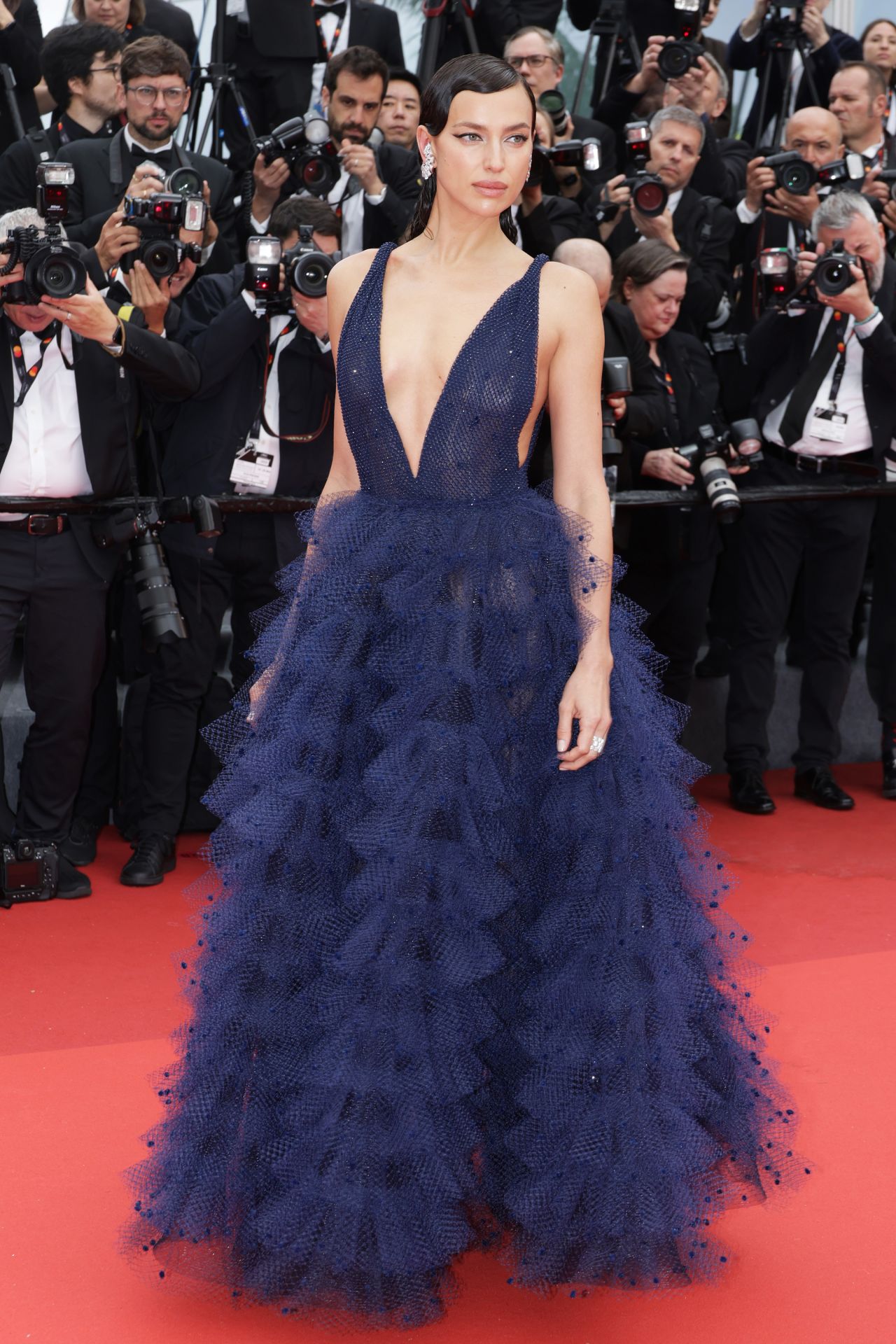 But it was a different story for the 'Firebrand' premiere on Sunday night when Shayk chose a look by London-based Nigerian designer Mowalola. Known for creating "non-traditional silhouettes" and using materials such as leather and PVC, Shayk's outfit - from the fall/ winter 2023 catwalk - comprised a low-slung leather skirt paired with a bandage-style top, leaving the torso completely bare. Vogue magazine dubbed it a "body flossing look".
"It was something very different, even for me," the model says. "It's always fun to come to Cannes but returning after a break meant I could step back, see what I did then and bring something new. Because I want to see a different type of fashion at Cannes. I wanted to take a different, modern approach and think, 'What does the young generation want? What would my six-year-old daughter want to wear when she is 18?'"
Irina Shayk was born in a small Russian town near the Ural mountains in 1986, her father a Tatar coal miner and her mother a Russian kindergarten teacher. A model since her teens, Shayk has been a fixture at Cannes since 2012, even attending eight weeks after giving birth to her daughter, whom she shares with actor Bradley Cooper, in 2017.
"Over the past 10 years, both fashion and I have evolved," she said. "This is a new time with a new vision, and I wanted to use the moment and different outfits to have fun, be free and express a different side of my personality and creativity. I used to get nervous on the red carpet but not anymore. I feel more comfortable in my own skin, and I wanted my wardrobe in Cannes to show that I can be a mom — I can be a working mom — and still show up, be stylish and express myself."
It was a sentiment she was keen to share with her 21.9 million Instagram followers. "I spoke to a friend about what the caption should be when I posted the picture of the Mowalola look. We thought about it, and they suggested, 'When women understand women.' To me that's it. As a woman, you want to express yourself and nobody should tell you what to wear or how to feel or how to be."
Spotlighting emerging designers
Whereas many Cannes attendees wear multiple looks from the same designer over several days, Shayk chose a diversity of brands, from high-end couture to more affordable labels, such as Self Portrait. And there was more to each choice than just how Shayk would look. With Mowalola, for instance, Shayk said she wanted to give a global platform to "an emerging designer, and a woman" on a stage as huge as Cannes.
The supermodel was aware, however, that her choices wouldn't be universally popular. "The Mowalola look, in particular, was very 'out there' and very strong," she explained. "I knew so many people were going to criticize it. But I think people are going to look back at it in a couple of years and change their opinion. With fashion, you always have to break the rules a little bit. And often, when you go back in time and look again at these things, you realize, 'That was actually amazing'."
With one eye firmly on the runways during fashion shows, Shayk says she spends a lot of time earmarking pieces she may like to wear to future events. This running shortlist likely came in handy ahead of Cannes, with the model only deciding to attend this year's festival two weeks before it began.
"This was all pretty last moment and needed a quick turnaround," she laughed. "Everyone was preparing for the Met Gala ( on May 1), which I loved because I got to wear an archival Yohji Yamamoto dress from 1998 and flat shoes. For Cannes, we did all the fittings in New York before leaving and I was pretty (certain about) what I was going to wear on the red carpet.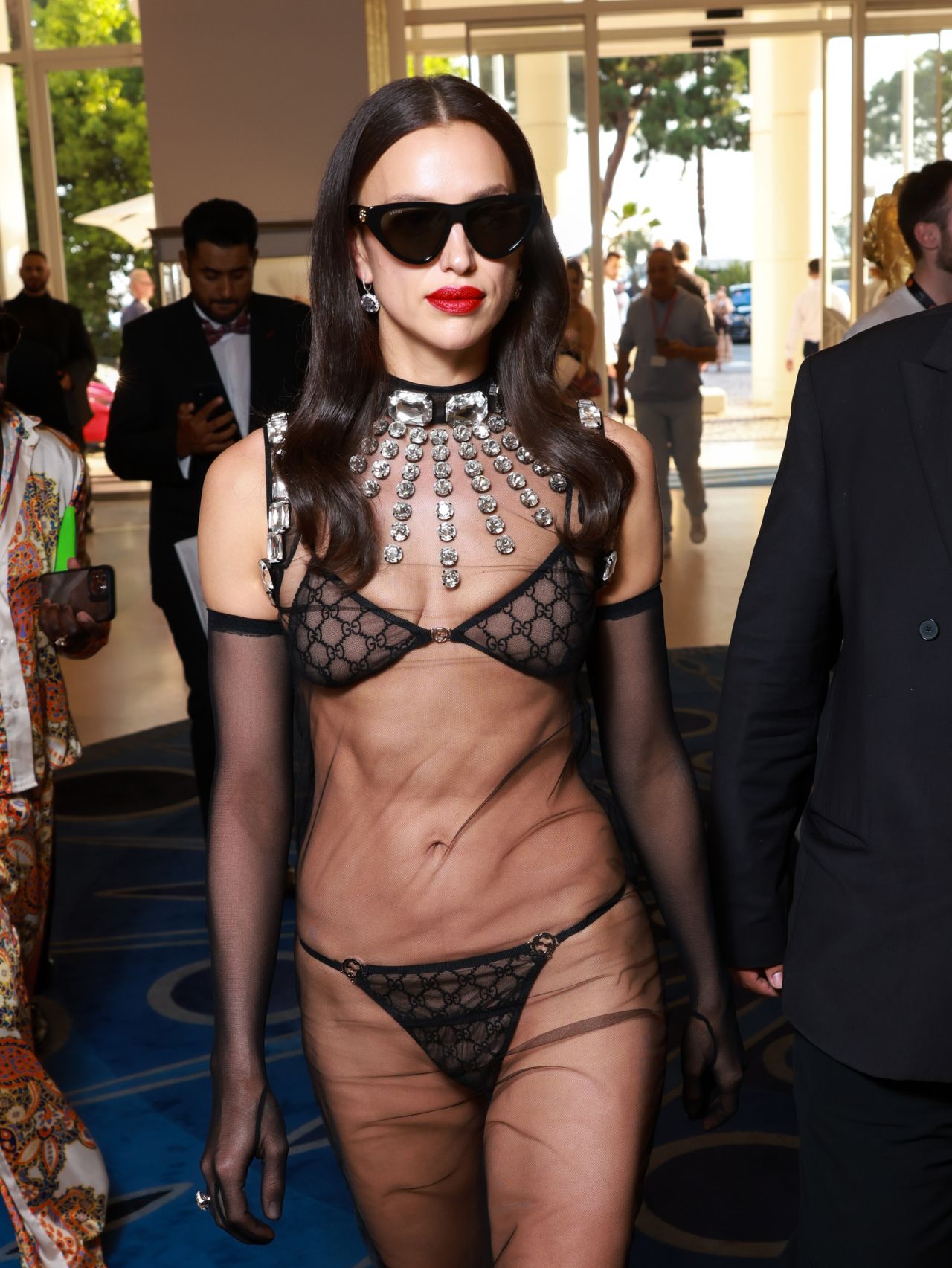 "The looks, on the runways, had caught my eye for different reasons and all brought up different emotions. I just wanted to find a good time to wear them. Here (at Cannes), there are day events, lunches, dinners and meetings for work, so there are opportunities for extra looks. You have to be prepared for any weather, and this year was also very rainy so… I ended up bringing three suitcases, because I wanted to be ready for anything."
Shayk singles out pieces by Self Portrait as ones she has enjoyed wearing off the red carpet; notably a sheer, sparkly dress by the label worn to the afterparty for Martin Scorsese's movie Killers of the Flower Moon and a see-through Gucci creation paired with a triangle bra and thong, chosen for a party thrown by British Vogue.
Shayk described collaborating with labels as a huge thrill — one that extends to her hair and make-up. "I usually like a simple look," she explained. "I want to feel like me, but things change and sometimes an outfit calls for more, or less. It's all part of the creative process."
But she notes that, for many attendees, getting ready for Cannes circus can be overwhelming. "I always feel for people who are coming here for the first time," she said. "Preparations for each red carpet start a few hours before in the hotel with fittings and grooming, there are a lot of people running around with gowns and the hair and make-up suitcases and it's quite a scene… Everyone is so stressed, so you have to be ready for that."
'The Cannes red carpet was the opposite of my everyday life'
For Shayk, red-carpet-readiness begins long before she picks her clothes or makeup. The model is a fan of Pilates and works out every other day when at home in New York. "I have a really tough trainer who's great at encouraging me to do the hard stuff. I try to push myself to the limit and quite often get to the point where I think, 'Oh my gosh, I never want to come back here ever again'.
"I joke that I always enjoy my workouts… when they're over! But I always return. It's not even about the looks, it's about how it makes me feel; challenging my mind and my body. I guess I love a challenge."
Shayk points out that her high glamor appearances at Cannes are not how she dresses in her downtime. "Off duty, I'm always casual. I love feeling comfortable going through my day, whether I'm doing school pickups, work meetings or parent things…
"I even wore sweatpants to the Met Gala afterparty. When I told people my second look for that event was sweatpants and a T-shirt, people thought I was joking, but I wasn't! There was no way I was going to party and enjoy myself with a corset dress on. I wanted to be comfortable and feel like myself.
"I think you can wear a tracksuit and still be chic and classy. The Cannes red carpet was the opposite of my everyday life. And that's kind-of why I enjoy it so much."