Typhoon Mawar was barreling toward Guam early Wednesday, threatening to slam into the US territory as the strongest storm there in decades.
The typhoon, which strengthened rapidly in recent days, is posing a "triple threat" of devastation including deadly winds equivalent to at least a Category 4 hurricane, exceptional storm surge and torrential rainfall, according to the National Weather Service office in Guam.
Mawar has been described as "one that will be remembered for decades," said Landon Aydlett, the warning coordination meteorologist from the weather service in Guam. It is expected to strike the island – and possibly make a direct landfall – on Wednesday afternoon, local time (late Tuesday or early Wednesday, Eastern Time).
As of early Wednesday local time, Mawar's center was 80 miles from Guam, and conditions were deteriorating quickly as the storm's outer bands moved through the area and the core of the storm approached.
Mawar's maximum sustained winds were 140 mph early Wednesday, the equivalent of a Category 4 hurricane, according to the Joint Typhoon Warning Center. That's down from 155 mph earlier, which at the time gave it super typhoon status (sustained winds of at least 150 mph).
Forecasters had warned that Mawar could reach the equivalent of a Category 5 hurricane – sustained winds in excess of 157 mph – before landfall. Fluctuations in strength still were possible Wednesday morning, and the storm is expected to remain very intense as it moves over Guam towards the west and northwest over the next several days.
The storm's forward movement slowed to 6 mph Wednesday morning. Such a slow pace would lead to prolonged impacts from the winds and greater amounts of rainfall.
"Guam will see devastating impacts from Typhoon Mawar," the National Weather Service in Guam said.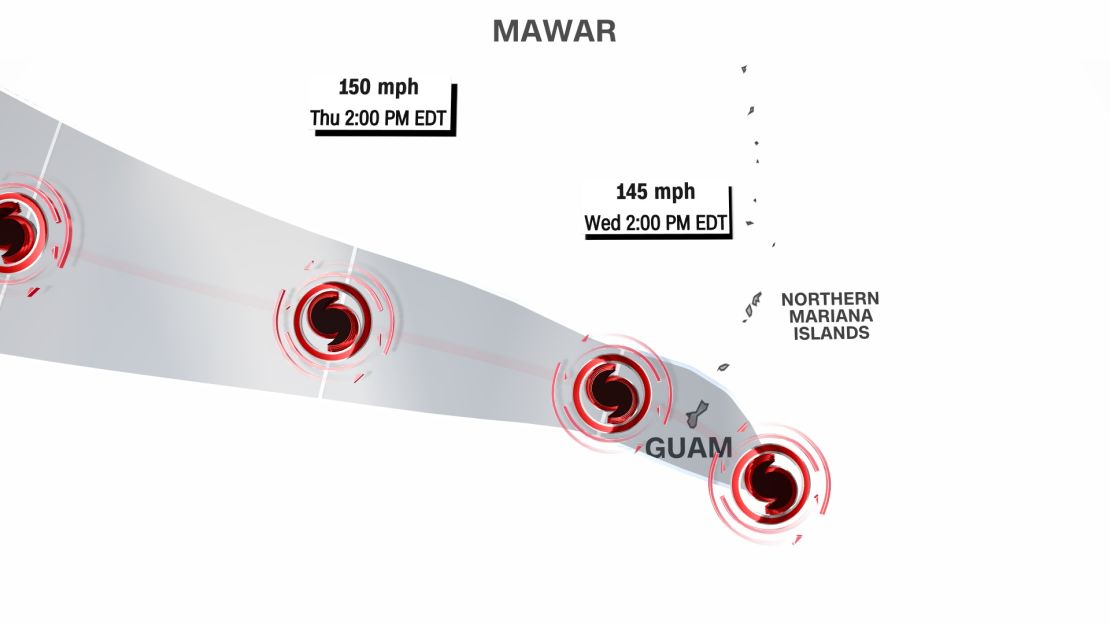 If the typhoon does make a direct landfall, the island would be thrashed with the storm's strongest winds and highest storm surge.
Though Guam is located in the West Pacific Ocean – an area prone to the world's strongest tropical cyclones – a direct hit from a storm this strength is exceedingly rare and has only happened around eight times in the last 75 years. The island is just 30 miles long, so the center of a storm moving over would be akin to threading a tiny needle.
Mawar could be the strongest storm to directly impact Guam since at least 1976, when Typhoon Pamela struck with sustained winds of 140 mph. If Mawar strikes with higher sustained winds, it would be the strongest since Super Typhoon Karen, widely regarded as the worst storm to ever hit the island, struck in 1962 with sustained winds of 172 mph.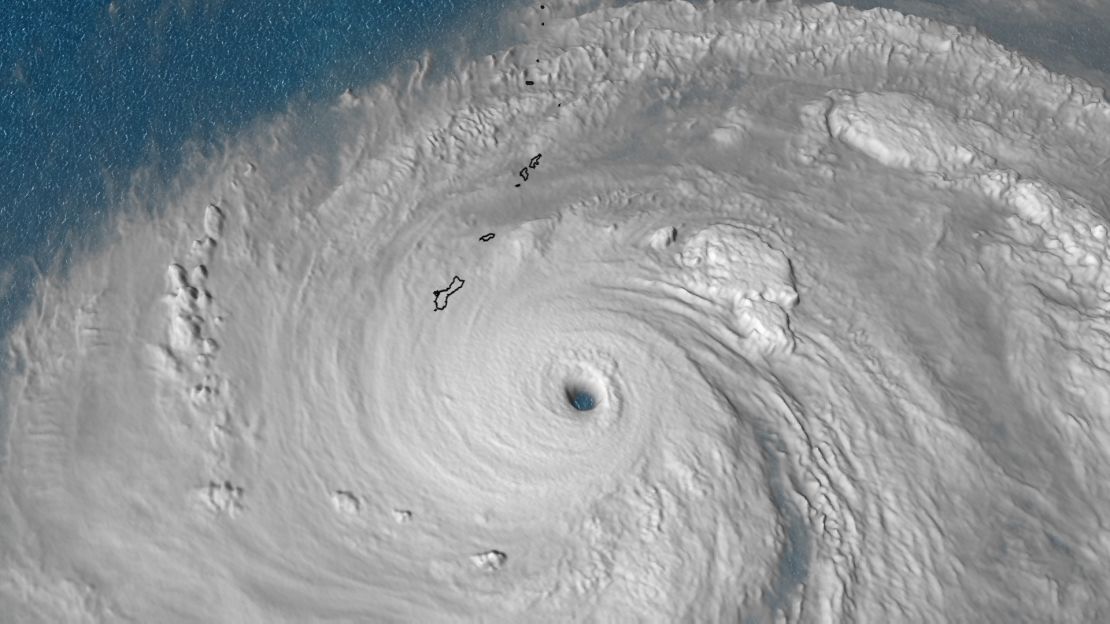 Human-caused climate change is stacking the deck in favor of more intense storms like Typhoon Mawar. Not only are these systems generating more rainfall and larger storm surge – they are also more likely to be stronger and are intensifying faster.
Mawar underwent extreme rapid intensification from Monday into Tuesday, with top wind speeds increasing by 50 mph in just 18 hours. Scientists have warned that the rapid intensification of tropical cyclones – like typhoons and hurricanes – is more likely as ocean temperatures climb and lay the groundwork for cyclones to explode at breakneck pace into deadly storms.
As winds teeter near Category 5 strength, considerable damage is likely to buildings that are not reinforced with concrete, forecasters warned. Extensive roof damage is possible, along with flying projectiles that are lofted into the air by the powerful winds.
"Electricity and water may be unavailable for days and perhaps weeks after the storm passes" and "most trees will be snapped or uprooted," the weather service in Guam warned. Up to 70% of the island's foliage could be ripped away by Mawar's powerful winds.
An exceptional storm surge up to 25 feet will pose a significant risk to life and property on the island, especially in the most vulnerable coastal locations near the eyewall.
Storm surge fatalities are historically the leading cause of hurricane-related deaths within the United States, according to the National Weather Service. This level of storm surge will likely cause severe coastal erosion and "large boats could be torn from moorings" according to the weather service.
In addition to the coastal flooding from storm surge, flash flooding is possible as the storm is forecast to bring 10 to 15 inches of rain, with locally higher amounts up to 20 inches possible.
A flood watch is currently in effect for the entire area as rain will pick up in intensity as the storm approaches. Even "higher rainfall totals" are possible if the storm slows its forward speed the weather service warned.
Landslides will also become likely as the ground becomes saturated and the soil along hilly terrain becomes unstable.
CNN's Brandon Miller, Taylor Ward and Emma Tucker contributed to this report.