Germany's intelligence services already have the right to monitor the far-right Alternative for Germany party (AfD), the first time the authorities have taken such a step against a political party since the Nazi era. Now, they have taken aim at the AfD's youth faction, whose members are as young as 14. CNN has been taking a closer look at the group.
Germany's domestic intelligence agency, the Federal Office for the Protection of the Constitution (BfV), in April labeled the group as "extremist" after four years of investigation.
In a statement in April, the intelligence agency deemed the AfD's youth wing, the Young Alternative for Germany or Junge Alternative für Deutschland (JA), as "clearly xenophobic" and "propagating a racial concept of society based on basic biological assumptions." It deemed the group was likely to adopt "non-peaceful behavior" towards people perceived as foreign.
The move, which doesn't apply to parent party AfD, is as far as the state can go aside from an outright ban. German authorities are now able to monitor and intercept JA mail correspondence, phone calls and online conversations. It can also limit members' ability to get employment in the public sector and make it more difficult to obtain licenses for weapons.
The party has rejected the labeling. "I am not an extremist, on the contrary – I have put my life on the line for Germany in Afghanistan," Hannes Gnauck, AfD Member of Parliament and the JA's federal chairman, told CNN.
"I would not have done that if I did not believe in democracy and the free democratic order."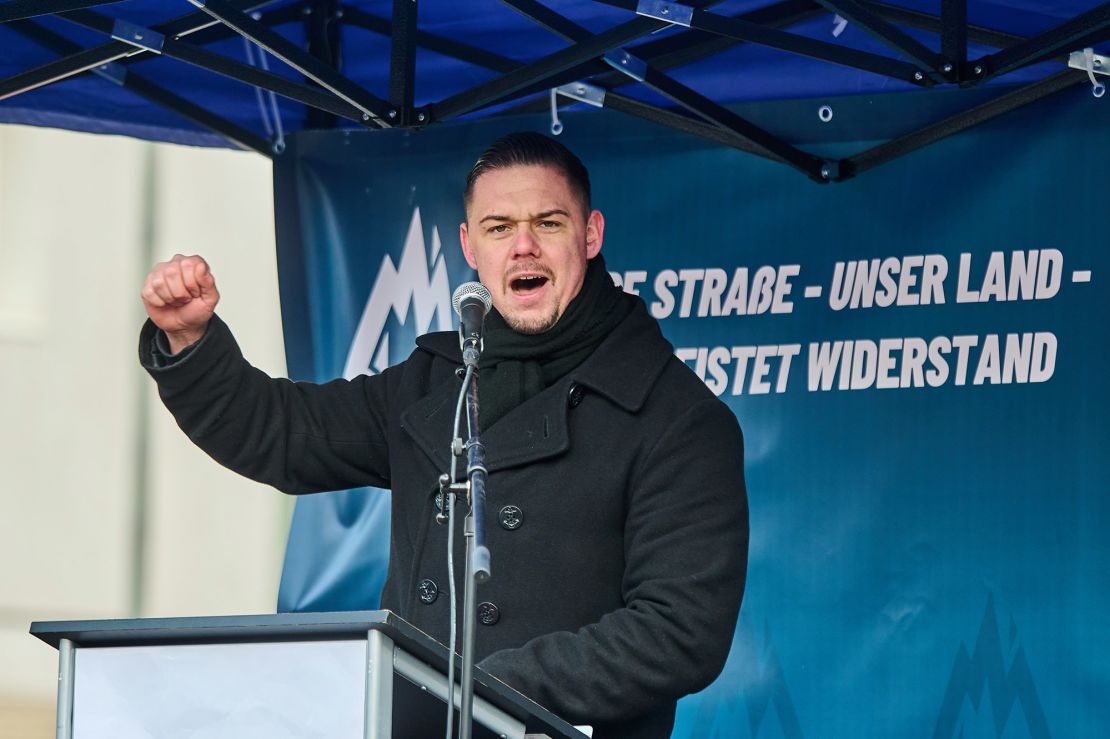 The JA was founded in the same year as its parent party in 2013. However, it remains legally independent from that party and is often seen as its more hard-line faction.
Open to young people aged between 14-35, much of the JA's campaigning pedals an openly anti-migrant, euroskeptic and anti-feminist agenda. The JA's Facebook page, for example, calls feminism a "left-wing ideology" and calls on users to post reasons to reject it.
It believes the EU's political powers should be curbed, with former chairman Philipp Ritz once describing the organization as a "train" that is "constantly accepting new passengers without knowing where it's actually heading."
According to the BfV, the JA promotes an ethno-nationalist worldview that ostracizes anyone who is not a native, white German.
In 2019, BfV President Thomas Haldenwang said members showed "clear evidence of an anti-immigration and particularly anti-Muslim attitude," which is contrary to Germany's democratic principles.
Last October, the JA elected Gnauck as its federal chairman. He had previously served in Germany's army for seven years, including several months in Afghanistan in 2019-2020.
Speaking to CNN in the wake of his party's "extremist" designation, Gnauck described himself as a "soldier with every ounce of his heart."
The AfD shot to prominence in 2016 following ex-Chancellor Angela Merkel's decision – one that attracted both praise and criticism – to allow in hundreds of thousands of refugees fleeing war in Syria and beyond. Polling suggests the AfD's stance on migrants remains an issue that resonates with voters.
Gnauck says he remembers a different Germany in the 1990s, when it was "possible to leave your door open in the village, but that doesn't happen anymore."
He blames immigration for the perception that Germans feel less safe in their homes – even though there is no evidence to link increased immigration to higher crime.
"In the past," said Gnauck, explaining how he sees the party's appeal, "the one who rebelled against the teachers, the one who rebelled against his or her own parents – was more like the cool punk.
"Today the cool person is a young conservative man [or] woman who just wants a normal job, a normal life, maybe one or two children, a home – so just a simple normal life."
Gnauck said the group's designation as extremist was not a surprise. "We have been expecting it," adding that he believed it was a "political maneuver."
State chairman of the AfD's youth wing in Saxony, Alexander Wiesner, was more forceful, drawing comparisons between Germany's domestic intelligence agency and the Stasi secret police in communist East Germany, known as the GDR.
"Other countries do not have this political secret service. It is a German tradition that should be abolished," he told CNN. "People in Saxony belong to the former occupied zone and the GDR – people had a lot of experience here with the Stasi."
"People have their eyes open. They read with an open mind, they say it's the same thing that happened here in GDR times and we don't believe this institution."
CNN has contacted the BfV for comment. The agency describes itself as working to "ensure the protection of the free democratic basic order" and making an "important contribution" to uphold Germany's "fundamental constitutional values."
'Intellectual arsonists'
But Johannes Kiess, a sociologist specializing in right-wing extremism at the Univeristy of Leipzig in eastern Germany, says the new labeling is not only justified, but long overdue.
"The youth wing of the AfD is in my view an extremist and anti-democratic organization," he told CNN.
He believes the JA is more extreme than its sister party "because we have many individuals in the youth wing with clear links to neo-Nazis," which he says is evident from the opinions expressed in public and in conversations on social media.
Germany's Interior Minister Nancy Faeser has also condemned the JA, accusing it of spreading "nothing but hatred and exclusion." She described members as "intellectual arsonists" whose danger "nobody should underestimate."
The group's anti-migrant ideology is clear in an advert for the party posted on Facebook in March. The post states: "Germans are now right at the bottom of the hierarchy of victims in our society."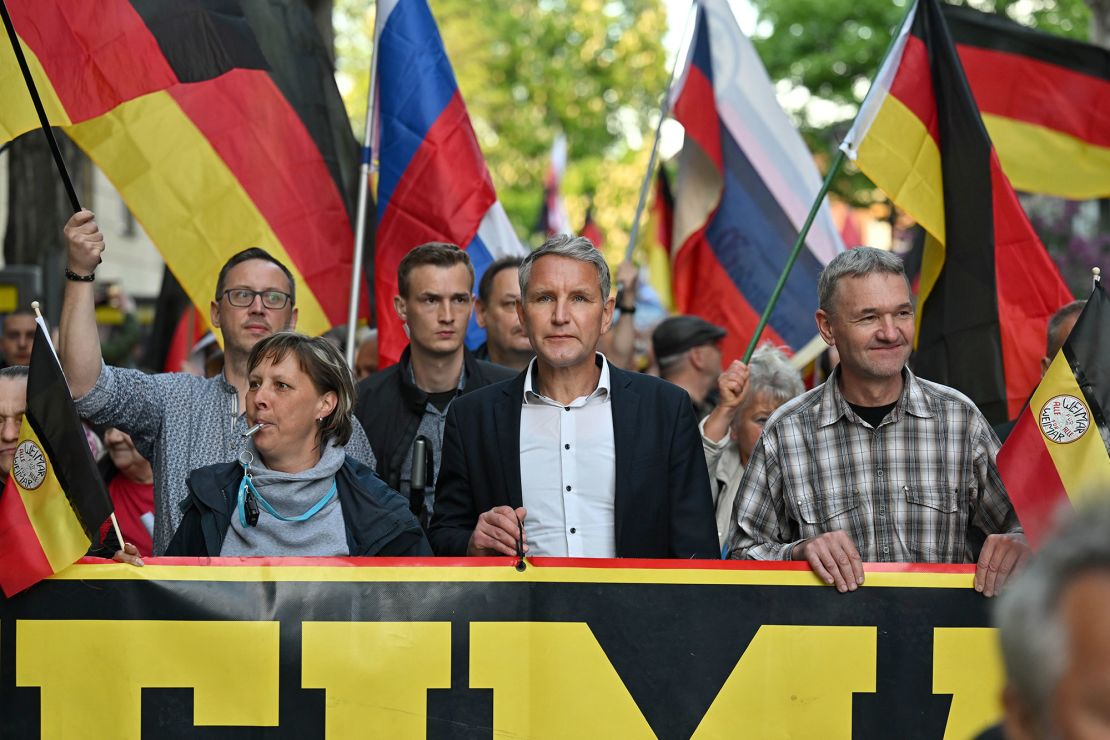 Gnauck denied that his party has any links to Germany's far-right, adding that it rejects violence.
"We know that there are no right-wing extremists in the JA. We also do not have people in the JA who want to overthrow the state or rebuild it.
"Of course, we want to change this country and we want to change it democratically through elections and not through violence. This is what distinguishes us from real extremists."
The authorities' move against the JA comes amid a broader crackdown against the far-right in Germany. Two other organizations – the Institute for State Policy (IfS) and the "Ein Prozent" (One Percent) association – were labeled extremist at the same time as the group.
Germany last year said it had foiled an attempt by another far-right group – the Reichsbuerger movement - to plot accused of plotting an attack on Germany's parliament building, allegedly to overthrow its constitutional order and install the group's central figure – aristocrat Heinrich XIII Prince Reuss – as leader. The prince has not publicly commented on his arrest.
Popularity among voters
Gnauck says that his party, along with the AfD, is rising in popularity among voters in Germany.
"We see our party rising in the polls again. We are polling at 16%," he claimed.
At Germany's last federal election in 2021, the AfD received just over 10% of the vote – down from 12.6% four years prior.
The AfD holds the status of Germany's most successful far-right party since World War II. The party has attracted voters angry over rising energy prices in the wake of Russia's invasion of Ukraine.
But Kiess points to concerns over migration in Germany as the main reason for its recent strong polling. "The migration debate has sprung up again here in Germany – particularly because the federal government was in conflict with the state over financial issues and how to accommodate refugees.
"We always see the AfD winning from this kind of not very constructive public discussion."
Public debate over migration has been kickstarted in light of the war in Ukraine. Since the outbreak of the conflict, more than 1 million refugees have arrived in Germany, in addition to the more than 200,000 asylum-seekers arriving from other countries.
For Germany and its government, migration has become a challenge – yet again. Several cities and municipalities in Germany say they have reached their limits, and local authorities are finding it difficult to provide for the new arrivals.
And Germans are now, too, are starting to find the influx of refugees an issue. An ARD-DeutschlandTrend poll conducted on May 5 found that half of German citizens would like the country to take in fewer refugees than it currently does.
Kiess believes that, in fact, the AfD does not want to stop migration, but rather continue to benefit from the polarized discourse around it.
"For the AfD it would be a bad thing if we had no longer had migration anymore. They would not have a topic then to gain attention with."
As for the JA, there is no specific data to show whether the organization is rising in popularity or not. Gnauck says that since the group's latest classification, there have been a few resignations from hunters and officers who are afraid of losing their weapons license, and those who work in the public sector, for example police officers or soldiers, who are concerned for their jobs.
However, he claims: "We also had a lot of new applications from young people. It is not that we have lost masses of members. On the contrary, we have even gained new ones."
Nadine Schmidt reported from Berlin and Sophie Tanno reported from and wrote in London.