Concerns have been raised over the safety of imprisoned Nobel Peace Prize laureate Ales Bialiatski, who has not been heard from in over a month, according to a friend.
Bialiatski is currently serving a 10-year prison sentence in Belarus, where he was jailed in 2021 amid mass protests against President Alexander Lukashenko's government.
"We lost any contact," his friend and fellow activist Franak Viacorka, who is also Senior Advisor to exiled Belarusian opposition leader Sviatlana Tsikhanouskaya, told CNN on Thursday, adding that Bialiatski may have been transferred to one of the harshest prisons in Belarus. "We'll try to find out what is happening to him and if he is alive," he said.
Viacorka was reacting to an Associated Press interview with Bialiatski's wife Natalia Pinchuk published on Wednesday. Pinchuck told The AP her husband had been in "an information blackout" since he was moved to a "colony for repeat offenders" in Gorki.
"The authorities create unbearable conditions for Ales and keep him in strict informational isolation. There is not a single letter from him for a month, nor does he receive my letters," Pinchuk told The AP by phone.
CNN has reached out to Viasna, an organization founded by Bialiatski, and to the Belarusian Foreign Ministry for additional comment.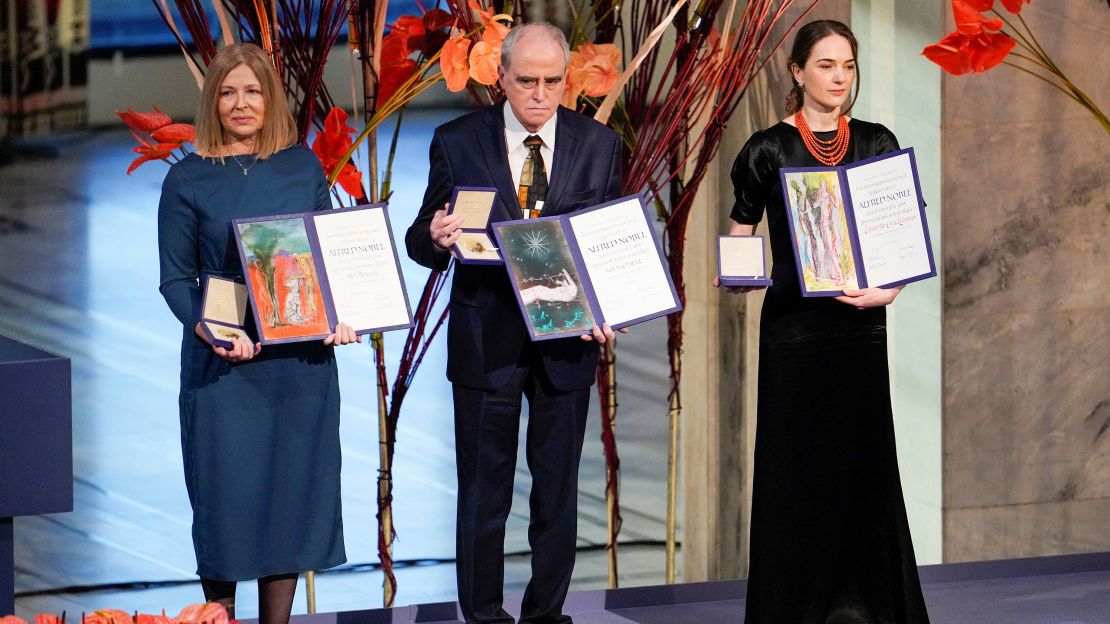 Tsikhanouskaya also urged the international community to take action, saying Bialiatski's treatment by Belarusian authorities is "inhumane."
"The ongoing inhuman treatment of Nobel laureate Ales Bialiatski and other political prisoners in Belarus can't be tolerated," Tsikhanouskaya said in a Twitter post. "Many of the strongest voices for freedom have fallen silent. So we have to be even louder. The international community must act now!"
Bialiatski won the Nobel Peace Prize in 2022 alongside human rights groups from Russia and Ukraine. He'd been arrested in 2021 amid widespread protests against Lukashenko's regime. On March 3, Bialiatski was sentenced to 10 years in a maximum-security penal colony on charges of smuggling money and violating public order.
Bialiatski had documented human rights abuses in Belarus since the 1980s and founded the organization Viasna, or Spring, in 1996 after a referendum that consolidated the authoritarian powers of President Lukashenko, a close ally of Russian President Vladimir Putin.
On May 21, more than 100 Nobel laureates called for the activist's release in an open letter authored with Pen International. "We, the undersigned Nobel Laureates, call for the immediate and unconditional release of our colleague – writer, human rights defender, Nobel Peace Prize winner, and PEN member Ales Bialiatski," the letter reads in part.
"Bialiatski is a symbol of hope and an inspiration to human rights defenders around the world, who should be celebrated as such. Instead, he finds himself behind bars, alongside five members of the Human Rights Centre Viasna ('Spring'), which he founded with the very purpose of supporting those harassed and persecuted by the Belarusian authorities," the Nobel Laureates said.
"The world deserves to hear Bialiatski's voice," they said.
Viasna lists the names of 1,516 people it says are unfairly imprisoned on its website.
Mikalai Statkevich is among them. The opposition Belarusian politician ran for president in 2010 and is now serving a 14-year sentence at a maximum-security penal colony on charges of organizing riots, according to Viasna.
In early March, his wife Maryna Adamovich told the organization she hadn't received letters from him for a month and said he wasn't allowed to see his lawyer.