A little over a year on from being forced out of Ukraine by war, Italian manager Roberto De Zerbi has guided Premier League club Brighton & Hove Albion to a historic first.
After its 1-1 draw with Manchester City on Wednesday, Brighton mathematically secured its place in the Europa League group stages for next season – the first time the club has ever qualified for European competition.
A wonder strike from youngster Julio Enciso canceled out Phil Foden's opener and a point was all that was needed to usher in a new, exciting chapter for the club.
"We didn't receive a gift of the one point, we deserved the result," De Zerbi told reporters after the game. "I am really proud because I think this one of the best games of the season. It was very tough, but we played with incredible quality and courage."
The 43-year-old joined Brighton in September after being forced to leave Shakhtar Donetsk a few months earlier.
He was almost a year into his managerial reign at the Ukrainian club when war broke out in the country on February 24, 2022.
The Italian had already won the club a Ukrainian Super Cup and was busy imprinting his exciting brand of football on the players.
But his project came to a halt when Russian troops began invading the country, forcing many of his overseas players to leave Ukraine.
'One day can change everything'
Living in Kyiv and despite shells dropping around his hotel room, De Zerbi refused to leave the country himself until all the international players and their families had left.
"I learned that one day can change everything," De Zerbi told Sky Sports earlier this year.
"The day before the war started, we played in the training session. We enjoyed with the players and the guys.
"And the day after, we stayed inside the hotel with the bombs and the shelling."
De Zerbi admitted to being scared at the time, but it didn't throw him off his journey to becoming one of the most exciting emerging coaches in the world. And despite his ascendency with Brighton, he says a piece of his heart still remains in Ukraine.
"My idea should be to go back one day to work in Ukraine, to complete my work because I lost my team, I lost my players, and this was a difficult situation to accept in my work," De Zerbi told Sky Sports.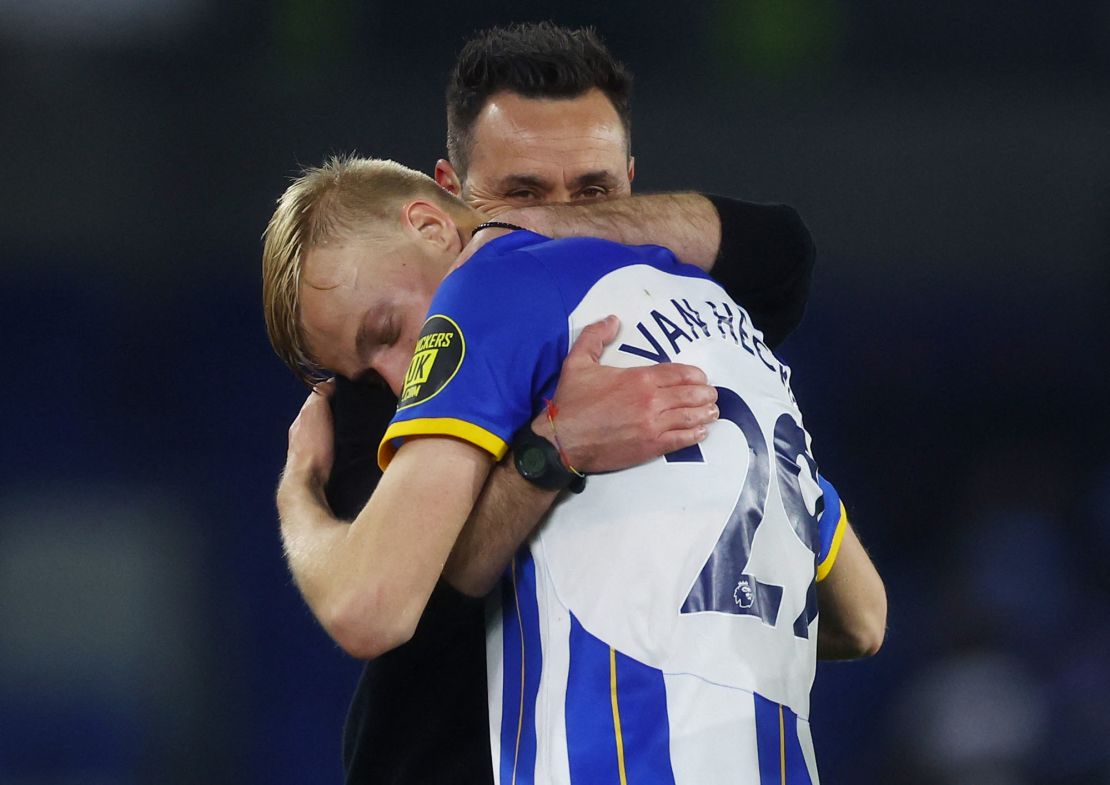 Journeyman to the pinnacle
As a player, De Zerbi initially signed for AC Milan before getting his real breakthrough while out on loan at lower league clubs.
He moved around the country before eventually making his Serie A debut for Napoli.
If De Zerbi's playing career didn't generate many headlines, his coaching approach is now the talk of Europe.
Not afraid to get his hands dirty, the former attacking midfielder started coaching in the lower leagues of Italian football – with Darfo Boario in Serie D – before De Zerbi slowly made his way up the divisions.
Inspired by the likes of City boss Pep Guardiola and Marcelo Bielsa, De Zerbi began forging a style of play that was starting to earn him plaudits.
After a spell with Italian club Sassuolo, the manager took a leap of faith by joining Shaktar Donetsk in 2021.
Once there, he started testing himself against top teams in the Champions League and began dominating domestically.
His Shaktar team was in pole position to win the title before the league was terminated due to Russia's invasion.
He left the Ukrainian side in July and signed for Brighton a few months later, finding a club going through somewhat of a transition.
Previous boss Graham Potter had been tempted away by a lucrative offer from Chelsea, along with much of his backroom staff.
Unfazed by critics questioning his experience at the top level, De Zerbi got to work improving the team and has now silenced the doubters.
Aided by the club's brilliant recruitment in recent years – with stars such as Alexis Mac Allister and Moisés Caicedo inspiring the team to a new level – De Zerbi's Brighton has been able to compete against clubs with far more financial backing.
With its patient, possession-based style of play, the Seagulls have gotten the better of some of the league's heavyweights – picking up wins against Liverpool, Arsenal, Manchester United and Chelsea throughout the season.
De Zerbi and Brighton also reached the FA Cup semifinals before losing to Manchester United on penalties.
High praise
This season, Brighton have had more shots on target – 228, two more than Premier League champion Manchester City – than any other team in England's top flight this season.
And ahead of Wednesday's match, City manager Guardiola heaped praise on De Zerbi.
"Roberto De Zerbi is one of the most influential managers in the last 20 years. There is no team that plays the way they play, it's unique," Guardiola told reporters.
Even after leading Brighton – which was almost relegated to non-league status in 1997 and was still playing in the second tier of English football six years ago – to Europe, the Italian remained humble as ever.
"The improvement of the players has been fantastic and, for me, it's very satisfying," he told reporters.
"At the beginning, I didn't put my focus on the target of the Europa League. I had to analyze the players, learn about the Premier League and to understand the new country.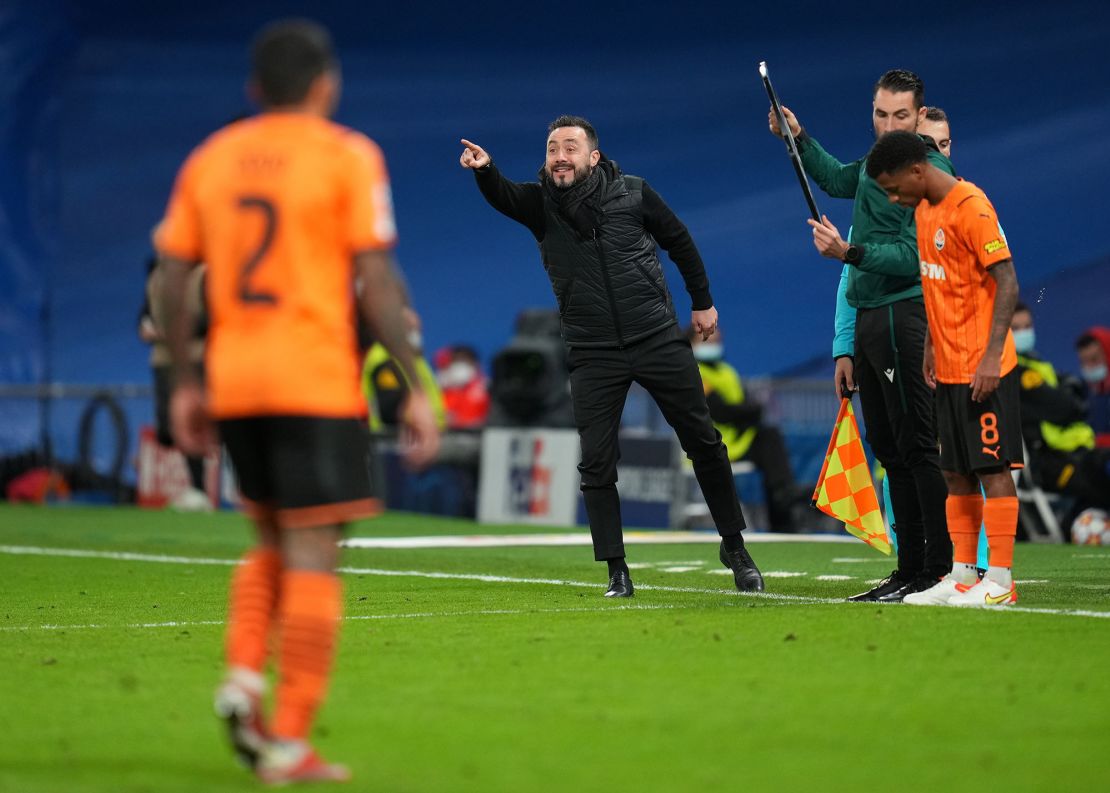 "But step-by-step, I started to think about our potential, and in February, it was clear in my head that we could fight for a big target.
"The coaches work on tactics, strategy and mentality, but first of all, there is the passion and energy.
"In the last part of the season, I watched the players not only give their best but more. Without it, we couldn't achieve this target – we deserve to play in the Europa League."
Brighton fans will hope to keep De Zerbi at the club for the foreseeable future to see what he can produce in its first European campaign, but there is a sense that he'll soon outgrow his surroundings.
Unable to compete financially, Brighton's philosophy currently relies on selling on its best players for a profit, before replacing them with hidden gems uncovered through its data-driven recruitment.
With De Zerbi's stock rising game on game, he may soon find himself being the target of other clubs looking for a piece of his success.