The waters of the Caspian Sea appear deceptively calm. But this sea route – which provides a direct path between Iran and Russia – is increasingly busy with cargo traffic, including suspected weapons transfers from Tehran to Moscow.
As cooperation between the two countries deepens, the Caspian Sea route is being used to move drones, bullets, and mortar shells that the Russian government has purchased from the Iranian regime to bolster its war effort in Ukraine, according to experts. Tracking data shows that vessels in the region are increasingly going "dark" – suggesting growing intent to obfuscate the movement of goods.
Last year, data from Lloyd's List Intelligence revealed a September spike in the number of gaps in vessels tracking data in the Caspian. That's shortly after the United States and Ukrainian governments say Moscow acquired drones from Tehran last summer. Russia's use of Iranian drones increased in the fall, including against critical energy infrastructure in Ukraine.
And analysts say that Ukraine's Western allies would have little power to stop such arms deliveries.
"There is no risk to Iranian exports in the Caspian Sea because of the bordering countries – they don't have the capability or motive to interdict in these sorts of exchanges," said Martin Kelly, lead intelligence analyst at security company EOS Risk Group. Azerbaijan, Turkmenistan and Kazakhstan, all former Soviet republics, are the other nations with ports on the Caspian Sea.
It's a "perfect environment for this trade to go unopposed," Kelly added.
CNN reached out to the governments of Iran and Russia for comment but did not receive a response.
There's been an overall jump in the number of vessels in the Caspian Sea turning off their tracking data between August and September of 2022, according to Kelly. And the number of gaps in ships' tracking data remains high so far in 2023, according to data from Lloyd's List Intelligence.
The phenomenon is largely driven by Russia-flagged and Iran-flagged ships and, in particular, the type of cargo ships capable of carrying weaponry, according to Bridget Diakun, a data analyst and reporter for Lloyd's List, which specializes in analysis of global maritime trade.
An International Maritime Organization resolution requires most vessels to carry a tracking system that automatically provides location and identification information to other ships and to coastal authorities. For safety reasons, those automatic identification systems (AIS), are supposed to be transmitting data at all times, with limited exceptions. But ships are able to turn off their AIS tracking, a tactic that can be used to disguise parts of their journey, hide destinations, or go "dark" when calling into a port.
At the end of 2022, Lloyd's List Intelligence data shows there was an uptick in "probable dark port calls" to Russia and Iran's Caspian Sea ports, Diakun said.
"It's suspicious if a ship just goes from one port and comes back without calling at another port," unless the vessel is transferring cargo to another ship rather than a port, she explained.
Most gaps in the tracking data for Russia-flagged and Iran-flagged cargo ships have occurred near Iran's Amirabad and Anzali ports, as well as in Russia's Volga River and its port in Astrakhan, according to Lloyd's List Intelligence.
Using data from MarineTraffic, a ship tracking and maritime analytics provider, CNN tracked six Russian-flagged and two Iranian-flagged vessels that analysts say exhibited suspicious behavior since the full-scale invasion and are likely linked to the arms trade.
Several patterns emerged – some of the ships can be seen making the journey from Iranian ports to Astrakhan, although they did not make an official port call there. Other vessels that experts highlighted as being suspicious can be seen going dark on the approach to Iran's Amirabad Port and Russia's Astrakhan Port, or can be seen turning off their tracking data for extended periods of time.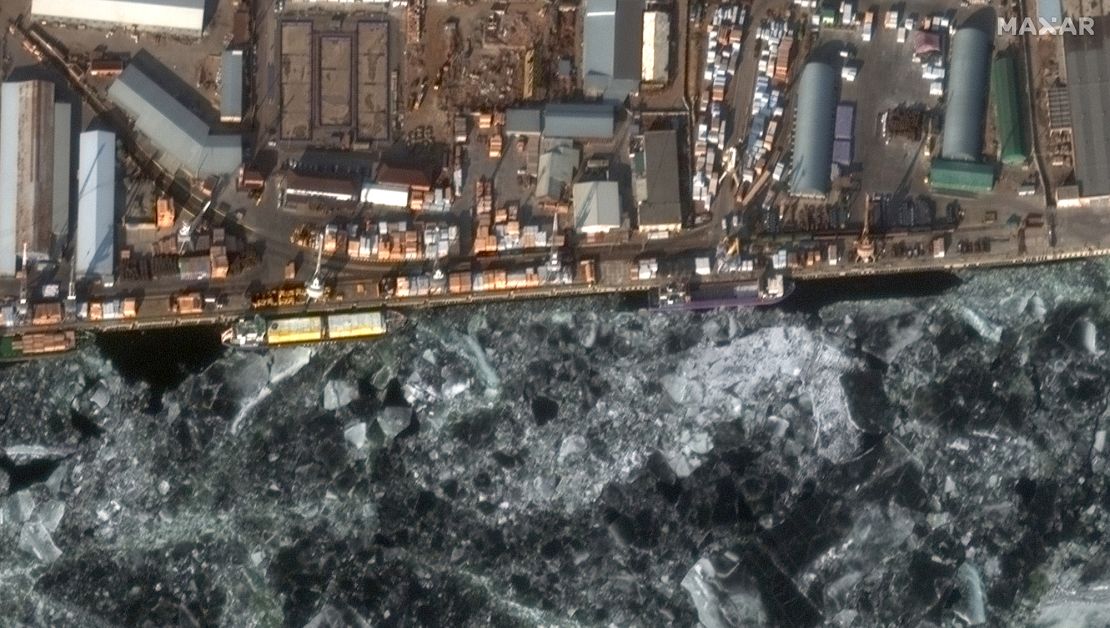 Although analysts say that it's difficult definitively to know what cargo is on these ships, barring eyewitness accounts or satellite imagery, the patterns in suspected nefarious activity in the Caspian Sea support Western intelligence reports of Iran's drone exports to Russia.
"There's a correlation between Russia requesting drones from Iran, dark port calls in the Caspian Sea, and an increase in dark AIS activity," Kelly said.
Deepening ties between Moscow and Tehran
Even before Russia's full-scale invasion of Ukraine, there was increased attention and interest in the Caspian Sea route, largely coming from the Iranian side.
"I think it's an overlooked route, but for years, the countries that border along the Caspian Sea have wanted to strengthen this maritime route and make more trade," Diakun told CNN, noting that bolstering the trade route has long been on the agenda of countries in the region.
She added that the Caspian – where Azerbaijan, Kazakhstan and Turkmenistan also have ports – sees a lot of legitimate trade and is a key path for goods to move to Asian markets. But, Diakun said, it's also "a hotspot for sanctioned vessels."
The Istanbul-based consultancy Bosphorus Observer told CNN that the Iranian regime had invested in improving Russia's port of Astrakhan prior to the war to bolster its shipping options to Europe via a route that could circumvent sanctions.
Iran is also helping Russia with its years-long project of dredging the Volga River, the Bosphorus Observer said, which will allow heavier shipments to be delivered to Astrakhan Port and to the Black Sea and beyond, using the Volga-Don Canal.
Last week, Putin and his Iranian counterpart Ebrahim Raisi signed a deal to finance and build an Iranian railway line as part of the early stages of creating a "North-South transport artery," according to the Kremlin. Putin said the railway – which will have a central branch going along the Caspian Sea – would help connect Russian ports on the Baltic Sea with Iranian ports in the Indian Ocean and the Gulf, helping bolster global trade for both nations.
"We know that the current administration in Iran has been pushing for an improvement of ties with the Eastern countries, but in particular with Russia," said Aniseh Bassiri Tabrizi, head of the Middle East and North Africa program at the Royal United Services Institute (RUSI), a British think tank. She added that the balance of power has shifted since February last year, now that "Russia sees Iran as a natural provider of weapon capability for its war in Ukraine."
The huge number of sanctions imposed against Russia in the past year is also a new challenge for the country, Tabrizi said, "whereas Iran has been navigating that environment for a number of decades."
The perception in Moscow is that Iran can teach Russia a lot about the "tools to evade sanctions" and "how to still have a significant economy even when sanctions are imposed," according to Tabrizi.
In March, Iran's Finance Minister Ehsan Khandouzi told the Financial Times, "We define our relations with Russia as strategic and we are working together in many aspects, especially economic relations."
The United States, along with European allies, consider Tehran's arms transfers to Russia to be in violation of UN Security Council Resolution 2231, which was passed to endorse the 2015 Iran nuclear deal and control the transfer of weapons from Iran.
"There's great potential here for all kinds of different sanction violations," said Bosphorus Observer analyst Yörük Işık, adding that Russia could also be sending spare parts and other equipment to Iran via the Caspian Sea route, which would be illegal in the eyes of Western nations.
US officials are also looking to enhance the enforcement of sanctions to prevent Iran's access to US and Western technologies used in drones. In January, National Security Council spokesperson Adrienne Watson told CNN in a statement: "We are looking at ways to target Iranian UAV production through sanctions, export controls, and talking to private companies whose parts have been used in the production."
In April, Vice Adm. Brad Cooper, commander of US Naval Forces Central Command, US 5th Fleet, visited both Turkmenistan and Kazakhstan to meet with officials in the region and discuss a "range of topics… including how the US Navy is strengthening partnerships and accelerating innovation in the Middle East to enhance regional maritime security," 5th Fleet spokesperson Cmdr. Tim Hawkins told CNN.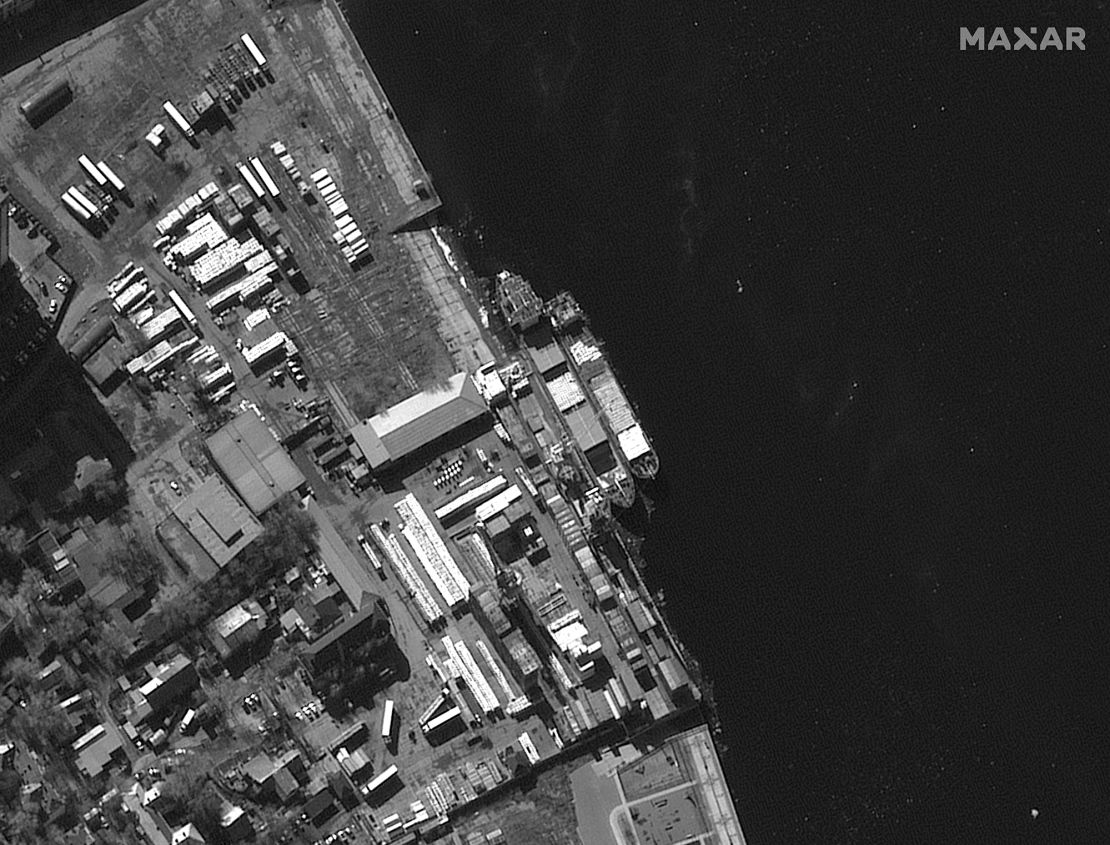 Air-mailed weapons
Iran has also been accused by Ukraine, Western governments and security analysts of sending weapons and supplies to Russia by plane.
Three Iranian state-owned airlines and "one supposedly private one" called Mahan Air have delivered drones "and instructors" to Moscow, according to a March 2022 statement from the National Resistance Center of Ukraine, an official body. In 2011, the U.S. Treasury Department sanctioned Mahan Air for transporting weapons, fighters and supplies for Iran's Quds Force.
Last year, the US Commerce Department identified four Iranian cargo planes that it says flew to Russia in violation of American export controls, with US authorities linking those planes to "backfilling items to Russia." The US Commerce statement said that support for such aircraft violates US export controls, in light of "Iran's support for Russia's war machine, including the recent provisioning of unmanned aerial vehicles."
CNN analyzed tracking data from Flightradar24 for those four cargo planes, which reveals that collectively, the Iranian planes made at least 85 trips to Moscow airports between May 2022 and March 2023.
"There are some Iranian state airlines that are transporting drones from Iran into Russia," Kelly of EOS Risk Group said. "However, in terms of the comparison of the volume of what can be transported in a single voyage, a ship gives you a much larger volume and capability."
In November, the Iranian regime acknowledged that it had sold "a limited number of drones" to Russia, but Foreign Minister Hossein Amir-Abdollahian insisted the weapons were provided "in the months before the start of the war in Ukraine." Iran maintains that the sale does not violate UN provisions.
Russia, which held the rotating presidency of the UN Security Council during April, continues to scoff at Western sanctions. Russian Foreign Ministry spokesperson Maria Zakharova said last year that reports the country is using Iranian unmanned aerial vehicles (UAVs) are "unsubstantiated inferences," despite Ukraine, its allies and arms-tracking experts finding ample evidence of their use in Ukraine.
Analysts expect levels of nefarious activity and "dark" port calls in the Caspian Sea to remain high in 2023, and that Moscow's sway over the world's largest inland body of water will go unchecked.
"They don't have any other authority there to hide from," said Işık of vessels navigating the Caspian Sea. He also noted that a "Russian-flagged ship gives you an extra layer of protection," given other nations and actors in the region are fearful of questioning or interfering with Russian vessels, according to Işık.
Growing cooperation on this inland sea – which is tucked away from the influence and interference of Western nations – bolsters the strength of both Moscow and Tehran.
"The Caspian Sea used to be a theater of confrontation between Russia and Iran, and now it's a potential avenue for sanction evasion and potential weapon provision," Tabrizi said, noting that the countries have a more equal partnership now, especially when it comes to military cooperation.
"In terms of longer-term repercussions… on a more strategic front when it comes to the Middle East, but also broadly speaking, I think that is going to be very interesting to watch and potentially very problematic for Western interests."
Iran has exported drones, or drone capabilities, to its regional proxies and allies in the past, Tabrizi said, and that has been considered a threat. "But I think the scale of the exports that we are seeing now is different."