When you spend every moment of every day with another person – eating, sleeping, training, competing – it's hardly surprising that you should develop a formidable partnership, even less so if you share the same DNA.
For Bob and Mike Bryan, their "twin energy" was at the heart of their triumphs and titles on the tennis court, a synergy that only grew stronger as they traveled the world together for the best part of 23 years.
The Bryan brothers, as they became known in the tennis community and beyond, announced their retirement from the sport in August 2020 as the most successful doubles team in history: 16 grand slam titles, 119 tour-level titles and 438 weeks at world No. 1.
Their partnership peaked in 2012 and 2013 when, practically unstoppable, they won the Olympic gold medal and all four majors in the space of 12 months.
"When everything was flowing and we were really positive, it was kind of eerie – our feet were moving at the exact same time and we just knew where to be," Mike tells CNN Sport. "It was like a freight train once we got hot."
This year's French Open marks 20 since the identical twins from California captured their first grand slam title, though they had little sense at the time of the huge success that would follow.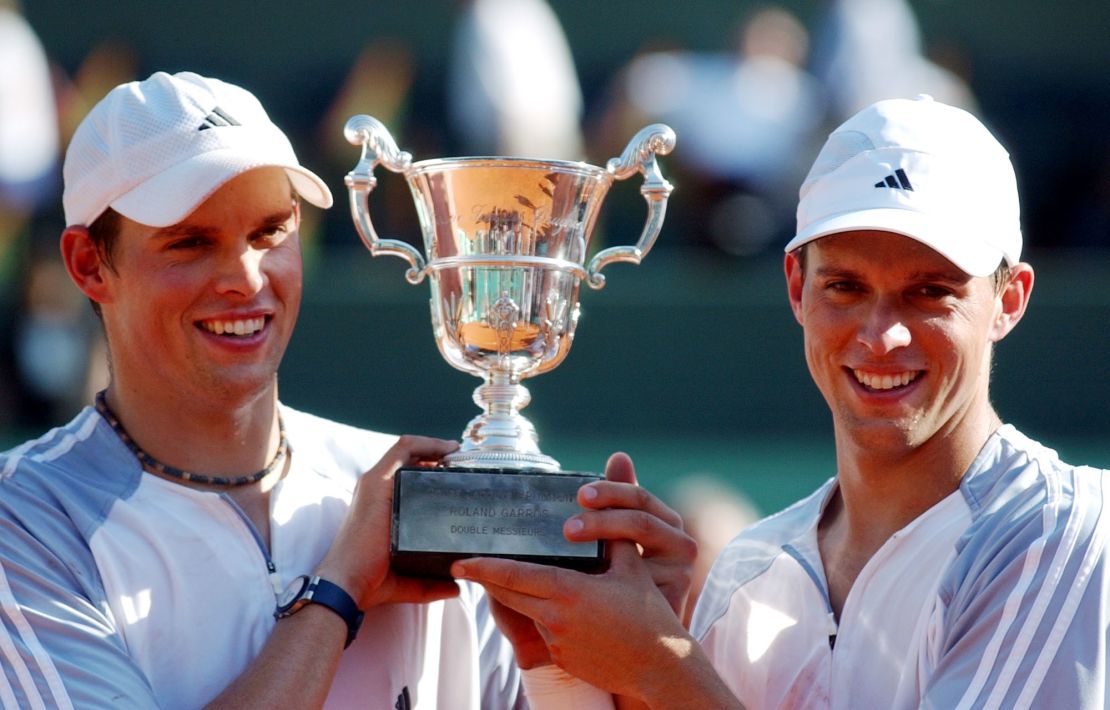 Instead, they were focused on gaining a spot in the USA's Davis Cup team by impressing captain Patrick McEnroe at Roland Garros – which they duly did.
Their progress through the French Open doubles draw was swift and ruthless, the brothers sweeping aside opponent after opponent in straight sets before a fit of nerves on the eve of the final almost derailed their path to the title.
"At the time, you think it's a one-shot deal and you never know if you'll get there again," says Mike, reflecting on the 2003 French Open campaign. "We were just thinking about it non-stop, it got in our heads."
Driven by adrenaline, they won the last 16 points of their final against Paul Haarhuis and Yevgeny Kafelnikov to claim a 7-6 6-3 victory, laying the foundations for the success that would soon follow.
"We partied all through the night," says Bob. "We went straight from the club to I think it was a 9 a.m. photo shoot at the Arc de Triomphe with the trophies and the photos are unusable. That's why you probably have never seen it – because we were so tired."
While some tennis players switch between singles and doubles formats, the Bryan brothers devoted their whole careers to doubles and were steadfast in their commitment to each other.
It was only when Bob, the older twin by a couple of minutes, underwent hip surgery in 2018 that Mike sought a different partner and won Wimbledon and the US Open alongside American Jack Sock.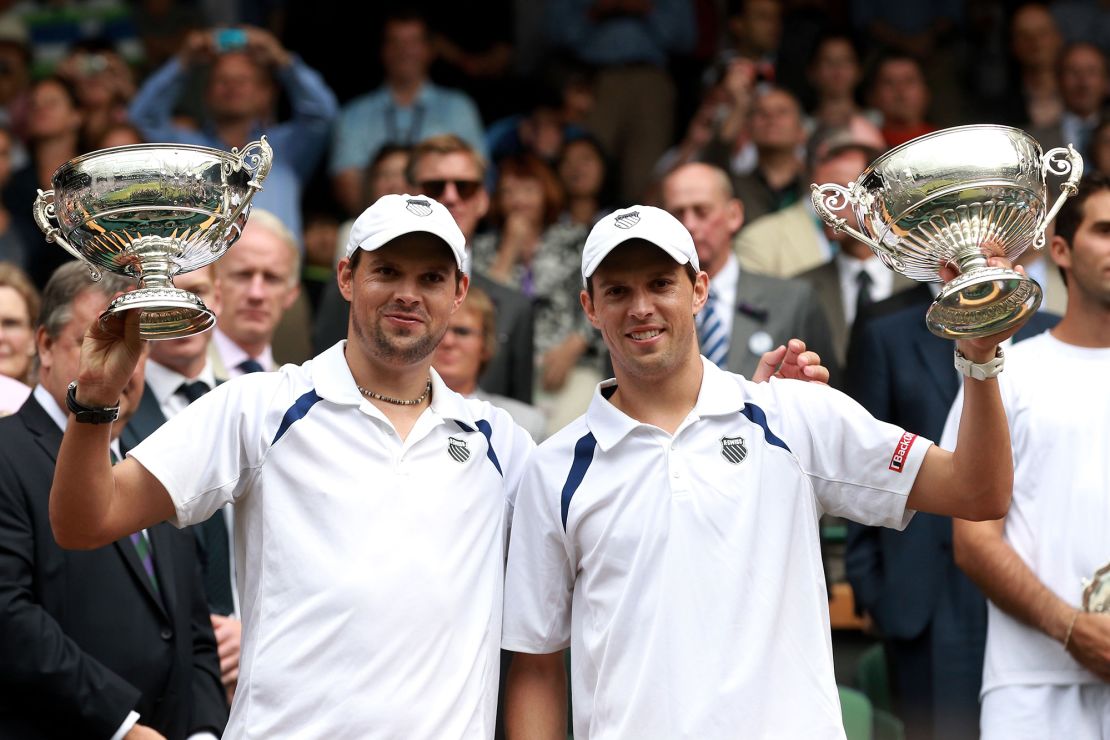 "We played every day together and lived together and just spent every moment together," says Mike. "It worked out on the court – we were always on the same page and kind of moving like one entity.
"We knew that we were never going to break up with each other. And that kind of gave us that confidence too; you know you're never going to turn your back on your brother and look for another partner."
Bob agrees that singles was never on the brothers' radar.
"We always had more enjoyment winning a doubles match, it was maybe a twin thing," he tells CNN Sport. "But even our sponsors put bonuses in our contracts that were tailored to doubles – they wanted us to go to doubles. It came more naturally to us."
With Bob a left-hander and Mike a right-hander, the pair were a natural fit on the tennis court, though unlike most left-right doubles partnerships, they tended to play on the backhand side when returning serve – a switch they made ahead of the 2003 French Open.
They were virtually inseparable over the course of their professional careers, even to the point of sharing a bank account. Tempers did boil over at times, especially during practice when they would hold each other to high standards.
"We practiced every time like we were playing a final," says Mike. "Bob would get on me if I missed a couple balls and I'd get on him, and we had some rough practices. We had some physical altercations out there, but it did keep the quality extremely high.
"We actually only would do one-a-day practices because we went so hard. We'd fill maximum 90 minutes, but we wouldn't even drink water. We probably only used two or three balls and just go drill to drill to drill to drill.
"By the end, we were just drenched in sweat. We practiced like it was a big final and he didn't let me slack off for sure."
Though fiercely competitive, the brothers never lost sight of their roles as entertainers. The chest bump – or Bryan bump, as The Stanford Daily named it during their college days – was their trademark after winning a tournament or a big point.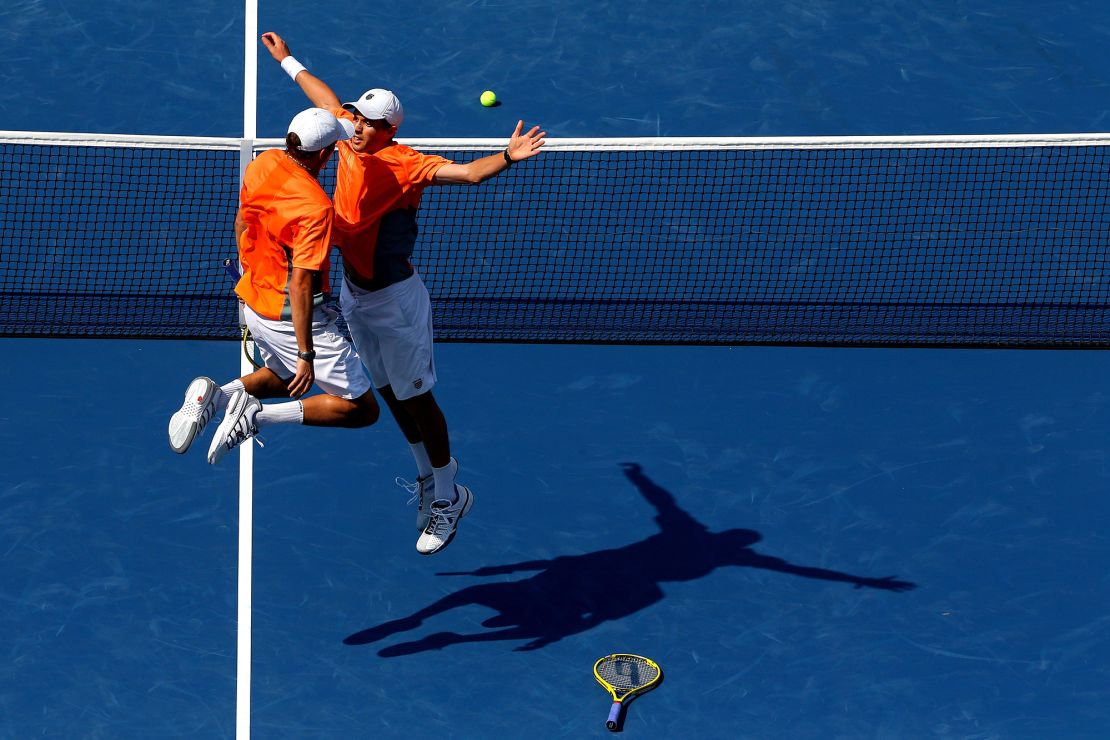 Feeding off the energy of the crowd, running, jumping and bashing their torsos together became an act of showmanship – one they inherited from another American doubles team, Luke and Murphy Jensen.
The Jensen brothers, coincidentally, won their only grand slam title at the 1993 French Open, 10 years before the Bryans captured their first.
"We started doing it at Stanford, and then we took it on the tour," Bob says about the origins of the Bryans' chest bump.
"It wasn't really welcomed on the tour in those first couple of years because those salty veterans thought it was something out of disrespect to them.
"Honestly, we were just excited to be there and happy to be professionals traveling the world, and eventually, it was accepted and became our thing."
Since retiring ahead of the 2020 US Open, the brothers have enjoyed a slower pace of life. After spending 40 weeks of the year traveling on tour, they now have more time with their families and can pursue another shared passion: music.
Bob plays keyboard, Mike guitar and drums; together, they have performed at bars, clubs and even tennis tournaments as part of the Bryan Brothers Band.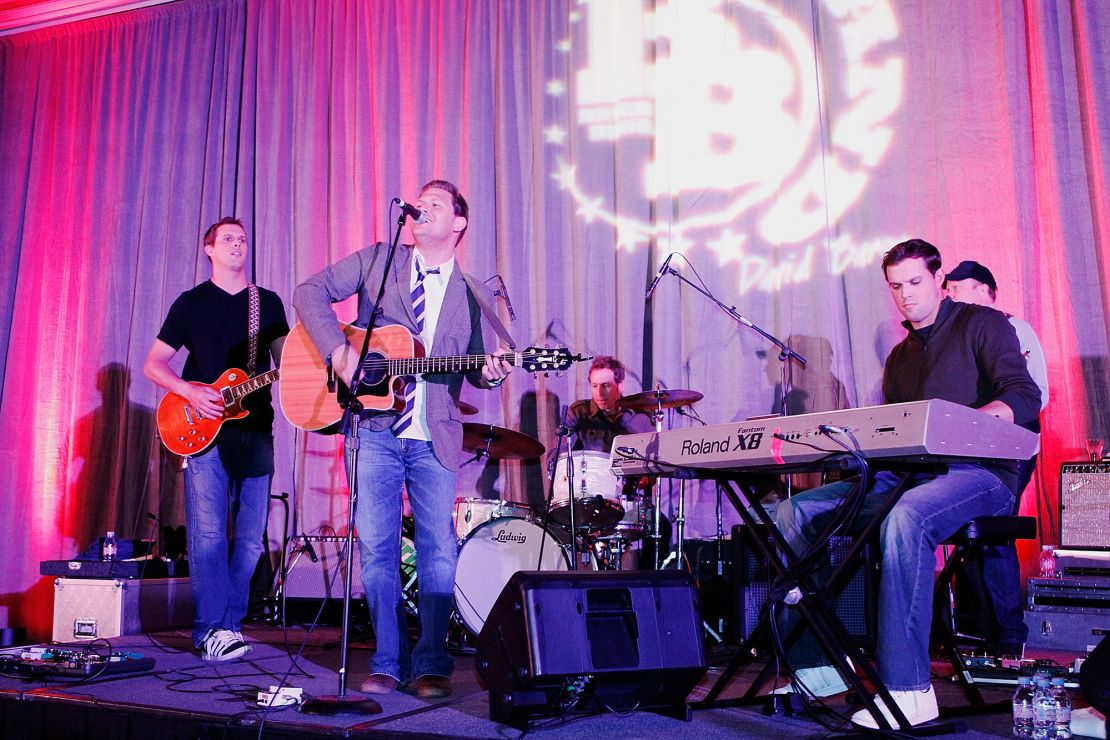 "Our music rooms have expanded," says Bob, "and my kids are now playing, so I get to jam with them."
That's not to say that tennis has disappeared from their lives. They still play legends events at the grand slams, as well as the occasional exhibition tournament, and Bob has recently been named the USA's Davis Cup captain ahead of this year's event.
But the days of intense competition, ferocious practice sessions and high-flying chest bumps are behind them.
"Once you retire, it's hard to turn the car back on once you turn it off," says Bob.
"We knew we wanted to play as long as we were mentally and physically in it, and so when we did retire, we had no regrets.
"We both feel that we don't have any unfulfilled dreams that we wish we'd have accomplished on the tour. I think we felt like we poured everything we could into our careers."