Metal trees with a seven-meter canopy of solar panels that generate electricity may soon be coming to car parks and shopping malls in the UK.
The structures, which will capture the sun's energy through nano photovoltaic "leaves" and could store it in a battery placed within the tree's trunk, were designed by British startup SolarBotanic Trees as a power source for charging electric vehicles (EV). The company recently completed a half-scale prototype of the device and is now looking to build and test a full-size version, before beginning commercial production at the end of the year.
In the UK, EV charging infrastructure is rapidly growing, with more than 40,000 public charging points installed by the end of April 2023, up 37% from the previous year, according to ZapMap, an EV mapping service. But this still does not keep up with demand, with the UK's Climate Change Committee estimating that 325,000 charging points will be needed by 2032 to support the growing electric fleet.
"There's a massive shortfall of (charging) infrastructure in this country, so we are looking to work hand in glove with the EV infrastructure providers," says Chris Shelley, CEO of SolarBotanic Trees. He adds that the company has already received its first order of 200 trees from the Raw Charging Group, a supplier of EV charging infrastructure, which plans to incorporate the trees as part of its network of charging sites rolled out across the UK and Europe.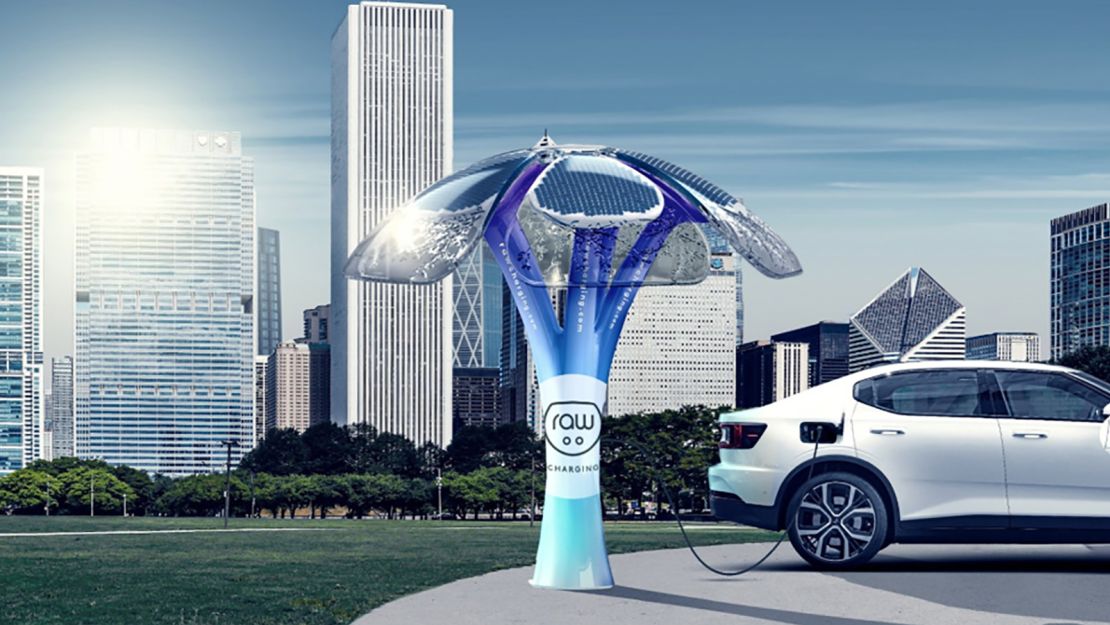 A number of companies already offer solar-powered carports, which stretch over car parking spaces and look like a bus shelter topped with solar panels, but there is a lack of aesthetically pleasing solutions, says Shelley. Solar trees, forms of which have previously featured in Singapore's Gardens by the Bay development and more recently at the Sustainability Pavilion at Expo 2020 Dubai, can offer just that, he says.
But while Dubai's 18 energy trees are collectively covered in almost 4,000 square meters of solar panels and rotate throughout the day to follow the sun's arc, SolarBotanic Trees – which will stand around 4.5 meters (15 feet) tall – are more space-efficient so that they can be more easily added to public spaces. Shelley says the solar dome simultaneously provides shade and appeals to luxury hotels, shopping malls, corporate head offices and business parks that want a premium and visible product that shows off their green credentials.
Charging up
SolarBotanic Trees are likely to cost between £18,000 and £25,000 ($22,000 to $30,000), considerably more than a conventional solar panel source. They will have a power generation capacity of five kilowatts, which is typical for a standard chargepoint according to Energy Saving Trust (EST), a UK organization specializing in low carbon solutions. With this power output it would take almost seven hours to charge a car with a 50 kilowatts battery from 20% to 80%.
"This speed of chargepoint is more suited to when a vehicle is idle for a longer period," says Rachel Swiatek, program manager of transport at EST, adding that "there are lots of different chargepoint types and power outputs on the market and each is suited to a different type of use."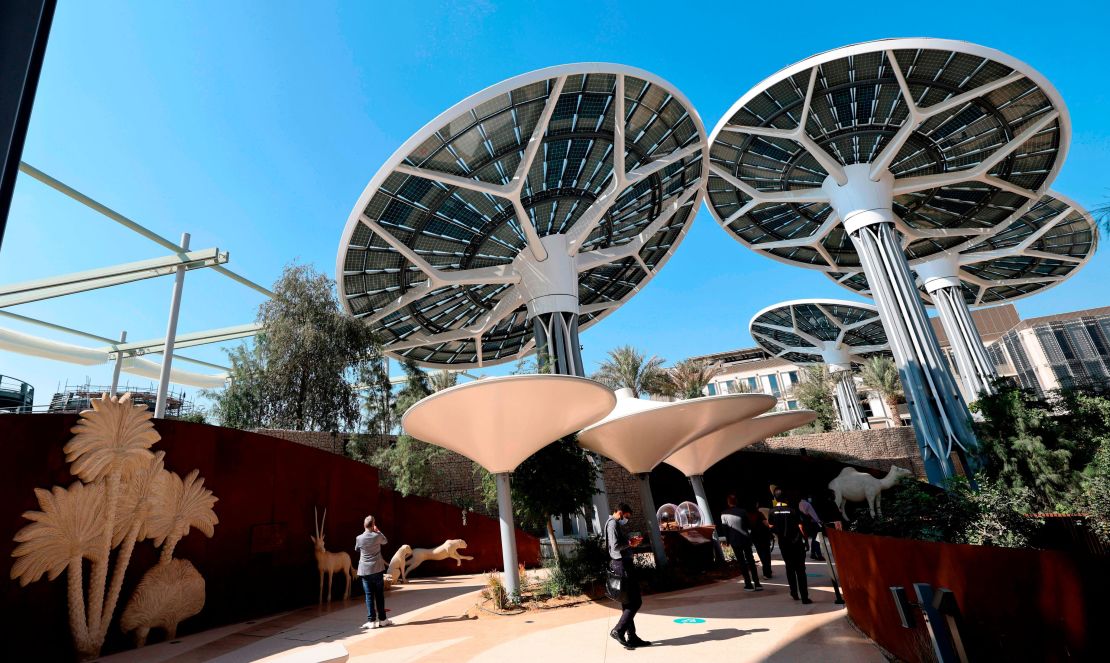 The startup is also looking to design a smaller and more affordable version, at 3.2 kilowatts, which Shelley says is likely to cost between £10,000 and £15,000 ($12,000 to $18,000). This model would be suited to university campuses, shopping malls, town centers and other locations and could be used for several applications, from smartphone and laptop charging to LED lighting or electronic advertising. Shelley notes that he is also exploring creating a solar tree solution for powering electric scooter charging hubs.
Each tree will be equipped with an AI-driven energy storage and power management system that can link multiple trees to form local microgrids, or can connect a tree to the national grid, so that any excess energy produced can be fed back into the mains supply. It also means the tree can continue to charge during the night, or on dark winter days when there is no sunlight, by tapping into the grid for power.
However, to reduce the reliance on the grid, the startup is also planning to integrate a battery storage system in the tree trunk, so that any excess energy during the daytime can be stored for use at night.
SolarBotanic Trees has raised £340,000 ($420,000) and is looking to start a funding round at the end of the year following trials of the full-scale prototype. By 2025, Shelley wants to be building at least 1,000 trees a year.
The company will build its first trees in the UK, says Shelley, before looking to expand across Europe and North America.