(CNN) — Never-before-seen draft lyrics of Queen's "Bohemian Rhapsody" suggest that Freddie Mercury considered giving his mock-opera anthem a somewhat different title: "Mongolian Rhapsody."
The discovery was made following the emergence of a 15-page folio of lyrics, vocal lines and harmonies handwritten by the singer as he composed his 1975 hit. Near the top of an introductory page, Mercury appears to have crossed out the word "Mongolian" before replacing it with the now-famous "Bohemian."
The draft lyrics reveal other ideas that were seemingly abandoned or reworked, including alternate lines such as, "Time for good-byes now, is this reality."
Elsewhere, an unfamiliar version of the verse beginning "Mama, just killed a man," instead reads "Mama, there's a war began; I've got to leave tonight." Another page features a messy profusion of words and phrases, some of which went on to appear in the final song, including "Galileo," "Bismillah" and "Fandango" (while others like "Matador" and "Belladona" did not.)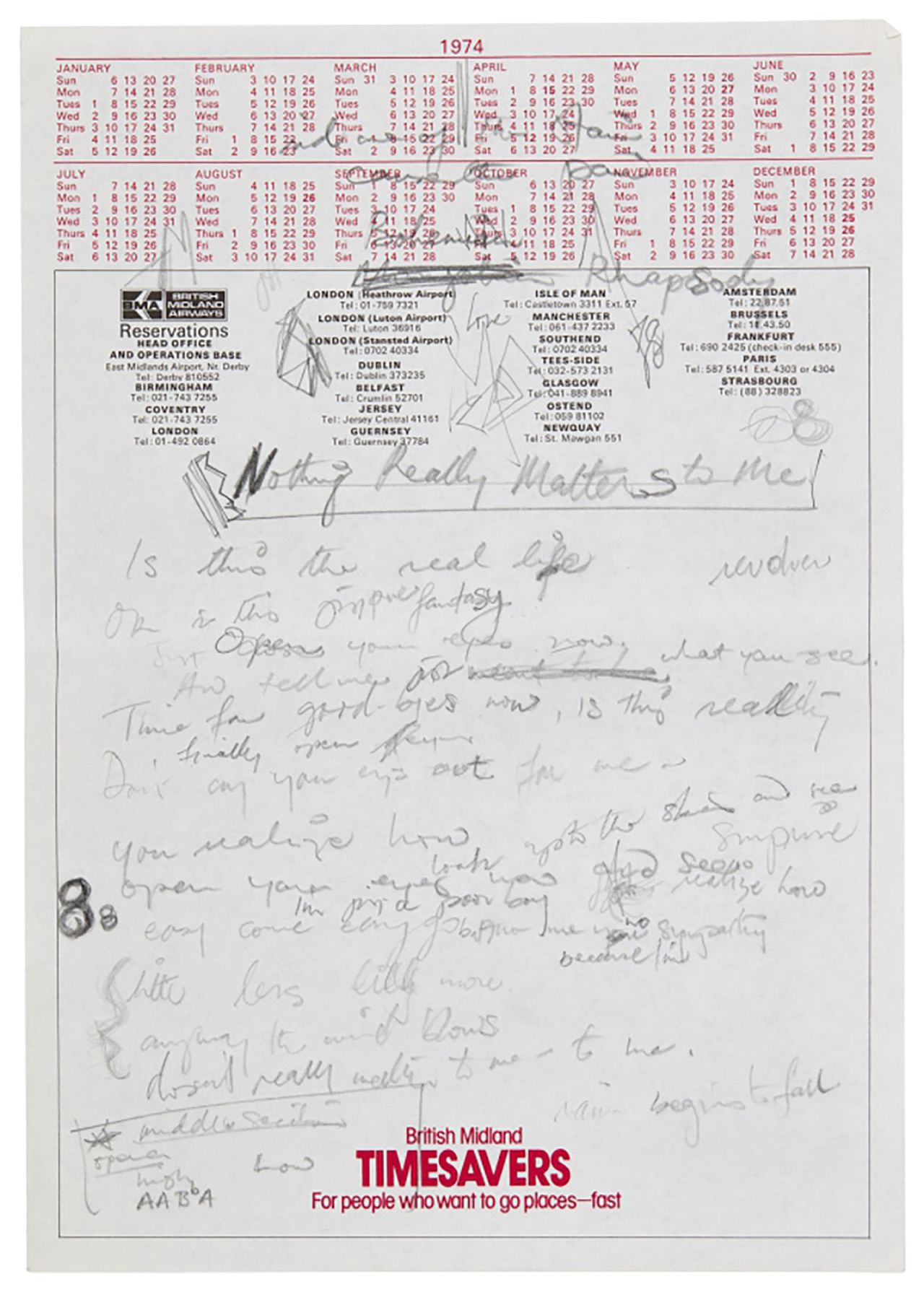 The long-lost notes were written in black and blue ballpoint pen on the pages of a calendar produced by a now-defunct airline, British Midland Airways, in 1974. Queen recorded "Bohemian Rhapsody" the next year. It went on to become the band's defining hit, topping the charts in countries around the world — including Mercury's native UK, where it has sold over 2.6 million copies and remains the third best-selling single of all time.
The manuscript is among approximately 1,500 of the singer's personal belongings heading to auction at Sotheby's in London. It is expected to fetch between £800,000 and £1.2 million ($995,000 to $1.5 million) when it goes under the hammer in September.
The cache of possessions is being put on sale by Mercury's close friend Mary Austin, who inherited most of his estate and looked after his former London home — and its contents, including the draft lyrics — following his death in 1991.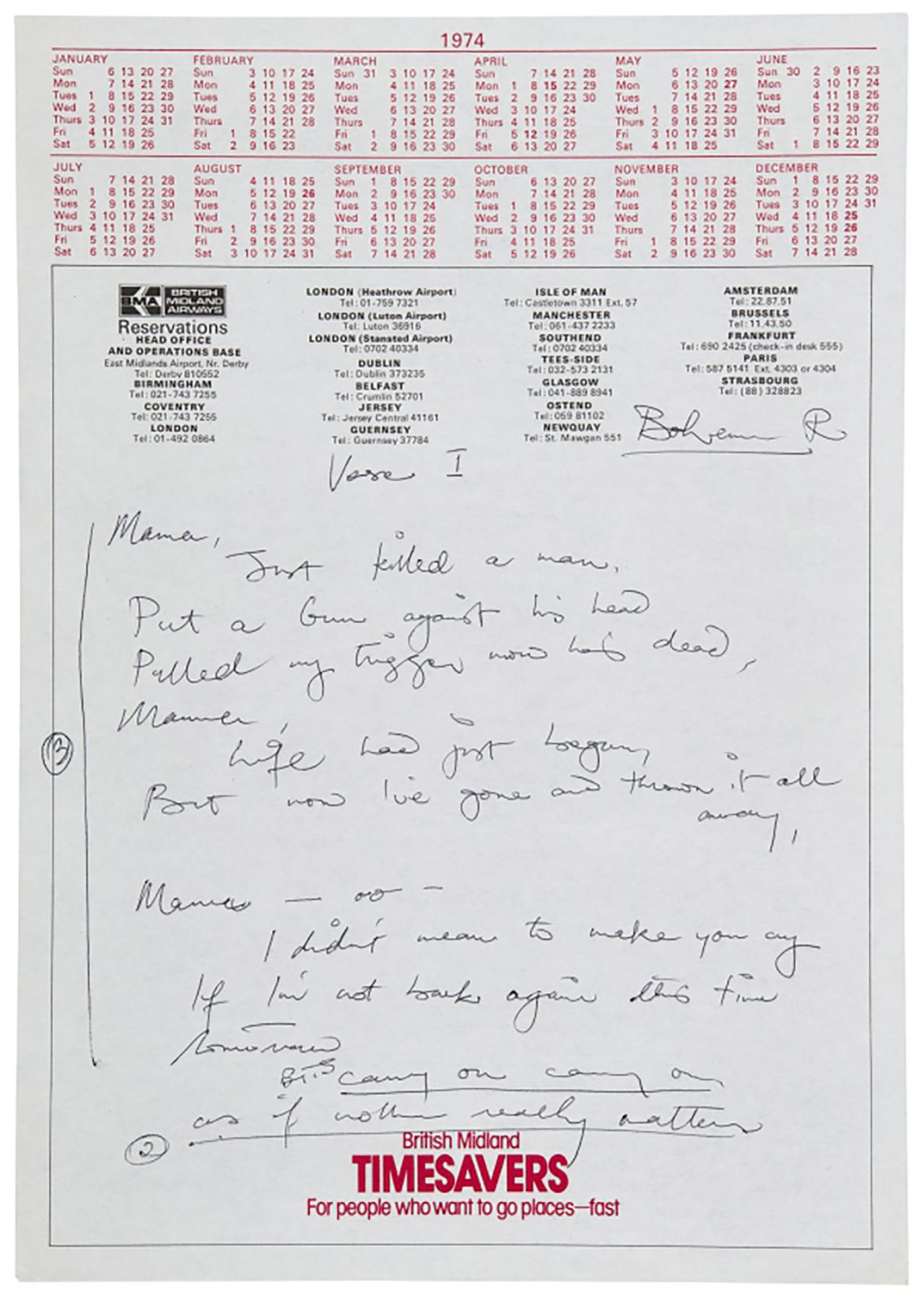 Dubbed "Freddie Mercury: A World of His Own," the six-part auction features an array of personal items, ranging from stage costumes and Victorian paintings to a silver Tiffany & Co.  mustache comb. One of the six sales is entirely dedicated to the singer's love of Japanese art and will include woodblock prints and porcelain from his collection.
Working lyrics to other Queen songs, including "Don't Stop Me Now," are also going on sale. Mercury's hand-written notes for "Somebody to Love" includes early unused lyrics, while his nine-page folio for "We Are the Champions" — also sketched onto a 1974 calendar — is expected to fetch up to £300,000 ($373,000).
Mercury remained tight-lipped about the meaning of his lyrics, even with his bandmates. In a 2002 documentary, Queen guitarist Brian May recalled the moment the singer revealed the title "Bohemian Rhapsody."
"You never quite knew whether Freddie was joking or (not)," he said. "You never knew how serious it was, but it turned out to be serious.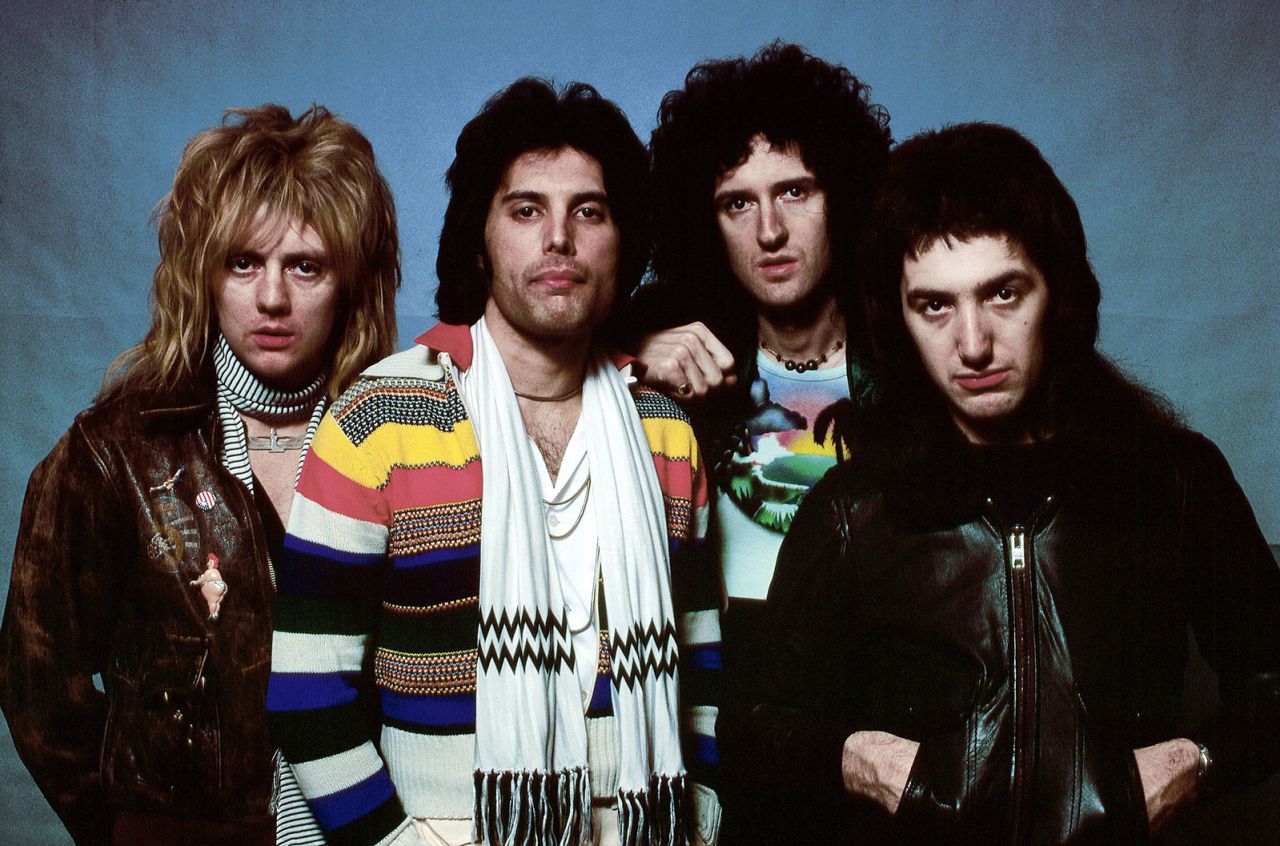 "What is 'Bohemian Rhapsody' about? I don't think we will ever know," the guitarist added. "If I knew, I probably wouldn't want to tell you anyway, because I wouldn't tell you what my songs are about. I hate doing that. I think it sort of destroys them, really."
Ahead of the auction, items featured in the sale will be exhibited in London until September 5, which would have been Mercury's 77th birthday. According to Sotheby's, his home, Garden Lodge, has remained "almost entirely as Mercury left it" over the last three decades.
"For many years now, I have had the joy and privilege of living surrounded by all the wonderful things that Freddie sought out and so loved," Austin said in a statement. "But the years have passed, and the time has come for me to take the difficult decision to close this very special chapter in my life.
"It was important to me to do this in a way that I felt Freddie would have loved, and there was nothing he loved more than an auction."