China is claiming a historic win this week after its answer to Boeing and Airbus, the C919, took to the skies for its first commercial flight.
Beijing calls the aircraft its first large homegrown passenger jet. It's a prominent symbol of Beijing's broader "Made in China" strategy, a campaign to reduce national reliance on foreign manufacturers.
But instead of boosting China's global stature in technology innovation, experts say the C919 is a symbol of its continued reliance on the West.
That's because a large chunk of the plane's parts come from foreign suppliers, predominantly in North America and Europe. Chinese state media has said about 40% of the model's components are imported, though experts say the real proportion is much higher.
While it is normal for manufacturers to source equipment for their planes from around the world, "the C919 is unique in that almost nothing that keeps it in the air is from China," said Scott Kennedy, who spent two years leading a team that researched China's decades-long efforts to develop its own commercial aircraft.
Their conclusion? "The C919 is primarily a non-Chinese airplane with Chinese paint on it," said Scott, trustee chair in Chinese business and economics at the Center for Strategic and International Studies (CSIS) in Washington.
A long-held dream
The C919 was built by the Commercial Aircraft Corporation of China (COMAC), a state-owned enterprise based in Shanghai, with the stated goal of letting "China-made large aircraft fly in the blue sky."
One cannot overstate how difficult that is, according to Shukor Yusof, founder of Endau Analytics, which tracks the aviation industry.
Currently, only a handful of countries in the world make their own planes — and for good reason, he said, citing extremely high obstacles, such as serious technical expertise, rigorous regulatory requirements and eye-popping amounts of time and resources.
The C919, for instance, has already cost an estimated $49 billion, according to CSIS, though it says pinning down precisely how much is an almost impossible task because COMAC's finances are opaque.
While it's not COMAC's first homegrown plane, more attention has been directed to this model because of its size.
The C919 can seat up to 192 passengers and fly up to 5,550 kilometers (about 3,500 miles).
COMAC's first commercial plane, by comparison, is a much smaller regional jet called the ARJ21, which can only fly up to 3,700 kilometers (2,300 miles) and accommodate up to 97 passengers.
COMAC is also working on a long-range, widebody plane called the CR929. But the project, a joint effort by China and Russia, has likely stalled since Russia's full-scale invasion of Ukraine last year, said Kennedy.
"That plane will probably never be more than a photo, never be more than a drawing," he told CNN. "No one is going to be supplying technology to a Chinese-Russian joint venture."
Made in China?
The C919's maiden commercial flight took place Sunday, flying passengers from Shanghai to Beijing for China Eastern Airlines (CEA).
China hopes the C919 will become its alternative to Boeing's 737 and Airbus's A320 and cement its status as a high-tech superpower, says Kennedy.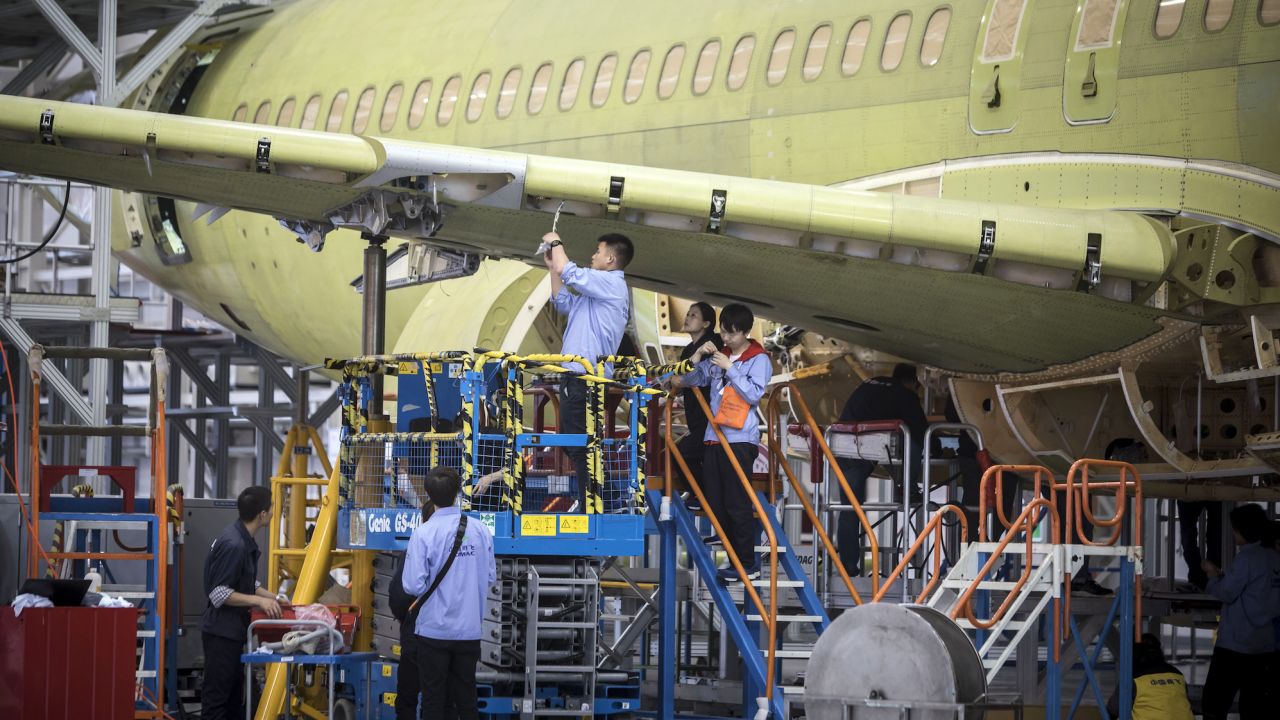 But because the government has touted the aircraft as a homemade success, analysts have been quick to point out just how much is made outside China.
In a 2020 analysis, CSIS estimated that approximately 90% of the C919's main or large-scale component suppliers were from North America and Europe, with only 10% coming from China and other countries in Asia. Yusof cited a similar estimate.
Kennedy said while it was possible the proportion had changed since the 2020 report, he thought it was unlikely given how tough it would be to change suppliers during the aviation certification process.
The C919 got the green light for commercial service and mass production in mainland China late last year, after years of delays.
China has acknowledged the criticism. "Some people have been questioning whether the C919 can be called a domestically-manufactured aircraft when it relies on imports," Chinese state-run tabloid Global Times said in an editorial Monday.
"It is true that there is a long list of foreign suppliers for the C919."
The aircraft contains "Honeywell's (HON) electricity system and landing gear, GE's (GE) flight recorder, CFM Leap's engine, Parker Aerospace's flight control system and fuel system, Rockwell Collins' weather radar and simulate system, and Michelin's (MGDDY) tires," the outlet noted. All are US or European companies.