For the first time in its four-decade history, America's largest lesbian, gay, bisexual, transgender and queer civil rights organization has declared a national state of emergency for members of the LGBTQ+ community, the Human Rights Campaign said Tuesday.
"LGBTQ+ Americans are living in a state of emergency. The multiplying threats facing millions in our community are not just perceived – they are real, tangible and dangerous," the group's president, Kelley Robinson, said. "In many cases they are resulting in violence against LGBTQ+ people, forcing families to uproot their lives and flee their homes in search of safer states, and triggering a tidal wave of increased homophobia and transphobia that puts the safety of each and every one of us at risk."
Alongside the emergency declaration, the group will release a digital guidebook, including health and safety resources, a summary of state-by-state laws, "know your rights" information and resources designed to support LGBTQ+ travelers and those living in hostile states, it said.
The historic announcement – just a few days into Pride Month – follows "an unprecedented wave of anti-LGBTQ+ legislation in 2023," according to the Human Rights Campaign, as violence against LGBTQ people continues and the community's rights have become a flashpoint in the 2024 election.
Years after 49 people were killed at the Pulse gay nightclub in Florida, Club Q in Colorado in November became the site of a massacre at a beloved LGBTQ "safe space."
And the Human Rights Campaign just last month issued an updated travel notice for Florida, outlining potential impacts of six bills recently passed there, many already signed by GOP Gov. Ron DeSantis, a Republican contender for president who's championed "don't say gay" and pronoun bills.
Across US state legislatures, at least 417 anti-LGBTQ bills were introduced in roughly the first quarter of 2023 – a new record and twice the number of such bills introduced all of last year, according to American Civil Liberties Union data.
19 states have laws restricting gender-affirming care
The number of anti-LGBTQ+ bills signed into law so far this year is also more than double last year's tally, which had been the highest on record, the Human Rights Campaign said. They include pronoun refusal laws, forced student outing laws, anti-drag bans and "don't say LGBTQ+" laws.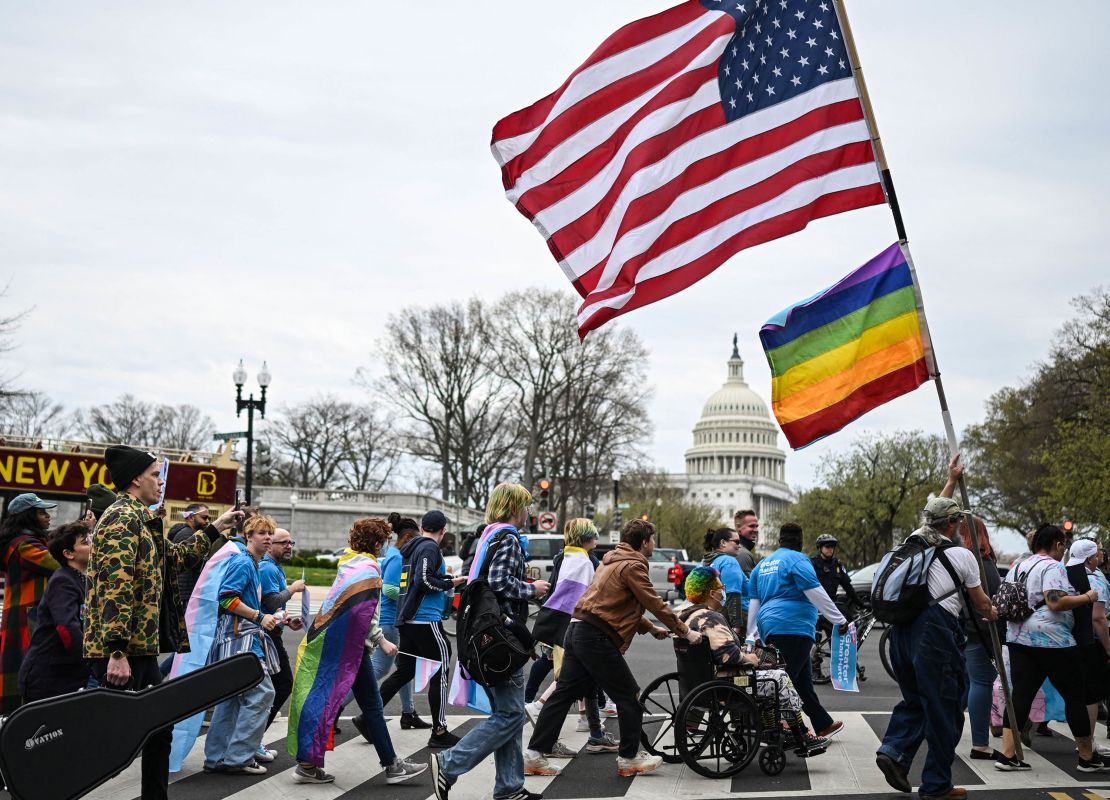 Meanwhile, the US Supreme Court is poised to issue an opinion in a case over whether a business can deny services to LGBTQ customers.
But even as Human Rights Campaign trumpets warnings, the group insists it will not back down from any attempts to stymie the community: "LGBTQ+ people nationwide will not be erased – not now, not ever," the group said.
CNN's Annette Choi contributed to this report.