Marvel's various forays into the multiverse have yielded a mixed bag creatively, so credit DC/Warner Bros. with striking gold on the first try with "The Flash," a movie that wears its love for the comics that inspired it on its crimson-streaked sleeve. Funny, action-packed and effectively touching, anyone familiar with the DC stable of heroes should run, not walk, to see it.
Coming on the heels of the CW series reaching its end, this "Flash" seemed to come with an extra degree of difficulty and at an interesting time, as DC embarks on a new direction under the stewardship of James Gunn and Peter Safran. Moreover, this version of the character has its roots in Zack Snyder's "Justice League," which spawned one of the more outspoken and demanding fan contingents in the pop-culture universe.
What functions in some respects as a Flash origin story also melds together not only what Snyder conjured but decades of DC on film, with the no-secret inclusion of Michael Keaton's Batman, as well as Ben Affleck's version, once the Flash/Barry Allen races back to alter the timeline, yielding a strange and unfamiliar universe.
Finally, there are the distractions associated with star Ezra Miller, whose off-screen legal troubles have been well documented and hung like a cloud over this big-budget enterprise. Whatever the actor's personal issues, Miller turns in a wonderful dual performance as separate versions of the character, deftly oscillating between goofy comedy and the pain and hurt of terrible loss.
Loss, and how we deal with it, is ultimately at the core of "The Flash," since the murder of his mother and father's wrongful conviction played a pivotal role in Barry's upbringing. It's a pain he shares with Batman, who, in both incarnations, warns him about the perils of trifling with the past and counsels him that losing his parents can't be extricated from the man he has become.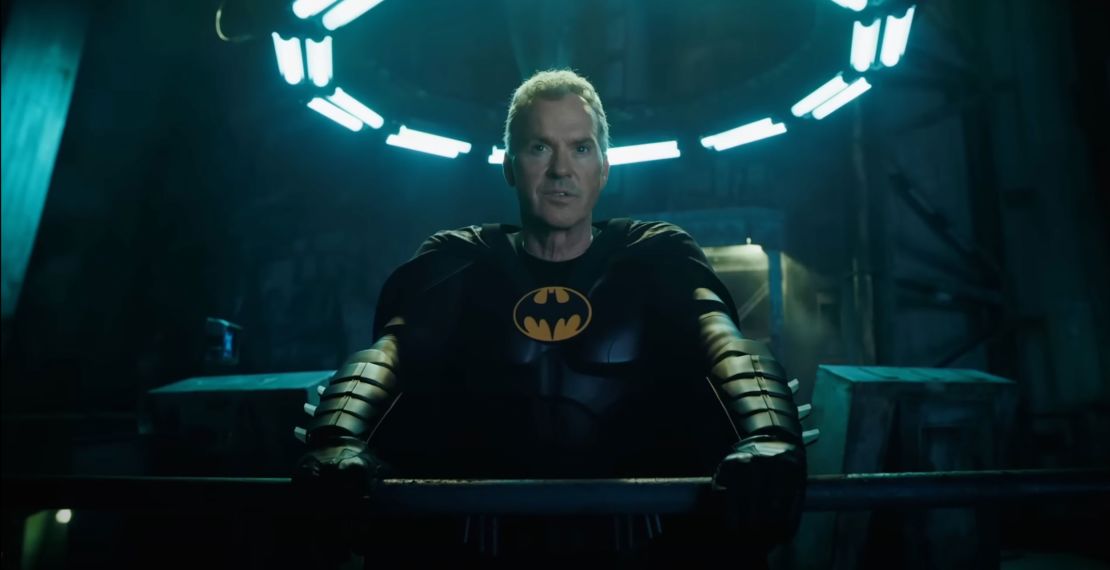 "Don't let your tragedy define you," Affleck's world-weary Bruce Wayne tells him.
Of course, if Barry listened to sage advice there wouldn't be much foundation for a movie, and besides, the Flash has a history of using his speed in time-bending fashion.
Even when it slows down to let the Barrys bond and bicker, the movie receives a jolt from the way it weaves DC screen lore throughout the project, with Keaton appearing to have an absolute blast in donning the cape and cowl again, enough to make one doubly second-guess last year's decision to scrap the direct-to-streaming "Batgirl" movie in which he co-starred.
Director Andy Muschietti (who presided over the "IT" films for Warner Bros.) and screenwriter Christina Hodson ("Birds of Prey") also bring back Michael Shannon as the "Man of Steel" villain Zod, and introduce Sasha Calle as Kara-El, a.k.a. Supergirl, a visually arresting addition who gives the movie an additional burst of energy.
More broadly, Muschietti employs various devices to play with depicting the character's super-speed, from dramatically slowing it down for comic effect (similar to the way the "X-Men" films amusingly presented Quicksilver's exploits) to speeding it up, freely changing gears along the way.
Warner Bros. did everything backward by leaping directly to "Justice League" before individually establishing characters like the Flash and Aquaman, yet those stand-alone movies have ranked among the brighter spots in the DC universe.
Practically speaking, DC finds itself at a bit of a crossroads. Yet that timing makes it all the more impressive to see how "The Flash" has managed to click on all cylinders, pay respect to the company's past while achieving the kind of balance that could and perhaps should point the way to its future.
"The Flash" premieres June 16 in US theaters. It's rated PG-13. Like CNN, DC and Warner Bros. are units of Warner Bros. Discovery.