An extremely rare, bright orange American lobster caught earlier this month in Maine's Casco Bay by a lobstering crew has found a home at the University of New England's marine science center.
The chances of catching an orange lobster are one-in-30 million, according to Markus Frederich, professor of marine science at the university, who said he bases the estimate on the total annual lobster landings and anecdotal reports of orange lobsters.
The lobster was the first catch of the day on June 2 for the crew of the Deborah & Megan, a fishing vessel captained by Gregg Turner, Lindsay Forrette, the lab coordinator for the university's Arthur P. Girard Marine Science Center, told CNN.
The bright orange lobster came up alone in the trap of crew member Mandy Cyr, Forrette said.
"I knew right away I was going to contact UNE," Cyr told CNN. "They took our last lobster 'Sprinkles,' a calico lobster, another one-in-30 million lobster that we caught this past winter."
Turner has been lobstering since he was a young boy and has only seen two orange lobsters in his life, according to Cyr, a lobsterwoman who has worked intermittently aboard Turner's vessel for five years.
After the lobster spent a brief overnight at Turner's Lobsters in Scarborough, Maine, Cyr contacted Forrette. She is known throughout the fishing communities and is often contacted about interesting catches, said Tilburg, director of the marine science center.
Forrette agreed to take the rare crustacean.
The lobster is 5 to 7 years old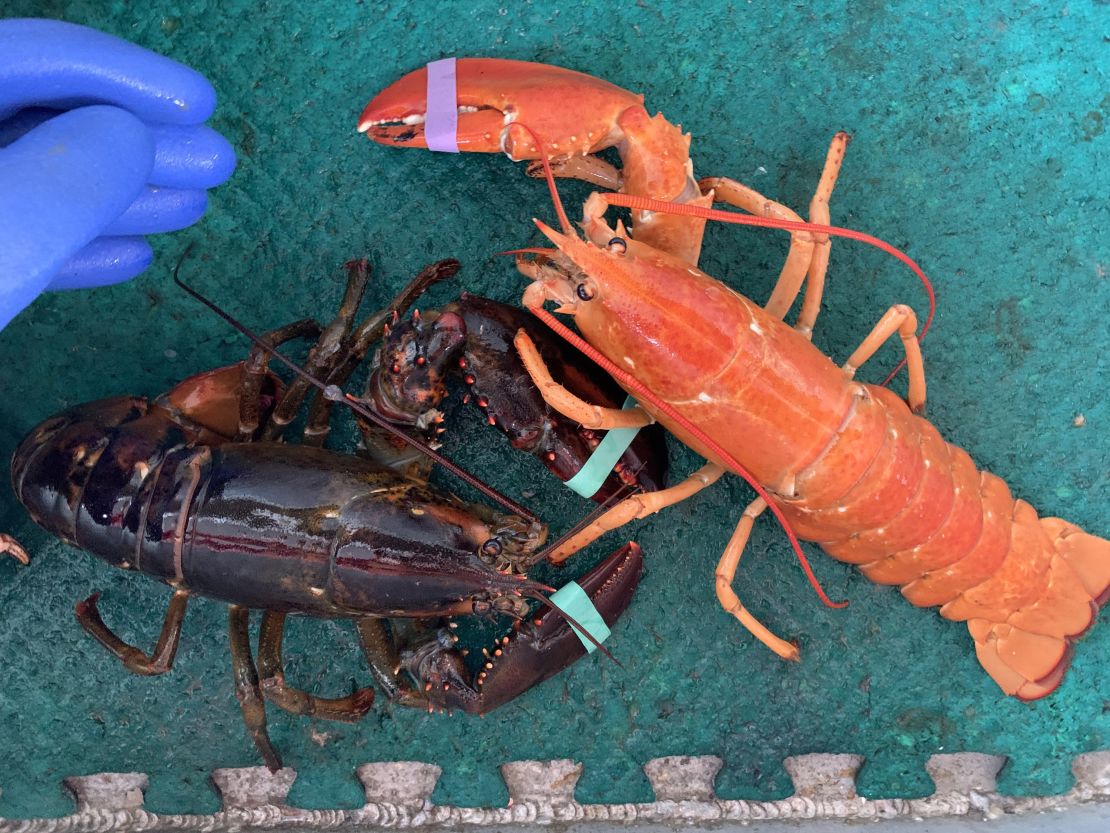 The lobster's coloration is from a genetic mutation which affects and prevents encoded proteins, Frederich said. The lack of one or several proteins can manifest as different colors, including blue, yellow and, in this case, orange.
"Mutations in these genes are very rare," Frederich said. "In addition to genetics, environment [and] diet also seems to play a role."
Orange American lobsters can be found from southern New England up through Nova Scotia in Canada, Frederich said.
This particular orange lobster is anywhere between 5 and 7 years old, Forrette said, weighing in at 1.03 pounds and is 10.8-inches long, perhaps a little on the lighter side because it's missing a claw.
It's unknown how the claw was lost, Frederich said, noting lobsters often lose claws in fights with other lobsters, when attacked by a predator, or when molting.
Professor Charles Tilburg, a professor of marine sciences who directs the university's Marine Science Center, said the claw should eventually grow back though it's uncertain whether it will match her orange carapace.
"This is the million-dollar question," Tilburg said. "If the coloring is solely due to genetics, it should grow back orange. However, if some of the coloring was due to the environment or diet, it may grow back a different color due to the new environment of the lobster.
"Our yellow lobster's claws have grown back with a bluish tint to them," he said.
'Pampered for the rest of their lives'
The orange lobster isn't the first to find its way to the university, Tilburg said. The crustaceans donated to the marine science center are primarily used for education and outreach, and they are "pampered for the rest of their lives," Tilburg said.
"Rare lobsters, like this bright orange one, are excellent ambassadors for education because they spark so much curiosity," Forrette said. "Since our students and visitors have the opportunity to observe these animals up close, they often ask detailed questions, and we end up talking about everything from natural history, ecology, and marine ecosystems to aspects of genetics, cellular biology, and physiology."
"For this orange lobster in particular, we're excited to observe and document the regrowth of her missing claw in real time," Forrette said.
So far, the orange lobster "seems to be settling into life at the [center] nicely," Tilburg said. She dines on fresh soft shell clams, referred to colloquially as steamers, and Forrette has fashioned an artificial burrow to replicate the rocky crevices favored by wild lobster, Tilburg said.
"While putting the finishing touches on her burrow, this lobster was ready to pinch anyone that came too close — so she's quite feisty," Tilburg said.
Though she doesn't yet have a name, the center currently has a running list of them — Tangerine, Creamsicle, Cayenne, Clementine, Saffron, Papaya, Carrot, Citrus, Pumpkin, and Lemon — and will let students select one that best fits her, Tilburg said.
Cyr said she has yet to visit the coveted catch at its new home but plans to do so soon.
"We are very excited to see the progress of her claw growing back and hear about all the research they've been doing," Cyr said.
Correction: An earlier version of this story misattributed some quotes to different members of the university's marine science center.