As the early stages of Ukraine's counteroffensive against Russian invaders is unfolding on the battlefield, hundreds of warplanes from some of Kyiv's biggest supporters are in the skies over Germany as NATO holds its largest aerial war games ever.
"Air Defender 2023" is bringing together 250 warplanes – including 190 fighter jets – and 10,000 troops in drills designed to boost the alliance's preparedness and ability "to protect against aircraft, drones and missile attacks on cities and critical infrastructure," according to a NATO press release.
Though the German-led exercises have been in the works for several years, their timing as Moscow unleashes punishing air attacks on Ukrainian cities as part of the now 16-month invasion of its neighbor sends a timely message, especially to Russian President Vladimir Putin.
Early Tuesday alone, Russian missiles attacked the central Ukrainian city of Kryvyi Rih, killing at least 11 people and injuring 28, according to Oleksandr Vilkul, head of the Kryvyi Rih city military administration.
Three more people were killed in the Black Sea port city of Odesa after Russia fired four "Kalibr" cruise missiles, according to Ukraine's Operational Command South.
Since Russia's invasion began in February 2022, the worry in NATO is that the destruction Moscow has wreaked on Ukraine's cities could spill beyond the country's borders.
NATO members' military support for Ukraine, including tanks, armored vehicles and other weaponry being used in Kyiv's current offensive, has consistently produced threats of retaliation from Russia.
Alliance members are making plans to supply Ukraine with F-16 fighter jets of the same variety that are participating in the current war games.
The North Atlantic Treaty Organization was formed in the aftermath of World War II to defend Western nations from the Soviet Union and the alliance contains a mutual defense clause where an attack on any one member is considered an attack on all.
NATO nations say Moscow's invasion of Ukraine has made that defense clause all the more vital.
"Air Defender is necessary because we live in a more dangerous world. As we face the biggest security crisis in a generation, we stand united to keep our countries and our people safe," NATO spokesperson Oana Lungescu said in a statement.
"I would be pretty surprised if any world leader was not taking note of what this shows in terms of the spirit of the alliance, which means the strength of this alliance, and that includes Mr. Putin," United States Ambassador to Germany Amy Gutmann said before the drills began.
"NATO territory is the red line and we are willing to defend every inch of it," Lt. Gen. Ingo Gerhartz, the chief of Germany's air forces, told CNN's Nic Robertson.
Formidable 'hodge-podge' of weapons
That NATO territory includes five members participating in the exercises that share a border with Russia – Norway, Finland, Estonia, Latvia and Lithuania. Two of those – Estonia and Latvia – will host small portions of the drills.
Other participants are NATO members Belgium, Bulgaria, Croatia, the Czech Republic, Denmark, France, Greece, Hungary, Italy, Netherlands, Poland, Romania, Slovenia, Spain, Sweden, Turkey, the United Kingdom and the United States, plus NATO applicant Sweden and Japan, which has been increasing its ties with the alliance.
Fighter planes include US F-35 stealth jets and F-15s; F-16s from the US, Turkey and Greece; Eurofighters from Spain and the UK; German Tornadoes; US and Finnish F/A-18s; Hungarian Gripens; as well as US A-10 ground-attack jets.
That's a large range of participants and aircraft that could present coordination difficulties in any actual conflict. But analysts say that is what makes Air Defender so important.
It "accurately captures the hodge-podge of weapons systems designed by different nations that would have to operate together as part of an air defense campaign," said Brynn Tannehill, an analyst at the RAND Corp. think tank and former US Navy pilot.
Aviators involved also noted the importance of practice.
"Training like this is important because in the next conflict where we may be called upon to defend NATO, it's not going to get a practice round," said Maj. Adam Casey, a US A-10 pilot.
Tannehill said exercise planners have been able to incorporate real-time scenarios from the conflict in Ukraine into the training.
"It reflects some of the tactical problems seen in Ukraine, such as missile interception and tactical air support of troops," she said.
Peter Layton, a fellow at the Griffith Asia Institute and former Royal Australian Air Force officer, said Air Defender 2023 should give Russian military planners a lot to think about.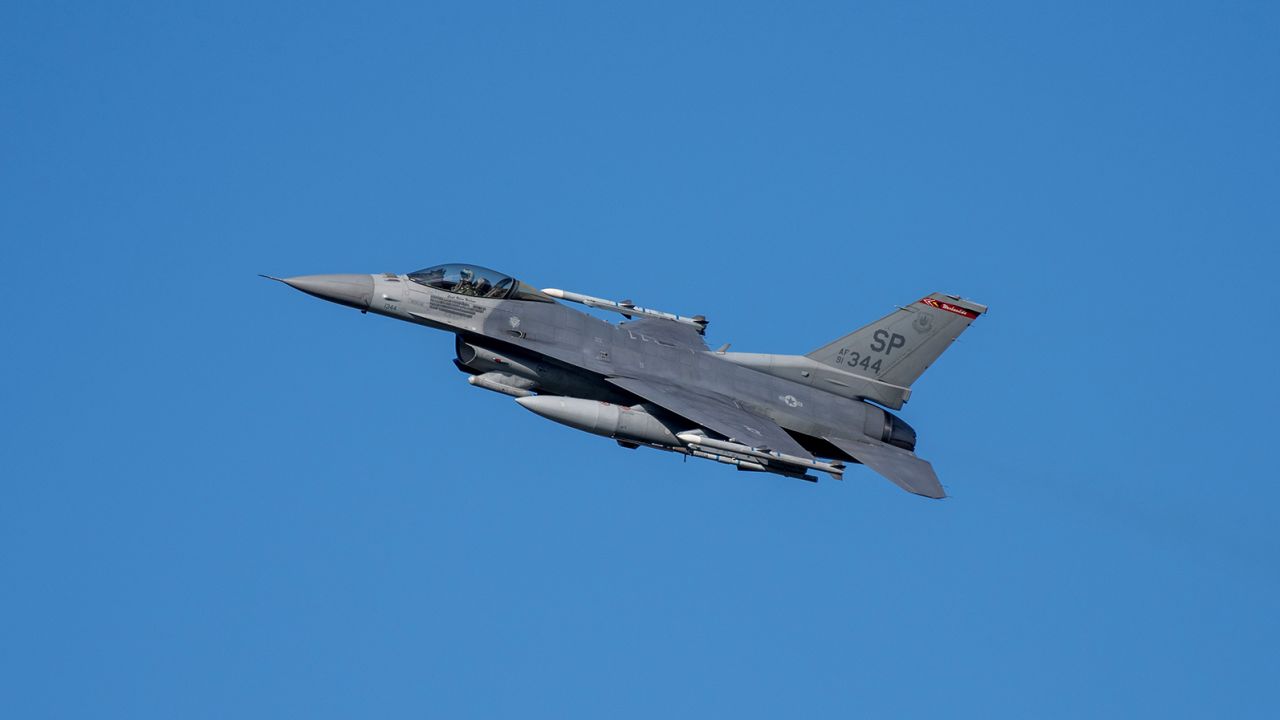 "The scale of the exercise and the complexity of the training is well beyond the capabilities the Russian air force has demonstrated in the Ukraine. The exercise is evidence of very sophisticated air power capabilities that the Russians don't appear able to match," he said.
Overall, the US has the largest contingent of planes involved in Air Defender 2023 – 100 aircraft from 42 different states – with most of those drawn from Air National Guard units.
The analysts say using Air National Guard, rather than regular Air Force planes, enables planners to be more certain the exercises can come off as expected.
Air National Guard "units can be committed for the long haul reasonably confident that they will not be diverted into a contingency operation at the last minute," Layton said.
"If you have active duty units participating, it means they're not doing their normal job," Tannehill said.
The two-week NATO exercise concludes on June 23.