Islamabad and New Delhi
CNN
—
Tropical Cyclone Biparjoy has made landfall in India's western Gujarat state, close to the Pakistan border, unleashing powerful gusts of wind that ripped up trees and toppled electricity poles.
At landfall, Biparjoy was equivalent to a strong tropical storm with winds of 65 mph (100 kph), according to the Joint Typhoon Warning Center.
As it moves slowly inland, the winds and storm surge threats are expected to diminish, with flooding becoming the most significant impact for millions of people over the next 48 hours.
Heavy rainfall warnings are expected to remain in place for northwest India through Saturday. Rainfall of 150 to 250 mm (6 to 10 inches) is likely with isolated amounts up to 500 mm (20 inches) possible.
In Pakistan, the meteorological department warned of widespread dust storms and thunderstorms in the southern Sindh province, with some very heavy rain and squally winds of 50-60 mph (80-100 kph).
Video and photos broadcast on local Indian television show roads turning into rivers, trees bending in the wind, and people wading waist-deep in floodwater.
As of Friday morning local time, there have been reports of two deaths in India, bringing the total killed in the country to nine. Earlier this week four boys drowned off the coast of the country's financial hub, Mumbai, and three people died in Gujarat's Kutch and Rajkot districts after heavy rain and strong winds collapsed a wall, Reuters reported citing local authorities.
The Indian army and coast guard are on standby for rescue and relief operations.
On Friday, Pakistan's Minister of Climate Change Sherry Rehman tweeted that the country had been "prepared but largely spared the full force," of Biparjoy.
Before the storm, both India and Pakistan implemented mass safety measures to ensure minimal damage and loss of life. About 180,000 people have been evacuated from high-impact areas across both countries, according to authorities.
Livestock were also moved to higher ground, some schools were shut, and fishing suspended in Gujarat state. Two of India's largest ports have also stopped operations.
Meanwhile in Pakistan, malls and businesses along the coast of Karachi, its biggest city and the capital of Sindh, have been shut. Pakistan's national carrier, PIA, has also implemented precautionary measures, including round-the-clock security to minimize potential hazards.
Fishermen have been advised to steer clear of the sea and hospitals are staffed with emergency personnel, according to the National Disaster Management Authority.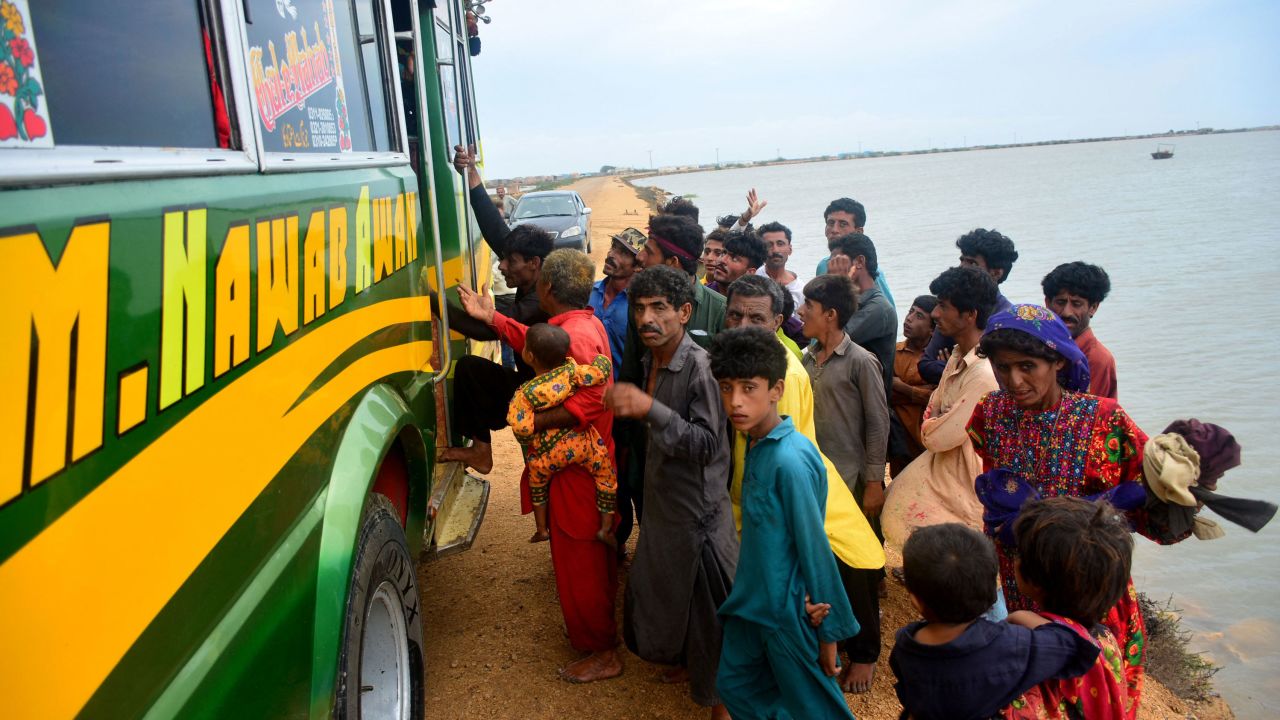 Biparjoy had been churning across the northeastern Arabian Sea, toward southern Pakistan and western India since late last week, with winds of 160 kph (100 mph) and gusts up to 195 kph (121 mph). It weakened as it approached land, but the region experienced heavy rain, damaging winds and coastal storm surges in the days leading up to its landfall.
It comes less than one year after record monsoon rain and melting glaciers devastated swathes of Pakistan, claiming the lives of nearly 1,600 people.
Experts also say the storm is a symptom of the growing climate crisis.
A study published in 2021 by researchers at the Shenzhen Institute of Meteorological Innovation and the Chinese University of Hong Kong and published in Frontiers in Earth Science found that tropical cyclones in Asia could have double the destructive power by the end of the century, with scientists saying the human-made climate crisis is already making them stronger.