Kassem Abozeed had arrived in Kalamata to try to find his wife and brother-in-law, as relatives poured into the Greek port city on Thursday, searching for their loved ones missing after a migrant boat sank off the coast, killing dozens of people.
The 34-year-old refugee fled from the Syrian civil war to Hamburg, Germany, in 2016. He told reporters that his 21-year-old partner, Ezma, and her 19-year-old sibling, Abdullah, were two of the passengers caught up in one of the largest-scale migrant vessel disasters in southern Europe this year.
"I tried to get my wife to come to Germany but it was very difficult to do so in a legal way. So we tried through Libya," Abozeed said.
"The last time we spoke was eight days ago and she told me she was ready to get on the boat. She paid $5,000."
He reflected on his relationship with his wife. "It was a love story."
Family members gathering at the port in southern Greece, as hopes for survivors fade and the scale of the tragedy starts to sink in.
At least 78 people died after the vessel went down on Wednesday, with campaigners warning there could have been hundreds more on board, meaning the death toll could rise.
A total of 104 passengers were rescued and sent to Kalamata, as emergency workers struggled to contain the fallout.
Authorities warned the likelihood of finding survivors was waning, because the boat sank in "very deep" waters.
"A sudden shift in weight is likely to be the cause of what led the boat to capsize and then sink," Hellenic Coast Guard spokesman Nikos Alexiou told CNN on Thursday.
"As the incident took place at very deep waters it is not clear how operations will continue beyond the current stage."
Rescuers were likely to wind down their search for survivors soon, according to Thanasis Vasilopoulos, the mayor of Kalamata. "It's hard to see search and rescue operations going on for much longer," he said. "Unfortunately, we have not found any survivors today. The waters in the area where the incident happened are very deep. It is hard to imagine finding survivors by now."
The people rescued – all of whom are men – include 43 Egyptian nationals, 47 Syrian nationals, 12 Pakistani nationals, and two Palestinians, the Hellenic Coast Guard said. Eight of those rescued were minors.
There were an estimated 750 passengers on the ship, including at least 40 children, according to a spokesperson for the International Organization for Migration.
"If these numbers were confirmed, it would be the second most serious shipwreck in the Mediterranean," Flavio Di Giacomo tweeted.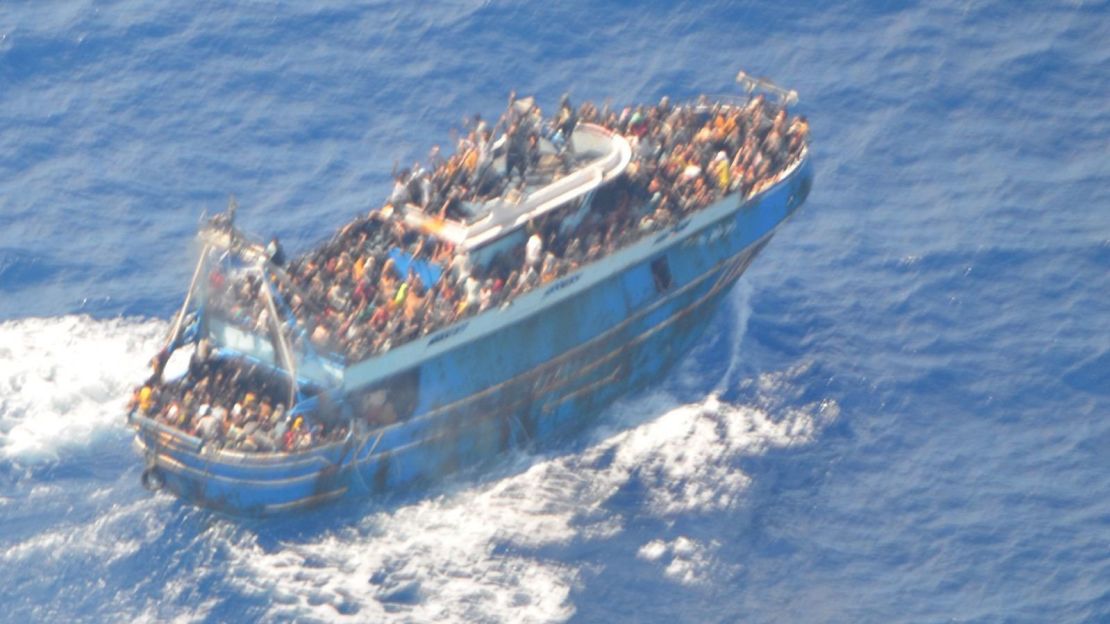 The Mediterranean region near Greece is a key route for migrants and refugees attempting to flee political strife in the Middle East, Asia and Africa.
The number of undocumented people arriving on European shores has soared this year due to conflict, global inequality and the climate crisis, exacerbating a migrant crisis across the continent.
More than 36,000 people arrived in the Mediterranean from January to March this year, nearly twice the number compared with the same period in 2022, according to figures from the UN's refugee agency (UNHCR).
The capsized ship had set off from the port city of Tobruk, in Libya, state broadcaster ERT reported. It was traveling to Italy, Greek officials said.
Poor communication lines marred initial efforts to contact the boat, which received water from a merchant vessel on Tuesday evening local time after the first distress call.
'State of anxiety'
Emergency volunteers described frantic scenes on Thursday, as they tried to comfort traumatized survivors sheltering in a makeshift warehouse in Kalamata.
Hypocrates Efstathiou, a social worker for the Greek NGO IASIS, said the mental state of those rescued was "intense."
"They are in great need of support. People are still in shock. They have been describing their attempts to survive. And they are asking for relatives. From their accounts there seem to have been women and children on board," he told CNN while helping survivors on the ground.
Dimitris Chaliotis, a volunteer for the Hellenic Red Cross said he had "never seen a rescue operation like this one before. It is a tragedy," according to a statement from the International Federation of Red Cross and Red Crescent Societies (IFRC).
Another rescue volunteer, Maria Triantou, said many of the survivors were in "a state of anxiety," following the incident.
"These people had not eaten for many days, had not drunk water for many days, were burnt by the sun," the Greek Rescue Team member told CNN affiliate CNN Greece.
Triantou told CNN the men were "dehydrated and had some breathing problems, but things [are] now normalizing."
Once the survivors started recovering, fear and panic kicked in, she added. "Now they want to know what happened to others, including family members."
CNN saw several people arriving at the port looking for relatives.
One man who said he was Egyptian but refused to speak to press briefly explained he had come to look for his cousin. He was nervously peering behind the fenced area of the port warehouse, where survivors are temporarily resting.
They are expected to be transferred to a larger facility in greater Athens, local authorities said.
'Failure of the international community'
Humanitarian bodies said the boat disaster was a damning indictment on the inability of EU countries to create "safe pathways to protection" for refugees.
IFRC operations manager Frido Herinckx stressed how "heart-wrenching and simply unacceptable that these people, who were seeking safety and a better future, have died at the EU borders in 2023."
The first quarter of 2023 was already "the deadliest on record on the Central Mediterranean route and this tragedy could be one of the worst ever as the search for the missing continues," Herinckx said.
"Every one of the lives lost should be on our collective conscience due to the failure to provide safe pathways to protection."
IFRC President Francesco Rocca described the shipwreck as an "the icon of the failure of the international community."
"It is shocking and unacceptable that people are still dying in front of EU borders, seeking a safe place," Rocca tweeted Thursday.
CNN's Elinda Labropoulou reported from Kalamata, Greece. CNN's Sana Noor Haq wrote from London. CNN's Chris Liakos, Catherine Nicholls and Sharon Braithwaite contributed reporting.