At more than 7 feet tall when fully extended and with 360 degree vision they're formidable enough to make any would-be lawbreaker think twice.
But Robocop they are not.
These are the two robots the Singapore Police Force has introduced to patrol Changi Airport following more than five years of trials. And they are just the first such robots the force plans to deploy across the Southeast Asian city-state to "augment frontline officers" in the years to come.
The robots, which have been patrolling the airport since April, are meant to "project additional police presence" and serve as extra "eyes on the ground," according to the force, which describes them as the latest addition to its "technological arsenal."
And they are no mere gimic. During an incident, says the force, the robots are able to enforce cordons and warn bystanders using their blinkers, sirens and speakers while they wait for human officers to arrive. Members of the public can directly communicate with the force by pushing a button on the robots' front.
The Singapore Police Force said Friday that more robots would be "progressively deployed" across the city-state.
"The integration of robotics enhances the operational efficiency and capabilities of our frontline officers, enabling them to be more effective in their duties," said superintendent and operations head Lim Ke Wei of airport police.
Each robot comes with in-built speakers that broadcast audio messages and a rear LCD panel displaying visual messages. They stand at roughly 1.7 meters (5.5 feet) tall, but have extendable masts that take that up to 2.3 meters (7.5 feet).
They are also equipped with multiple cameras giving them 360-degree vision, enabling airport police to have "unobstructed views" for "better incident management," it added.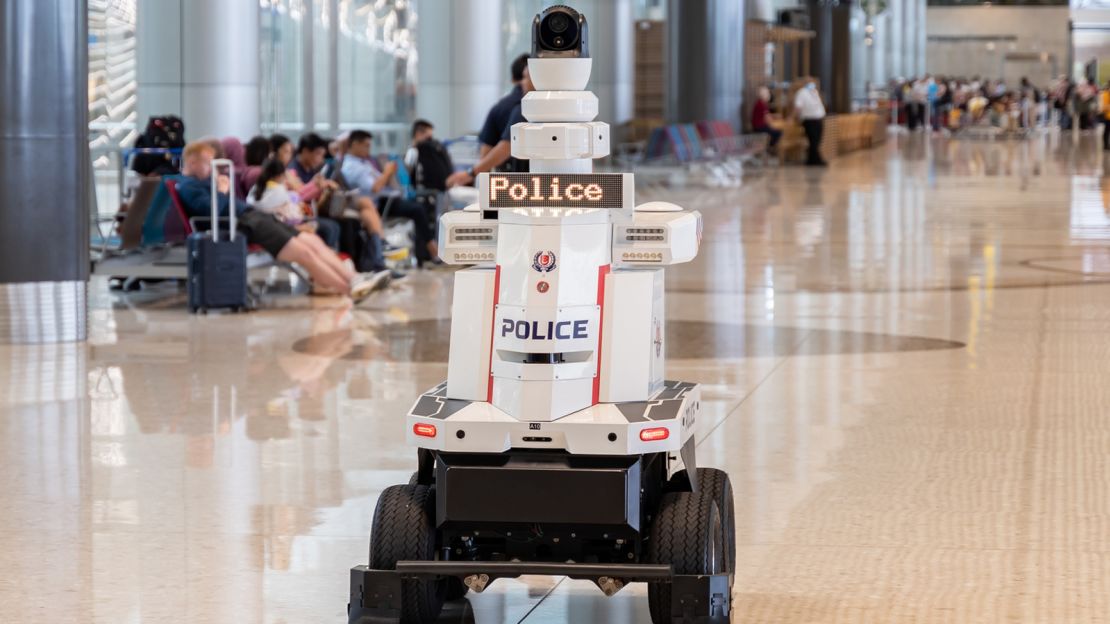 They are just the latest robots to be employed on civic duties in this tech-savvy nation of more than 5 million people.
Earlier versions of the robots were deployed at public parades in 2018 and 2022.
During the coronavirus, robot dogs were used to enforce strict social distancing, while cleaner robots are a common sight at metro stations across the country – as well as at the airport.
Meanwhile, transport officials are hopeful commercial flying taxis could be a reality in just two years' time.
But even in a land where robots are relatively common, the latest recruits could take some getting used to.
American traveler Samwell Swant was among those doing a double take when he passed through Terminal 4 to catch a recent flight to Vietnam.
"It was certainly a sight – like something out of a movie or Black Mirror," Swant told CNN. "It was hard not to notice."
Curious, he approached it cautiously to get a closer look and saw it light up as a camera extended out.
"ChatCPT… AI music… robots… Soon machines will take over the world and these security robots definitely look like they mean business," he said.