Donald Trump's onetime Defense secretary said Sunday that the former president should not be trusted with the nation's secrets again should the allegations made in his federal indictment over his handling of classified documents prove true.
"Based on his actions – again, if proven true – under the indictment by the special counsel, no," Mark Esper told CNN's Jake Tapper on "State of the Union."
"It's just irresponsible action that places our service members at risk, places our nation security risk. You cannot have these documents floating around. They need to be secured," he said.
Trump has pleaded not guilty to 37 federal charges, including 31 counts of "willful retention of national defense information." The former president denies any wrongdoing.
Esper's critical remarks about his onetime boss follow damning language by another high-profile Trump administration official – former Attorney General Bill Barr – who said last week that Trump was "toast" if even half of the details in his indictment were true.
"The revelations are very troubling, disturbing," Esper said Sunday when asked by Tapper if Trump's actions put America's national security at risk. "Yes, I do. If the allegations are true that it contained information about our nation's security, about our vulnerabilities, about other items, it could be quite harmful to the nation. And, look, no one is above the law. And so I think this process needs to play out and people held to account, the president held to account."
Trump fired Esper as his Defense secretary in November 2020, shortly after Joe Biden was projected as the winner of the presidential election.
Proving its case
Meanwhile, in a separate interview on "State of the Union," House Intelligence Chairman Mike Turner said he was "not going to defend the behavior" listed in the indictment against Trump but the government would need to prove its case as the legal process moves forward.
The Ohio Republican also said he had "grave concern" about the way documents were stored not just as it pertained to Trump but to Biden as well. A separate special counsel is leading an investigation into Obama-era classified documents found at Biden's home and former private office.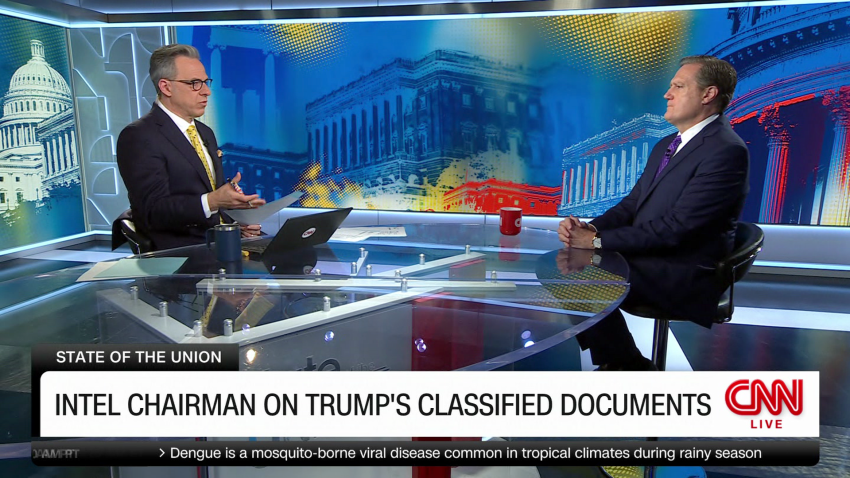 'Grave concern': GOP House Intel Chair on classified Trump docs
"The chair and ranking (member) of both the House Intel and Senate Intel (committees) have seen some of the documents, both from the Biden cache and the Trump documents itself. And I can tell you that, from having looked at both of those documents, I have grave concern about both of those type of documents being out in an unsecured place," Turner said. "Both of them included details of national security issues that should not have been outside of a controlled environment."
Turner also previewed a closed-door meeting Tuesday his committee will be holding with John Durham, the special counsel who concluded in a report released last month that the FBI should never have launched a full investigation into connections between Trump's campaign and Russia during the 2016 election.
"We're pulling him in to our committee to say, 'OK, now that we have seen that there were abuses, that this was wrong, and that there are problems with (the Foreign Intelligence Surveillance Act) itself, what are the recommendations that you think we should pursue?'" Turner said.
Durham is expected to testify publicly before the House Judiciary Committee on Wednesday.
His 300-plus page report states that the FBI used "raw, unanalyzed, and uncorroborated intelligence" to launch its Trump-Russia investigation but used a different standard when weighing concerns about alleged election interference regarding Hillary Clinton's campaign.
Durham, however, did not recommend any new charges against individuals or "wholesale changes" about how the FBI handles politically charged investigations, despite strongly criticizing the agency's behavior.
This report has been updated with additional details.