About 43 million people across the southern United States are at risk for severe weather Sunday night as storms batter the Lower Mississippi Valley and central Gulf Coast states, bringing the threat of heavy rain, hail and damaging winds.
There is an enhanced risk of severe weather, considered Level 3 of 5, for an area across the lower Mississippi River Valley, including Arkansas, northern Louisiana, Mississippi, Alabama and the Florida Panhandle.
A tornado watch was issued Sunday for 4 million people across much of Mississippi, eastern Arkansas, northeastern Louisiana and western Tennessee, including Memphis, until 2 a.m. ET.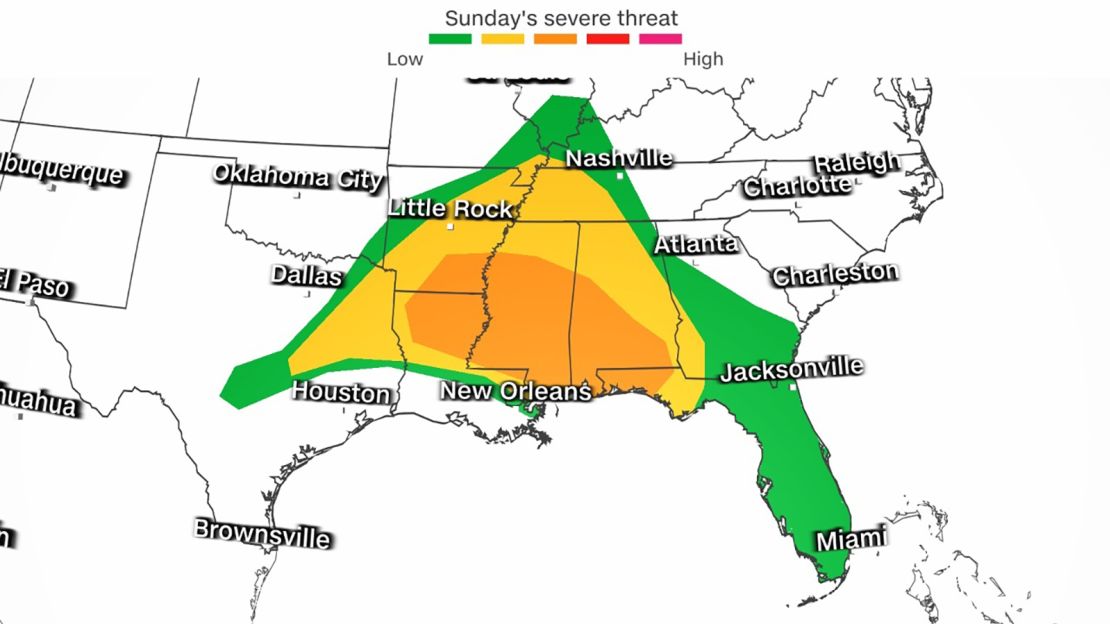 Storms over Louisiana, Mississippi, Alabama and the far western Florida Panhandle were also expected to bring showers and severe thunderstorms, as well as an increased threat of severe wind gusts of 75 mph or greater, according to the National Weather Service.
Overnight, there were 220 reports of severe weather, including eight tornadoes, across parts of Texas, Oklahoma, Arkansas and along the Gulf Coast.
As of Sunday evening, more than 470,000 customers were without power in the South, including more than 220,000 in Oklahoma and more than 70,000 in Texas and another 98,000 in Louisiana, according to PowerOutage.us.
The Public Service Company of Oklahoma's outage map indicated there are about 200,000 customer outages in the region, particularly in and around Tulsa.
"Due to the level of damage and hazards, this will be a multi-day recovery event," the company said in a Facebook post. "Estimated times of restoration for customers who can accept power will be available Monday morning."
The City of Tulsa said nearly 250 power poles/lines were down and said 911 received more than 4,500 calls about those lines between midnight and 5 a.m. City officials urged residents to stay off the roads and stay home on Sunday if possible.
The Tulsa Police Department has activated the Incident Management Team and officers were prioritizing storm-related injury and emergency calls, the department posted on Facebook.
"More than 35 City of Tulsa crews are clearing Tulsa's main streets, with others working to assess storm conditions neighborhood-by-neighborhood. Work will occur during daylight hours throughout the next few days," the post said.
Near-record heat hits south
The risk of severe weather is just one of a number of weather issues facing the Southeast.
Showers and thunderstorms may also produce flooding from the mid-South to the Gulf Coast, according to the National Weather Service. Heavy rainfall could lead to isolated flash flooding, especially across portions of the Florida Panhandle and northern and central Florida.
Meanwhile, as the South sees hail and heavy rainfall, parts of the Gulf Coast are under excessive heat warnings. A total of 32 million people across central and southern Texas, Louisiana and southern Mississippi are under heat alerts today, which will likely continue for several days.
Temperatures will soar into the triple digits with heat index values in some areas close to 120 degrees. The heat is 10-15 degrees above normal for this time of year, and a handful of records could be either set or tied.
Cities across the south are preparing for hot weather by opening cooling centers, as some are still cleaning up from storms that have left thousands without power.
The City of Houston is opening cooling centers from 3 p.m. – 7 p.m. CT on Sunday and Monday as the city braces for high temperatures. Caddo Parish in Louisiana has also opened additional cooling centers as the parish still grapples with power outages and storm cleanup.
"Parish officials will continue to monitor the power restoration with SWEPCO and Homeland Security to determine how long centers will be open," the parish said in a release.
Storms left several dead in south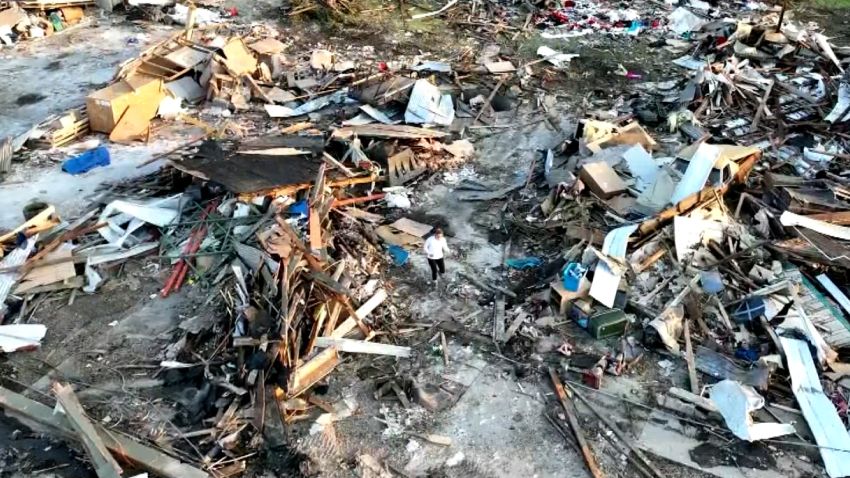 See damage left behind by tornado that destroyed about 200 homes
The severe weather comes days after storms tore a deadly path across Texas, Florida and Mississippi.
Three people, including a child, were killed in Perryton, Texas, when an EF-3 tornado struck the town Thursday, the fire chief told CNN. The storm sent up to 100 people in the Panhandle town to the hospital with injuries ranging from head wounds to abrasions, the Ochiltree General Hospital interim CEO told CNN.
The tornado, packing estimated peak winds of 140 mph, damaged homes and businesses in the town of some 8,000 residents, including the local fire department and EMS, as well as multiple mobile homes, Perryton Fire Chief Paul Dutcher said, noting many of the department's trucks were damaged.
In Mississippi, one person died after severe weather swept through the state overnight, the Mississippi Department of Emergency Management said in a release. Preliminary reports showed more than 70 homes have been damaged.
A person in Florida died after being trapped when a tree fell on their home, Escambia County officials said. The county, which includes Pensacola, was hit with flash flooding emergencies overnight as water inundated roadways entered several structures.
Many of the areas hit with severe conditions Thursday could see storms return.
Large hail, damaging winds and tornadoes are possible in Montgomery and Mobile in Alabama, Little Rock, Arkansas; Jackson, Mississippi; and Tallahassee, Florida.
A marginal, Level 1 of 5 risk is in place from South Dakota to Florida and for parts of the mid-Atlantic. Cities in the marginal risk area, which could see large hail and damaging winds, include Philadelphia, Baltimore, Washington, DC, Denver and Jacksonville, Florida.
CNN's Jamiel Lynch, Matt Phillips, Aya Elamroussi, Dave Alsup, Melissa Alonso and Mallika Kallingal contributed to this report.