Indian Prime Minister Narendra Modi was once shunned by the United States. Denied a visa for "severe violations of religious freedom," he was effectively banned from entering the country for nearly a decade.
But in the nine years since that ban was lifted, Modi has been progressively embraced by the White House – now more than ever.
The leader of the world's most populous nation will meet with US President Joe Biden during a state visit to Washington this week, in a trip that is expected to further boost defense, trade and technology ties, and celebrate "the warm bonds of family and friendship" that link the two countries together.
Modi will also lead celebrations for the International Day of Yoga at the United Nations headquarters in New York on Wednesday, illustrating the influence of India's soft power.
He will then address Congress the following day, an honor reserved for close US allies, and attend a lavish state dinner hosted by Biden in a clear indication of how much of a strategic partner Modi has become.
But while the ceremonies and diplomatic niceties play out in Washington, analysts say Modi's visit will also be a test for the Biden administration, that has positioned itself as a democratic protector in an increasingly populist and polarized era, while seemingly turning a blind eye to New Delhi's alleged human rights abuses playing out at home.
Modi's ruling Bharatiya Janata Party (BJP), has come under scrutiny from rights groups and opposition lawmakers for its increasingly strident brand of Hindu nationalist politics and an ongoing crackdown on dissent. Pressure is growing for Biden, who views India as a critical regional partner, to address those concerns in some way during Modi's visit.
But analysts say criticism is unlikely given India's growing leverage in the Indo-Pacfic, as well as its 5 million strong diaspora in the US – among the country's largest immigrant groups and its fastest growing voting bloc.
Daniel S. Markey, senior adviser, South Asia, for the United States Institute of Peace (USIP), said Washington sees India as "a strategic swing state in a world order increasingly defined by competition between the US and China," adding that human rights concerns have "generally taken a back seat" to geopolitics.
"But I believe they are still relevant, or should be," Markey said. "If only because India's deteriorating democracy will on balance make it a more challenging and less effective US partner."
"The visit is a test because Biden should not look to be embracing Modi's authoritarian policies," he added.
"The goal for the White House, in my view, should be to embrace relations with India without personalizing the relationship or endorsing Modi's politics. That is a tough needle to thread."
A challenge for Washington
Modi's US trip is the latest in a slew of diplomatic engagements he has undertaken in recent weeks, and Washington is not the only Western nation to have rolled out the red carpet.
Last month, he met Australian Prime Minister Anthony Albanese in Sydney, who eulogized Modi as a rockstar, called the leader a "boss" and spoke of how he had strengthened Australia's democracy.
Before that, Modi was in Papua New Guinea, where he met with Prime Minister James Marape and pledged his support for the Pacific Islands, a region that China has also increased outreach to.
Days earlier, he met with Ukrainian President Volodymyr Zelensky on the sidelines of the Group of Seven (G7) summit in Japan – the first time they had come face-to-face since Russia's invasion began.
Markey said this is symbolic of how Modi has prioritized "winning accolades from other democratic leaders in the Indo-Pacific and beyond."
Such engagements "serve Modi's political purposes in India," he added.
"His supporters are encouraged by the respect he wins on the world stage, while his critics are demoralized because their concerns aren't taken seriously in other democracies," Markey said.
Last week, Human Rights Watch (HRW) urged the White House to put rights concerns at "the center" of the Modi-Biden summit.
"Modi and Biden should jointly acknowledge human rights challenges – both in India and the US – and agree to address them," said John Sifton, Asia advocacy director for the group, in a statement.
HRW and Amnesty International have invited policymakers to a screening of the BBC documentary that questioned Modi's leadership during deadly sectarian riots in 2002 in Gujarat, when he was chief minister of the western Indian state.
The documentary was banned in India and the BBC's offices in New Delhi were raided by tax authorities soon after it aired sparking outrage among rights groups.
Washington's comparative silence on criticism of Modi does not go unnoticed within India among government critics and those uncomfortable with BJP rule.
"What irks a lot of people in India is the dishonesty towards Indian democratic norms, religious freedom, and of freedom of press," said Sushant Singh, a senior fellow with one of India's leading think tanks, Centre for Policy Research.
"The fact that the White House goes out of its way to call India 'mother of democracy'… does irk people in India because they believe that the United States has been dishonest."
A careful maneuver
In Washington this week, Modi and Biden are expected to announce a number of trade and defense deals.
The visit, according to Tanvi Madan, a Senior Fellow at the Brookings Institution, is "significant" and "can't be seen in isolation."
It builds on "almost two and a half decades of progress in the relationship," she said. "There are moments of opportunity that open that have the potential to move relationships to a higher level, and this is one of them."
Shared concerns over China is a key priority.
India and China have been engaged in a military standoff along their shared Himalayan border that has claimed dozens of lives over the last three years, and both New Delhi and Washington are becoming increasingly uneasy over Beijing's growing military might, its aggressive territorial claims on land and at sea, and its growing economic influence over its smaller neighbors.
But as India grows closer to the US, it still remains heavily dependent on Russia for its military equipment. That has been a key source of frustration for Western powers.
Rather than cutting economic ties with the Kremlin, India has undermined Western sanctions by ramping up purchases of Russian oil, coal and fertilizer – giving President Vladimir Putin a vital financial lifeline as his forces wage a brutal war against Ukraine that has reverberated across the globe.
New Delhi has also repeatedly abstained from votes condemning Russia at the United Nations – providing Moscow with a veneer of international legitimacy.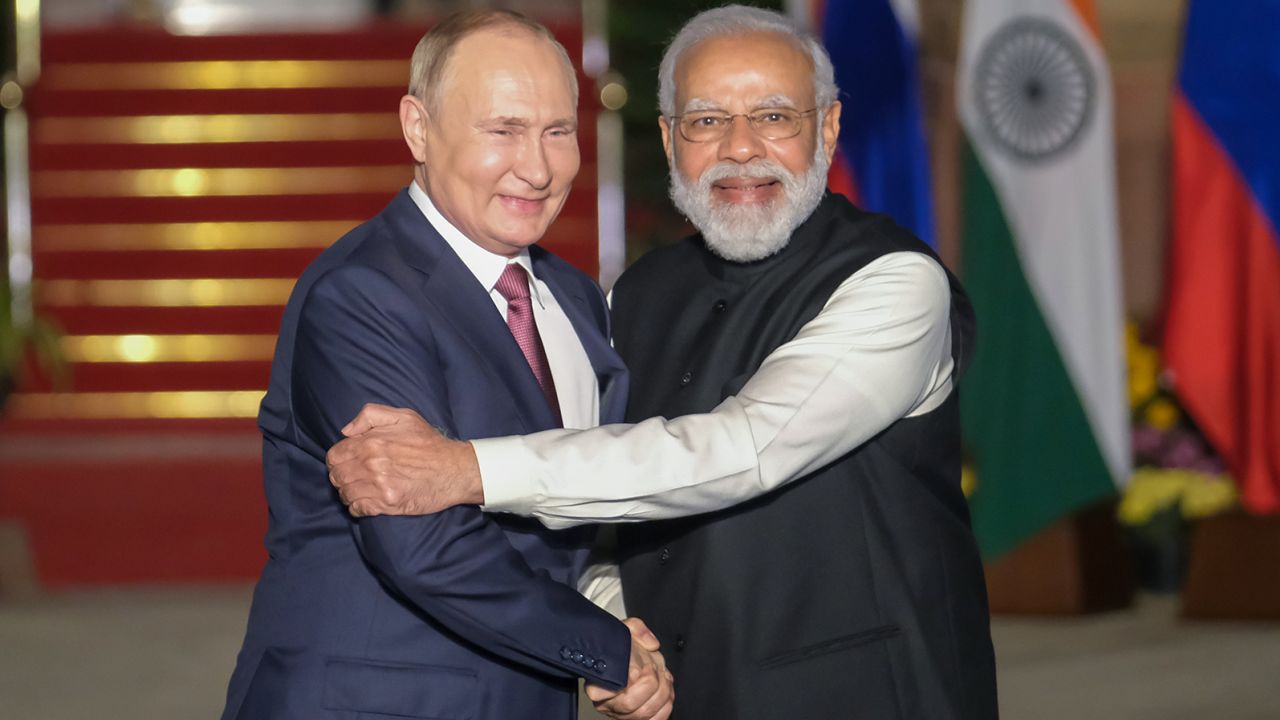 This careful maneuvering exemplifies India's unique position on the war: verbally distancing itself from Russia, while continuing to maintain pivotal relations with Moscow and deepening its ties with the West.
And the West, according to Madan, is willing to go easy on New Delhi because of its growing clout.
"The US has seen India as important in its own right – as a large, economically growing democracy, with military and technological capabilities that will play a key role in the international order," she said, adding it is also a vital "geopolitical counterbalance, economic alternative, and democratic contrast to China."
In recent months, signs of problems have also emerged between New Delhi and Moscow. In March, the Indian Air Force said Russia was unable to honor its arms delivery commitments to India because of the war in Ukraine.
On Monday, India's Foreign Secretary Vinay Kwatra called New Delhi's defense relationship with Washington "robust and dynamic."
Speaking to reporters, he said the defense roadmap that India and the US have been discussing "focuses on all aspects of defense, core production and core development," and could be a "key aspect" of Modi's trip.
Meanwhile, Biden's government is looking to encourage manufacturers to reduce its reliance on China, and pivot towards India, which has 1.4 billion people – many of whom are young, educated and largely English-speaking.
"Modi is being welcomed in various countries because India is seen as an attractive – and useful – partner by many countries because of its growing global and regional role," Madan said.
"I don't expect public condemnation from the White House," she added. "The focus will be a celebration of India and the India-US partnership."