Editor's Note: CNN Style is one of the official media partners of Paris Fashion Week. See all coverage here.
Pharrell Williams' debut as men's creative director for Louis Vuitton was nothing short of spectacular, heralding a new era for the storied French fashion house.
The American polymath, whose appointment was announced in February, closed down the Pont Neuf bridge in Paris on Tuesday, where the show was held at sunset with a full orchestra, gospel choir and over 70 looks modeled by some familiar faces including designer Stefano Pilati and Pusha T and No Malice of the hip-hop duo Clipse.
The famous faces didn't stop there — Williams' celebrity friends cheered him on from the front row. Among them were Rihanna, the brand's latest campaign model and A$AP Rocky who snuck in late, Jay-Z who performed at the afterparty, Beyoncé, Kim Kardashian, Jared Leto, Lenny Kravitz who came with Naomi Campbell and brand ambassador Zendaya with former stylist Law Roach by her side.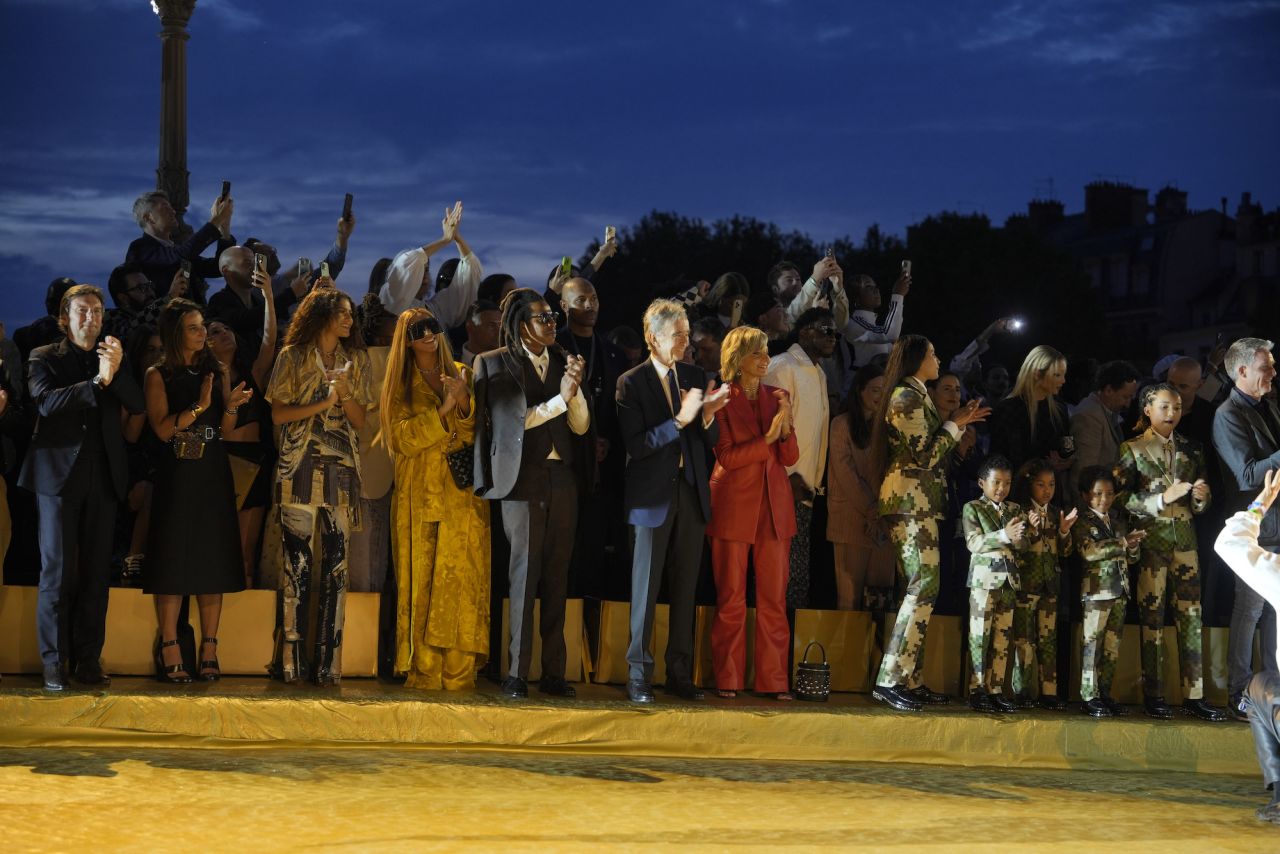 When Williams was named as the successor to the late Virgil Abloh, some debate ignited over the validity of his appointment and unorthodox trajectory.
But while he's not a formally-trained fashion designer, the 13-time Grammy winner has been shaping culture — from music and fashion, for over two decades. This isn't Williams' first shot at design: in 2003, he collaborated with Marc Jacobs (then at the helm of Louis Vuitton) and Japanese designer Nigo on sunglasses that became one of the brand's top sellers. Other collaborations followed: Moncler, Moynat and long-standing partnerships with Adidas and Chanel, including a capsule collection he designed with Chanel's late creative director Karl Lagerfeld.
Like Abloh before him, he has an uncanny knack for staying ahead of the cultural curve, redefining the zeitgeist and understanding how to market an idea to the masses. As creative director, his vision for Louis Vuitton will go beyond creating collections but also into producing fashion shows, campaigns and other content to keep the fashion house fresh and buzzy.
Guests met near the Musée D'Orsay, "in front of Rihanna" the PR team told us — referring to the brand's huge billboard starring the pregnant Barbadian singer — and took a boat down the Seine River to the city's oldest bridge, at the foot of which the LVMH-owned department store Samaritaine is located. Pont Neuf was transformed into the Vuitton runway, and featured a continuous strip of the iconic Damier motif that would be heavily woven throughout the collection.
The checkerboard design, which dates back to 1889, has been reimagined through Williams' lens. A pixelated iteration, dubbed "Damoflage," appeared on floor-sweeping overcoats, matching suits, a collarless tapestry jacket, structured cases and trunks, oversized Speedy bags and backpacks. A more exaggerated form of the original Damier pattern was also shown on quilted denim jackets, calf-grazing trench coats, leather moto jackets with flared pants and leather jerseys and rugby shirts in brilliant yellow, deep navy and burgundy hues. It was also seen on a series of accessories including beanies, bags and baseball caps.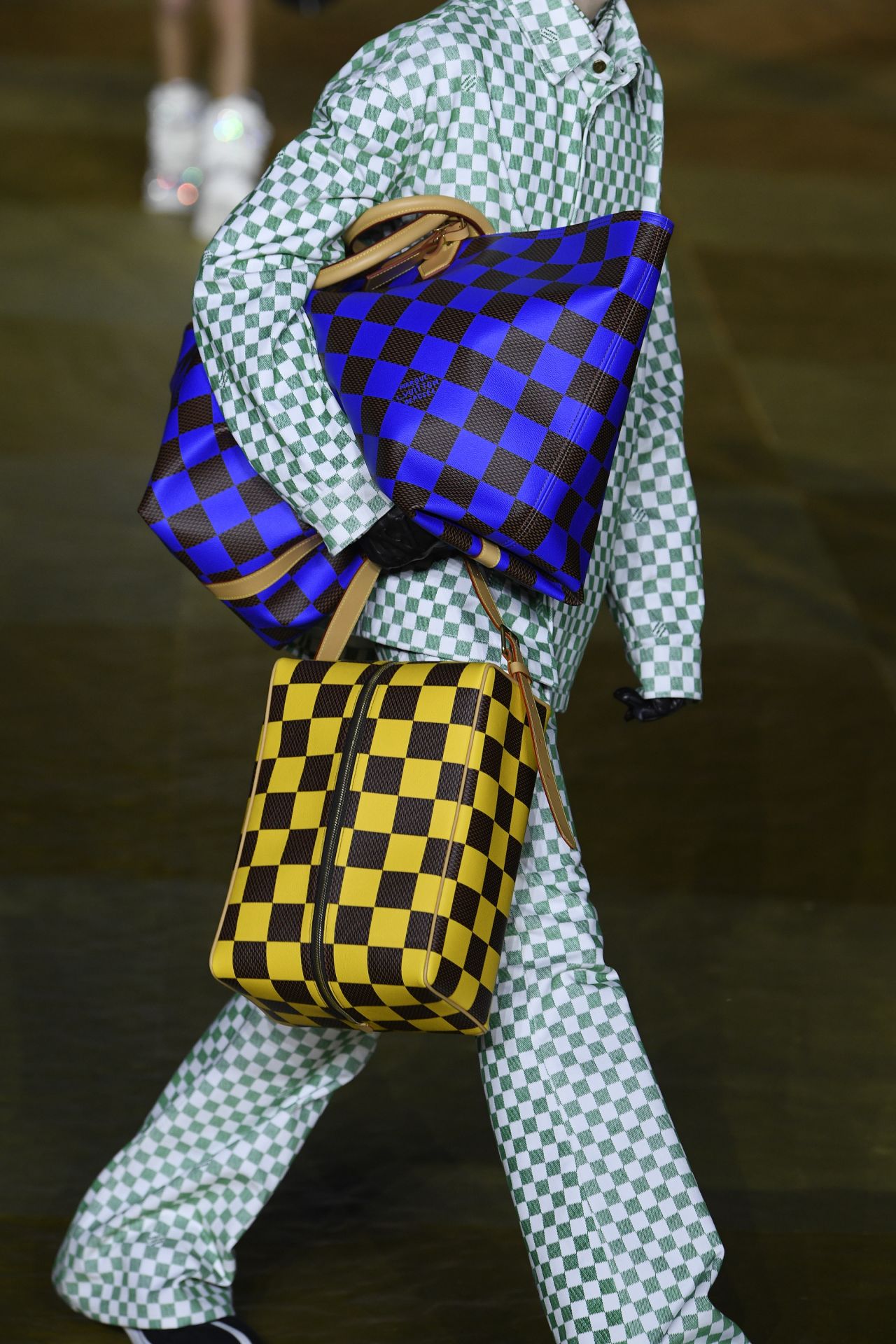 There were new motifs introduced this season including embroidered designs from the works of American artist Henry Taylor used on tailoring, denim and accessories and a logo combining the classic "LV" monogram with the word "lovers." "LVERS is a state of mind: warmth, wellbeing, and welcome-ness" the show notes read.
Channeling his own sartorial tropes, Williams sent down elevated Varsity jackets with prints of Pont Neuf shimmering with crystal detailing and a navy one with the LVER logo splashed across the chest. Also seen were tailored shorts with matching jackets, ruched white tube socks and black loafers that recalls an aesthetic Williams has worn to red carpets.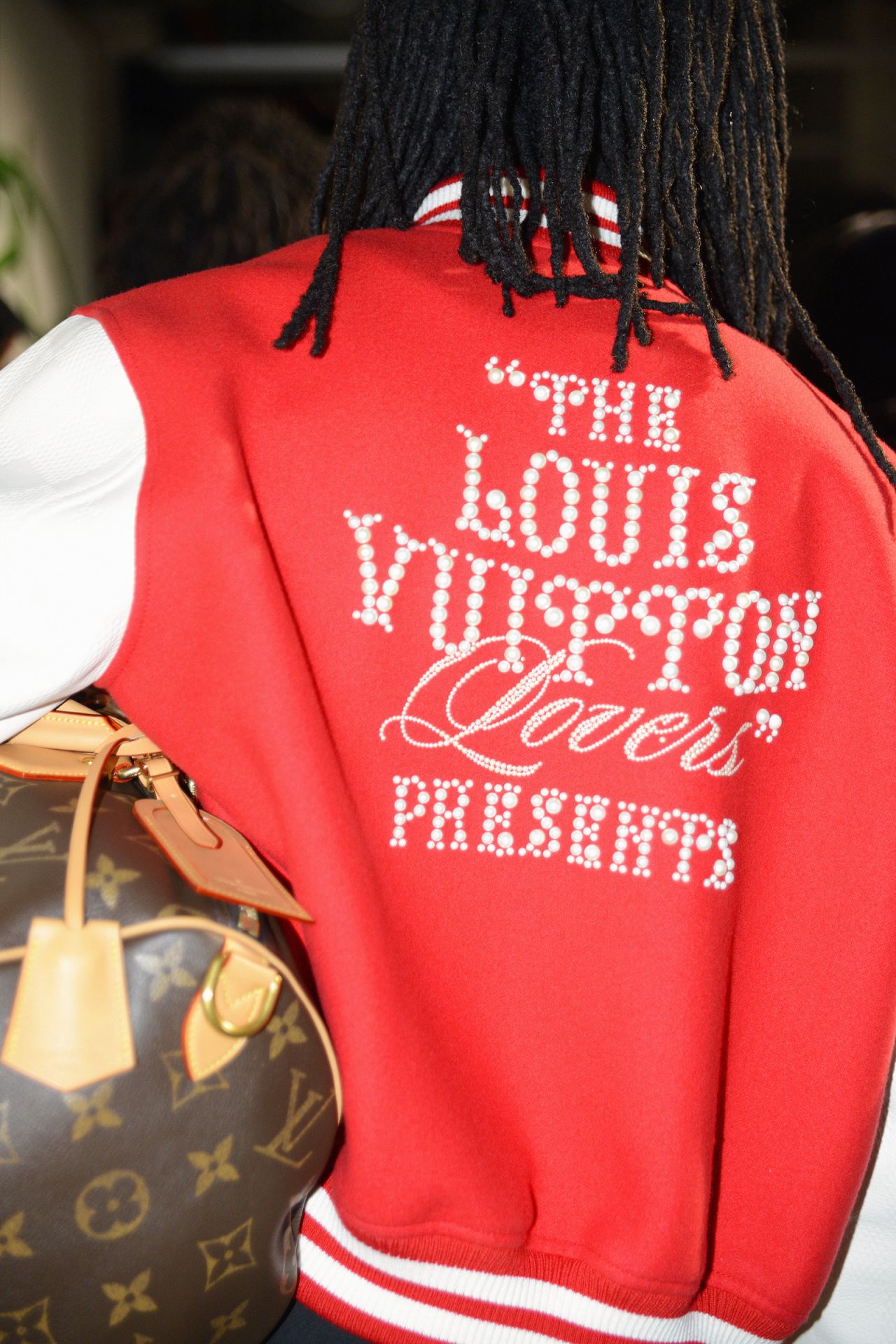 Accessories took equal billing to the clothing. Models came out holding several of the brand's most recognized bags — The Speedy, worn by celebrities from Audrey Hepburn to Snoop Dogg — worn across the chest, hanging off the crook of their arms or nestled underneath. It heralds a makeover for the iconic piece.
"The Speedy was always a men's canvas bag until they made a smaller version for Audrey Hepburn in 1965," Pharrell said in a press release shared after the show. "I wanted to take something I felt would be unisex and just make a great bag for humans. It is an everyday icon conceived for every walk of life."
The new iteration features vibrant new colorways including cherry red, sunshine yellow and a rich green, in a nod to the counterfeit ones sold on New York City's Canal Street. "A new adaptation of the Louis Vuitton Speedy bag conjures the attitude and hustle mentality of Canal Street in an everyday icon conceived for every walk of life," the show notes read.
The new bags are made using calf leather instead of the traditional canvas and come in a variety of sizes, including larger, softer versions. Large bags (resembling the brand's Alma and Keepall silhouettes) hung close to the ground, small structured bags with chain and pearl detailing and camera bags with nylon straps were worn alongside furry trapper hats, rolled blankets tucked under the arm or draped over shoulders.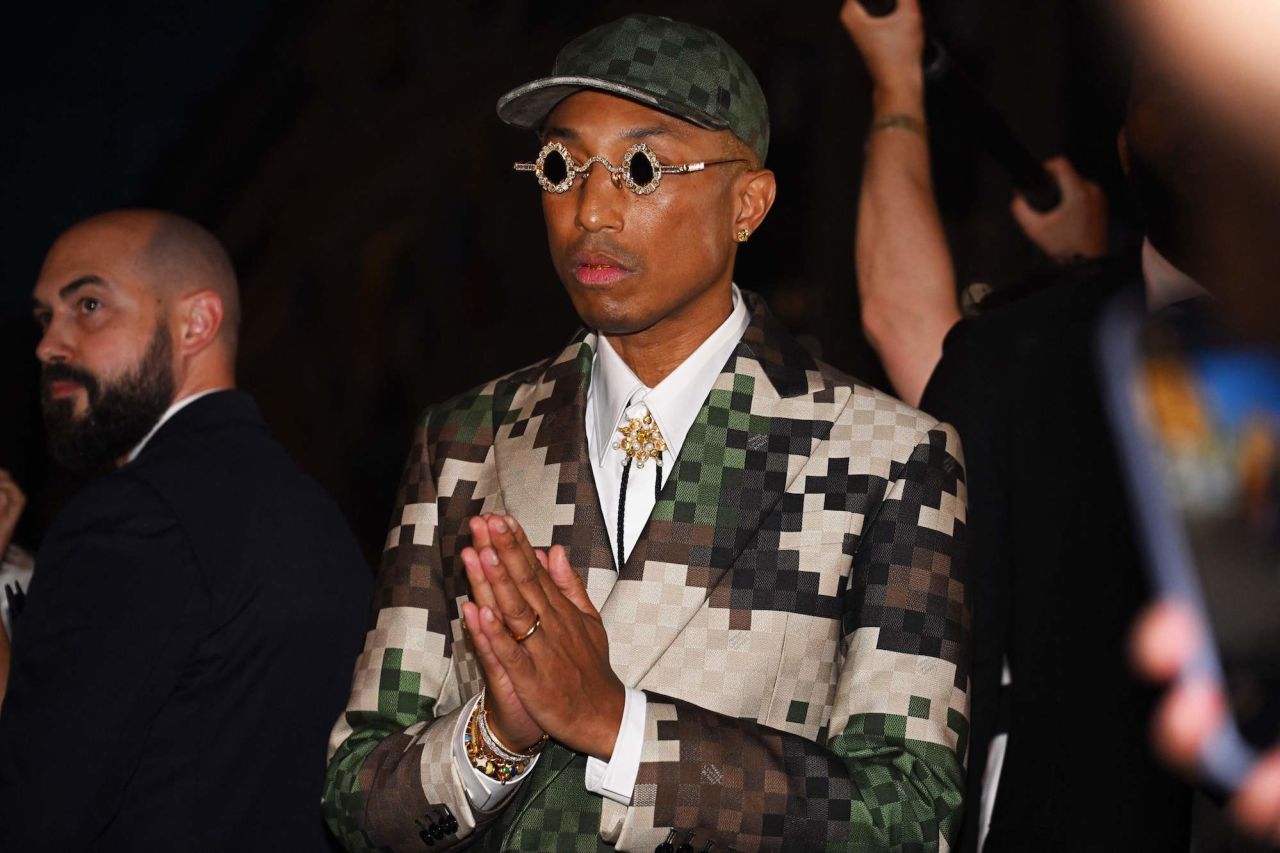 There was headwear galore from chunky beanies embellished with crystals and pearls to emulate the Damier pattern to structured leather logo berets and slouchy newsboy caps. Sunglasses — a Williams signature — were also a key element and came in a range of sizes and shapes from square camo ones and small circular frames reminiscent of camera lenses to a wraparound style and oval lenses adorned with pearls.
The show closed with the Voices of Fire gospel choir chanting, "Joy! Joy! Joy!" with a performance that not only sparked joy, but earned them a standing ovation. Williams composed two new pieces for the runway show including "Joy (Unspeakable)" sung by the Virginia-based choir which was released five days ago, as well as "Peace Be Still" featuring Chinese pianist Lang Lang.
In his show notes, Williams had paid tribute to "the giant before me" — the late artistic director Virgil Abloh.
"Virgil has always been a brother in spirit. Now, that is literally what we work with here," he added in a press release. "He left a lot of hits with the House. As far as I'm concerned, I'm collaborating with his spirit. I'm honoured. When he got this appointment, I was really, really happy for him… It was crazy what the connections were, and the respect he had for us, and which we continue to have for him. I can tell you that Virgil and me being here has to say to kids who look like us, 'Oh, I can do anything. I can be anything.'"
Williams ended the show in fittingly joyous style, running down the runway to take his bow wearing head-to-toe Damoflage, bringing out the entire Louis Vuitton design team to revel in the moment with him.