For more than four decades, the US government has been paying cities and states to move homeowners away from areas that are at high risk of severe flooding.
When a hurricane or major flooding event devastates an area, a neighborhood can send a request for the local or state government to buy the impacted land and give residents money to start over someplace else.
The Federal Emergency Management Agency's buyout program is a form of so-called "managed retreat" – a long process that relocates people, businesses, homes and infrastructure to an area that's safer from the impacts of climate change-fueled weather events. But until recently, little was known about where people ultimately moved and whether their new location actually reduced their flood risk.
A new study published in the journal Environmental Research Letters — which coincides with a managed retreat conference unfolding in New York City this week — provides a clearer picture of these home buyouts.
Data from thousands of home buyouts shows people aren't moving that far from their original homes — and often they are moving within the same floodplain. But overall, their risk of flooding decreased after the move, a nod to the program's success. Researchers also found that race has played a role in who is moving and where they're relocating to.
"As climate change and rising insurance costs increase the pressures to retreat from the coast and flooded areas, we need to pay more attention to where people are going," James Elliott, a professor of sociology at Rice University and a co-author on the study, told CNN.
The findings "point to how the program plays out differently in different types of communities and neighborhoods across the country," he said.
A program for 'White flight'?
Using flood risk estimates, housing values, race and income data from the US Census Bureau, and FEMA relocation data between 1990 and 2017, researchers from Rice University built a nationwide database to map out where nearly 10,000 Americans sold their flood-prone homes and where they moved.
They found people who have taken advantage of the FEMA buyouts typically did not move that far to reduce their risk, and usually stayed within the same floodplain.
On average, buyout participants reduced their future flood risk by up to 65%, Elliott said. The average driving distance between their former homes and their new ones was around seven miles, with almost 74% of homeowners remaining within 20 miles of their old, flood-damaged homes.
The findings were also racially segmented, Elliot said. About 96% of homeowners who relocated from a predominantly White neighborhood ended up moving to another majority White community.
In contrast, residents of predominantly Black and Hispanic communities were far more likely to relocate to a new neighborhood with a different demographic: Only 48 percent of Black homeowners who go through the buyout moved to predominantly Black neighborhoods.
The study also found that buyout areas with predominantly White homeowners had a nearly 90% chance of flooding by 2050, while majority-Black buyout areas had a roughly 50% chance, suggesting that White residents tend to only participate in buyouts when flood risk is much more intense.
Though the data suggests that homeowners in White neighborhoods have a higher tolerance for flood risk, 80% of the people who took advantage of the FEMA program previously lived in majority-White neighborhoods. This could be because White communities "are more successful at winning the opportunity and money to participate" in the FEMA program, Elliott said.
The home buyout program, which is the largest managed-retreat initiative in the country so far, is "disproportionately targeted toward Whiter residential areas," Elliott said.
"Communities of color and lower income areas just have fewer options to move nearby, so they are less likely to participate in the managed buyout," Elliott said. In Houston, he found in a previous study that most of the people participating in buyouts in racially diverse communities tend to be White homeowners.
"It's sort of the last wave of White flight in those neighborhoods," he added. And when "flood risks come, the final White residents begin to pull up stakes through the buyout program and move further out."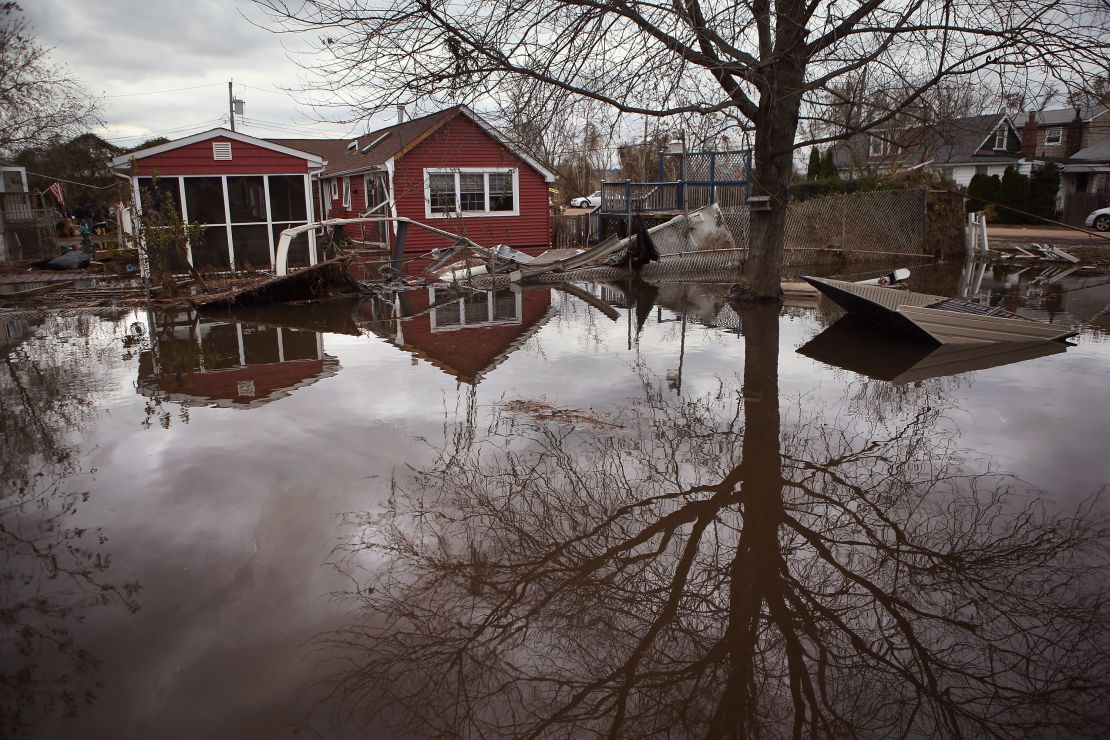 Alexander de Sherbinin, a senior research scientist at the Columbia Climate School and deputy manager of NASA's Socioeconomic Data and Applications Center, said it's not clear from the study that White homeowners are reluctant to move to racially diverse neighborhoods, and noted that there is evidence to the contrary.
De Sherbinin pointed out that there is a process of "climate gentrification" playing out in areas that have experienced climate disasters, "whereby more affluent households are moving into ethnically diverse neighborhoods that are less at risk of flooding, and are even displacing local residents."
He pointed to Miami's Little Haiti neighborhood as an example of this phenomenon, where higher ground helps protect the neighborhood from sea level rise and higher storm surges.
"The research findings make sense in one regard, which is that whiter, more affluent neighborhoods are more likely to have the insurance coverage and resources to stay in place, despite rising risks," de Sherbinin told CNN. "In other words, they're able to rebuild, and possibly accommodate risks by raising their houses above flood lines."
In response to the study's findings, Jeremy M. Edwards, a spokesperson for FEMA, said it is important to note that while the agency does provide funding for buyouts, the decision to offer these funds ultimately lands on the state government. States approve home buyouts based on the priorities laid out in hazard mitigation plans.
And in April, FEMA updated these policies, requiring the plans consider equity and the impacts of the climate crisis.
"While FEMA does not base its assistance or programs on race, national origin, or socioeconomic status, (FEMA) Administrator (Deanne) Criswell has directed the agency to look at all our programs to determine areas where we can break down barriers, enhance equity, and increase accessibility," Edwards told CNN in an email. "This includes, but is not limited to, requiring states to consider equity and the impacts of climate change when implementing flood buyouts and other hazard mitigation programs."
As the climate crisis advances, more homeowners and businesses will be forced to relocate, adding stress and vulnerability to new regions. Previous research has shown that climate migration will become more likely as the planet warms and people seek places they consider safer and more stable.
"We really need to think about how people relocate locally, what the options are, and how the ongoing racial segregation, especially in urban environments, is affecting those local retreats and people's decisions and abilities not to retreat, because all we see are the people who actually say yes to the program," Elliott said.
"That's the classic thing with climate change — it's not about 'if' people have to move from these places, but 'when and how.'"
This story was updated with additional information.