In the end, the uprising was short-lived. But for a brief and chaotic 36 hours, Russian President Vladimir Putin's grip on power appeared to be under serious threat, as thousands of Wagner fighters led by warlord Yevgeny Prigozhin closed in on the country's capital.
With the private mercenary group claiming to have seized key military sites in two Russian cities, the Kremlin was forced to deploy heavily armed troops to the streets of Moscow and warn residents to stay indoors.
But the face-off never came.
On Saturday, the Kremlin said a deal had been reached to end the insurrection, with Prigozhin heading to neighboring Belarus and Wagner fighters turning back from their march.
Belarusian officials told CNN on Saturday they have no details on what Yevgeny Prigozhin's status will be in the country and could not confirm whether Prigozhin had already arrived.
"Now is the moment when blood can be shed," Prigozhin warned on Saturday. "Therefore, realizing all the responsibility for the fact that Russian blood will be shed from one of the sides, we turn our columns around and leave in the opposite direction to the field camps according to the plan."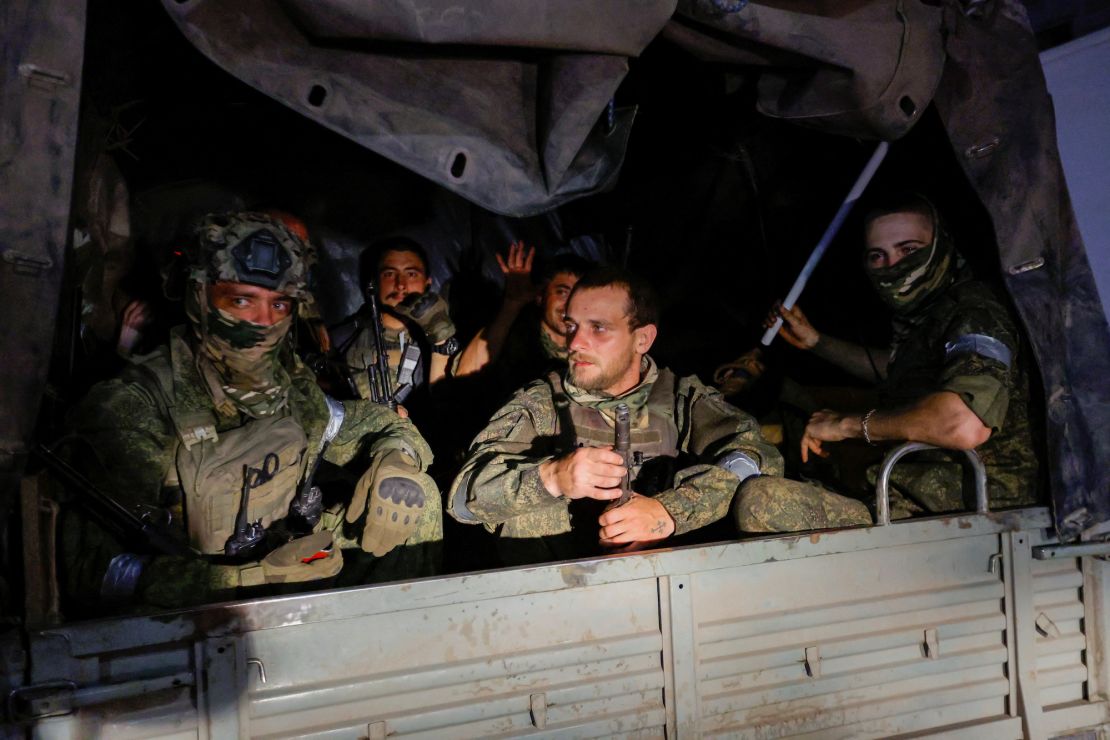 Wagner fighters will face no legal action, and the Kremlin has "always respected (Wagner's) heroic deeds," said Kremlin spokesperson Dmitry Peskov.
"You will ask me what will happen to Prigozhin personally? The criminal case will be dropped against him. He himself will go to Belarus," Peskov said, adding that the situation had been resolved "without further losses."
Restrictions remained in place along a major highway Moscow and in the Tula region on Sunday, after Prigozhin's attempted advance brought traffic to a grinding halt.
The abrupt about-face follows a rare, remarkable challenge to the Kremlin that threatened to plunge the country into crisis and destabilize its already stumbling war efforts in Ukraine.
Chechen leader Ramzan Kadyrov, a staunch Kremlin ally, condemned Prighozhin's actions and said, "bloodshed could have happened."
"The arrogance of one person could lead to such dangerous consequences and draw a large number of people into the conflict," he added.
The threat of civil war leaves the country – and the Putin regime – in a very different place Sunday than it had been just two days prior. And with Russia possessing the world's largest nuclear arsenal, that instability has other nations on edge, prompting emergency meetings and high-level talks.
Threat to Putin
Putin has built a reputation as an autocrat with an iron grip on power since he became president in 2000 – with his reign second in length only to Joseph Stalin, the Communist leader whose image Putin has tried to rehabilitate.
The mysterious deaths of Putin critics over the years, and more recent critics of the Ukraine war, has only bolstered the Kremlin's veneer of total control and the consequences for those who step out of line.
That has now been shaken badly by the Wagner insurrection – with experts warning Putin may be more exposed than he has been in the last 23 years.
"Putin is clearly weakened. There is blood in the water," said Evelyn Farkas, executive director of the US-based think tank McCain Institute. She added that this near-crisis could be seen as an opportunity for Putin critics or rivals within the Kremlin.
Ukraine's national security adviser, Oleksii Danilov, said on Sunday that the short-lived Wagner uprising was the "first stage of dismantling" the Russian leader's tenure.
"Putin's regime has been stabbed in the back with a knife, if not instantly fatal, but certainly inevitable, although delayed in time," he added. "The countdown has begun."
At the same time, US Secretary of State Antony Blinken said the developing situation in Russia saw "cracks emerge that weren't there before," adding: "We haven't seen the last act yet."
Blinken told CNN's Dana Bash that the situation is "extraordinary," but said it's "too soon to tell where this is going to go."
Some international observers have expressed surprise at what they view as a lackluster Russian response to the insurrection, with the lack of a rapid, cohesive strategy highlighting the military's weakened capabilities.
Putin will also have to contend with shaky public sentiment within Russia. Civilian support for the war in Ukraine remains high, but cracks had begun to show by early this year, with some Russians tuning out the propaganda on air and others finding ways to circumvent Internet restrictions.
In the months since, the war has arrived on Russian soil as Ukraine launched its counteroffensive. Russia's Belgorod region saw a cross-border attack by anti-Putin Russian nationals in May, while the Kremlin itself came under alleged drone attacks.
The emerging split between Moscow and some of its civilians was on clear display Saturday, as Prigozhin and his forces prepared to depart the Russian city of Rostov-on-Don, where they had briefly occupied a key military facility. A video verified and geolocated by CNN show Prigozhin's vehicle stopping as a resident approached to shake the Wagner boss' hand; around them, residents cheer.