People in Utah have been seeing snow on the ground tinged with a red and pinkish hue.
It's certainly pretty to look at, but what's behind the natural phenomenon that's nicknamed "watermelon snow"?
Experts say it's a normal occurrence that appears across mountainous locations all over the world.
Though you might not suspect it from the snow's colors, it is the result of green algae bloom that thrives in cold, snowy environments, according to Scott Hotaling, an assistant professor at Utah State University's watershed sciences department.
The species of algae causing the colorful Utah snow is called Chlamydomonas nivalis.
Hotaling said though the snow in Utah has appeared red – the most common color of the phenomenon – there are types of algae living on ice and snow that can turn the usually white frozen precipitation into all kinds of colors, including purple, green and orange.
"(The algae is) normally in this kind of dormant cyst form, and when there's enough meltwater in the snowpack and enough nutrients, like during spring, that cyst form is triggered out of dormancy," Hotaling told CNN.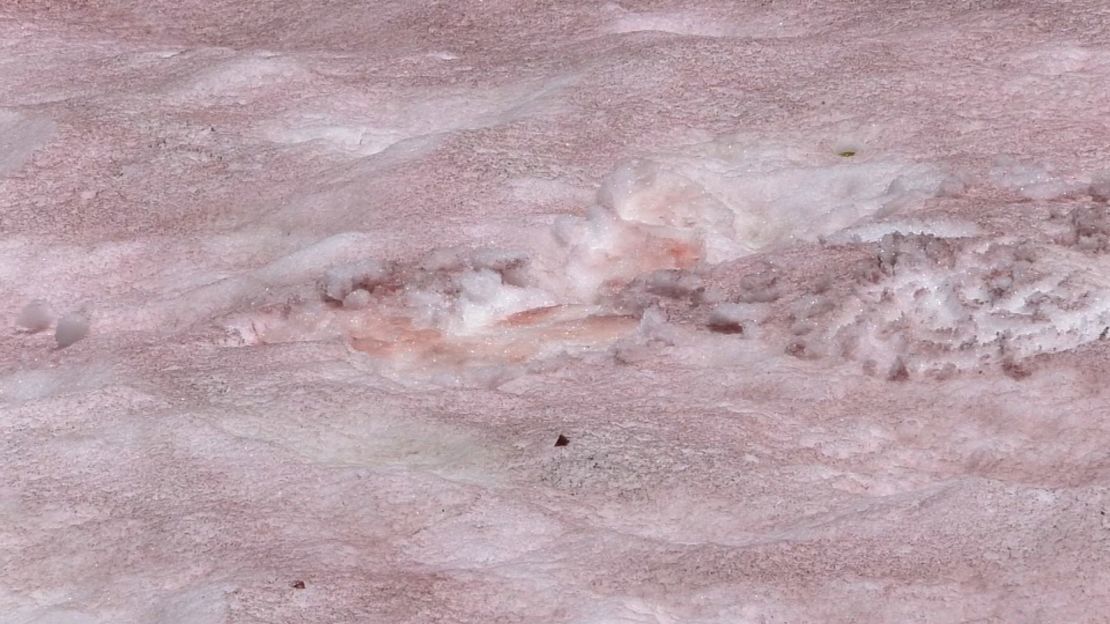 "It has this little flagella that can swim through the snowpack to the surface, (where it) experiences a lot of solar radiation and it blooms," Hotaling said.
That bloom is a sign of the algae's reproductive stage, during which there's a secondary pigment that's created which darkens the algae's cells, according to Hotaling.
This pigment acts as a blocker of ultraviolet rays that protect the algae's cells from solar radiation.
"I'm very light skinned, I have a lot more struggles with the sun than people that have much more pigmented skin – same idea for algae," Hotaling said.
As the algal cells warm in the sun, they melt the water around it that was previously snow, he explained, which frees up water in the frozen environment.
There are no human health concerns for water quality and for anyone who comes into contact with the watermelon snow, according to Hotaling.
Western US states like California, Utah and Nevada have suffered from droughts that left not much snow in those areas over the last several years, said CNN senior meteorologist Brandon Miller.
"This year, they've seen a tremendous amount of record snow in some locations, so that snow depth was very deep, lots of snow to hang around well into the summer," Miller said.
"For some, it's probably the first time in years that they've been able to see this phenomenon just because of the busy snow year that we had in this part of the world," he said.