A critical federal analysis of extreme rainfall is vastly underestimating the chances of flood events, with grave implications for everything from new roads and bridges to the rising cost of flood insurance, according to a new analysis.
Intense rain events, like atmospheric rivers and torrential, training thunderstorms, are quickly making the idea of a "1-in-100-year flood event" obsolete, according to the report from First Street Foundation, a non-profit focused on weather risk research.
It found half the American population lives in a county where a 1-in-100-year flood is at least twice as likely now as it had been in the past, coming once every 50 years, on average, rather than 100.
The problem: The federal rainfall analysis, which is managed by the National Oceanic and Atmospheric Administration, is updated infrequently and has not kept up with the climate crisis, which is intensifying precipitation events.
"The fact they're not correcting for climate change means that their definition of a 100-year event is occurring much more frequently," said Jeremy Porter, head of climate implications for First Street.
Alarmingly, in 20 of the most populous counties in the US, where a combined 1.3 million Americans live – largely in mid-Atlantic states including Pennsylvania, New Jersey and New York – these major events are forecast to happen around once every decade, First Street reported Monday.
First Street found in much of the Northeast, the Ohio River Basin, Northwestern California, the Texas Gulf Coast and the Mountain West, the rainfall depths for a 1-in-100-year event could happen far more frequently, which First Street estimates could occur at least every 5 to 10 years.
While major flooding is often considered a coastal phenomenon driven by hurricanes, intense rainfall also can produce disastrous inland flooding. Hurricanes are producing more rainfall as they move inland after landfall and dissipate, for example.
California was hit with more than 10 so-called "atmospheric rivers" this past winter, bringing destruction as well as relief to the drought-stricken state.
As the name suggests, atmospheric rivers are "a river in the sky," said Northern Illinois University professor Allison Michaelis, an expert on the phenomenon. "They're so large and even though the core of the precipitation might be more concentrated in a smaller area, the broader impacts can be more expansive."
And deadly floods from torrential rainfall devastated Eastern Kentucky and Missouri in late July last year, leaving $1.5 billion in damage in their wake.
"In that Midwestern Ohio River Valley, the type of flooding increasing the most has been extreme precipitation events," Porter said. "You have more water running down these steep hills into these small waterways that – when these communities were built – they weren't handling that amount of water."
Why federal flood data is outdated
The gold standard federal rainfall analysis, Atlas 14, was developed by the National Oceanic and Atmospheric Administration, the national agency responsible for weather forecasting.
NOAA told CNN it does not comment on other organizations' research. While it says Atlas 14 is scientifically rigorous and the authoritative "national standard," the agency has acknowledged its data are outdated for a rapidly changing climate. It is working on a fresh analysis, targeted for completion in 2027, with funding from the bipartisan infrastructure law.
First Street analysts said while this recognition is good, the timeline is a problem because severe flooding has been wreaking havoc for years.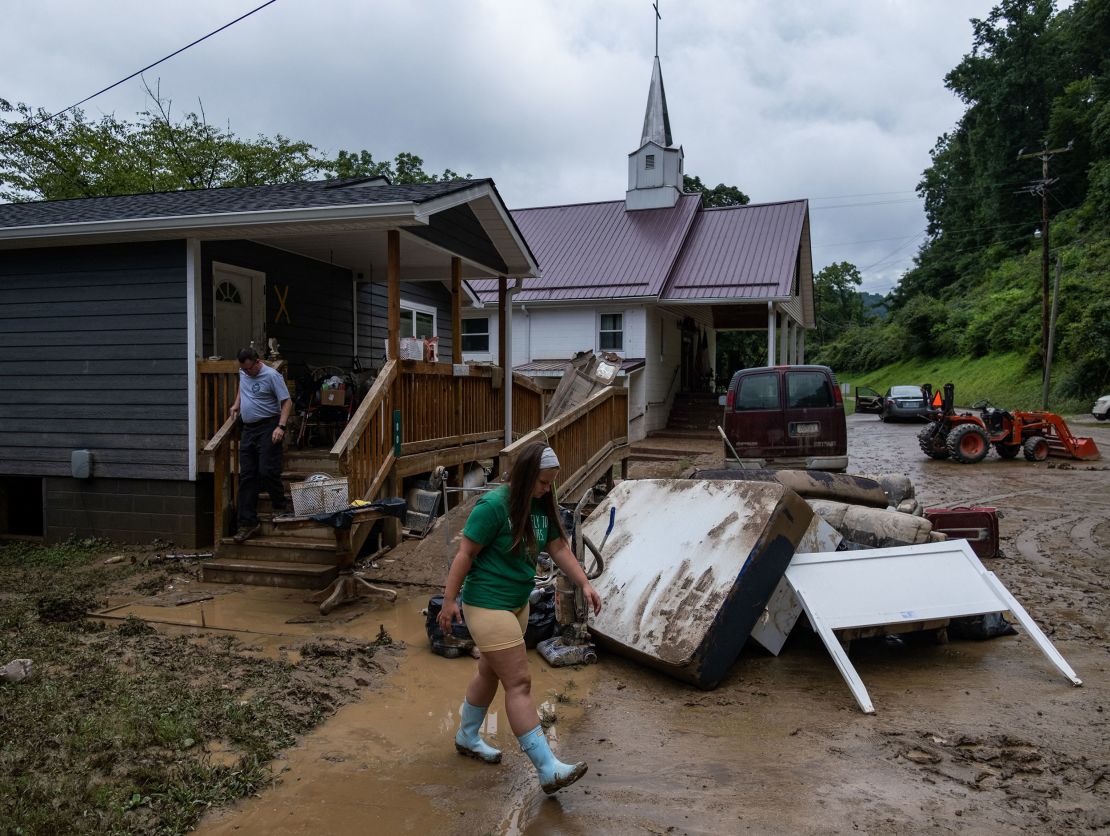 There are several reasons why NOAA's data are outdated. The first is that it does not adequately account for how climate change is making rainfall events more extreme, First Street contends. Its historical data goes back to before 1900, incorporating years when extreme rain events were far less common.
That huge time span dilutes extreme rain events that in recent years have gotten bigger and more dangerous with a warming climate, First Street researchers said, noting the top 10 single-day extreme rainstorms have all occurred after 1995.
There is also an issue with the rain gauges themselves, First Street notes. Many of NOAA's measurements come from state-of-the-art gauges, where data is frequently and automatically recorded. But it also has a vast network of volunteer-operated rain gauges with few set standards, and where data is collected less frequently.
Because some rain gauges are unreliable, NOAA smooths its data, which can remove or underrepresent some of the more extreme events.
NOAA's analysis may be good for historical data, but it is bad at capturing a rapidly warming present and future, Matthew Eby, founder and CEO of the First Street Foundation, told CNN.
"It's become obsolete because the environment is changing, climate change is happening and it's becoming warmer," Eby said, "It is not something that can help you prepare with the same kind of concept 100 years out, 50 years out, or 30 years out."
Impacts to infrastructure and flood insurance
The major rainfall events, and outdated federal data, could have profound impacts on new infrastructure that's being built, as well as the cost and availability of flood insurance to help homeowners protect their property.
As NOAA works on a new rainfall analysis, federal infrastructure funding is already being spent on roads and bridges that are being built using outdated data, Porter and Eby said. That could have serious implications for the safety and survivability of critical infrastructure, especially in increasingly flood-prone places.
Using outdated data "simply means that we are putting the wrong pipes in the ground with all of this money," Eby said. "All of these places that we think are going to be built to withstand precipitation risk and not flood are going to flood. We'll have to fix it, as taxpayers, sooner than we think."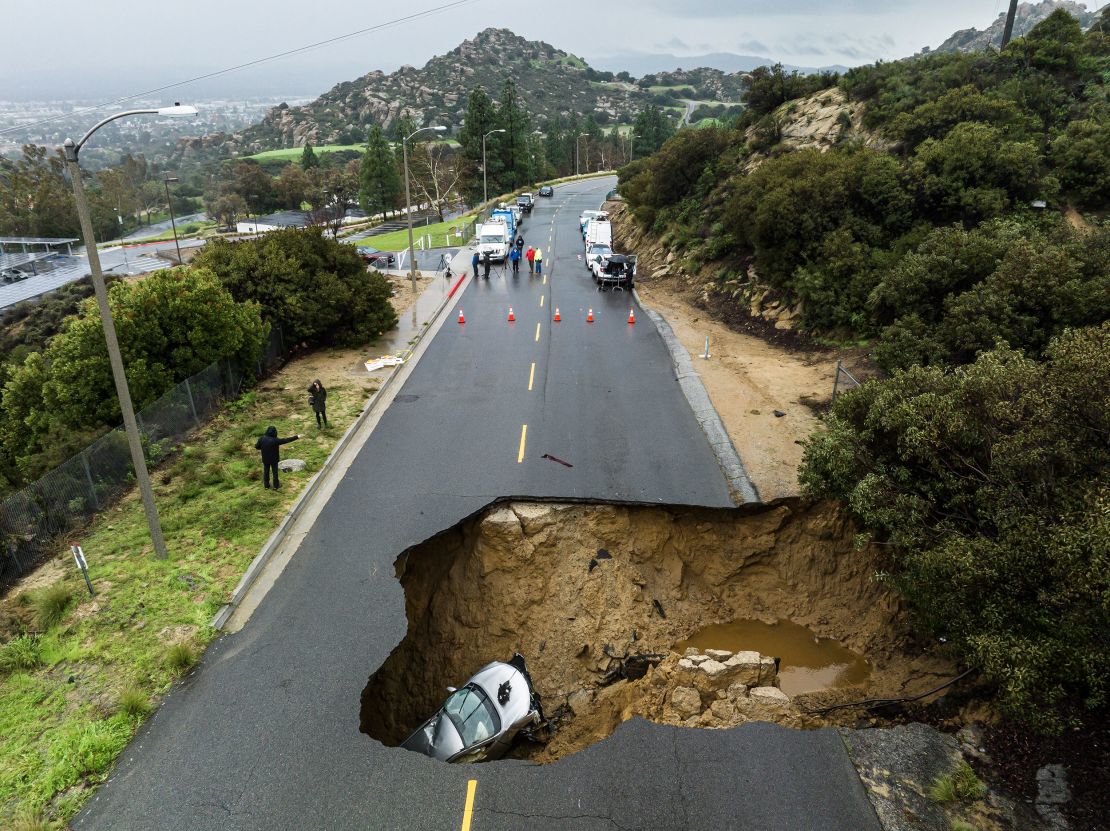 The other big impact is on FEMA's federal flood insurance, which is vastly underrepresenting the number of people that could fall into FEMA's Special Flood Hazard Areas, meaning millions of Americans may be unaware of their current flood risk.
"If you live beside the ocean or a river, you intuitively know you have some level of flood risk," Eby told CNN. But there are many inland places like Kentucky with "huge amounts of precipitation risks that are not inside [FEMA's] Special Flood Hazard Area."
Those are the people who are in greater danger, Eby said, "because you don't think to yourself, 'do I have flood insurance? Is that part of my homeowners policy?'"
Not only is that reality leaving millions of people without flood coverage, it is also driving up the cost of insurance for homeowners who are currently in the risk pool. When FEMA rolled out its redesigned National Flood Insurance Program two years ago to better account for climate risks, the premiums spiked and priced some homeowners out of the program.
Jeremy M. Edwards, a spokesperson for FEMA, told CNN in a statement that the agency's flood data is "developed using the best available science and latest technology," and is careful not to underestimate nor overestimate the flood risk. FEMA's data, which is different than First Street's, "requires a level of precision that is sufficient for local decision making and planning local actions that reduce the risk of flooding," as well as setting the National Flood Insurance Program premiums and evaluating grants for local risk reduction plans.
All NFIP policyholders were subject to premium increases each year under the old system, Edwards said. Premium increases in Risk Rating 2.0, the revamped program, do "not deviate significantly from the old methodology except annual increases will eventually stop under Risk Rating 2.0 once the full-risk rate is realized."
Yet experts fear the cost of insurance will only get worse as climate change intensifies both hurricanes and extreme rain events.
"The story of flood insurance is not a story of a market that goes under, it's a story of a market that never starts," Nancy Watkins, a consulting actuary at Milliman and disaster insurance expert, told CNN. "Flood risk is for sure increasing due to climate change. It's only going to get worse with these storms everyone calls 1000-year events that are not 1000-year events."
This story has been updated with additional information.