For two days after Wagner chief Yevgeny Prigozhin called off his abortive mutiny, Russian President Vladimir Putin said nothing in public. Having faced the greatest challenge to his authority in 23 years, and almost witnessed his country tip into civil war, many expected the president to respond with sound and fury.
Instead, the silence was broken first by his adversary. In an 11-minute audio message posted to his Telegram channel, Prigozhin claimed to have merely staged a protest, rather than a coup, attempting to "bring to justice" Russia's top military brass for their "mistakes during the special military operation."
When Putin finally addressed the nation again on Monday, he was remarkably clement. The last time he had been seen on Saturday, he told the nation that Prigozhin's mutiny was "a stab in the back of our country and our people," and promised to hold the insurgents "accountable."
Now, he thanked the insurgents for making the "right decision" in halting their advance, and offered them contracts to join the Russian ministry of defense's force. He also claimed that the "armed rebellion would have been suppressed anyway," without specifying how.
For a leader renowned for delivering grand historical theses in hour-long tracts, Monday's speech was terse, lasting only a few minutes – and leaving more questions than answers.
Why has Prigozhin been allowed to flee to Belarus? Why have the insurgents not been punished? And how does Putin attempt to reassert his authority?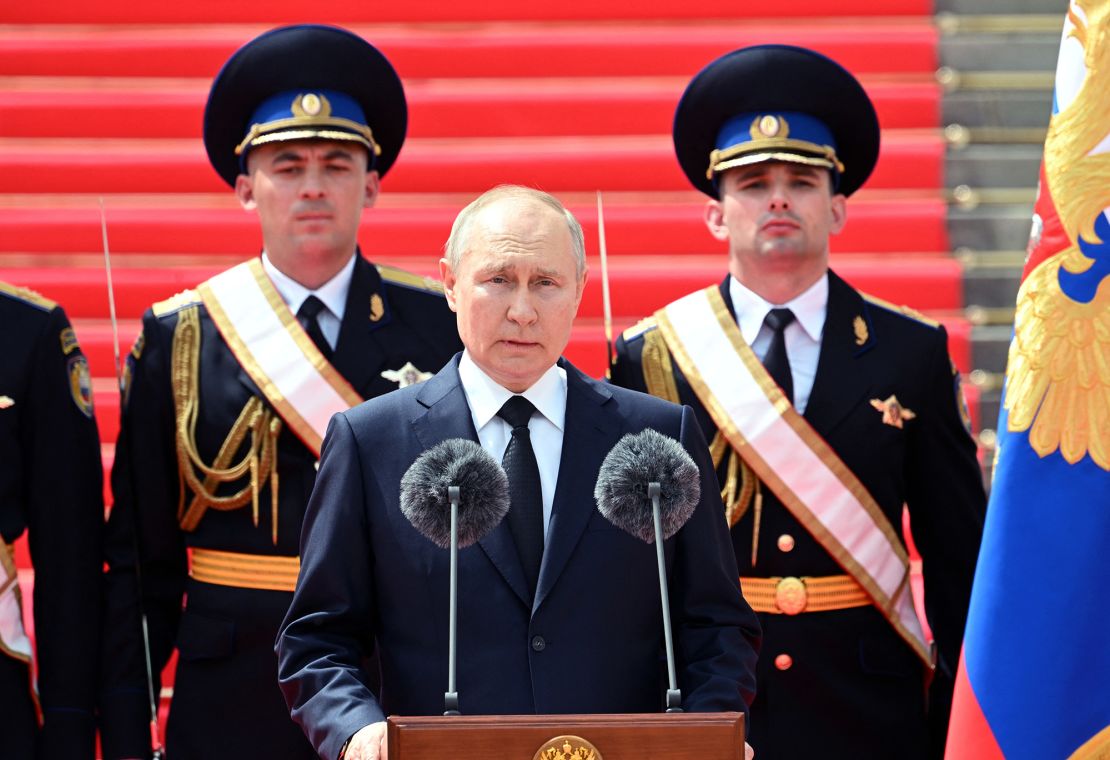 First pacify, then punish
In a bizarre and chaotic 36 hours, Prigozhin drove 800 miles from the border of Ukraine towards Moscow, captured a regional military command, stormed a large city, and claimed to have shot down a military helicopter.
Many expected Putin's response to be swift and brutal. He said in his Saturday address that Wagner's "treachery" was a "betrayal" of their country.
"Putin values loyalty above all else," Dmitri Alperovitch, a member of the Homeland Security Advisory Council, told CNN. "You can steal under him, you can kill, you can be a criminal. But the one thing you cannot be is disloyal."
Given this, Putin's apparent reluctance to punish the insurgents seemed puzzling.
But, according to Kirill Shamiev, a fellow at the European Council on Foreign Relations, Putin's first priority will be to "demilitarize, disarm and demobilize the Wagner group," before issuing any potential punishment.
"On the tactical level, it's important to pacify a bit, to make it calm, to give some hope and benefits to the ordinary Wagner mercenaries and senior command, to reduce their incentives to act," Shamiev told CNN.
Putin is currently engaged in a balancing act. His instinct may have been to respond swiftly, to demonstrate that mutiny won't be tolerated and to project an image of strength. But if he moves too quickly, he risks stirring up another rebellion – and of giving the impression of panic.
"If you react too swiftly, it can show the elites that you're scared," said Shamiev. Paradoxically, taking the "strongman" approach can instead reveal weakness.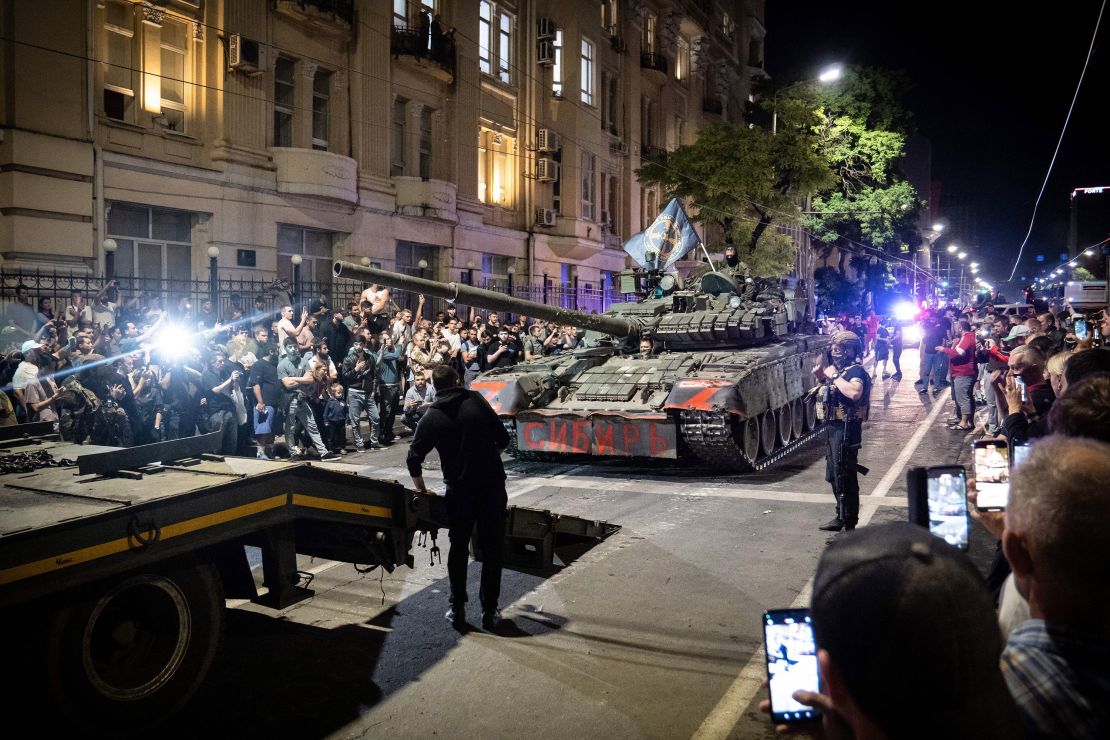 Prigozhin must be made an example of, according to Shamiev, but it is a careful question of timing. The war in Ukraine is entering an uncertain phase: Kyiv's counteroffensive may have gotten off to a stuttering start, but the unity and morale of Russia's forces has come under question since the chaos of the past weekend.
If the Kremlin were to have somehow dispatched Prigozhin immediately, and Russia's forces were to crumble in Ukraine, the Wagner chief's criticisms may simply have been proved correct.
"It would look like, 'Oh, Prigozhin was right, actually. He was right about the military, he was right about how unprepared and uneducated the generals are – and now they've killed him.' It's a bad look for the Kremlin," said Shamiev.
An image of calm
Hence Putin's somewhat chastened response may prove prudent. He was more visible on Tuesday, as he thanked security officers for their apparent role in quelling the mutiny. "You stopped a civil war," he told officials at an address in the Kremlin.
"In a difficult situation, you acted clearly and in a well-coordinated manner, you proved by deed your loyalty to the people of Russia and to the military oath and showed responsibility for the fate of the Motherland and its future," he said.
Russia's Federal Security Service (FSB) also said Tuesday that it is dropping the case against Wagner, since "its participants stopped their actions directly aimed at committing a crime," according to state media RIA Novosti.
Belarusian President Alexander Lukashenko also broke his silence Tuesday, confirming that Prigozhin had traveled to Belarus, under the terms of a "deal" Lukashenko had brokered with him, allowing him to leave Russia without facing criminal charges.
Lukashenko claimed he told Prigozhin that he would be "crushed like a bug" if he continued his advance towards Moscow, and persuaded him to call of the mutiny. But, while he disclosed some of the details of Saturday's negotiations, Lukashenko said little about Prigozhin's future.
Lack of public support
During a crisis, visibility matters. Now that the dust has settled after a chaotic weekend, Putin is attempting to project an image of control. But he has been unable to call on another method to reassert control that other leaders have used after facing similar challenges to their authority: Mobilizing political support.
When Turkish President Recep Tayyip Erdogan faced a coup attempt in 2016, his response was rapid and uncompromising. Thousands were imprisoned within days. He publicly announced he was considering reinstating the death penalty. Even a year later, his fury was palpable. "We are going to behead these traitors," he said.
Throughout the crisis, Erdogan hardly left the airwaves. He attended the funerals of those killed in the mutiny. He rallied protesters to his support, organizing mass pro-government demonstrations in major cities.
Such sights have been absent in Russia. The only public demonstrations of support have been for Prigozhin. As he was driven out of Rostov-on-Don on Saturday evening, people lined the streets to cheer him, like fans waiting outside a stadium to get a glimpse of their favorite sports star.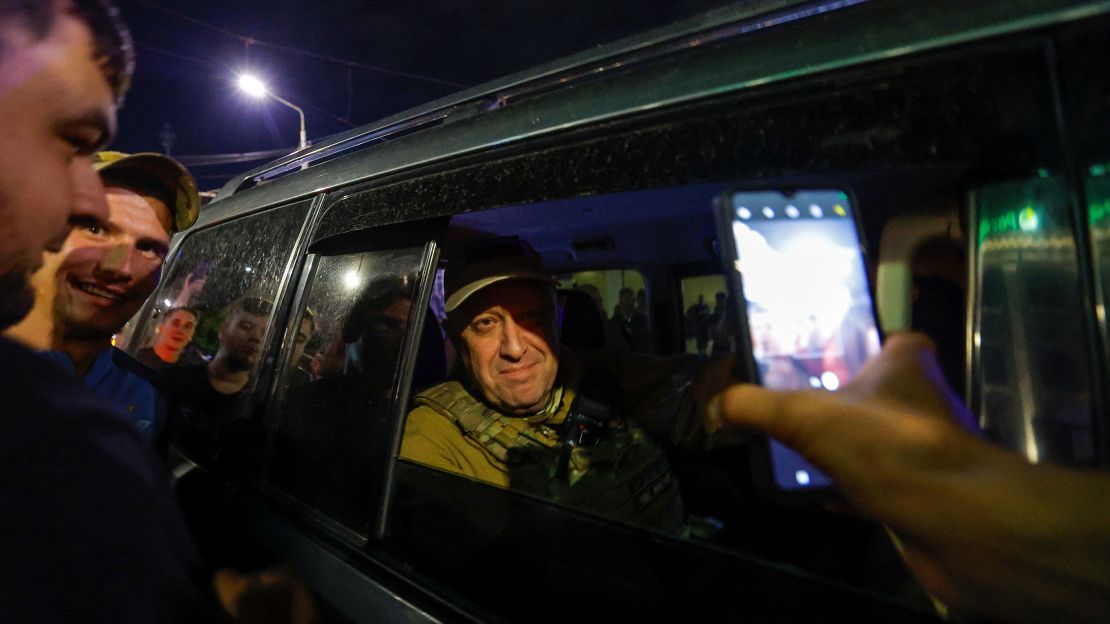 "The Kremlin's power is heavily reliant on the depoliticization of the majority of the Russian population. Voluntary, independent depoliticization – so that people don't go on the streets on their own," said Shamiev.
Because of this long-cultivated tactic, Putin cannot expect millions of Russian citizens to rally to his defense, as in Erdogan's case.
For now, it is a case of biding his time before deciding on how and when to punish Prigozhin.
But, during this delay, doubts may grow in Russia. "If he is not jailed, if he is not killed by Putin, that is going to send a signal to everyone that Putin is weaker than they thought, and you can get away with a lot," said Alperovitch.
"There's no question that his power is now weakened. There's no question that a lot of people around the country – the elites, various governors, various people in the security services – are probably asking themselves: If Prigozhin can really get away with this, with challenging state power like this, what can I get away with?"
CNN's Katherina Krebs, Anna Chernova and Jessie Yeung contributed reporting.