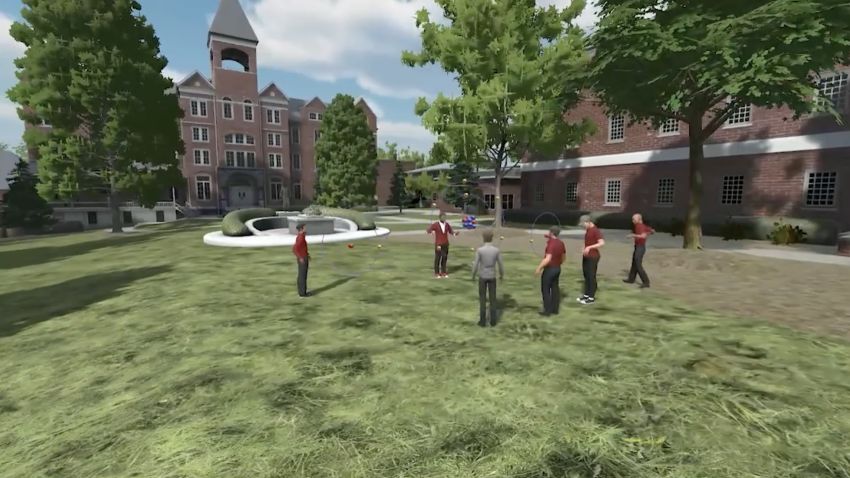 Are 'metaversities' the college campus of the future?
When Muhsinah Morris stepped onto the central quad of the Morehouse College campus in Atlanta, Georgia, she cried.
"We hadn't been on campus for almost a year," she recalls. "It was amazing. You hear the birds chirping and everything."
It was 2021, and Morehouse, like many other schools and universities during the Covid-19 pandemic, had been closed since lockdowns began in March 2020.
In fact, it was still closed. Morris wasn't really standing in the quad — she was standing in Morehouse's "Metaversity" digital twin.
Morehouse College is the world's first Metaversity, an interactive, virtual learning space based on real or imagined environments.
"(It) became our solution to increase attendance rates, reduce student recidivism, and make sure that they continue to persist in their majors," says Morris, Morehouse's Metaversity director, who at the time was academic program director. "We wanted our students to be more engaged than just sitting in another Zoom classroom."
A view of Morehouse College in the real world and in the virtual world, as part of its "Metaversity." (Credit: VictoryXR/Morehouse College)
In partnership with educational virtual reality developers VictoryXR, Morehouse created a virtual space where students could congregate for class remotely. Using a virtual reality (VR) headset, students first "spawn" into the digital twin campus, a familiar environment that "makes them more comfortable with the fact that they're in new and emerging technology," says Morris. From there, teachers can guide their students through different "classrooms," real or imagined — including battlefields, outer space, or speculative future landscapes.
In the past two years, Morris says the college's virtual reality classes have seen greater attendance, engagement and achievement from students — and now, she's eager to see the education sector reform "in a way that brings all of these emerging technologies together for a better future for our young people."
Digital duplicates
In addition to her role as academic program director, Morris was also the interim department chair of chemistry and an assistant professor — and she saw an opportunity to "bring to life" complex but visual concepts like molecules with a virtual reality program.
In addition to the digital twin of the campus, built using drone images and geographic data, Morehouse has an exact replica of its chemistry lab in the metaverse. This helps incoming students to familiarize themselves with the space and conduct a "trial run" of their experiment setup and safety protocols before getting into the lab. "That way we have less problems, injuries, and mistakes that happen in the lab," says Morris.
Students that take Metaversity courses check out one of the school's 500 headsets at the beginning of the semester, and return it at the end, so it can be cleaned, charged and reset for reuse the following semester, says Morris.
Juan Johnson, one student who took the new high-tech class, says his first experience in the Metaversity was "very surreal" but that "learning in virtual reality has been amazing."
"The things that I'm reading on the page, I can see them and I'm really touching them in virtual reality, so it connects the dots for me," he adds.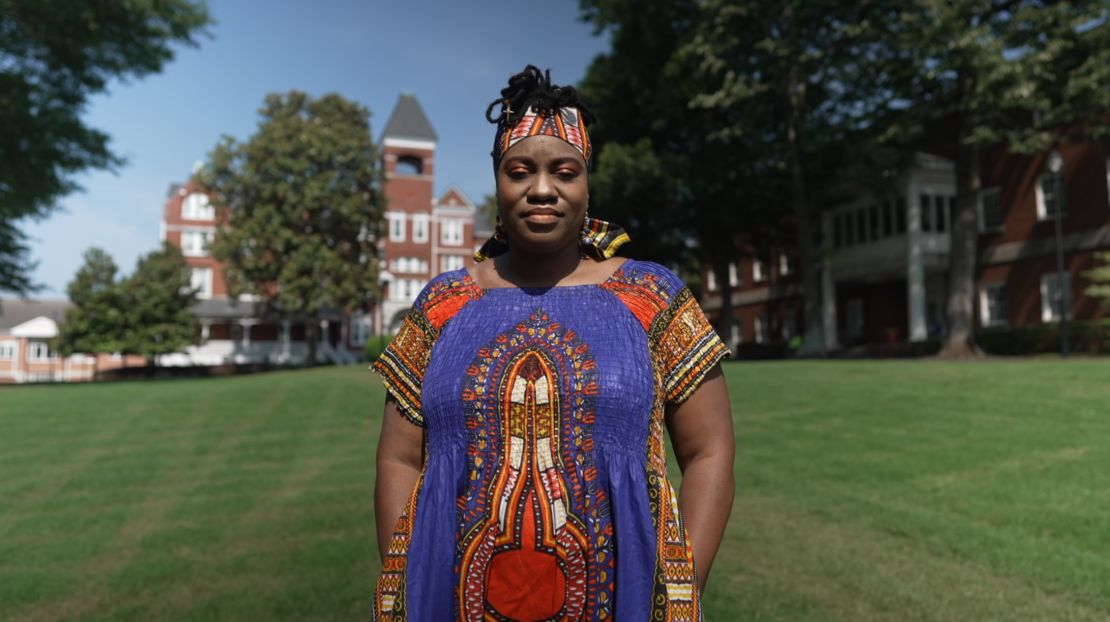 IRL challenges
The Metaversity may look like a pandemic gimmick – but Morris says it's yielding results.
Students "gain mastery of concepts much quicker than in a classroom," and the immersive experience eliminates distractions like phones to make "efficient use of time," says Morris, adding that class attendance rates increased by 10 percentage points, compared to in-person and online classes, and student achievement increased by 11.9%.
Morris isn't the only one who sees the potential to improve education with VR. Orthopedic surgeon Dr. Danny P. Goel, based in Vancouver, Canada, worked with a team of artists and former game developers to design a surgery training program based on real-life procedures, called PrecisionOS. Allowing students to refine skills without the risk of making life-or-death mistakes, Goel found that they picked up the skills five times faster and made 50% less critical errors.
In partnership with VictoryXR, Morehouse College created virtual education spaces for students as part of its Metaversity. (Credit: VictoryXR/Morehouse College)
Demand for VR learning has mainly been driven by the "difficult experience" of online learning during the pandemic, says Rose Luckin, a professor at the University College London Knowledge Lab and co-founder of the Institute for Ethical AI in Education.
While Metaversities can offer engaging, immersive, and visual education opportunities, Luckin thinks VR is wasted on replicating physical spaces that already exist and should focus on historical or imagined spaces instead. "We need to recognize the importance of experiencing the real world as it is," says Luckin, adding: "If we get it right, the future of education will be one where there's more human interaction."
But as one of many technological "tools" that will be available to teachers in the coming years, virtual reality has the opportunity to make learning more immersive and individualized if we "recognize the strengths, the weaknesses, what it is they're particularly good for, and make sure that's how we use them," says Luckin.
And while more universities are jumping on the Metaversity bandwagon — Morehouse College is one of 30 campuses funded by Meta, Facebook's parent company, that are being built by VictoryXR, which is also working with over 100 higher education institutions on immersive virtual reality learning programs — the cost could be a huge potential barrier to wider adoption.
Morehouse's Metaversity campus and courses are funded by several grantors, including Meta, Qualcomm, and T-Mobile. A "digital twin" campus starts from $50,000, and the headsets Morehouse uses cost $499 each, says Morris.
Getting VR access to students across "every level of education" is vital, says Morris. "We are going to live in a digitally illiterate society if we don't start infusing our money and efforts into young people," she says.
However, as a "geographically agnostic" teaching tool, Morris believes that VR has the potential to make education more equitable, connecting students to world-class institutions on the other side of the world. Goel has already found this with his surgery software, which is currently being used to train doctors in 53 low and middle-income countries.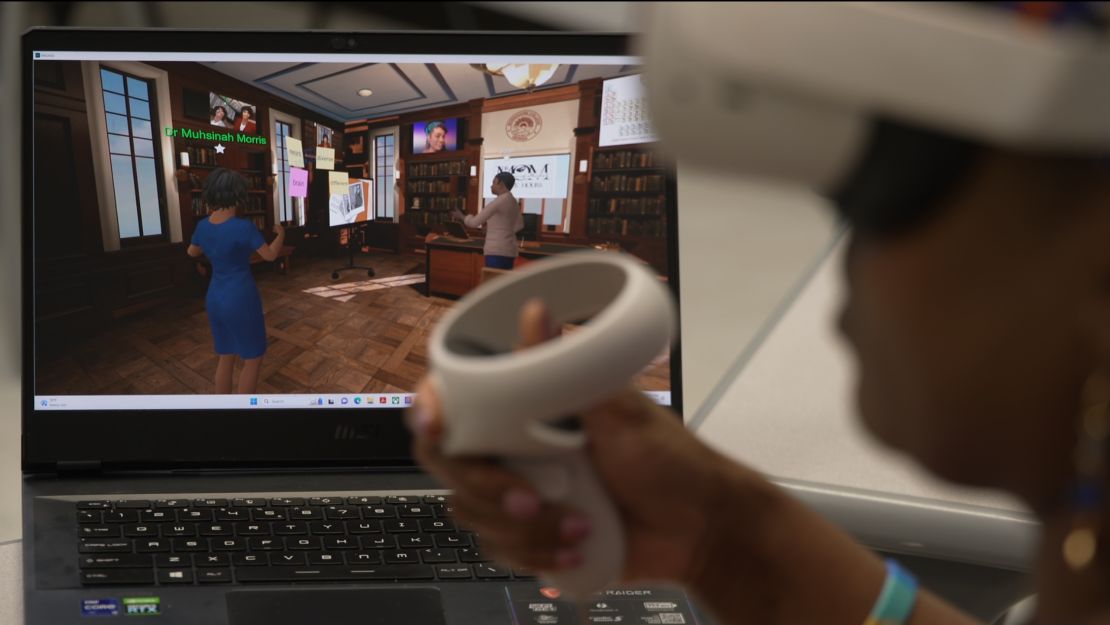 Teaching tech literacy
Starting with three classes, Morehouse now offers 13 courses each semester in the Metaversity, including modules in multimedia and visual storytelling, world history, microbiology, and literature, which include emotive experiences such as being on the front line in World War II, and on a transatlantic slave ship.
"It's really important to experience things that may change your perspective," says Morris.
Vitally, the Metaversity isn't just teaching subject knowledge — it's also showing students how to use and interact with emerging technology. "Science, technology, engineering and mathematics is really important, regardless of what your major is," says Morris. "About 60% of the jobs that will be here in 2030 don't exist right now, and it's really important for our students to have highly technical skill sets."
With achievement on the rise, she hopes to see the graduation rate increase, too. Morehouse ranks in the top five of the US's historically Black colleges and universities (HBCUs) for its graduation rate (around 55%) although it still falls short of the national average (64%).
Morris is excited that as the first Metaversity, Morehouse has the opportunity to empower its students, predominantly Black men, in these technological spaces.
"Most HBCUs are broadband deserts, and most rural or inner-city schools have poor access to emerging technology," she says. "That is why it is so important for the world to see Black young men at Morehouse at the forefront of an innovative effort like this that is transforming education."
Aiming for an 80% graduation rate, a goal set by the university president, Morris is optimistic that the Metaversity can keep students engaged as well as accelerate their learning.
And for Morris, the Metaversity has "restored joy in the education system."
"It felt like having my own dreams come true, in the sense that we're no longer operating in an antiquated learning model where I'm seeing students fail over and over again," she says, adding: "Why did we wait so long to do something this transformative?"