In between leading Sunday services at All Saints' Cathedral in the Ugandan capital, Kampala, Rev. Canon John Awodi declares vehemently that "homosexuality is a sin that must be repented of," adding that it is against the "order of God."
"Homosexuality is not natural, it is unnatural. That is the stand of the church here. It is unbiblical, it is unnatural," the Anglican cleric told CNN.
These themes have become a common thread in his sermons and interviews, especially since Uganda's Anti-Homosexuality Act was signed into law last month.
The act outlaws gay marriage in Uganda, punishes same-sex acts with life imprisonment, and calls for the death penalty for "aggravated homosexuality" – which includes sex with a minor or otherwise vulnerable person, having sex while HIV positive and incest.
After initially wavering and sending the bill – which is widely popular with lawmakers, Christian and Muslim leaders in Uganda, as well as commentators on social media – back to parliament for review, President Yoweri Museveni eventually signed it into law in May, leading to global criticism, existential dread within the LGBTQ+ community, and legal challenges.
'Nowhere is safe'
"It dehumanizes us as human beings, it doesn't treat us as citizens. We are literally criminals and we are illegal in our own space that we call home. Nowhere is safe for any queer person living in Uganda," Joan Amek, co-founder of Rella Women's Foundation, told CNN.
Even though she created a safe space and shelter for lesbian, bisexual, and queer women through her organization, she says, she herself faces eviction from her rented apartment by the end of July. She believes it is because of her sexuality and prominence in queer activism, even though her landlord didn't explicitly say so but her suspicions rose after a neighbor tipped her off.
"I have had myself being chased away from where I'm staying," she said.
Returning to her parents' house was not an option either. "My mum stands in solidarity with me but from a distance. When we had the conversation that I had been evicted, she didn't say 'you can come home' she just said 'oh, sorry, I'll pray for you.' How is prayer going to help?" Amek asked.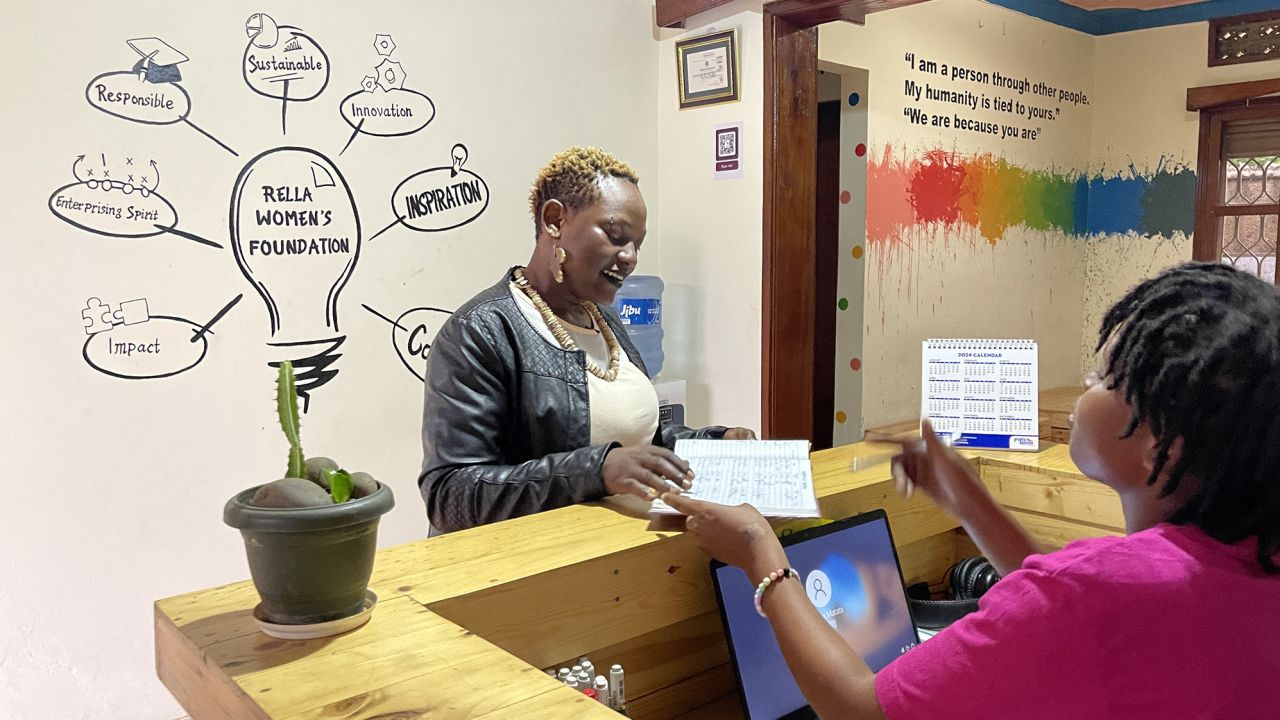 In recent weeks, disturbing videos have surfaced showing mounting hostility towards lesbian, gay, bisexual, transgender, and intersex individuals in Uganda since the reintroduction of the Anti-Homosexuality Bill.
In one video, verified by a consortium of civil society groups called the Strategic Response Team (SRT), a transgender woman is marched naked on the streets while a jeering crowd follows, and a lesbian couple endures ridicule from neighbors, among other forms of public shaming.
At least 300 human rights violations against suspected homosexuals have been reported in Uganda arising from the Anti-Homosexuality Act of 2023, the SRT told CNN. As it investigates them, the SRT says it submitted a list of 50 verified cases to a judge while seeking an injunction against the law.
They include cases of evictions, so-called "corrective" rape, outing, termination from employment, blackmail, threats of violence or physical attacks and incidents of mob justice, according to SRT.
However, opposition lawmaker Asuman Basalirwa, who introduced the 2023 bill, dismissed the latest reports of human rights violations as "distortions" and fabrications.
He told CNN the allegations were "completely false," and backed the law.
"Who has been fired from their jobs? Who has been evicted from their houses? This is a very innocent law. No one has been targeted," he said.
'My life is hell'
Nash Wash Raphael, a 30-year-old transgender man, says he was attacked on the night Museveni signed the Anti-Homosexuality Act. He was left with a broken ankle and relies on crutches to walk while it heals.
This was not the first time Raphael had faced violence; he says it was the ninth assault since his transition. Raphael describes his life as "hell," and says he attempted suicide when pictures of him and his partner were leaked and went viral. While they weren't intimate photos, they still outed him.
"I feel like I should take my own life as there is nothing else I'm left to protect. This is my second year on hormones, and I was supposed to get my top surgery next year, but all this has been shattered, and I can't even afford it," Raphael said. Top surgery refers to the procedure to remove breast or chest tissue.
Raphael says he no longer walks during the day, afraid that he might get attacked again.
After getting fired from his job for not wearing traditional women's clothes, he tried casual jobs in Dubai and Saudi Arabia and hawking baked goods in Kampala but says he couldn't keep his identity hidden for long.
He says his Muslim family disowned him and he remains in contact only with his youngest sister out of six siblings. His father told CNN that Raphael is his daughter who has refused to come home.
"My life is actually useless to them. I literally tell myself that I don't have a family in this world. The same God that created them has a reason why he made me the way I am," Raphael says, his voice breaking.
'Promoting' homosexuality penalized
The new law states that "a person who promotes homosexuality commits an offense and is liable, on conviction, to imprisonment for a period not exceeding twenty years."
It also requires Ugandans to report suspected homosexuals or violations of the law to the authorities.
On Museveni's recommendation, the law prescribes rehabilitation for convicted homosexuals to change their sexual orientation, even though scientists say so-called conversion therapy is harmful and ineffective.
Ugandan lawmakers, who overwhelmingly supported the bill, railed against the supposed "recruitment" of young people into homosexuality, pedophilia and grooming.
Basalirwa, the lawmaker, told CNN he had met with people who had been "recruited" but had, in his words, "counseled out of it."
"I want to disagree with the people who say homosexuality is a Western concept. No, it is not. We've lived with homosexuality here in this country, in Africa. What is foreign is recruitment and promotion. That's un-African," he said.
Human rights advocates say that the offense of "promotion" of homosexuality could be weaponized against activists, journalists, or any ordinary citizen.
"Someone can accuse anyone of being queer and they'll get arrested. And next thing you know, you could be spending up to life in prison," Amek told CNN.
Cutting ties with the Anglican Church
Amek has grown accustomed to the dangers of her work, after she says her organization's offices were raided by police three times, forcing them to move to a new shelter for vulnerable queer women.
It is the cost of continuing to operate in a conservative Ugandan society where homophobic messaging emanates everywhere from churches and mosques to the highest political offices, Amek said.
The Church of Uganda openly defied the Archbishop of Canterbury, Justin Welby, and supported the Anti-Homosexuality Act, accusing the global head of the Anglican Church of misinterpreting the Bible.
Welby wrote to the leader of Ugandan Anglicans expressing his "grief and dismay" for at that support, but it fell on deaf ears. The Church of Uganda says it will separate from the Church of England over their differences on the issue of homosexuality.
The Anti-Homosexuality Act of 2023 is a revival of a previous version nicknamed the "Kill the Gays" Bill that Uganda's parliament passed in 2014 but which was blocked in court on a technicality. This current law is also being challenged in court.
Amek understands that she risks jail time by speaking up, but she persists, saying it is worth it. "I don't want to be a martyr and die. But I want to stand strong for protection of the LGBTIQ generation and community now, but also for the future," she said.
"Silence equals death. And regardless of whether I stay silent or not, they'll still kill us, they'll still criminalize us."