A powerful thunderstorm complex was racing across the Midwest Thursday afternoon, blowing through the harmful smoke from Canada's wildfires and clearing the air in its wake.
The storm – referred to as a bow echo because of its arc-like appearance on radar – has a history of producing wind gusts close to 90 mph and has knocked the power out for hundreds of thousands of homes and businesses.
A wind gust of 88 mph was reported in western Illinois early Thursday afternoon. By late Thursday, more than 300,000 utility customers were without power in Illinois and Indiana, according to PowerOutage.us.
A severe thunderstorm watch was in effect Thursday afternoon in Illinois and parts of Indiana ahead of the system.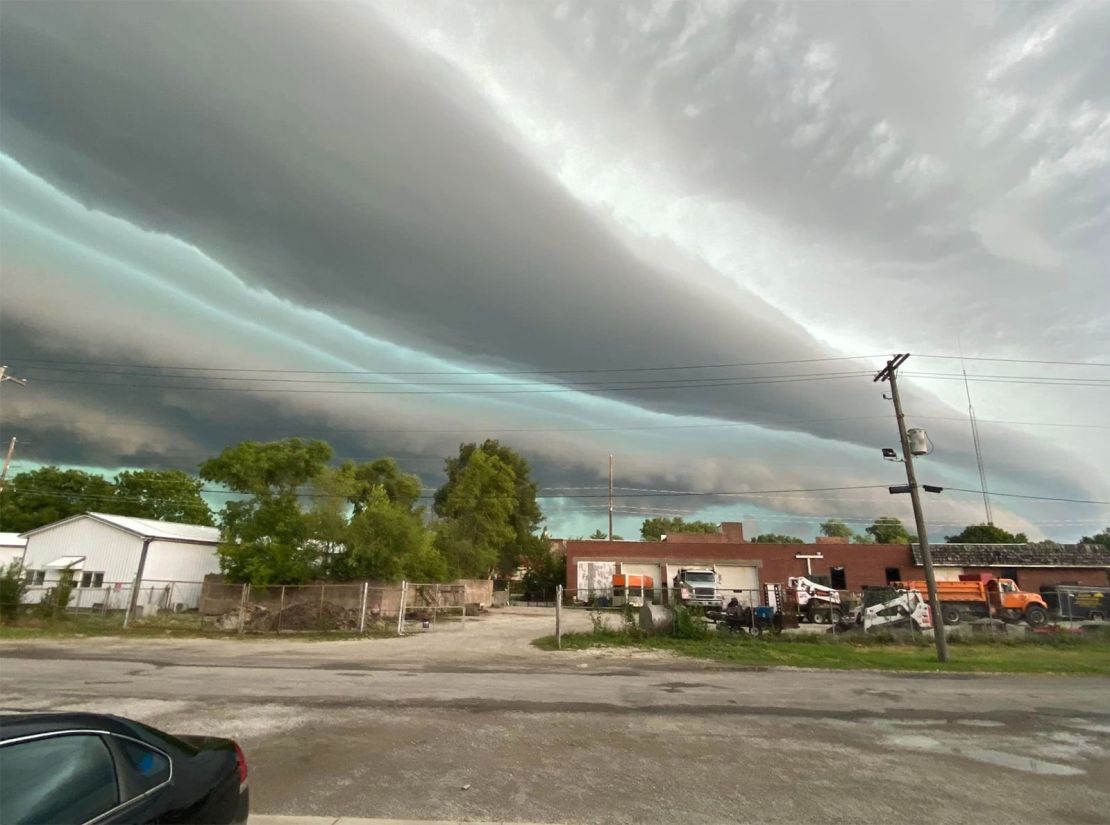 The storm was expected to move east through Illinois, Indiana and possibly into Kentucky, then dissipate Thursday evening. It was expected to bring wind gusts that could be stronger than hurricane-force – 74 mph – at times.
The Storm Prediction Center was forecasting a level 4 out of 5 risk for damaging winds up to 90 mph, along with large hail and a few tornadoes for nearly 2 million people across Central Illinois.
Satellite imagery shared on social media by the National Oceanic and Atmospheric Administration showed lightning flashing in the dangerous storm over Illinois, along with a separate storm system moving south through Kentucky and Tennessee.
The bow-echo thunderstorm complex appeared to meet the definition of a derecho: a destructive arc of thunderstorms characterized by dangerous, widespread winds. The straight-line winds in these weather phenomena can be just as devastating as tornadoes.
A derecho must maintain a path of wind damage that is 60 miles wide and 400 miles long, while also producing wind gusts of 58 mph or greater along most of its length.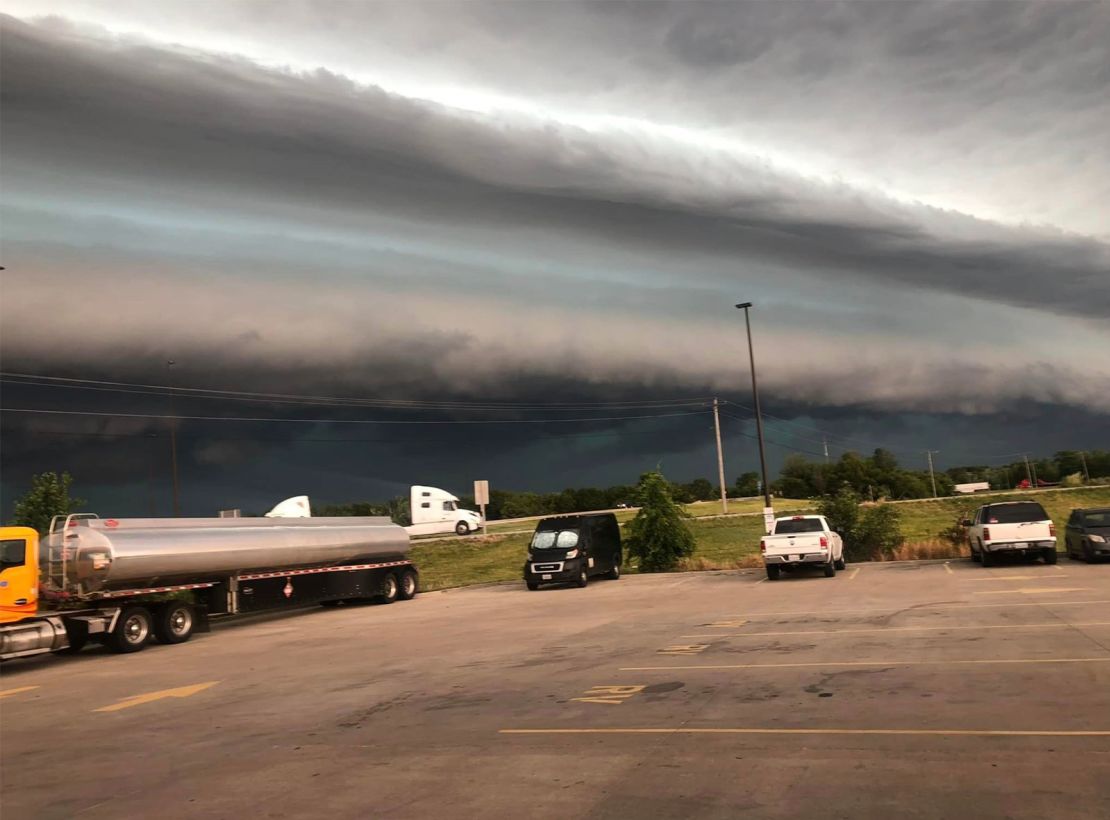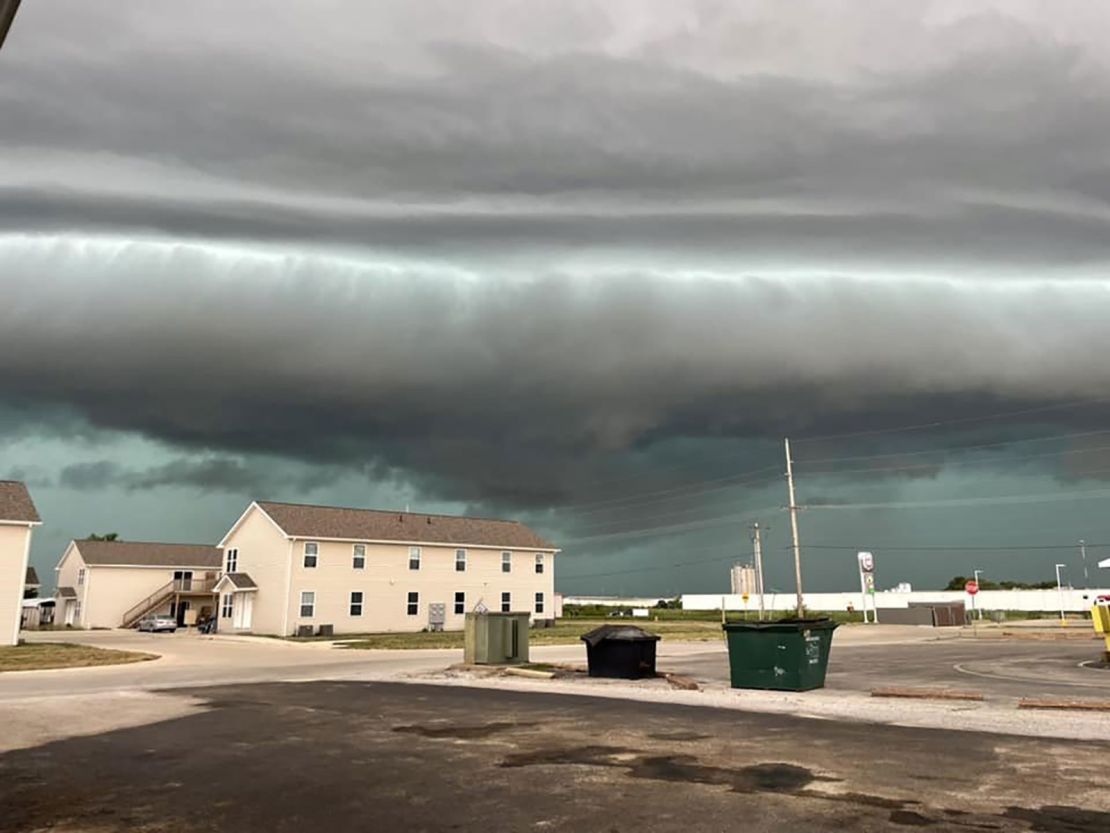 As the storm plowed through Illinois, it cleared out some of the harmful wildfire smoke that has prompted air quality alerts for more than a third of the US population this week. Air pollution readings for small particulate matter – or PM 2.5, a hazardous air pollutant – dropped significantly behind the storm.
The air quality index in Champaign, Illinois, dropped from around 180, or "unhealthy," on Thursday morning to just 1 after the storm blew through.
Map: Track air quality across the US
The worst air pollution on Thursday was centered over Chicago, Detroit, Indianapolis and Cleveland. Some improvement in air quality was expected Friday, and Thursday's windy storms will help ease the pollution.
The smoke is pouring into the US from Canada, which is experiencing its worst wildfire season on record. Hundreds of fires are burning there, according to the Canadian Interagency Forest Fire Centre, and parts of Canada, too, are experiencing unhealthy air quality from the fires, according to data from IQair.
CNN's Dave Hennen and Brandon Miller contributed to this report.