With violent and fiery protests gripping Paris and other cities across France in the wake of the fatal police shooting of a teenage boy, many of the millions planning a visit there this summer will be wondering if it's safe to go ahead with their trip.
Chaos, destruction and confrontations have led to curfews in some towns around the capital. Bus and tram services have faced disruptions with a nationwide shutdown ordered for 9 p.m. on June 30 ahead of what was another night of widespread violence.
As peak travel season gets underway – further boosted by the start of the two-week Tour de France cycle race – the world's most-watched sporting event – here are some answers to the questions that visitors may be asking.
What's happening in France right now?
Areas within some of France's major cities have erupted in violence for several successive nights after a teenager of Algerian descent named Nahel Merzouk was fatally shot by police — an incident caught on video.
Confrontations between police and protesters began on the night of June 27 in the Parisian suburb of Nanterre, where Merzouk was shot, and have since spread to other parts of the capital and several other cities.
Police said at least 2,000 people, many of them minors, have been detained during subsequent nights of unrest. Merzouk's death appears to have become a flashpoint for anger about racial inequality in France and claims of police discrimination.
Buildings, vehicles and debris have been set alight during the turmoil. France's president, Emmanuel Macron, has been holding crisis talks amid concerns that the country could see a replay of violence in 2005 that led to a state of emergency.
More than 45,000 police and gendarmes were deployed on Sunday night to try to contain the unrest. Officials said just 157 people were arrested and the situation appeared calmer.
Which cities are affected?
Protests began in Nanterre, a suburb of northwestern Paris' wider metropolitan area. Subsequently there have been protests in other areas around the capital: Bezons, Gennevilliers, Garges-lès-Gonesse, Asnières-sur-Seine, Montreuil, Neuilly-sur-Marne, Clamart and Meudon.
Further out, Trappes, Clergy, Guyancourt and Vigneux-sur-Seine have also been affected.
These are all beyond the "Periphique" ring road that encircles the central Paris "arrondissements," where most of the main tourist attractions and accommodations are located.
Elsewhere in France, Elite RAID police have also been deployed to key tourist cities Marseille and Bordeaux in the south, as well as the northern cities of Lille — a stop for the Eurostar train from London — and Roubaix.
What about curfews?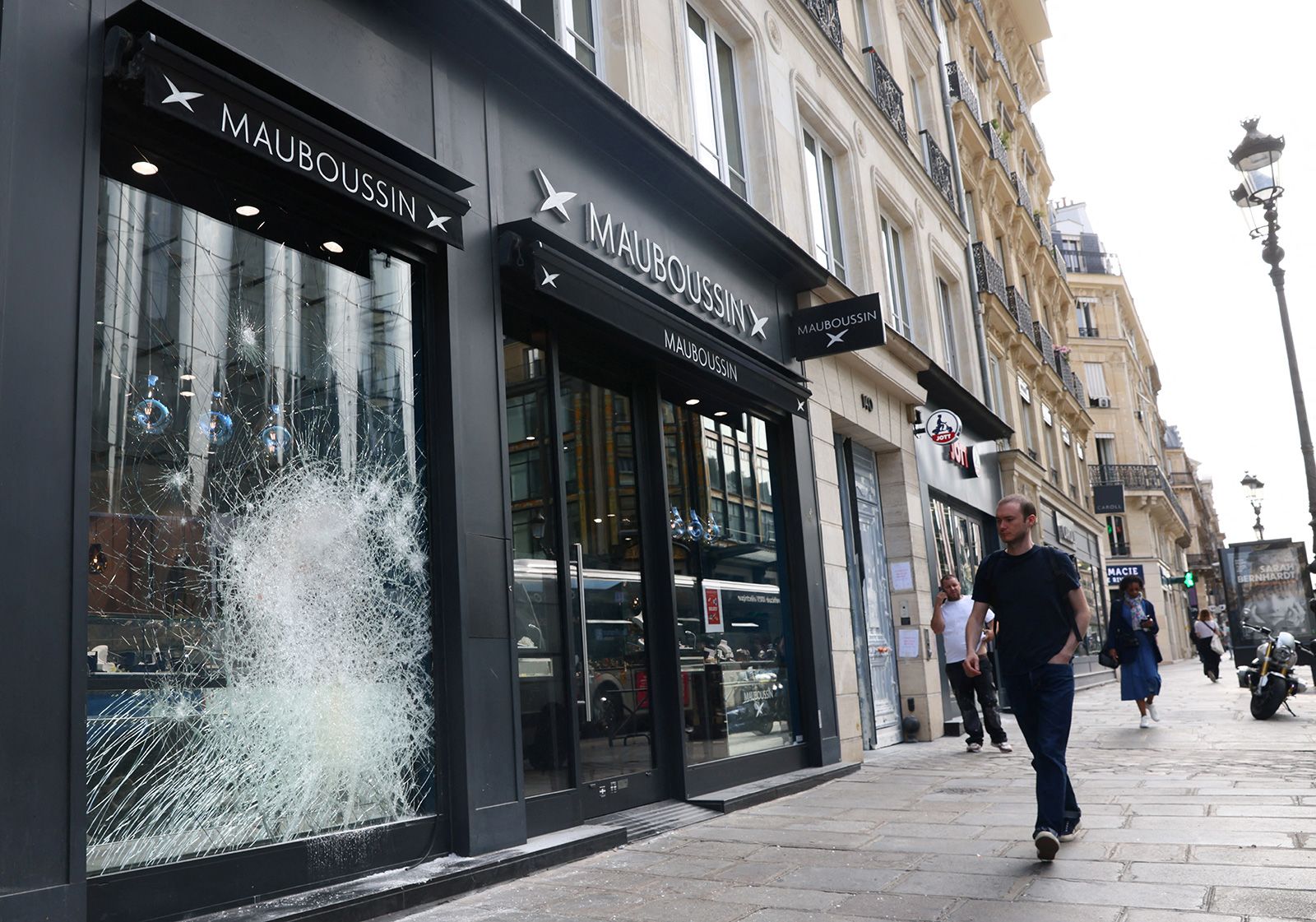 Limited curfews have been imposed in two towns close to Paris at the center of some of the worst violence.
In Clamart, a curfew from 9 p.m. to 6 a.m. was put in place on Thursday and was set to continue nightly until July 3. Restrictions from 11 p.m. to 6 a.m. will be in place in Neuilly-sur-Marne.
How has transport been affected?
Transport networks have been severely affected. On Friday, France ordered the shutdown of all bus and tram services nationwide by 9 p.m.
The measure, announced by the Ministry of the Interior, came a day after some services in and around Paris were suspended as a direct result of the violence, some of which has targeted transport infrastructure.
In Clamart, one of the badly hit towns, a tram was set on fire. Several buses were torched in the Paris suburb of Aubervilliers.
On Friday, some bus services were disrupted in Paris but the Metro system was operating as normal.
The Nanterre-Préfecture train station was closed.
In Lille, bus and tramways were shut down after 8 p.m. on Thursday. On Friday daytime, services were more or less running normally, with some diversions in place.
In the southern city of Marseille, public transport was due to stop services at 7 p.m.
There has been no disruption to the Eurostar service connecting London, Lille and Paris as a result of the protests. French intercity trains are also not affected.
It's not clear if there will be any further shutdowns or disruptions if the protests continue in coming days and those using them are advised to check websites for updates before traveling.
Is it safe to visit?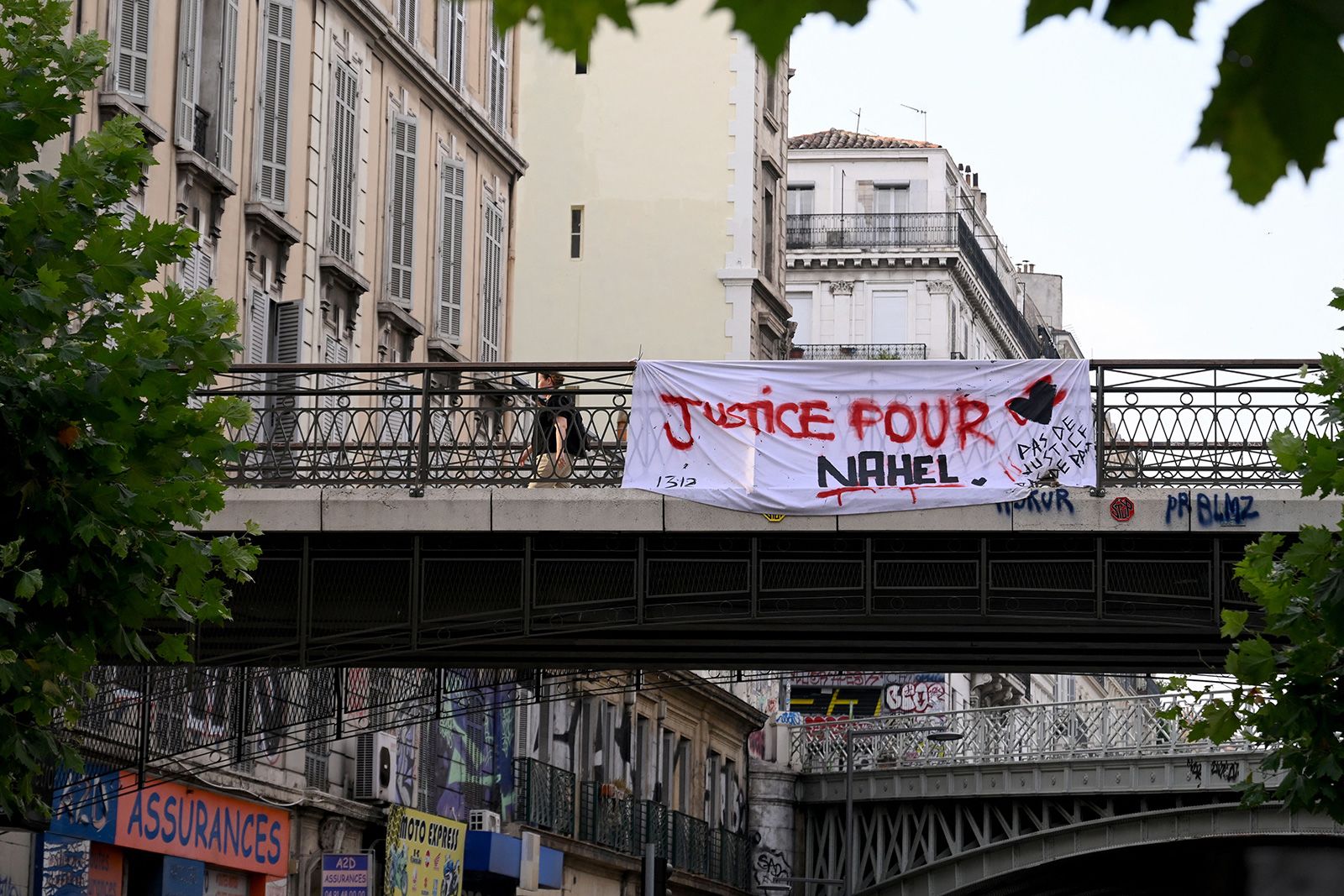 While the teenager's death and subsequent outrage has sent shockwaves across France, much of life continues as normal. The central areas of Paris, home to the Louvre Art Museum and the Eiffel Tower have been almost totally unaffected. Likewise the rural and coastal areas that host many visitors.
That said, it's not clear at present how long the protests will continue and what further measures the French government will adopt to try to tackle them.
Travel advisories from several countries warn of the protests and urge people to monitor the news and check in with tour operators; none have advised against traveling to France altogether.
The US State Department issued a security alert on June 29 covering France that highlighted the violent fallout of the shooting of the teenager and warned its citizens to steer clear of trouble spots.
"These demonstrations, along with spontaneous protests, are expected to continue and may turn violent," it said.
"US citizens should avoid mass gatherings and areas of significant police activity as they can turn violent and result in clashes.
"Some cities are imposing curfews. As always, it is a good practice to notify friends or family of your whereabouts. Note that public transportation is being affected."
It suggested monitoring media outlets France24, RFI and The Local, for updates.
A US "level 2" advisory issued in October 2022 by the State Department remains in place urging travelers to "exercise increased caution in France due to terrorism and civil unrest."
China's foreign ministry on Sunday has warned its citizens in France to remain vigilant, saying a bus carrying a Chinese tour group in the southern city of Marseille had its windows smashed, resulting in multiple minor injuries.
China's Consulate General in Marseille has lodged an official complaint and urged French authorities to ensure the safety of Chinese citizens and property amid the unrest.
The ministry did not say when the incident took place or how many people were injured. It said all the tourists on the group have since left France.
The UK Foreign and Commonwealth Office also issued warnings but stressed most visits to France were without incident.
"The protests may lead to disruptions to road travel or targeting of parked cars in areas where protests take place," it said on its website.
"You should monitor the media, avoid protests, check the latest advice with operators when travelling and follow the advice of the authorities."
It went on to advise travelers to get insurance and noted: "Around 17 million British nationals visit France every year. Most visits are trouble-free."