All eyes will be on Vladimir Putin this week, with the Russian president expected to make his first appearance on the world stage since the Wagner insurrection threatened his steel grip on power.
Putin is scheduled Tuesday to attend a virtual summit of the Shanghai Cooperation Organization (SCO), a broadly-pro Russian regional security grouping led by Beijing and Moscow.
But while the leaders of the nations assembled have so far provided a sympathetic audience for Putin, his appearance – albeit virtually – could offer something of a window as to the extent of their support after last weekend's near-crisis.
In the brief, chaotic insurrection, Wagner – a private mercenary group led by warlord Yevgeny Prigozhin – took control of key military facilities in two Russian cities. As thousands of fighters marched toward Moscow, where the Kremlin deployed heavily armed troops to the streets, it seemed as if civil war was on the verge of breaking out.
A secretive deal abruptly ended the rebellion, with Wagner fighters pulling back and Prigozhin sent to Belarus. But one week later, much remains unclear about the inner workings of the deal, the fate of Wagner, and what this means for Putin's regime.
These questions will likely be on the minds of other leaders attending Tuesday's virtual summit, including China's Xi Jinping, and India's Narendra Modi – whose country is hosting this year's gathering – as well as representatives from Asian states including Pakistan, Kazakhstan, Kyrgyzstan, Tajikistan and Uzbekistan – many of whom, like Putin, are strongmen rulers.
Experts believe Putin will use the forum to project an image of power, and reassure Moscow's partners – and by extension the world – that he remains firmly in control.
"It's virtual, so they're not going to be there in person, otherwise they would be standing alongside each other, fellow strongmen showing strength," said Derek Grossman, a senior defense analyst at the RAND Corporation, a US-based think tank.
According to Grossman, many of the leaders assembled at the summit look to Russia and China almost as models for how they want to run their societies as authoritarian regimes.
"If Putin is kind of shaken by this (insurrection) visibly, then that would tell them something – that even even the strongest of strongmen is not necessarily immune to potential insurgencies within their countries," Grossman said.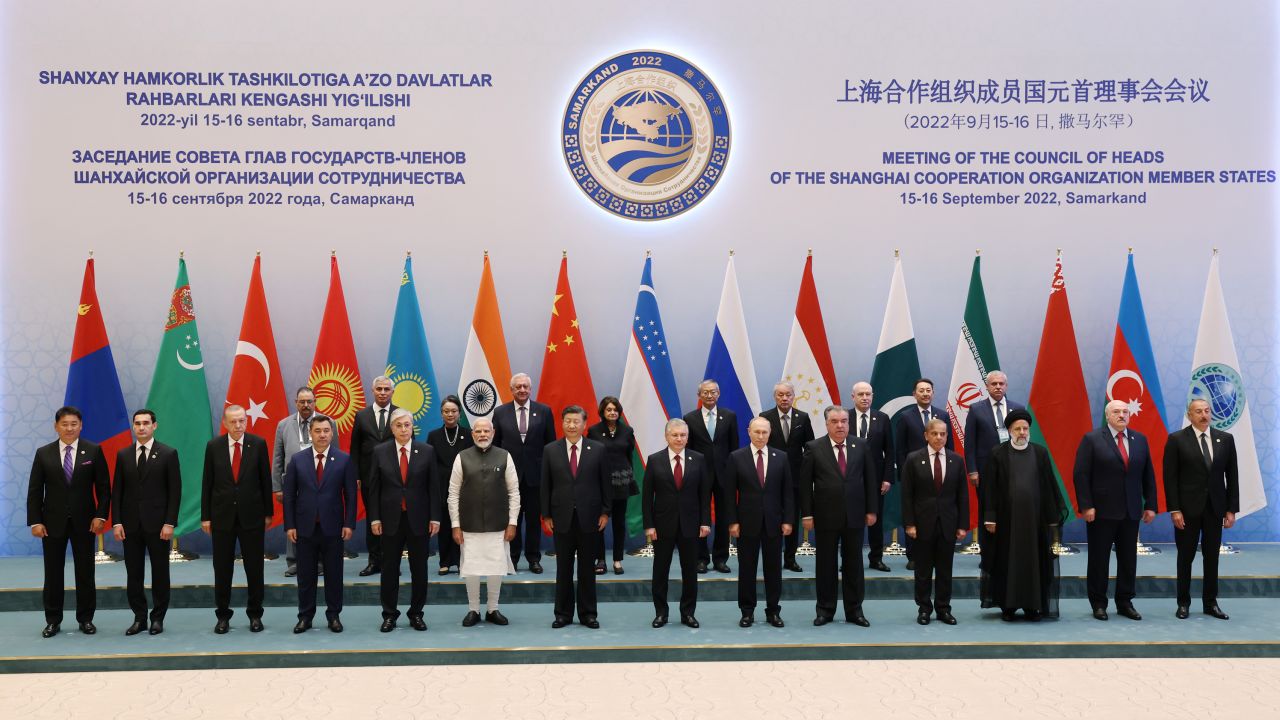 The China-Russia vision
Founded in 2001 by China, Russia and several former Soviet states in Central Asia to combat terrorism and promote border security, the SCO has grown in size and reach in recent years, amid efforts by Xi and Putin to counter Western influence.
Iran is expected to become a full member this year, after signing a memorandum of obligations at last year's summit; Belarus, a close Russian partner that helped launch the initial invasion of Ukraine, is also invited as an observer state, and could soon seek full membership, experts say.
Xi and Putin, long the world's two most powerful autocrats, have established close ties in recent years, declaring a friendship with "no limits" in February 2022, shortly before Putin launched his invasion of Ukraine.
China has since refused to condemn the war and instead provided much-needed diplomatic and economic support for Russia, while blaming NATO for provoking the conflict and amplifying Kremlin misinformation.
But Putin's faltering war has placed pressure on the China-Russia partnership.
"(Xi) doesn't want to completely spoil China's relationships in Europe over this, he doesn't want China to become a bigger target of NATO than it already was before the war," said Grossman, though he noted the larger benefits of the Russia-China relationship outweigh whatever doubts Xi may have about the faltering war and its impact on China's global image.
On Tuesday, Xi will deliver a keynote speech to the summit via video link, according to the Chinese Foreign Ministry. For Putin, a clear demonstration of support from Xi would be of significant value.
Yasuhiro Matsuda, a professor at the Institute for Advanced Studies on Asia at the University of Tokyo, suggested that Beijing was in a difficult position because "Russia is losing, and it's not something that China can control."
After Putin invaded, the ideal outcome for China was a quick victory for Russia, in which Zelensky's administration collapsed and Europe and the US were powerless to act, said Matsuda.
"That was the best scenario for China – and its gone already," Matsuda said.
On Tuesday, "Xi Jinping also has to show his authority and power to the domestic audience. So he will behave as he behaved before," he added.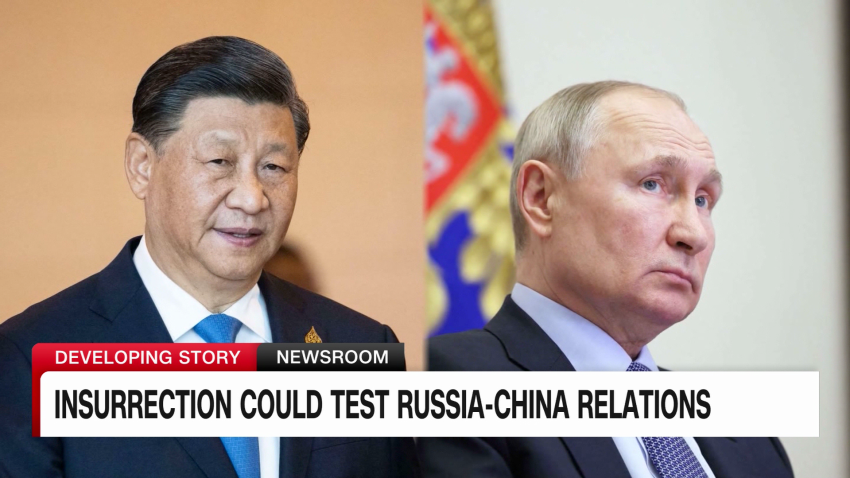 The insurrection against Moscow could be the biggest test of Russia-China relations
Authoritarian regimes look to Moscow
Western powers and observers in democratic countries have widely cast the failed insurrection in Russia as a moment of weakness for Putin. But it may be viewed very differently by fellow authoritarian leaders attending the summit, who have previously faced their own power struggles, experts noted.
SCO member Kazakhstan saw deadly protests in 2022, fueled by widespread discontent with the government. The ensuing violence saw more than 160 people killed and thousands detained, with authorities requesting troops from Russia to help contain the unrest.
By contrast, Putin managed to end the Wagner insurrection before it reached the capital, without bloodshed. He sent his challenger, Prigozhin, into exile and may even gain control over any Wagner fighters who agree to sign contracts with the Russian military.
"In the eyes of the Chinese and other members of (the SCO), this is an amazing achievement, because not many statesmen can do that," said Alexander Korolev, a senior lecturer in politics and international relations at the University of New South Wales in Australia.
That's not to say the other members won't have questions about what happened, Korolev said.
"(But) I think they understand that (the insurrection) is not the end of Putin's regime," he said. "In authoritarian regimes, leaders do get challenged from time to time, and he has demonstrated to the world and to his elites that he can handle enormous challenges."
The India question
In a sea of authoritarian leaders, India's Modi remains something of an odd man out.
Democratically elected Modi, who attends this year's SCO summit fresh from his meeting with US President Joe Biden during a state visit to Washington, has become a key figure in Western efforts to counter China's growing influence in the Indo-Pacific.
"India stands apart from the rest in the SCO, but I don't think they feel uncomfortable in the least because their foreign policy is really all about being friends to all, enemies to none. I don't see them speaking up or anything like that," said RAND's Grossman.
This year's summit, though virtual, is being hosted by India. The grouping's defense and foreign ministers attended in-person meetings in the Indian state of Goa earlier this year.
India has strong ties with Russia, which remains India's biggest arms supplier. New Delhi has not taken a definitive side on the Ukraine war, and its continued purchase of Russian oil has helped prop up Moscow's economy – to the dismay of some Western partners.
Modi made headlines at last year's in-person SCO summit in Samarkand, Uzbekistan, when he told Putin that now is not the time for war, appearing to directly rebuff the invasion. But India's continued economic support of Russia has undermined that message of peace – and last year's statement may be as far as Modi is willing to go, Grossman said.
CNN's Simone McCarthy and Nectar Gan contributed reporting.