Editor's Note: This CNN Travel series is, or was, sponsored by the country it highlights. CNN retains full editorial control over subject matter, reporting and frequency of the articles and videos within the sponsorship, in compliance with our policy.
Rize province, on the Black Sea coast near Turkey's northeast border with Georgia, is still largely unknown to many international travelers. Yet it is here that some of the country's most untouched alpine terrains continue to fascinate nature lovers who want to take the road less traveled.
Away from Rize itself – the seaside city which lends its name to the province – the area's valleys and plateaus, surrounded by high-altitude mountain ridges, have remained largely rural. With high rates of rainfall, Rize's mountain villages (yayla) become a point of escape from summer temperatures.
Çamlıhemşin is the most attractive part of Rize province. A rural district surrounding Çamlıhemşin town, this is a place where nature remains mostly untouched. Simple guesthouses, cafes run by young people who left the city to live a simpler life, and artists who find inspiration in unspoiled tranquility lie at the heart of this area.
From the Black Sea coast, the road to Çamlıhemşin cuts through a mountainous valley of effervescent green, along the torrential Fırtına River that descends all the way from the Kaçkar mountains.
Time seems to have stood still in this place of pastures, valleys and high altitude alpine villages. Forestry, beekeeping and animal herding are still the main sources of income. Here's what to do around Çamlıhemşin.
Traditional stays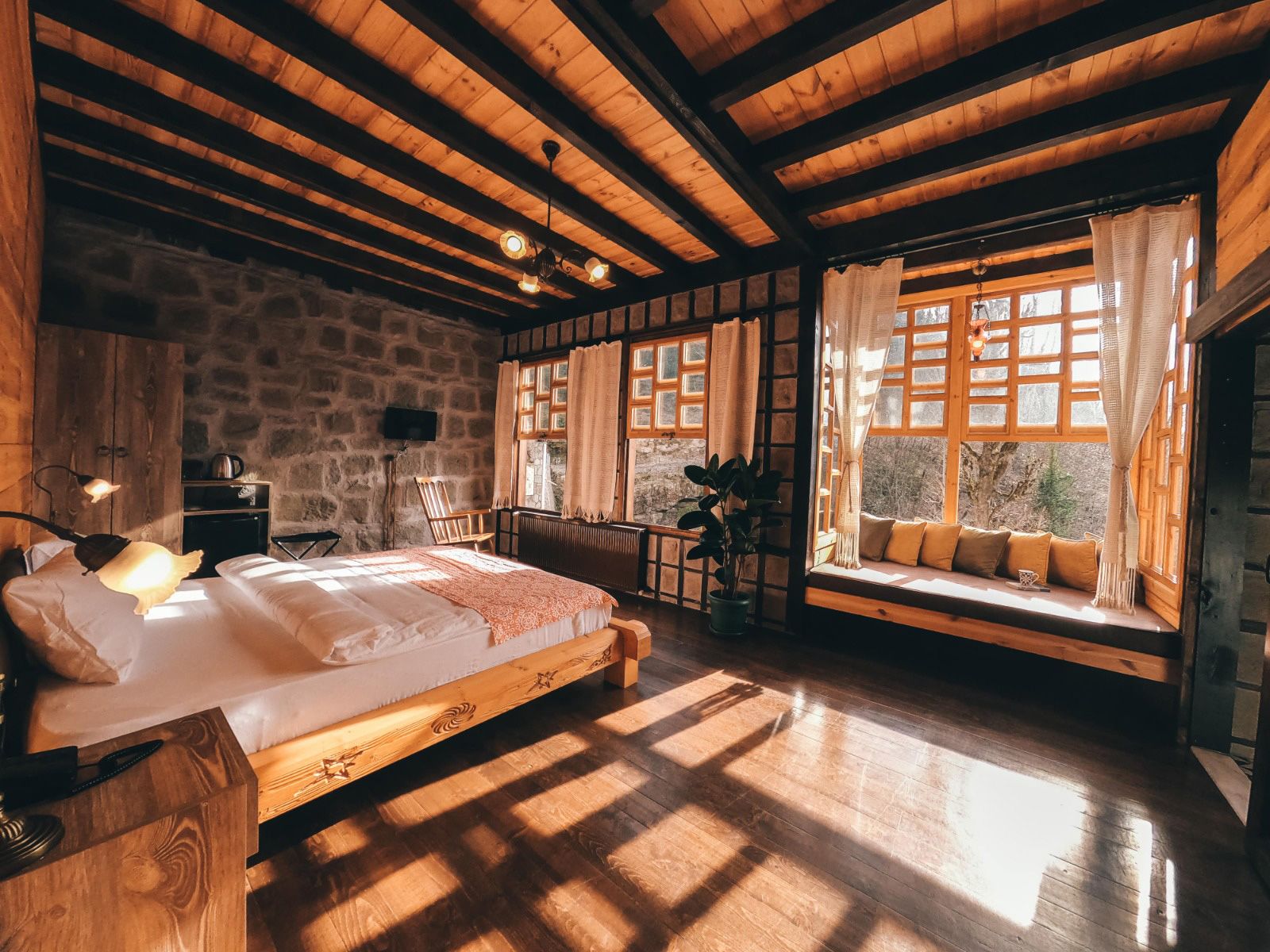 Many of Çamlıhemşin's traditional Karadeniz (Black Sea) houses, which have timber-frame facades, now serve as family-owned guesthouses where travelers can delve into local culture.
With a lack of dining options in the area, they're mostly responsible for treating their guests to homecooked meals – most notably full Turkish breakfasts including local dish mıhlama, a mixture of melted cheese and cornmeal which is served hot with bread.
At Puli Mini Hotel a traditional Karadeniz house made of weathered chestnut wood and stone in Çamlıhemşin town center, almost every window looks directly out onto the Fırtına River, as fresh air tousles the simple white curtains in the six bedrooms. Puli's café serves creative dishes made from local ingredients, from stuffed vine leaves to tavada hamsili pilav (baked anchovy pilaf).
A little further out of town, on the mountainside, Dudi Konak is quite the sight with its historic stone and wood façade exuding the aesthetic of a historic Karadeniz.
Built in the early 20th century by the Tarakçıoğlu family, who acquired their wealth as bakers and hoteliers in Russia, the dilapidated mansion has been meticulously renovated to house 24 modern rooms with views of the valley and beyond.
Life on high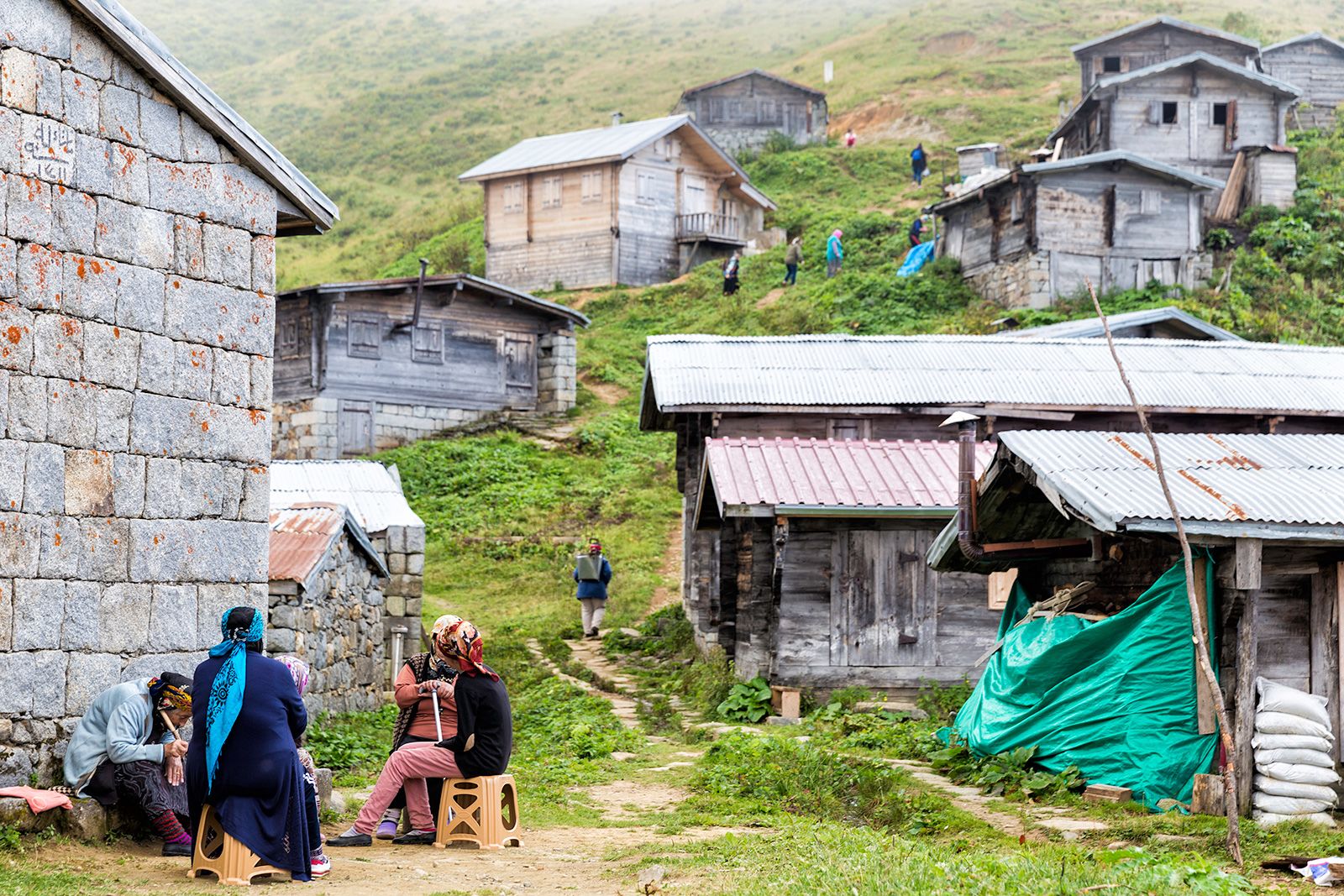 Up in the mountains, around an hour south of Çamlıhemşin's town center, Rize's yayla (alpine villages) harbor the essence of local life and staying here is more akin to visiting a family in their mountain cabin.
Roads are often undeveloped, requiring a 4x4 vehicle, and the simple lodgings tend to be old Karadeniz houses with panoramic views from their high-altitude perches.
Staying in the yayla for a few days to trek through the green pastures and woods, discover wildflowers and breathe in the pristine air, is the most precious part of the Rize experience.
In alpine village Pokut, Zeyne and Ahmet Şişman have made visitors feel like family for years at their beautiful guesthouse Plato'da Mola. Facing the Fırtına Valley in all its undulating glory, the traditional village house has six rooms where guests wake up to the smell of freshly baked bread and the sound of cow bells outside.
The family's homemade meals revolve around the milk from their free range cows and the boons of nature all around. You'll find fresh clotted cream, cheese, butter, honey and jams, eggs from their own chickens, homemade bread, and produce from the garden.
In Gito, another village, retired couple Fatma and İbrahim Birben decided to open their own home to guests with the belief that beauty can only multiply when it's shared.
Their guesthouse Son Mohikan Dağ Evi welcomes those who have longed for nature with its simple rooms and terrace overlooking the mountains. In the evenings, after a day spent exploring the plateau on foot, home-cooked meals are served followed by little concerts by the family – who all happen to be musicians.
A mountain castle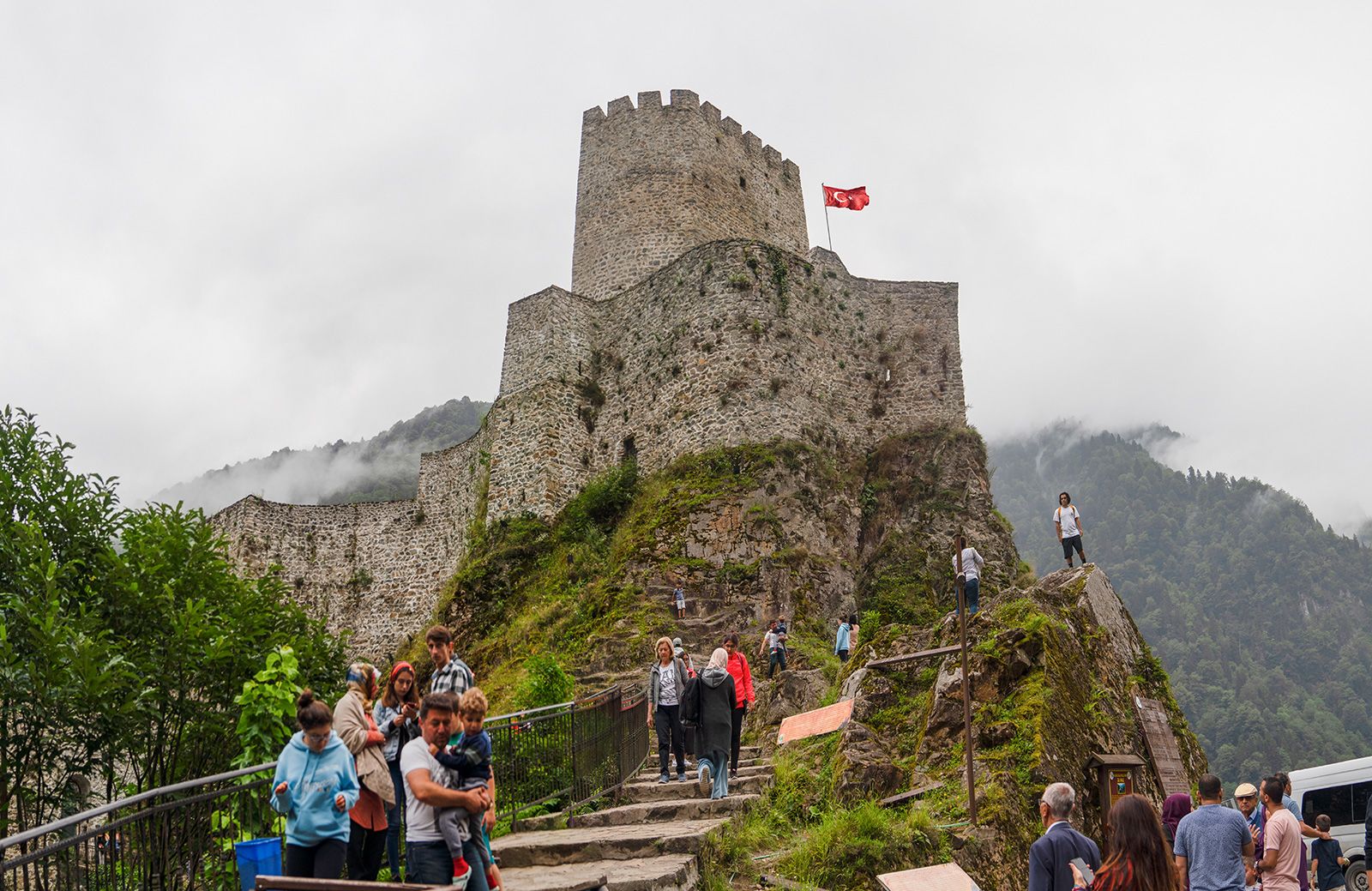 One of Rize's most stunning sights, perhaps only rivaled by the Sümela Monastery near Trabzon, Zilkale castle appears suddenly in the middle of the valley, the snow-tipped peaks of the Kaçkar Mountains looming in the background.
The medieval castle is believed to have been built between the 14th and 15th centuries and some historians have suggested that it was originally an Armenian chapel built by the emperor of Trebizond, then turned into a castle by the Ottomans in the 19th century. Either way, the inner castle – accessible via a stone pathway – has excellent views of the valley from beyond the walls.