Israeli forces continued military operations in the occupied West Bank city of Jenin for a second night, a day after incursions killed at least 10 people between the ages of 16 and 23, and injured about 100 others.
Thousands fled their homes in the refugee camp overnight, where electricity and water services had been severely damaged, according to Palestinian officials.
The Israel Defense Forces (IDF) said in a joint statement Tuesday morning that it carried out overnight "counter-terrorism activities in Jenin and Jenin Camp" with intelligence from the Israel Securities Authority (ISA) and Israel Border Police.
The operation was continuing on the same day a car-ramming and stabbing attack in Tel Aviv left at least eight people injured.
The military operation remained ongoing Tuesday morning with Israeli forces searching for 10 remaining primary targets in the Jenin refugee camp, according to the IDF. At least 120 people have been detained, the Israeli force said.
IDF chief spokesperson Rear Admiral Daniel Hagari said on Twitter that there "is no point in the [Jenin] camp" that they have not entered, including the center.
Hagari said the IDF has carried out a "large number of raids, ambushes, destruction of laboratories, and explosives" and that so far, "non-combatants" have not been killed.
"We allowed all the women and children to leave the camp on their own initiative," Hagari said.
Ten Palestinians have been killed so far, with more than 100 injured. The IDF previously acknowledged civilians are among the injured.
Thousands of Palestinians evacuated the camp overnight, according to the Palestinian Red Crescent.
Video from Tuesday morning in Jenin shows torn-up streets, which the IDF said was to disarm IEDs, and smoke rising over the refugee camp, where the Israeli military operations took place.
The IDF said Tuesday it located and neutralized an "underground shaft used to store explosive devices in the heart of the Jenin Camp" and IDF soldiers "located and dismantled two operational situation rooms belonging to terrorist organizations in the area."
Its soldiers also confiscated weapons, explosives and military equipment in Jenin and "neutralized a grenade launcher," according to the IDF.
A military source said Monday the operation is the largest military operation in the occupied West Bank city of Jenin in more than 20 years.
Striking "terrorist infrastructure," the IDF on Monday carried out around 10 airstrikes using drones, and hundreds of soldiers targeted what it said was a militant "command and control" center as well as weapons and explosive manufacturing sites. Its goal, the IDF said, was to dismantle Jenin as a "safe haven" for militants.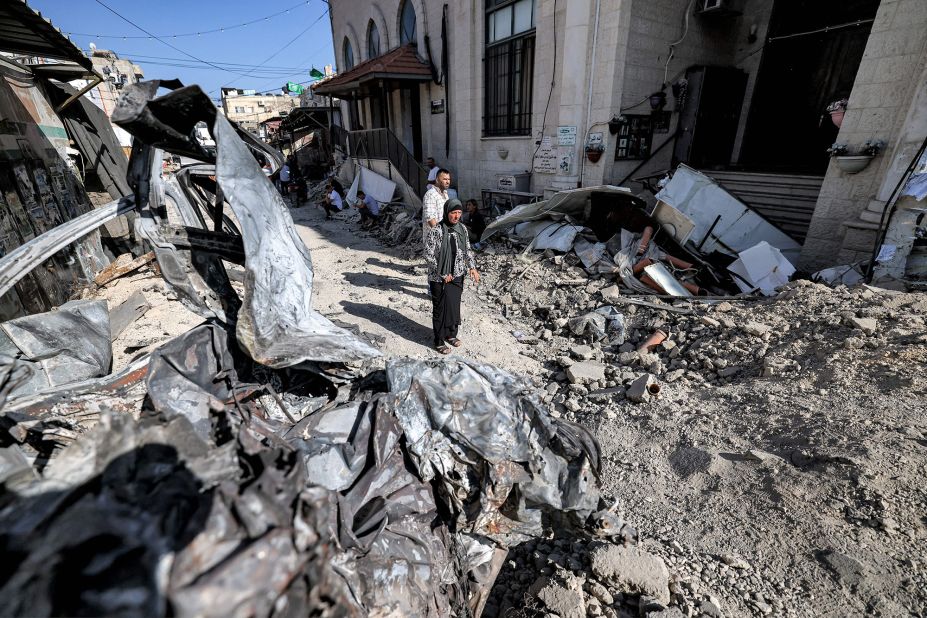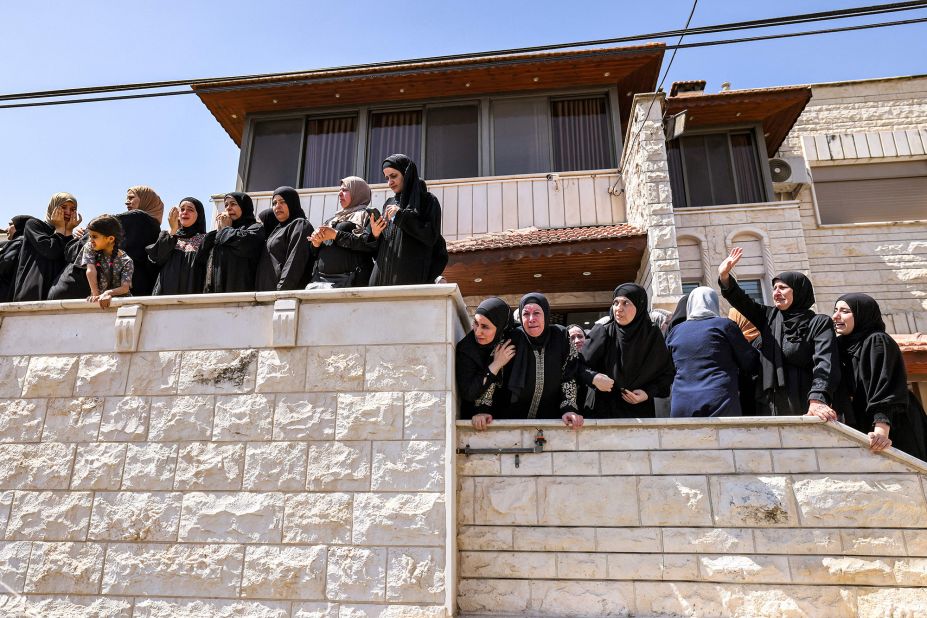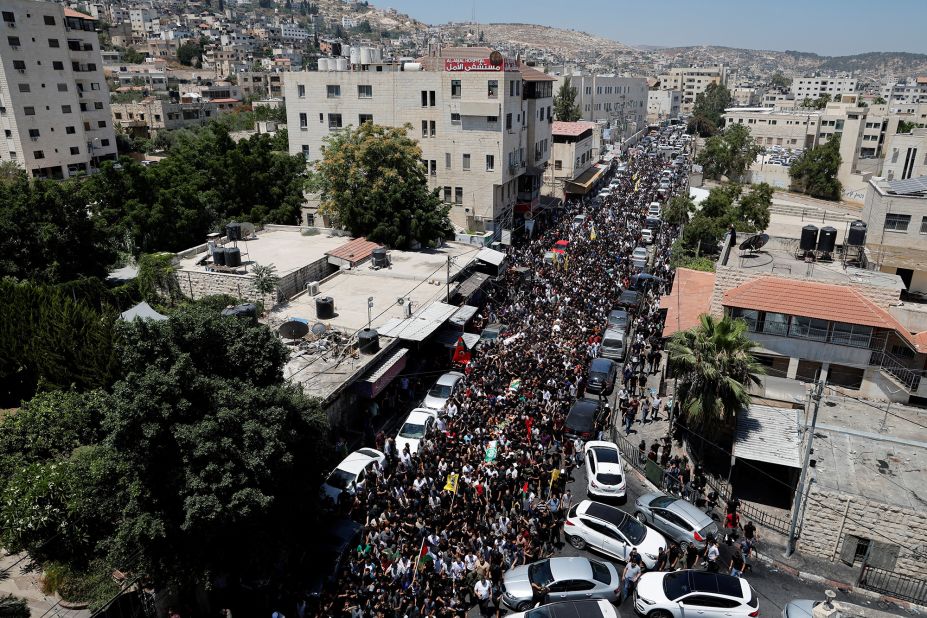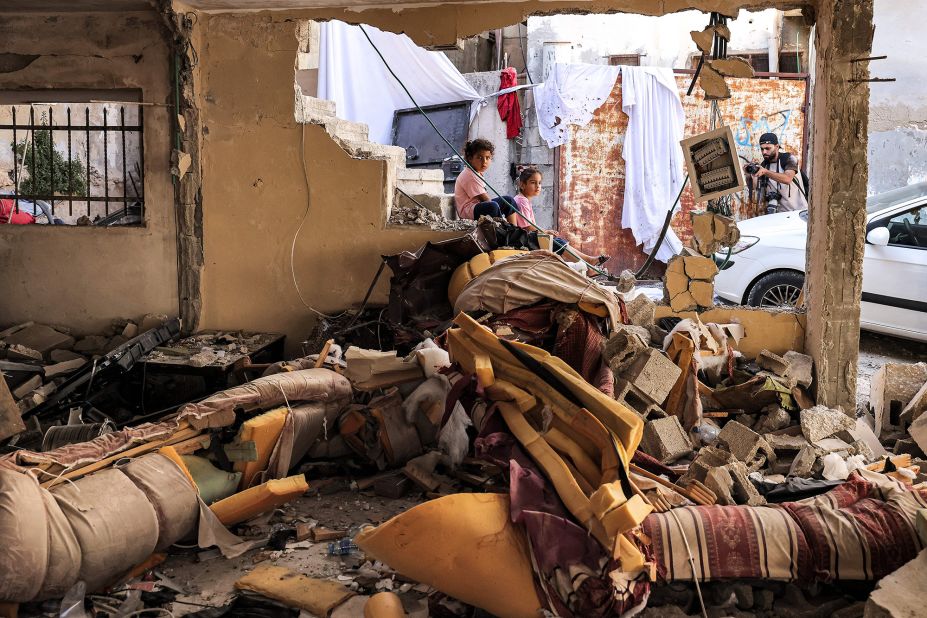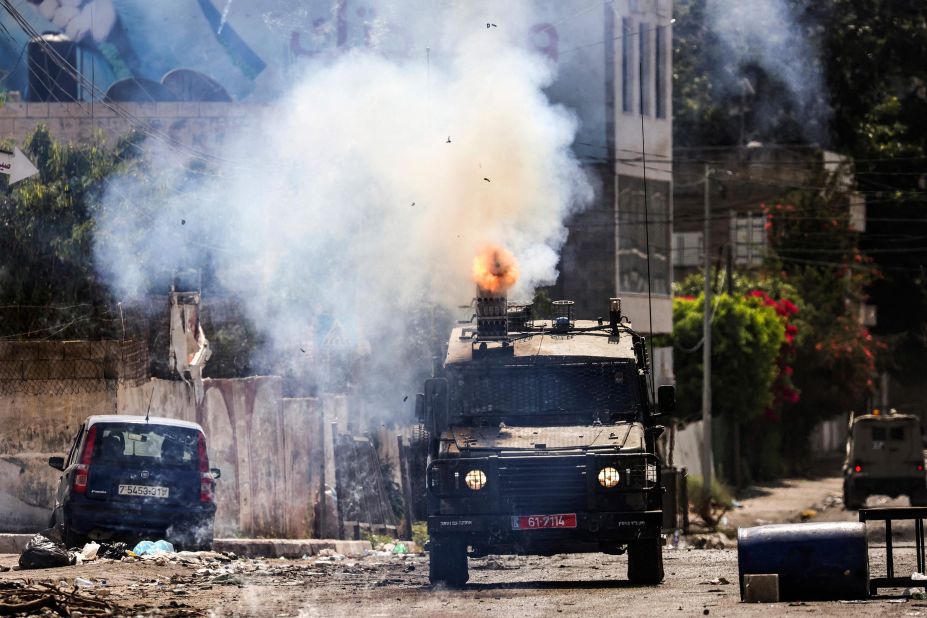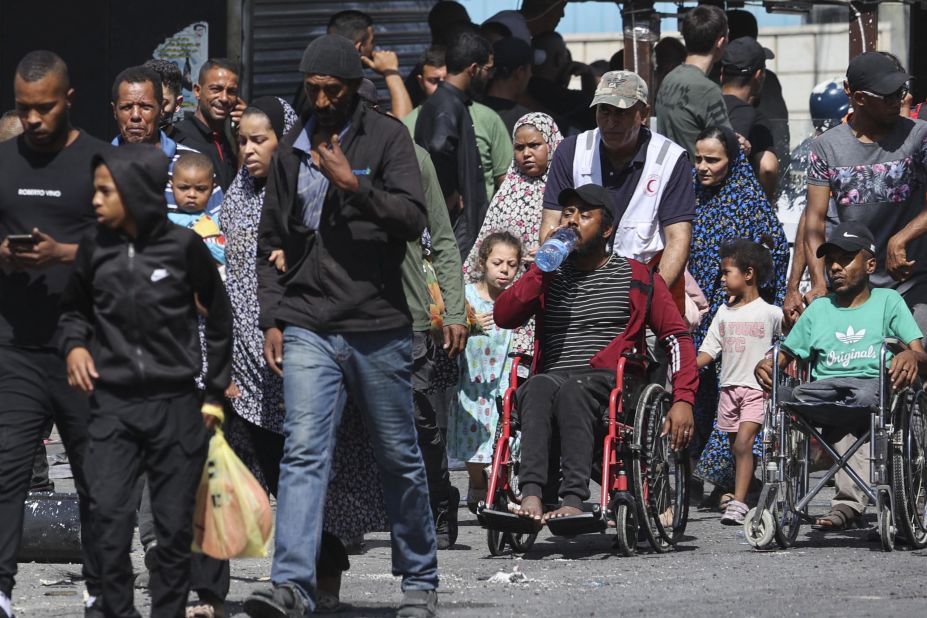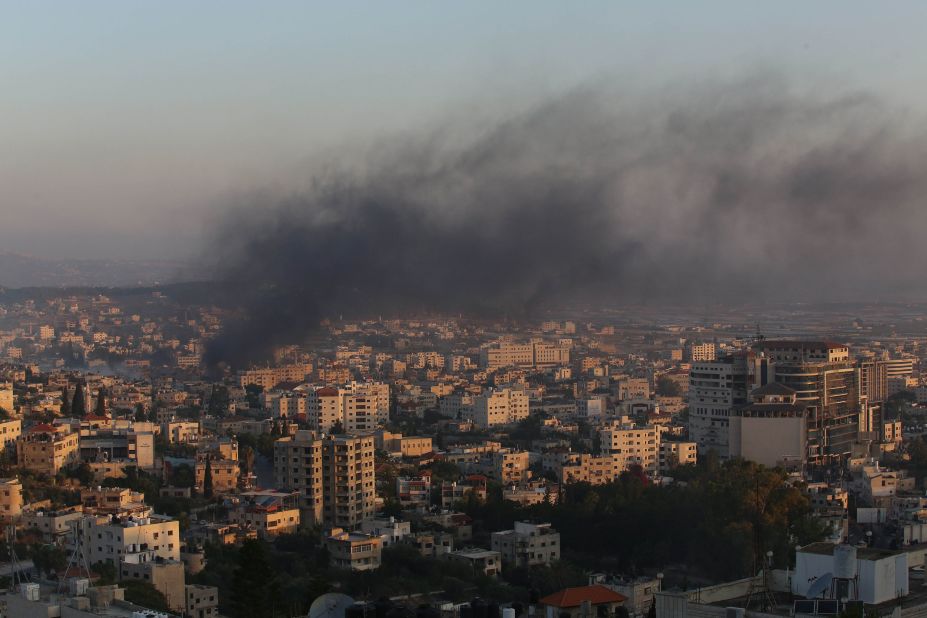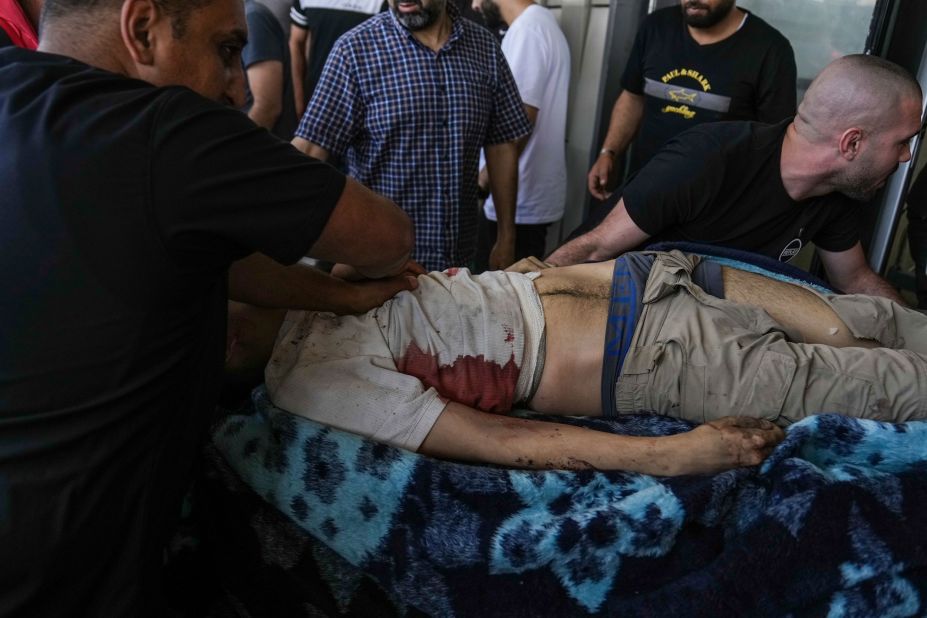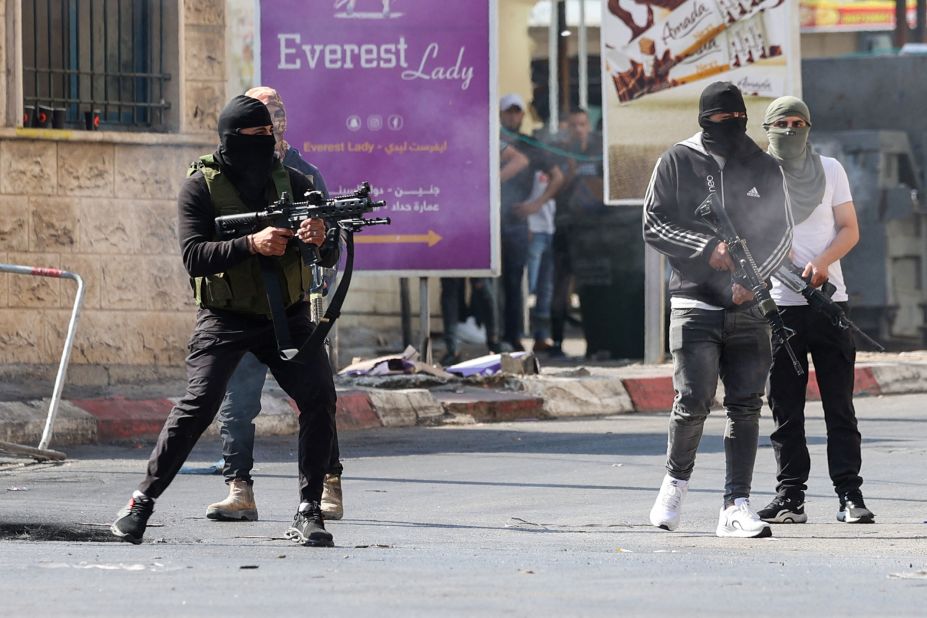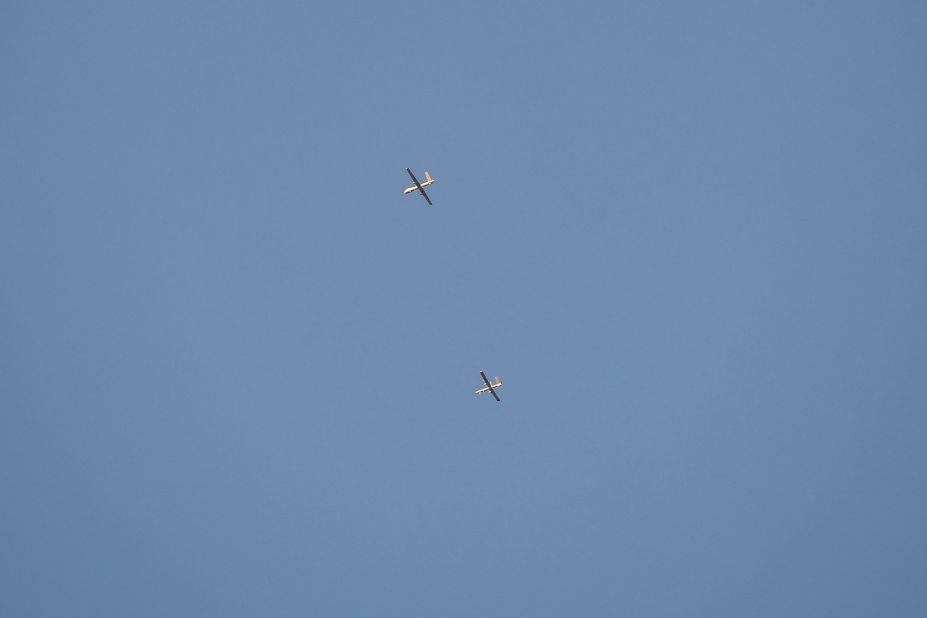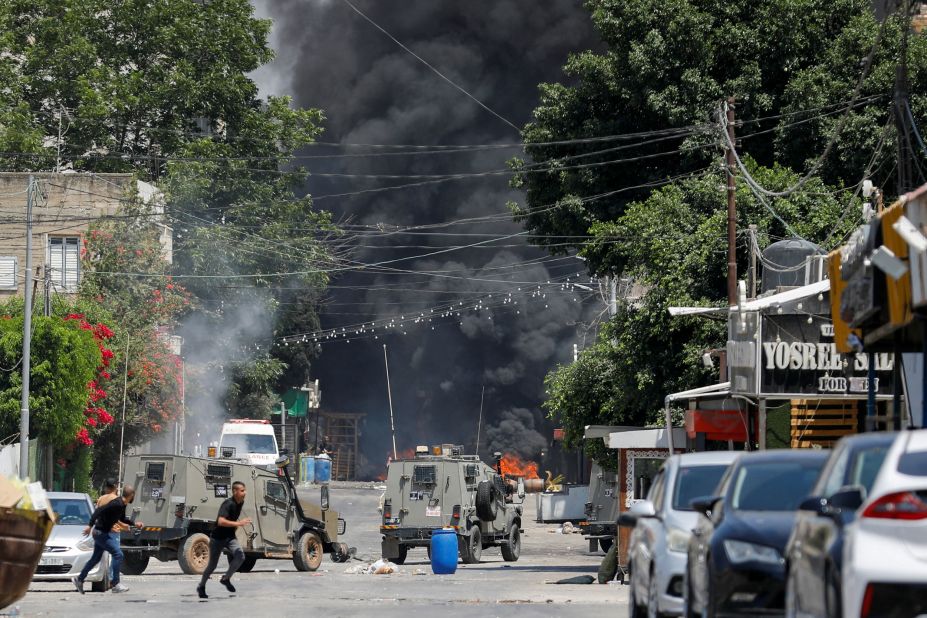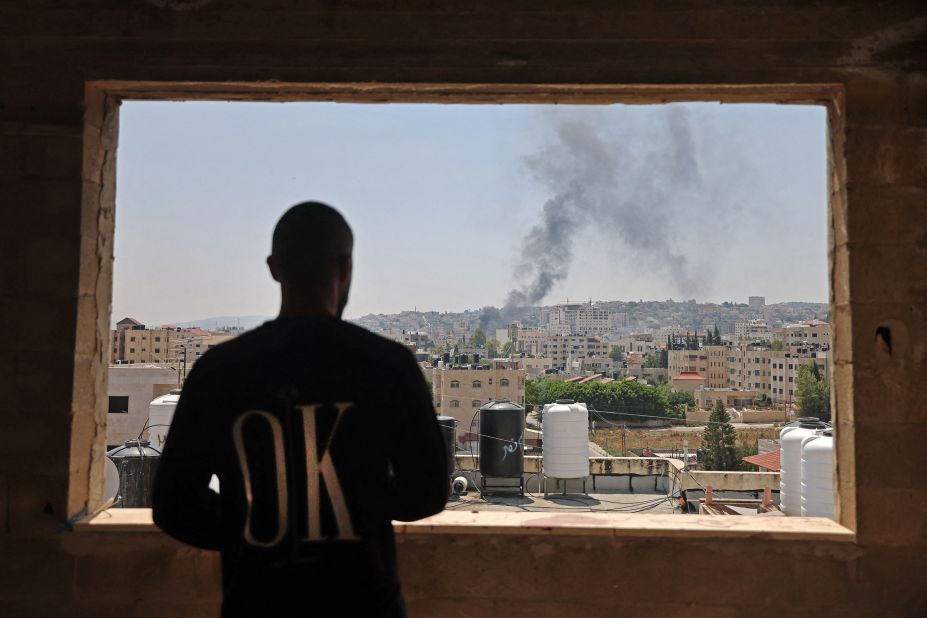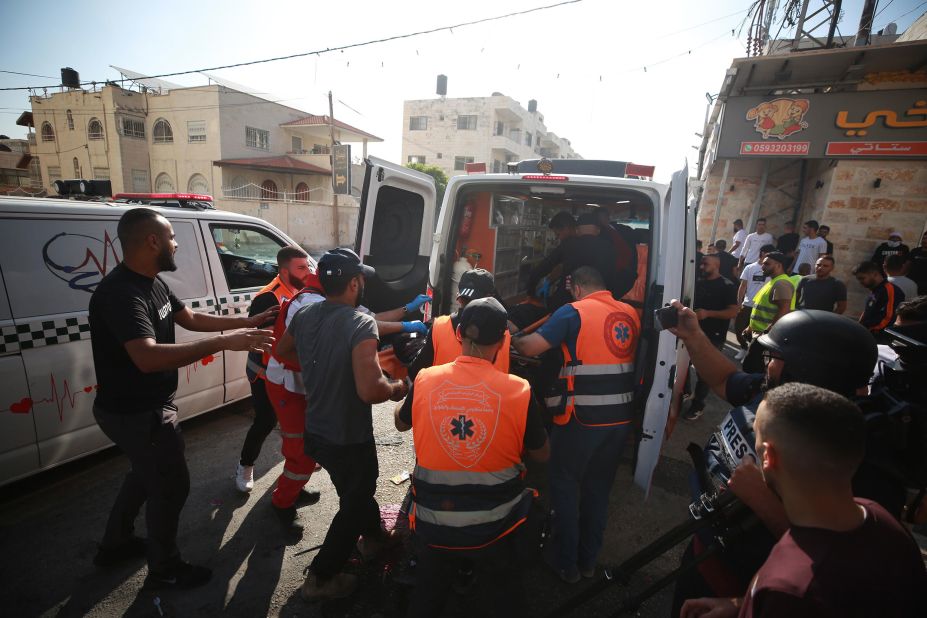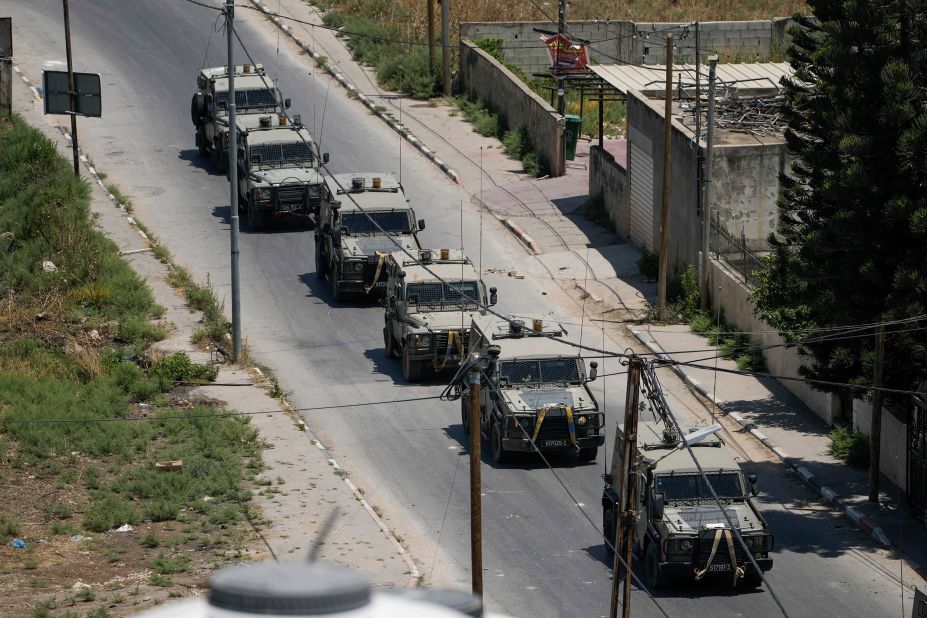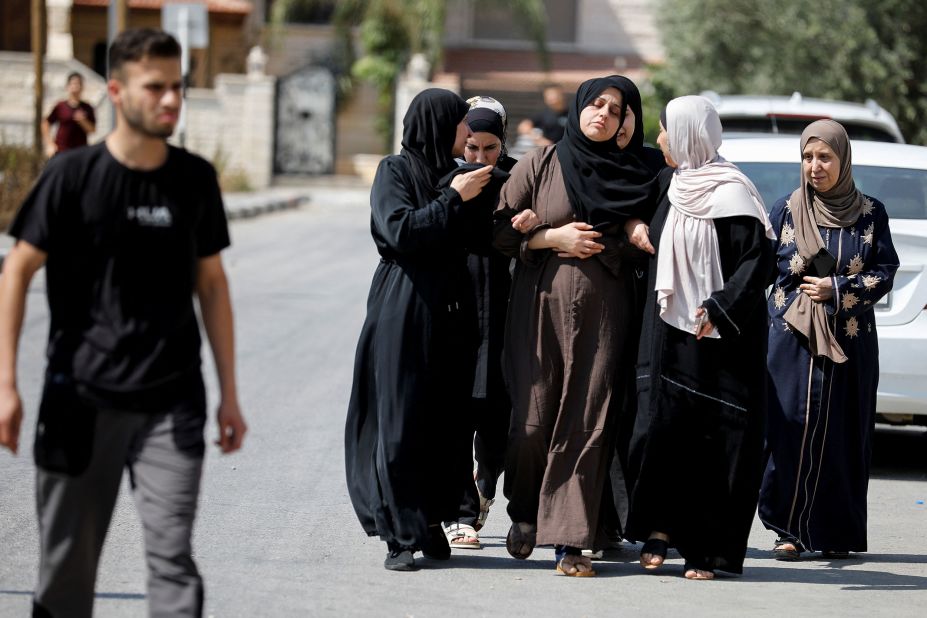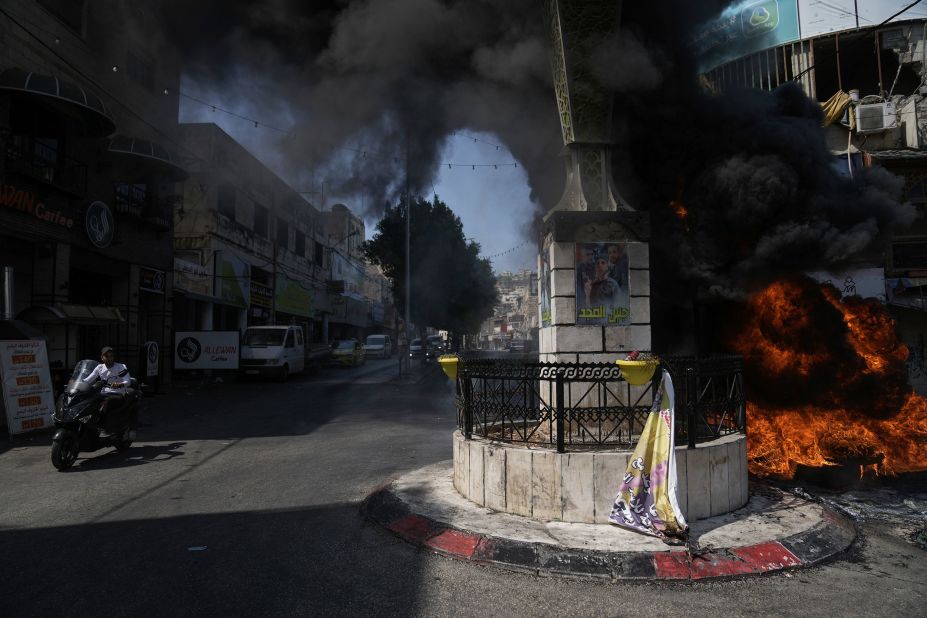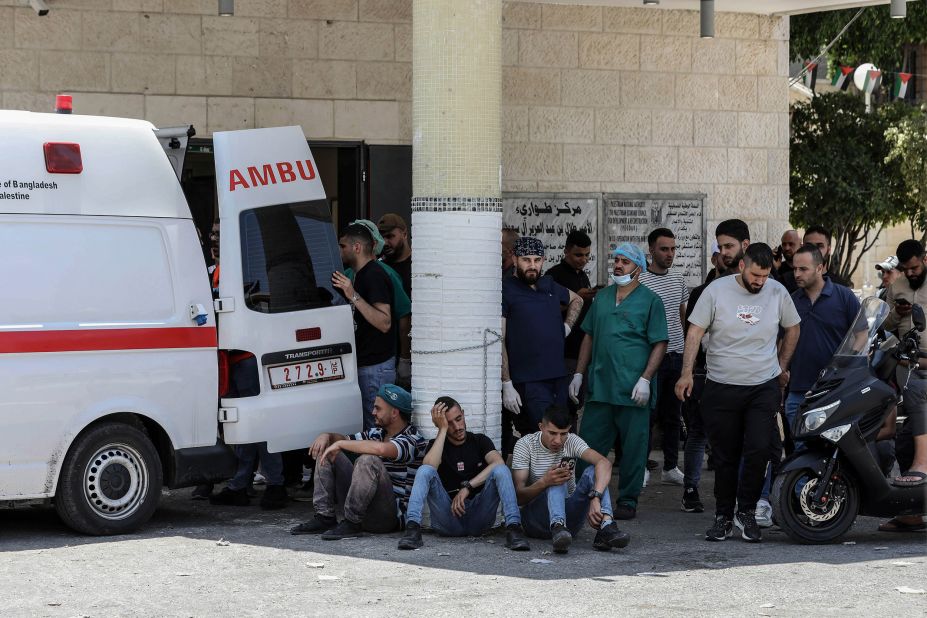 In pictures: Israel's military operation in Jenin
'A horrifying day'
Discussing the first day of the Israeli military operation, Jenin resident Lina Amouri, 35, said her family hid from the gunfire until they heard mosques announcing the evacuation.
"We were all hiding in one apartment that didn't have windows so we don't risk anyone getting hit by a bullet. Three women and six children aged 1 to 9, since 5 a.m., with no electricity or internet connection. It was a horrifying day," she said.
"The children were crying all day and we didn't know how to calm them down, the only thing we could do is to pray together while we hear explosions and bulldozers outside."
Amouri also compared the scene to a natural disaster.
"When we first went out to see what's happening it was a totally different place, all streets were plowed, water and sewage pipes were broken, electricity poles were down, cars were piled one on the other. It felt like a storm with earthquake have just passed by."
Duha Turkman, a 16-year-old Jenin resident, said they heard an announcement form the mosque loudspeakers saying they had two hours to evacuate. It's unclear where the directive came from, the IDF told CNN no one was asked to leave the camp.
"We ran out with people from the camp, so many children walked with their parents while terrified and crying, they didn't understand what was happening to them and why," she told CNN. "Many were missing; families were looking for members that they couldn't get in contact with due to the electricity cut."
Turkman told CNN that before evacuating, her family's home was taken over by Israeli forces as the operation got underway, leaving the apartment "upside down."
"They invaded our house in the early morning, they locked us all in one room, five women and two children in one room, and in another room, they locked five men – my father, brothers and uncles," she said.
"They took the house as snipers' position to attack the camp, meanwhile we couldn't use a toilet, get to the kitchen or do anything but sit in the room and listen to the explosions outside."
CNN cannot independently verify the accounts of these two eyewitnesses.
Jenin deputy mayor Mohammed Jarrar said homes and infrastructure had been destroyed, cutting off electricity and water in the refugee camp.
Aid agencies accused Israeli forces of obstructing access to the camp and impeding the medical response, claims the IDF denies.
The Palestinian Red Crescent said some crews were prevented from operating within the camp, according to the director of the Palestinian Red Crescent society in Jenin, Mahmoud al-Saadi. And the international medical aid organization Doctors Without Borders (MSF) also accused Israeli forces of impeding access to medical care in Jenin. The IDF said ambulances had a "free pass" in the camp.
On Tuesday morning, the Palestinian Ministry of Health said the body of the 10th Palestinian person to be killed was discovered in Jenin. Earlier, the ministry said five of those killed in the attack were teenagers and of the 100 wounded, 20 were in serious condition.
Hagari, the IDF spokesperson, acknowledged on Monday that civilians were among the injured, but insisted the operation only meant to target "terrorists."
"It's not an invasion on Jenin, it's not against the Palestinian Authority. It's not against innocent, innocent Palestinians. It's against terrorists in this camp," he said.
The incursion sparked immediate condemnation. Palestinian Authority President Mahmoud Abbas called the large-scale Israeli military operation "a new war crime" while Egypt called the Israeli incursion an act of "aggression."
Militant group Hamas called on all its cells in the West Bank and Jerusalem to strike Israel "by all available means," a statement by its military wing said.
Israeli Prime Minister Benjamin Netanyahu said the military acted "against terrorist strongholds in Jenin."
"In recent months, Jenin has become a safe haven for terrorists. Terrorists perpetrated savage attacks, murdering Israeli civilians, men, women, and children, as many children as they could find," Netanyahu said at a US embassy event in Jerusalem on Monday evening.
CNN's Kareem Khadder, Eyad Kourdi, AnneClaire Stapleton, Alex Stambaugh, Ibrahim Dahman and Mike Schwartz contributed reporting.