Editor's Note: CNN Style is one of the official media partners of Paris Fashion Week and Haute Couture Week. See all coverage here.
On Monday evening in Paris, American designer and Council of Fashion Designers of America (CFDA) chairman Thom Browne debuted his first haute couture collection in front of an audience of 2,300. But only 300 of them were real people.
In a CNN exclusive backstage visit to the Palais Garnier — the historic 19th century Baroque opera house in Paris' 9th arrondissement — hours before the show, a sea of near-identical grayscale 2D faces stared out from the velvet seats.
Each life size cardboard cutout, folded at the waist to mimic a seated position, was dressed in the brand's signature gray suit — the first garment Browne ever created and sold in 2003. The scene was meticulously staged by Browne's team, many of whom worked overnight. Every few minutes, an audio recording of abrupt and rapturous applause filled the auditorium. "It's one of those crazy ideas," grinned Browne.
The house's first foray into couture was also a celebration of Browne's two decades as a ready-to-wear designer. It was both an anticipated debut and an anniversary collection, a double-bill for which Browne was bound to pull out all the stops. The label is notorious for staging runways that transcend fashion and push the boundaries of set design. During his Fall-Winter 2023 show, models walked in the shadow of a "crashed" airplane. Even in the brand's early years, Browne has been a blue-sky thinker. In 2008, his team painstakingly recreated a tennis court for his Spring-Summer runway complete with a faux-hedge row, scoreboard and scattered tennis balls.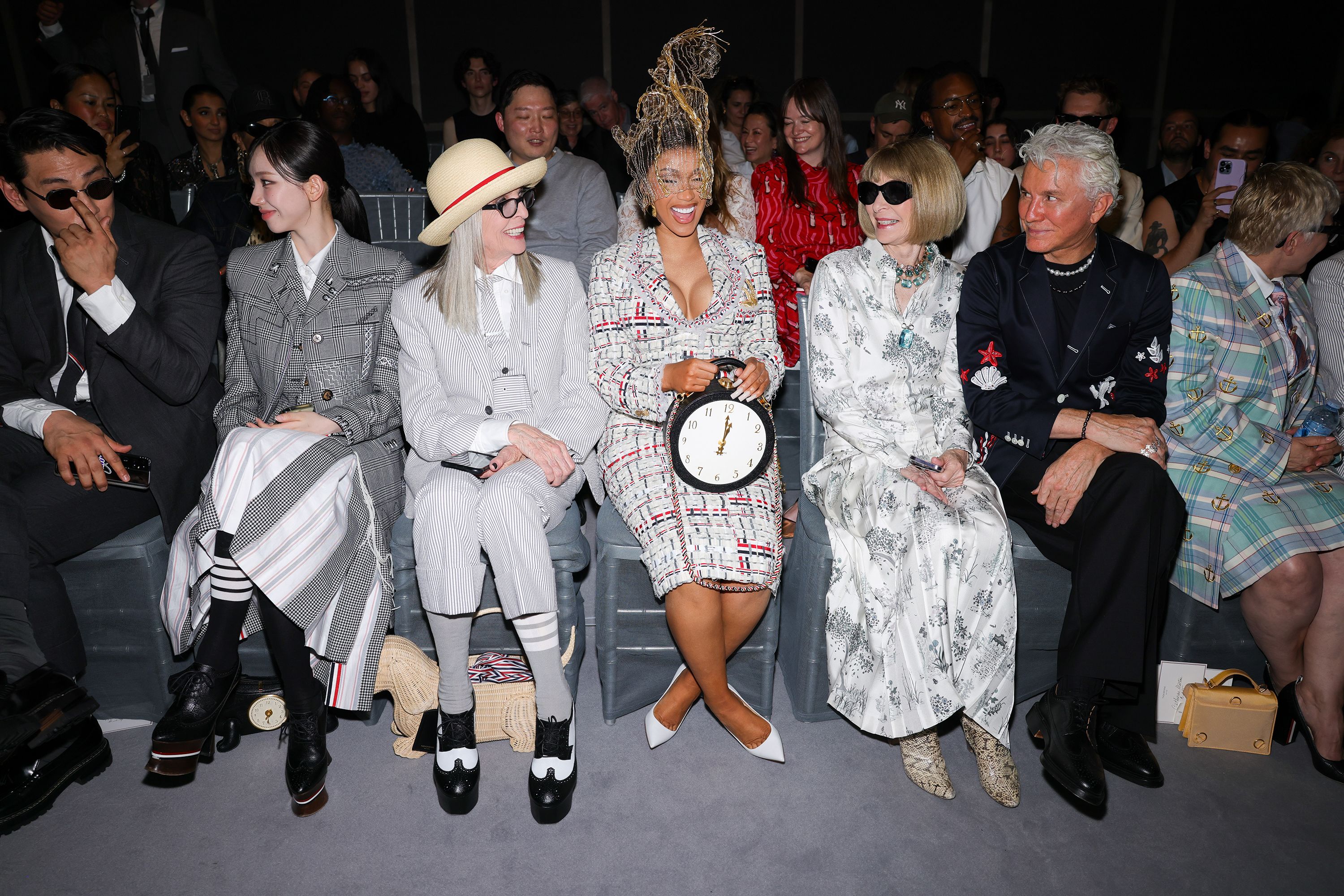 As guests arrived at the Palais Garnier, instead of entering through the building's famed ornate marble staircase, they were ushered backstage, through the belly of the theater to arrive at their seats on the opera house's stage. As the curtain raised, Browne's master plan was revealed: to place his guests (Diane Keaton, Cardi B, Anna Wintour, Baz Luhrman and Ayo Edebri, to name a few) into the performance itself, with the unveiling of his inanimate audience watching from the auditorium. "I wanted to turn the tables (of a traditional couture show) and make everybody sit on the stage along with the show," Browne told CNN. "I like people to feel like they're a part of what I do."
It worked. As the curtain rose to reveal 2,000 seated cardboard cutouts, the canned applause on set was met with a real ovation.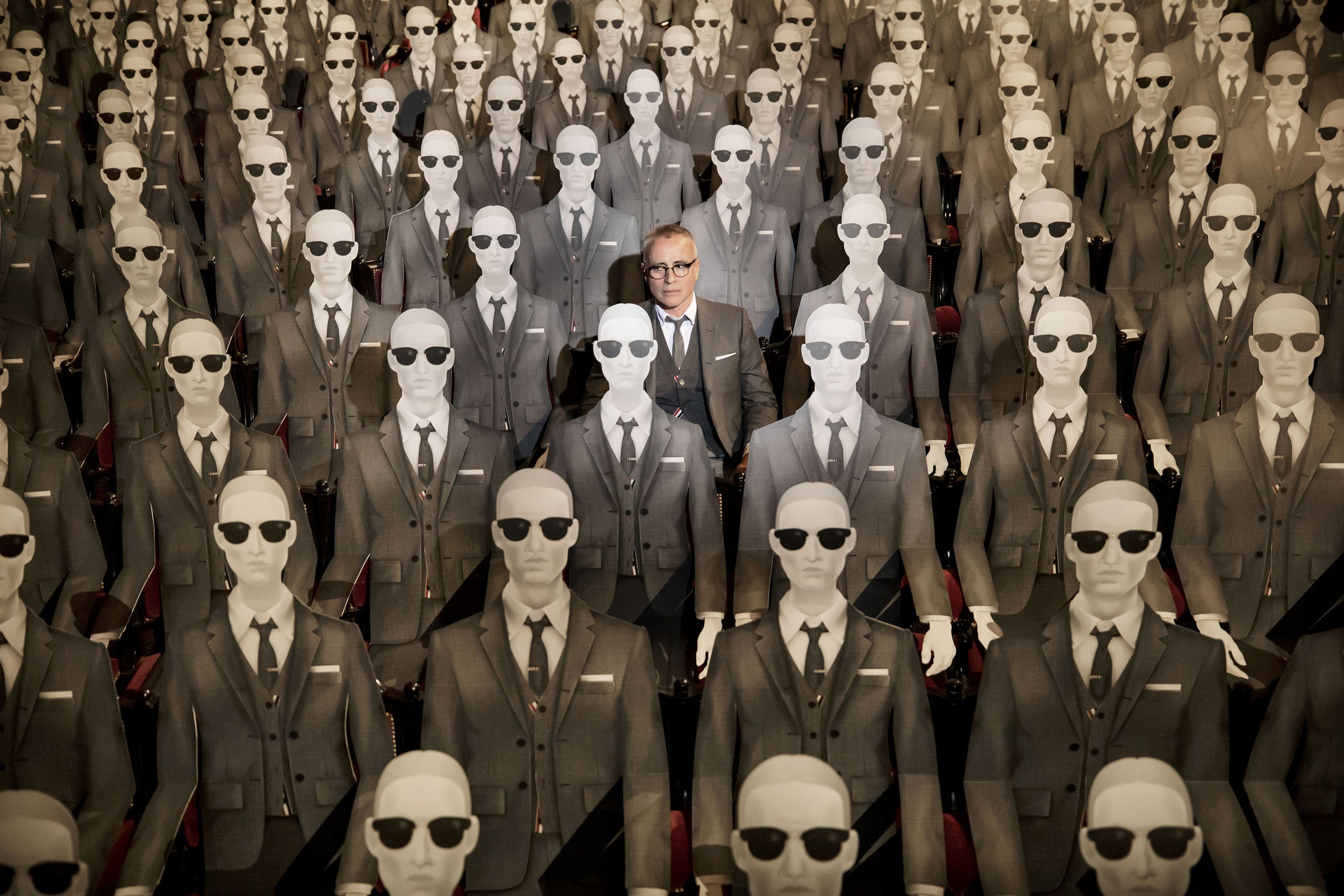 Fade to gray
"Every collection starts with the gray suit," Browne said. "And this collection, it's taking that gray suit and seeing how it's been conceptualized, pulled and prodded, in so many different ways over the last 20 years. I look back and I can't believe it's (that long)," he said. "I've done so much. A lot of (my team) started with me when they were very young, and now they have kids themselves. So I feel like I'm a parent to all of them."
And, he says, designing this collection made him realize how close his practice already was to couture. For the 2022 Met Gala, Browne dressed singer Lizzo in a hand-embroidered gold bullion coat that took 22,000 hours to make. "I'm a chairman of the CFDA," he told CNN. "I feel like I have a responsibility to make sure that people see American fashion in a very elevated way and at the highest level."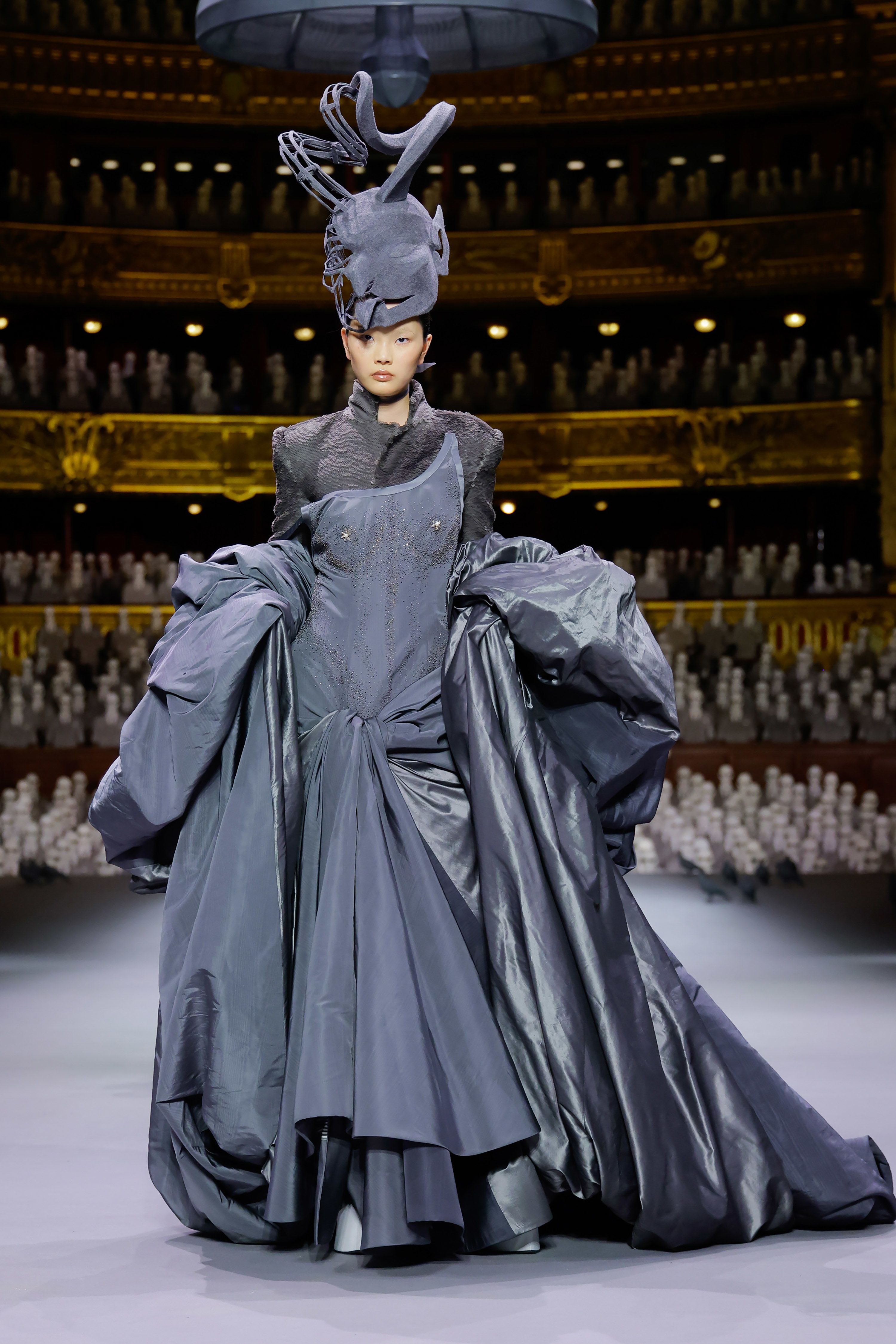 Inside the theater, the audience were transported to a cavernous train station: a concept inspired by the British new wave song "Fade to Grey" (1980) by Visage. This was couture with bells on — literally. Models' tortoiseshell brogues had golden bells attached to their heels like spurs from a Western movie.
The show took inspiration from a bustling railway station. Some models were dressed as passengers, wearing sequin tartan skirt suits or patchwork overcoats and carrying large versions of the brand's plush Hector bags; others embodied the on-the-hour bells of a station clock, wearing cloche hats and bulbous wool coats. Two models in diaphanous silk coat dresses in gray and white represented gargoyles — their looks completed by headpieces of a gnarled countenance. Even the humble pigeon was elevated by models clad in molded jackets hand sewn with a cascade of silk-cotton feathers.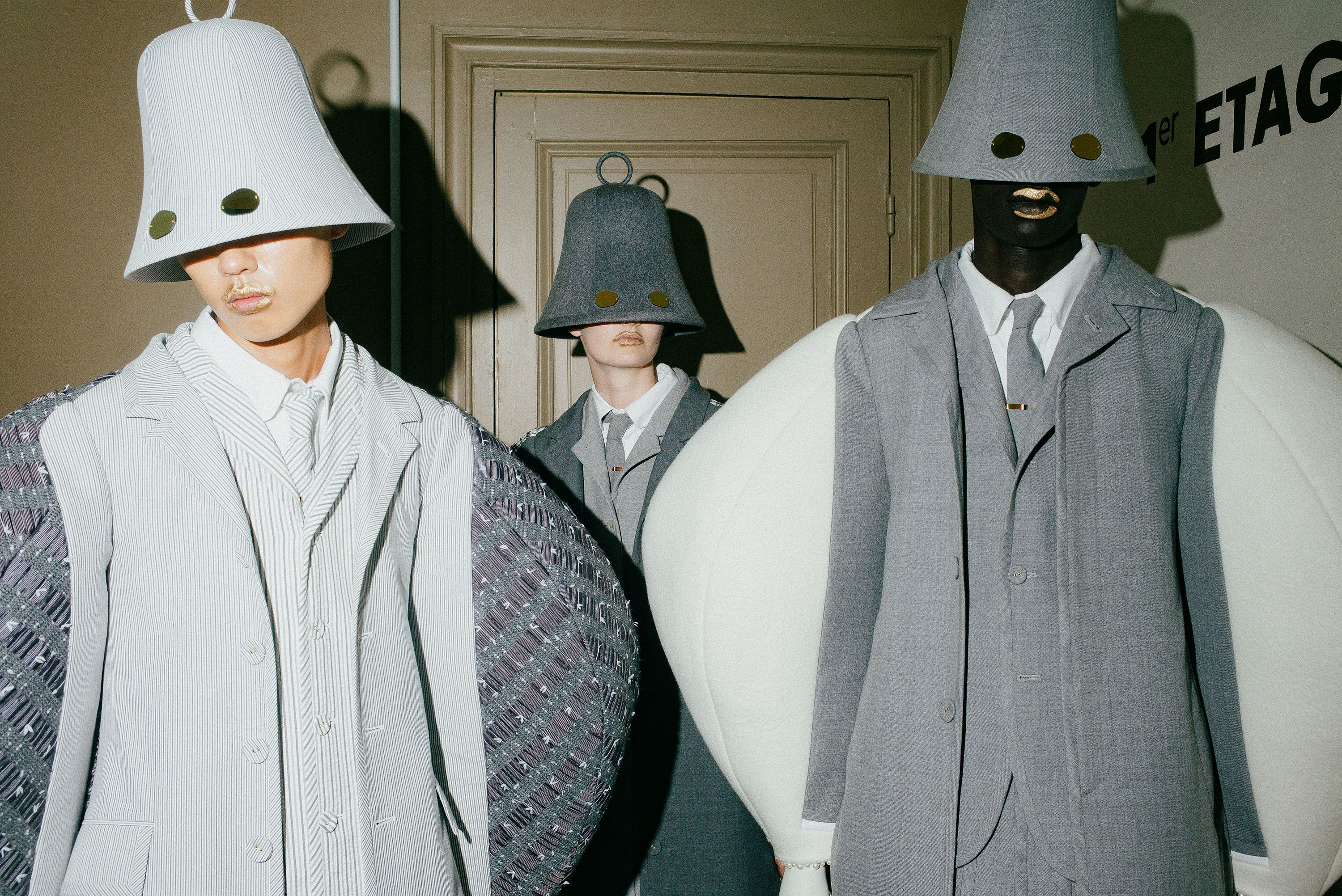 The theatrics totalled around 31 minutes in length, over twice as long as a typical runway show. "I would go longer if I could," Browne chuckled. He's aware this makes him an outlier in his industry. Just last week, fellow New York-based designer Marc Jacobs debuted a three-minute catwalk collection. "Even just the pace drives people crazy, which I think is kind of fun sometimes," he said. "I want people to either love or hate what I do." It's also out of respect for his entire team. "For me, there's so much work that goes into the collections that I want people to experience them as long as (possible)."
Browne's couture debut, and the entire haute couture week schedule, is set against the backdrop of civil unrest in France after 17 year old Nahel Merzouk was killed by a police officer in the Parisian suburb of Nanterre. Over the weekend, Hedi Slimane, creative director of Celine, canceled the brand's menswear show. "We all want to be respectful to what's going on here in France and in Paris," Browne said. "Couture week is so important culturally to Paris, I think it's important that we all, in the most respectful way, do an even better show."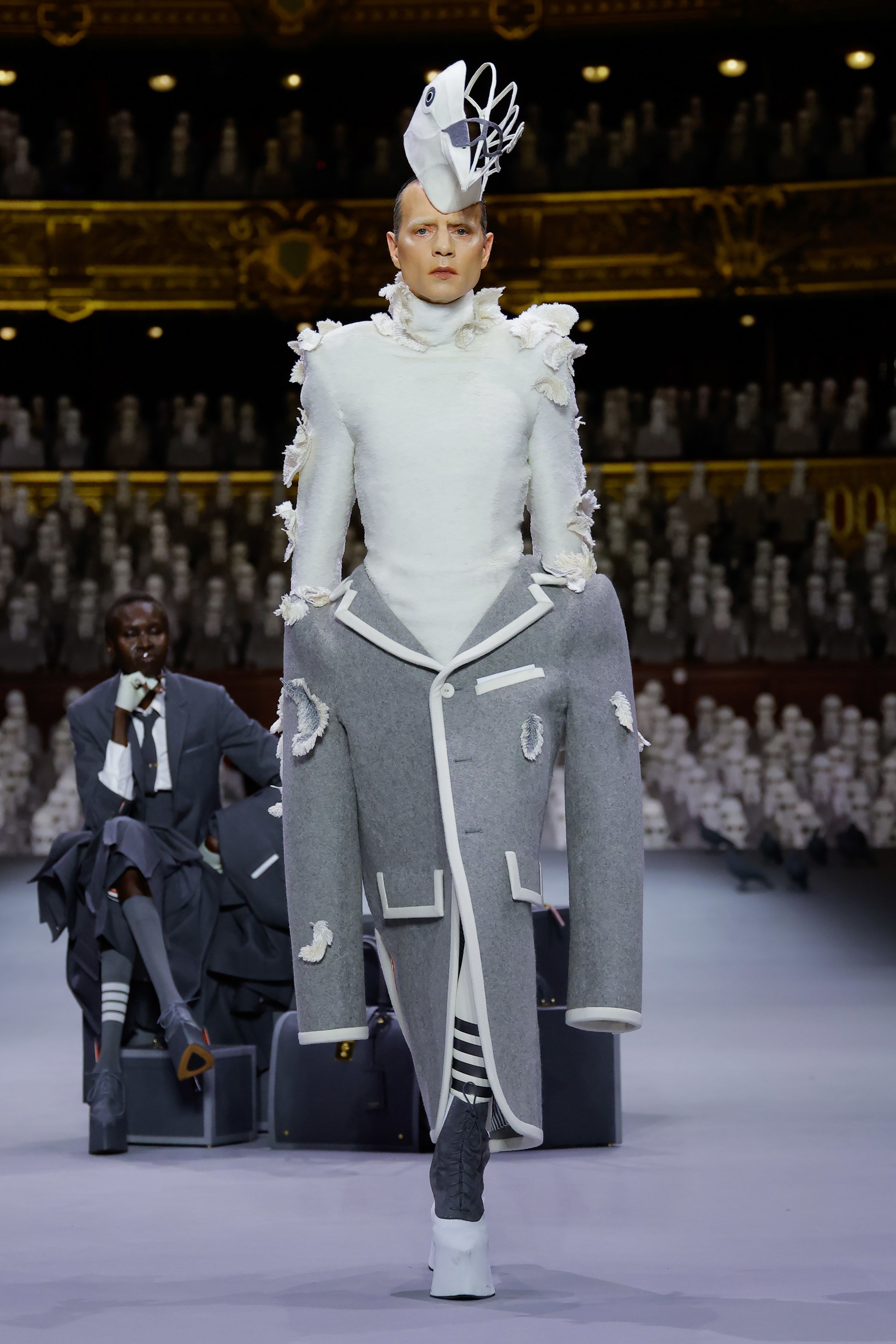 Scoring the finale was the 1976 track "Station to Station" by David Bowie, one of Browne's first ever celebrity clients back in 2005. Watching a designer as seasoned as Browne, with a legacy as far reaching as his, become a new kid on the block again held a unique tension. As Bowie reminded us from the speakers overhead, "here we are, one magical moment."