A shooter wearing a bulletproof vest and a ski mask fired randomly at vehicles and pedestrians Monday night in southwest Philadelphia, killing five people and wounding two others, authorities said.
In a Tuesday afternoon news conference, Philadelphia Police Commissioner Danielle M. Outlaw told reporters the "armed and armored" assailant was firing seemingly at random people, including a mother driving her twins home, in the Kingsessing neighborhood.
"What happened last night was unimaginably disgusting and horrifying," Outlaw said.
Responding officers ran toward the sound of gunfire and pursued the suspect, who fired a rifle while fleeing. The assailant was taken into custody in an alley without further incident, the commissioner said.
District Attorney Larry Krasner said the suspect likely will appear in court Wednesday and will face multiple charges, including murder. The Philadelphia District Attorney's office is using they/them pronouns to refer to the suspect based on "information we have at this time," a spokesperson for the DA's office told CNN. Philadelphia officials previously used he/him pronouns to gender the suspect during a Tuesday press conference.
The DA said he expects the judge will deny bail for the suspect.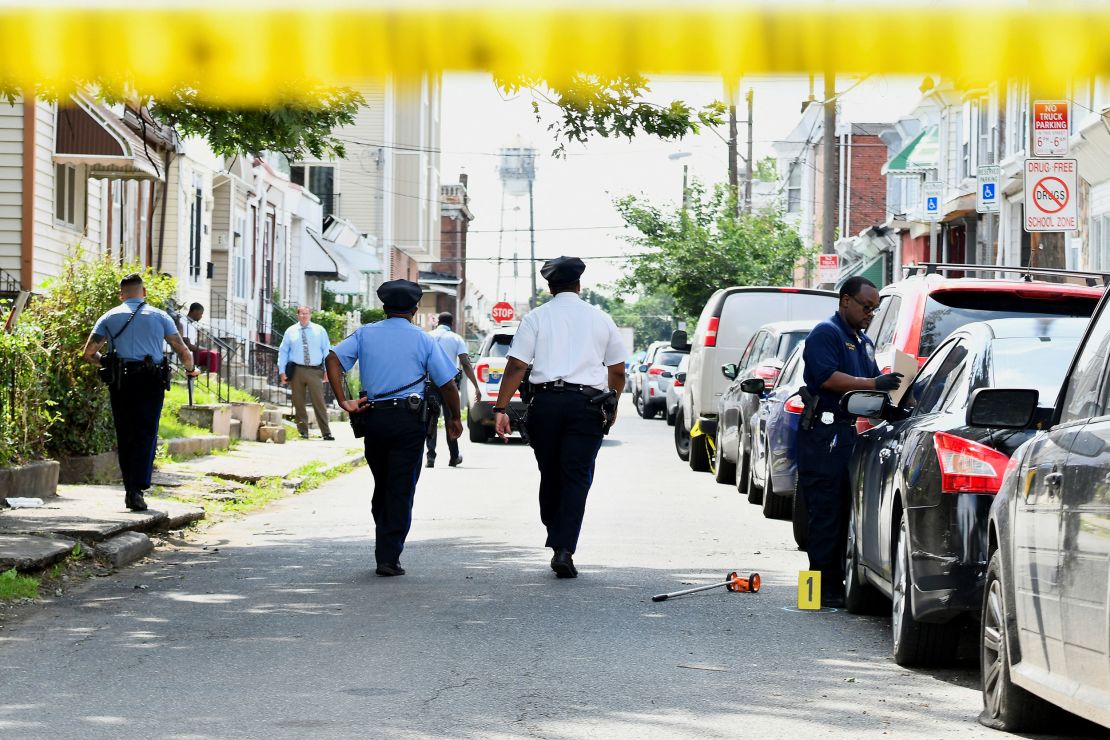 A second person who was detained Monday night after also firing a gun has been released. Authorities think they were acting in self-defense and their actions were legal, but the investigation is ongoing.
Philadelphia police identified the deceased victims as Lashyd Merritt, 20; Dymir Stanton, 29; Ralph Moralis, 59; and 15-year-old Daujan Brown, who police initially estimated to be between 16 and 21. The fifth victim, found around 12:30 a.m. Tuesday, was identified as Joseph Wamah Jr., 31, according to a news release.
Two boys, ages 2 and 13, also suffered multiple gunshot wounds to their legs, according to the release, and police said they were in stable condition. Two other people, a 33-year-old woman and another 2-year-old boy, were injured by glass. At Tuesday's news conference, authorities indicated the 2-year-olds were twins in a vehicle that was fired upon.
The suspect, who has not been identified, had an AR-style rifle, a 9 mm handgun and a scanner that tracks emergency response radio traffic, authorities said. Outlaw said earlier she thinks the suspect is 40 years old, and early evidence doesn't show a connection to the victims.
"We believe it appears this individual acted alone" Philadelphia Police Staff Inspector Ernest Ransom said Tuesday, adding that it didn't appear the suspect was targeting specific individuals.
The shooting spanned several blocks and consisted of at least 50 shell casings and damaged vehicles, Outlaw said at a Monday night news conference.
The fifth victim was discovered early Tuesday, hours after the other victims were found in a home in Kingsessing, city police Chief Inspector Scott Small said at a separate news briefing. The neighborhood sits on the west bank of the Schuylkill River in southwest Philadelphia.
The gunfire in Philadelphia erupted Monday evening as the United States endures a seemingly neverending epidemic of gun violence, including another Monday night shooting in Fort Worth, Texas, that left at least three people dead and eight wounded. Another shooting in Baltimore early Sunday left two people dead and 28 others injured.
The shootings in all three cities were among at least 345 mass shootings in the US so far this year, according to the Gun Violence Archive, which, like CNN, defines a mass shooting as one in which four or more people are shot, not including the shooter.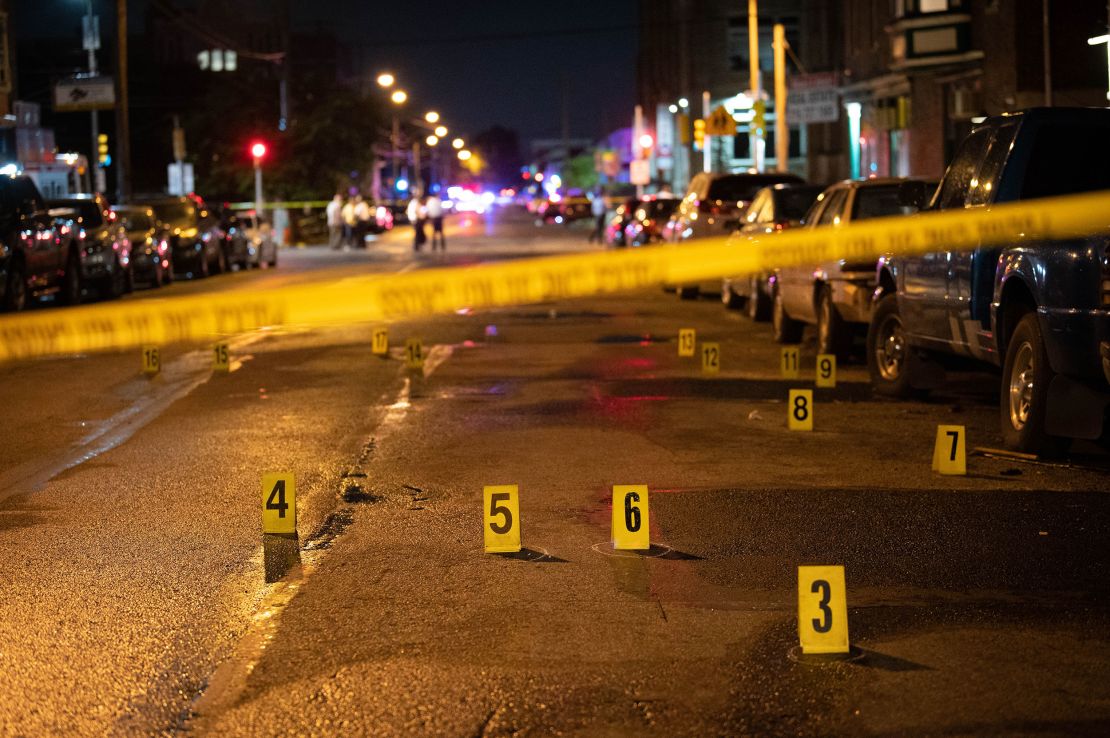 Philadelphia Mayor Jim Kenney called on national lawmakers to address firearms legislation.
"I'm frustrated and outraged that mass shootings like this continue to happen in communities across the United States," he said. "This country needs to re-examine its conscience and find out how to get guns out of dangerous people's hands. … We are begging Congress to protect lives and do something about America's gun problem."
Krasner called for Pennsylvania legislators to act.
"It is disgusting that you can go to New Jersey and find a whole list of reasonable gun regulation that we don't have, that you can go to Delaware and there's almost as long a list of reasonable gun legislation that we don't have," he said. "Some of that legislation might have made a difference here."
President Joe Biden condemned the "wave of tragic and senseless shootings" across the country, saying in a statement he and first lady Jill Biden "grieve for those who have lost their lives and, as our nation celebrates Independence Day, we pray for the day when our communities will be free from gun violence."
Tuesday, he pointed out, marks one year since a mass shooting at a July Fourth parade in Highland Park, Illinois, left seven dead and dozens more wounded.
How the shooting unfolded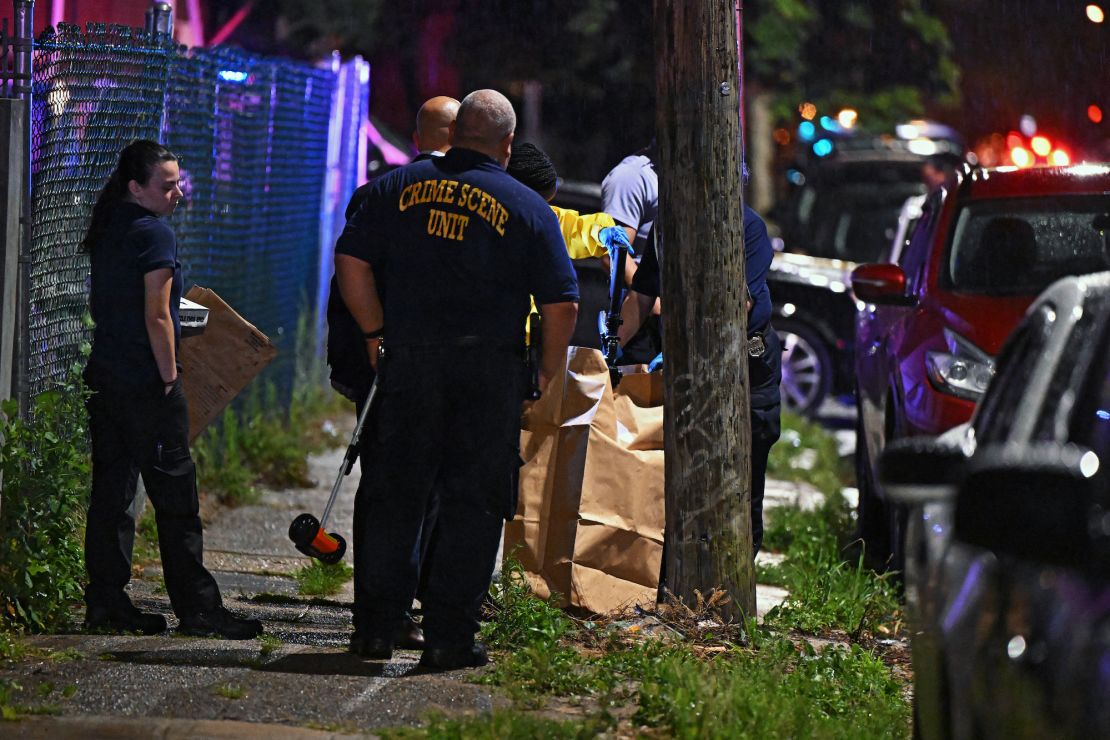 Police officers were flagged down in the area where the shooting began around 8:30 p.m. Monday, Outlaw said, and discovered multiple gunshot victims.
"As they were scooping up victims and preparing them for transport to the hospital, they also heard multiple gunshots up the street," Outlaw said.
Again, as officers were responding to the second shooting scene, more gunshots could be heard on a nearby street, she said.
Both the mayor and police commissioner said the quick response saved lives.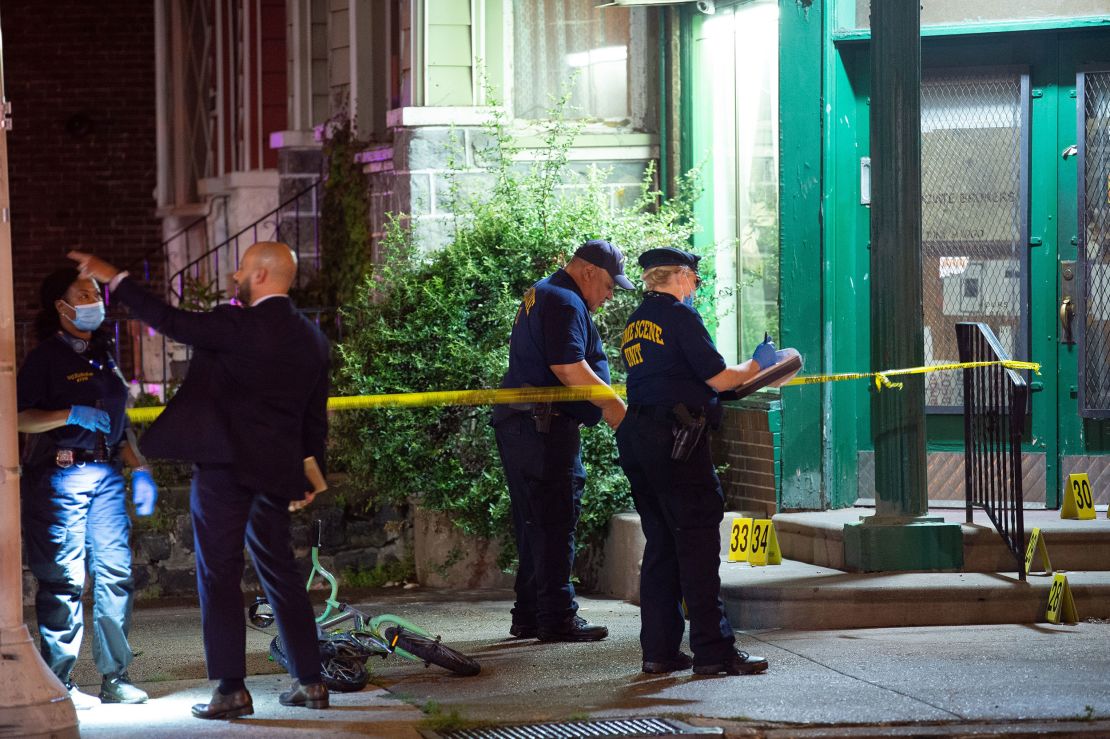 The body of the slain 31-year-old man was found around 12:30 a.m. Tuesday by his father in the living room, according to Small, the chief inspector.
The father reported this to an officer who was in the area investigating the shooting from hours earlier. The man had been shot several times, and responding medics declared him dead shortly after, Small said.
Investigators found seven bullets from a rifle inside the home, Small said. Because of the home's location and ballistic evidence, investigators believe that person's death is related to the others, Small said.
"We believe now this is the seventh (person shot) and it'll be the fifth person that was shot and killed," Small said.
At the news conference, authorities said they think this person was the first who was killed.
CNN's Steve Almasy, Jason Hanna, Elizabeth Wolfe, Christine Sever, Danny Freeman and Sara Smart contributed to this report.