Beauty salons in Afghanistan have been given one month to close as the country's Taliban leaders extend their repressive rule over women, who are already largely confined to their homes with bans on most work and study.
Mohammad Sidik Akif Mahajar, a spokesman for the Ministry for the Propagation of Virtue and Prevention of Vice, confirmed to CNN the order had been given on June 24, with all salons to close by July 27.
Since re-taking control of the country in August 2021, following the shambolic withdrawal of the United States and its allies, the Taliban has rolled back decades of progress on human rights.
According to a recent report by United Nations experts, the Taliban has committed "egregious systematic violations of women's rights," by restricting their access to education and employment and their ability to move freely in society.
The impending closure of beauty salons further diminishes the freedom of women and delivers a harsh economic blow to families who rely on them for income.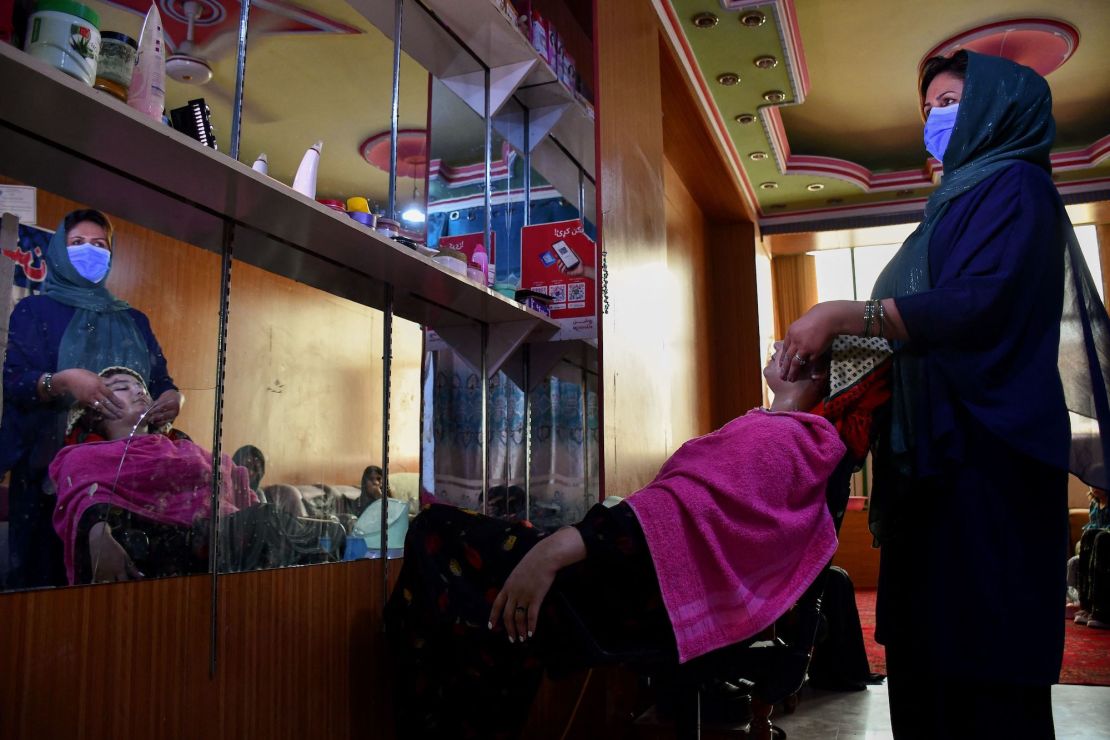 A salon owner in Kabul, who did not want to be named for safety reasons, told CNN she has yet to receive written notice of the order but the reports that she'd have to close had shocked her.
"I don't know how to express my feelings. My husband is jobless and this beauty salon is the only means to feed my family. I have four kids. They need food, clothes and school expenses," she said.
"I don't understand why beauty salons should be banned. No woman is showing off her face with make-up outside. They are already wearing the hijab in public. This move will not only take away the income of so many families, but it will further deprive women of their rights and freedom."
The UN report released last month was compiled after a week-long visit to Afghanistan by Richard Bennett, the Special Rapporteur on the situation of human rights in Afghanistan, and Dorothy Estrada-Tanck, who led a contingent from the working group on discrimination against women and girls.
According to their report, women are banned from working in most sectors outside the home, and are prohibited from attending public baths, parks, and gyms. They must wear a loose-fitting black garment that covers their face, and they're not permitted to leave home without reason, and even then not without a male guardian.
Reports of depression and suicide are widespread, the report found, especially among teenage girls who've been prevented from pursuing an education. Almost 8% of people surveyed knew a girl or woman who had attempted suicide, the report said.
Restrictions imposed outside the home and economic hardship had resulted in "significant tensions" inside homes and a rise in domestic violence, and there was "notable evidence" of a "significant increase" in forced marriage of girls, the report found.
In an interview published Tuesday, Markus Potzel, the Deputy Special Representative for the UN Assistance Mission, urged Afghanistan's "de facto authorities" to give girls and women greater freedoms, if they want to attract international aid.
"They should let girls go to university. They should let women work for international NGOs, for national NGOs, and for UN organizations. And they should let women participate in social life," he said.
"If this happens, I can imagine that Afghanistan would be integrated into the international community again, and international donors would also rethink and probably reinforce engagement with Afghanistan.
"Afghanistan needs international help. And we, as the UN, want to help them help themselves."