The family of Melissa Perez, who was fatally shot in her home by San Antonio police in June, is filing a wrongful-death lawsuit against the city and three officers involved who have been charged with murder.
The suit alleges the San Antonio Police Department's "formal and informal policies were the moving force behind" the 46-year-old woman's death. It also claims the police department's policies relating to mental health calls and the mental health unit caused Perez's death.
The department's "consistent failure to discipline its officers created a culture of tolerance for the improper and unconstitutional use of excessive force," according to the complaint.
The police encounter with Perez unfolded on June 23 after the officers responded to a call about a woman cutting wires to a fire alarm system at her apartment complex, San Antonio Police Chief William McManus said in a news conference shortly after the shooting.
"It appeared that Ms. Perez was having a mental health crisis," the chief said.
After initially speaking with officers outside, Perez went back inside her apartment and locked the door, according to McManus. An officer later tried to open a window and Perez threw a glass candleholder at him, McManus said.
At one point, Perez swung a hammer at an officer but hit the window instead, breaking it, police said. One officer opened fire, according to McManus, but Perez was not hit and could be heard still speaking on officers' body camera video.
She then "advanced toward the window again while still holding the hammer, and all three officers opened fire," McManus said. She died at the scene.
Although she was allegedly approaching the officers with a hammer when they opened fire, the arrest warrant said Perez "did not pose an imminent threat of serious bodily injury or death when she was shot because the defendants had a wall, a window blocked by a television, and a locked door between them."
Officer Eleazar Alejandro, 28; Sgt. Alfred Flores, 45; and Officer Nathaniel Villalobos, 27, were all charged with murder less than 24 hours after the encounter.
All three are suspended from the force without pay as the investigation continues. They were released on $100,000 bond, Bexar County jail records show, and none commented to CNN at the time. All three have been suspended without pay, according to a city spokesperson.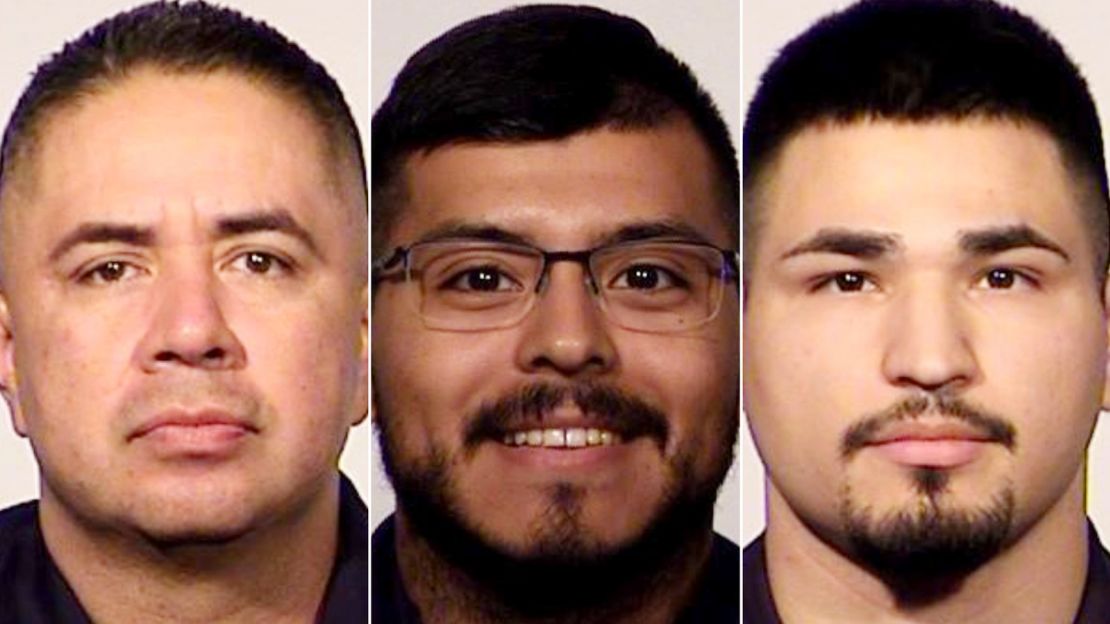 Perez's family is now asking for compensation "in an amount that is commensurate with the harm done" and to "address the improvements that need to be made, and then do the hard work needed to make sure that Melissa Perez is the last person in San Antonio wrongfully killed by the police."
The plaintiffs in the suit "have serious and legitimate complaints about the City of San Antonio policymakers…for the policies, procedures, training, and lack of enforcement that directly led to this shooting. Plaintiffs feel strongly that the City itself is also liable for Ms. Perez's death," the complaint read.
"The City's policymakers acted with deliberate indifference to the known or obvious constitutional violations that would result from such policies," the document read.
San Antonio city officials said they "will seek a speedy resolution through the judicial system," according to a statement.
"The San Antonio Police Department has well established training, policies and procedures in place that preserve the Constitutional rights of our residents. The officers involved in this incident didn't follow proper training, policies and procedures," said San Antonio city attorney Andy Segovia.
CNN is reaching out to SAPD and the three officers for comment.
In a statement, the head of the San Antonio police union expressed condolences to Perez's family. San Antonio Police Officers' Association President Danny Diaz said McManus "followed all necessary protocols" in the wake of the shooting.
Diaz "cannot speak to the matter further until the investigation is complete and judicial process is underway," the statement said.
Perez's children, who range in age from 9 to 24 years old, have been struck with "incomprehensible grief" following their mothers' death, the family's attorney, Dan Packard, told CNN last week.
"There's no words to explain to a 9-year-old how three police officers all thought it was OK to gun this woman down in unison while she was in her own house behind a wall," Packard said.
CNN's Andy Rose contributed to this report.