A bag covered by a tarp and hidden under a log was almost certainly used by Michael Burham, who has been on the run for about a week since escaping a jail in northwestern Pennsylvania, a state patrol official said Thursday.
At a daily media update on the manhunt for Burham, who allegedly escaped through a hole in the gated covering of an exercise room at the jail in Warren County, State Police Lt. Col. George Bivens showed a photo of the stash as an example of the stockpiles they have found in the search.
"It contains clothing, some food and some other materials that someone might need if they were trying to exist in the woods," Bivens said. He said it was found in a wooded area near the city of Warren. "We do believe that this one was his."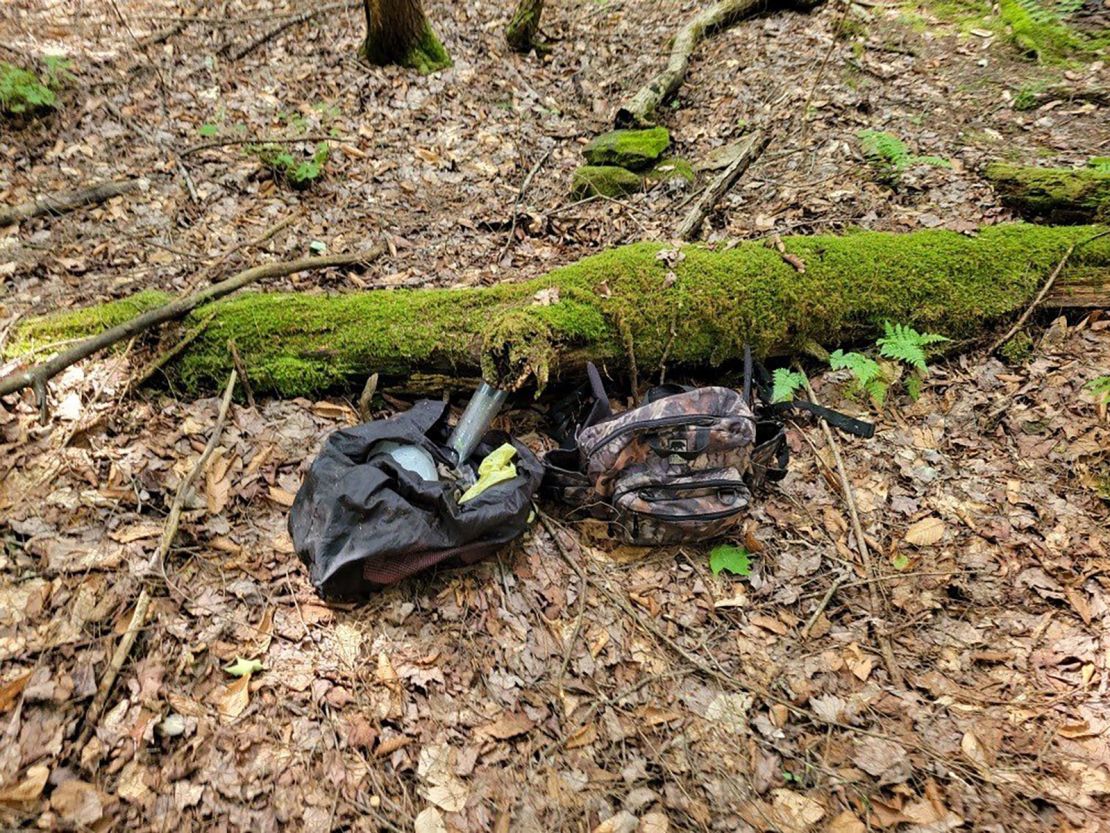 Bivens wouldn't disclose any other details about the bag, like where in the area it was found, saying he knows a lot of people will be out hiking and biking this weekend and they should keep an eye out for similar caches.
The city of Warren is just outside the Allegheny National Forest. Authorities have not considered shutting down access to the forest and other areas, Bivens said.
Authorities have said Burham has survivalist skills and the totality of the evidence leads them to believe he is still in the area. Bivens told CNN the search teams include people who specialize in how to survive and move around in wilderness and other remote areas.
Burham was in jail on an arson and burglary case. Police also say he is the suspect in a May homicide in New York.
There are 200 law enforcement personnel from 15 agencies involved in the manhunt. A majority of the manpower and resources is in the area where authorities believe it is most likely Burham is, but the search goes wherever information leads them, Bivens said.
When asked about reports that a drone was outside the jail at the time of Burham's escape, Bivens said they have leads, but nothing conclusive yet.
Burham escaped last Thursday a little before midnight from an exercise yard atop the Warren County Prison, a facility that holds up to 140 inmates awaiting trial or who have jail sentences of two years or less.
Warren County Commissioner Jeff Eggleston said Wednesday that as a corrections officer monitored Burham and three other detainees on video, Burham used exercise equipment to raise himself toward a hole in the fencing that covers the open air yard. Within seconds, Burham got onto the roof of the jail and then used a rope of sheets to lower himself to the ground.
The guard pressed the alarm as he saw the escape unfolding but Burham was able to descend from the roof before any officers could get to the spot, Eggleston said, adding the escape took seconds and staff had done everything they could to stop Burham.
Officials think the former military reservist is armed and dangerous.
Asked whether he has a message for Burham, Bivens said, "You need to surrender. Don't do anything foolish that gets anyone else hurt, don't get yourself hurt. We are going to capture you, we are going to bring you back to the criminal justice system. And this just needs to end."
He added, "We are going to catch him, it's a matter of time."
The reward for information leading to Burham's capture is $22,000.
CNN's Aileen Graef contributed to this report.