Iowa Republican Gov. Kim Reynolds signed a bill into law Friday that bans most abortions in the state as early as six weeks into pregnancy.
"This week, in a rare and historic special session, the Iowa legislature voted for a second time to reject the inhumanity of abortion and pass the fetal heartbeat law," she said in remarks ahead of signing the bill at the Family Leadership Summit.
The law, which is effective immediately, comes after Reynolds ordered a special legislative session last week with the sole purpose of restricting the procedure in the state. But it is already facing a legal challenge after a group of abortion providers in the state filed a suit to try and stop the law.
The bill, which passed the state's Republican-controlled legislature earlier this week, prohibits physicians from providing most abortions after early cardiac activity can be detected in a fetus or embryo, commonly as early as six weeks into pregnancy, before many women know they are pregnant.
It includes exceptions for miscarriages, when the life of the pregnant woman is threatened and fetal abnormalities that would result in the infant's death. It also includes exceptions for pregnancies resulting from rapes reported within 45 days and incest reported within 140 days.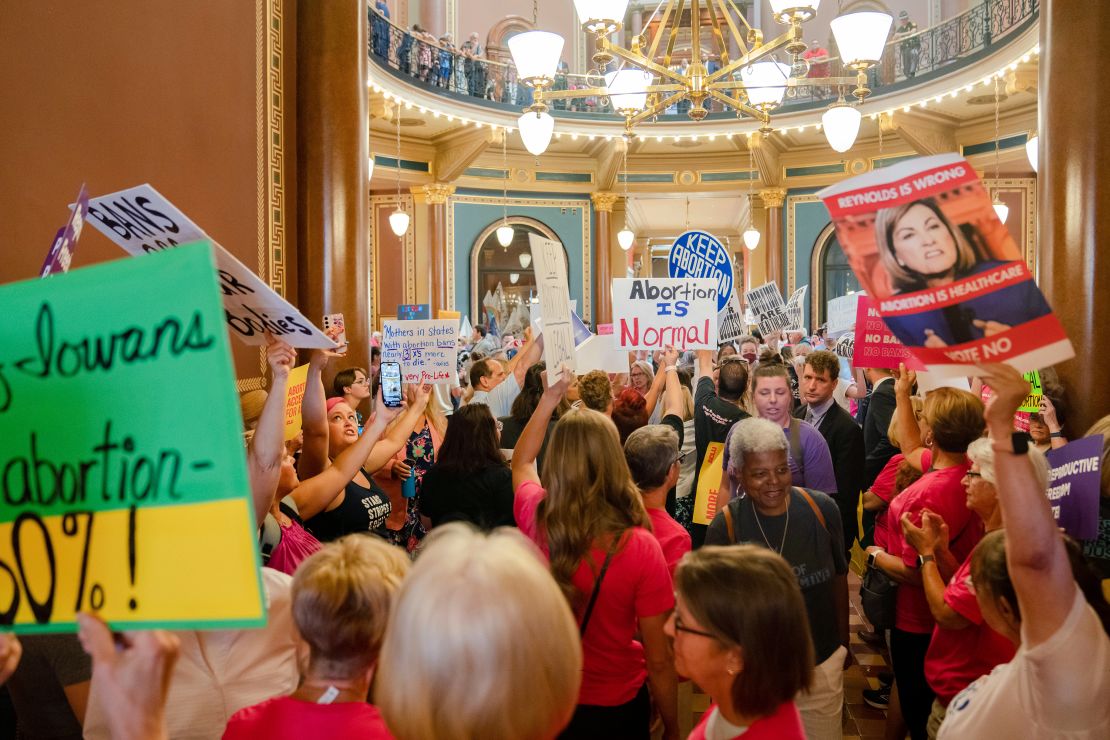 While the bill language makes clear it is "not to be construed to impose civil or criminal liability on a woman upon whom an abortion is performed in violation of the division," guidelines on how physicians would be punished for violating the law are left up to Iowa's board of medicine to decide – leaving the potential for some vagueness in how the law ought to be enforced in the interim.
Iowa joins a growing list of Republican-led states that have championed sweeping abortion restrictions in the wake of last year's Supreme Court ruling overturning Roe v. Wade.
Reynolds' push for abortion restrictions in the state comes weeks after Iowa's Supreme Court declined to lift a block on the state's 2018 six-week abortion ban, deadlocking in a 3-3 vote whether to overturn a lower court decision that deemed the law unconstitutional.
"The Iowa Supreme Court questioned whether this legislature would pass the same law they did in 2018, and today they have a clear answer," Reynolds said Tuesday in a statement following the bill's passage. "The voices of Iowans and their democratically elected representatives cannot be ignored any longer, and justice for the unborn should not be delayed."
Abortion rights supporters have been speaking out against the abortion ban in the state. National Committee Chair Jaime Harrison called the ban the "latest show of abortion extremism from MAGA Republicans."
"Governor Kim Reynolds just signed a cruel abortion ban into law among a crowd of extremists who cheered as Iowan women's abortion rights were stripped away," Harrison said in a statement Friday.
Meanwhile, anti-abortion groups, including National Right to Life and Iowa Right to Life, praised Reynolds and the law's supporters in the state legislature for the abortion ban.
"We will continue to advocate for life and will not stop fighting until abortion becomes unthinkable," Kristi Judkins, executive director of Iowa Right to Life said in a statement. "We want to see lives saved and women no longer placed in harm's way because of abortion."
This story has been updated with additional information.
CNN's Veronica Stracqualursi, Shawna Mizelle and Jack Forrest contributed to this report.