A version of this story appeared in the July 14 edition of CNN's Royal News, a weekly dispatch bringing you the inside track on Britain's royal family. Sign up here.
Unless you live under a rock you probably know that US President Joe Biden has spent the past few days here in Europe. While the main purpose of the trip was a crucial NATO summit in Lithuania, the president started the week with a brief stop in London aimed at bolstering the US-UK "special relationship."
It was a visit of high-stakes diplomacy that came days after the American commander-in-chief's controversial decision to send cluster munitions to Ukraine – something the UK is firmly against as a signatory of a ban on the weapon.
First, he met with UK Prime Minister Rishi Sunak before climbing aboard Marine One for a short flight to Windsor to meet King Charles III. It was their first in-person chat since Charles was crowned in May. But there appeared to be no hurt feelings over Biden's non-attendance at the coronation, with the King warmly welcoming his guest with a guard of honor.
This wasn't a full-on formal state visit, which usually lasts several days and is full of pageantry, diplomatic sit-downs and a glittering Buckingham Palace banquet. Instead, the catch-up was billed as a ceremonial state welcome.
The display of military personnel – formed of the Prince of Wales' Company of the Welsh Guards on this occasion – was "designed to show the ultimate respect to the United States, our greatest ally, and used troops with some of the closest links to the King who are also preparing to deploy to the US to train alongside US forces in a matter of weeks," according to the British Army.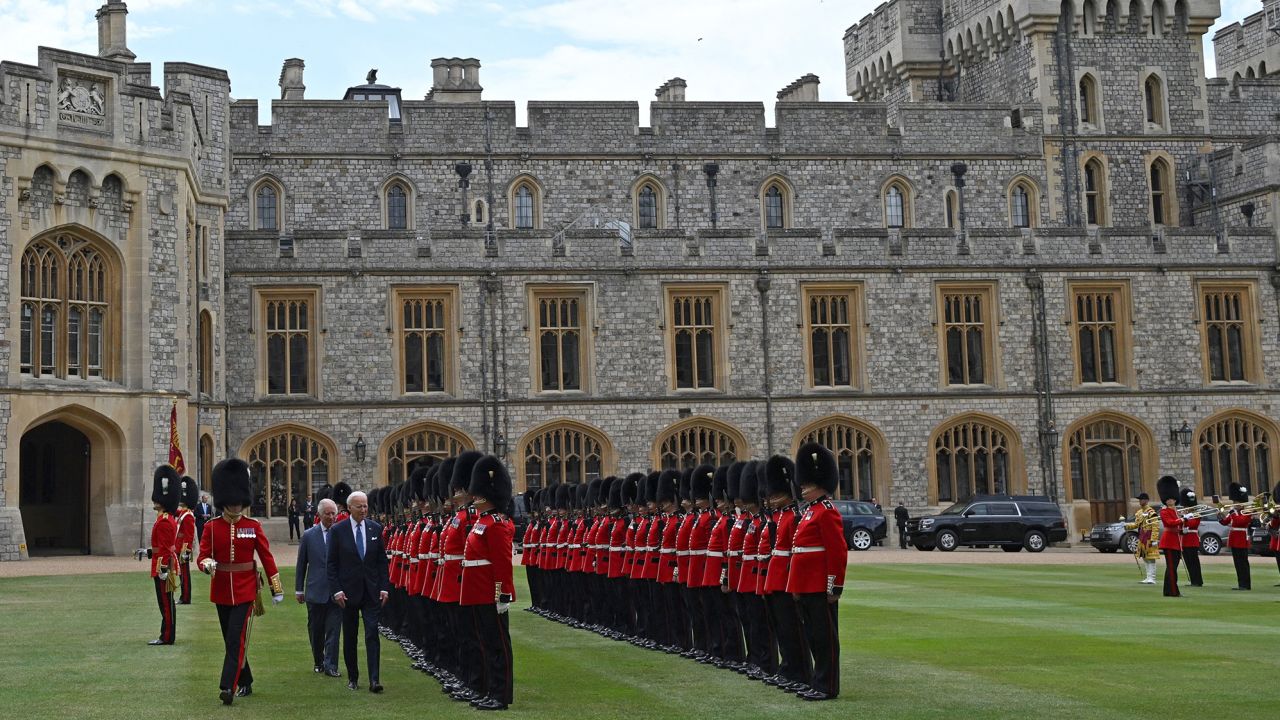 National anthems were performed, followed by the two heads of state inspecting the troops. At several points, Biden placed his hand on the King's back, in a tactile display of their close rapport. The gesture was later described to us by a royal source as being a "wonderful symbol of warmth and affection."
As is often the case when a president comes to town, some observers scrutinized Biden's moves for a potential breach of regal etiquette. But the royal source told CNN that the King is "entirely comfortable with that kind of contact" and that "contrary to some reports that is in fact the correct protocol."
Afterward, the two had tea together before they viewed a Royal Collection exhibition of items relating to the US. On the face of it, the encounter seemed entirely similar to those conducted by the late Queen Elizabeth II. However, there was some deviation you may have missed.
Ahead of the meeting, it was revealed what the monarch and president would be discussing on Monday: climate change – a subject important to both men. It was a move that Charles' late mother never allowed. The Queen, always regimented and steadfast in her duties, never revealed what she discussed with the 12 presidents she met during her reign. The few insights we've had have come from former presidents and tended to reveal how she made them feel welcomed or their impressions of her given her lengthy reign, rather than the specifics of their meetings.
Another departure from the Queen's approach to presidential meetings was that a concurrent event took place at Windsor Castle, which the pair later joined in the castle's Green Drawing Room. High-profile private sector stakeholders had been brought together for a Climate Finance Mobilisation Forum aimed at bolstering "commitments to climate action within emerging markets and developing economies."
UK Energy Security Secretary Grant Shapps heralded the King's "many decades" of sounding the alarm around climate change and told Biden he was "enormously pleased" by the climate provisions in the US Inflation Reduction Act passed last August. He noted there would be "a couple of billion dollars' worth of pledges" coming out of the meeting, adding that the group planned to turn their discussion into "real, tangible outcomes."
Neither the King nor Biden spoke on camera while media were allowed in the room. Among the group of top financiers and philanthropists was Biden's special presidential envoy for climate, John Kerry. He spoke to us for a few minutes afterward and called Monday's engagement "time well spent" and praised the King's "convening power" on a critical issue.
The attendees "agreed that we need to accelerate the deployment of capital, money, investment in the new energy economy." The president, Kerry said, was particularly interested in a part of the discussion focused on "what could be done in the insurance industry to be able to provide insurance for certain types of investments."
Some critics had questioned whether the King had overstepped by wading into policy. Kerry wouldn't be drawn on the subject but said there had been a "great discussion" and characterized it as more of a "briefing" for the King, who, he said, "didn't take part in the meeting" itself.
The British sovereign, Kerry said, "does have extraordinary convening power."
"He obviously has great respect for people that are pushing an issue he's cared about for all of his life," said Kerry.
CNN's Betsy Klein contributed reporting.