As John Kerry arrived in Beijing Sunday for a long-awaited trip to restart climate negotiations, the US climate envoy stepped off the plane into one of the hottest summers ever recorded in the Chinese capital.
Since 1951, Beijing has seen temperatures breaching 104 degrees Fahrenheit (40 degrees Celsius) on 11 days — with almost half of them occurring in the past few weeks, including a new record for the city's hottest day in June.
In the United States, an extreme heat wave is also swelling, with temperatures in the Southwest soaring as high as 120°F (49°C).
It's a global problem: the planet's hottest day ever was recorded for four straight days earlier this month.
"If anything, this is the situation that should most bring China and the US back on the same page," said Li Shuo, senior global policy adviser at Greenpeace China.
"Regardless of their political differences, the impacts of climate change have now become a common experience for both countries — it's no longer a hypothetical crisis or analytical challenge, but a living reality that can be felt through the skin."
As the world's two biggest polluters — with China's emissions of planet-heating pollution more than double those of the US — the two countries account for nearly 40% of global emissions.
This means attempts to stave off the worst impacts of the climate crisis will need to involve these two powerhouse nations drastically cutting fossil fuel production — yet climate cooperation between them has been largely frozen for nearly a year amid heightened geopolitical tensions.
Last August, Beijing cut off climate talks with Washington in protest at then-US House Speaker Nancy Pelosi's visit to Taiwan — in the middle of the worst heat wave China had seen in six decades.
More than two months of scorching heat dried up reservoirs, killed crops and livestock, crippled power supplies and led to rolling blackouts in some of the largest and most prosperous Chinese metropolises.
This year, sweltering temperatures have arrived even earlier, impacting hundreds of millions of residents and again putting huge strains on the country's electricity grid. China Energy Investment Corporation, the world's largest generator of coal-fired power, said its production of electricity reached a historic high on Monday.
The unrelenting heat waves highlight the urgency for the US and China to resume cooperation, as the unfolding climate crisis will not wait for the two countries to fix their relations first, experts say.
"The suspension of climate talks set a very bad precedent," Li said. "Tensions in bilateral relations shouldn't stand in the way of climate discussions. There needs to be more resilience."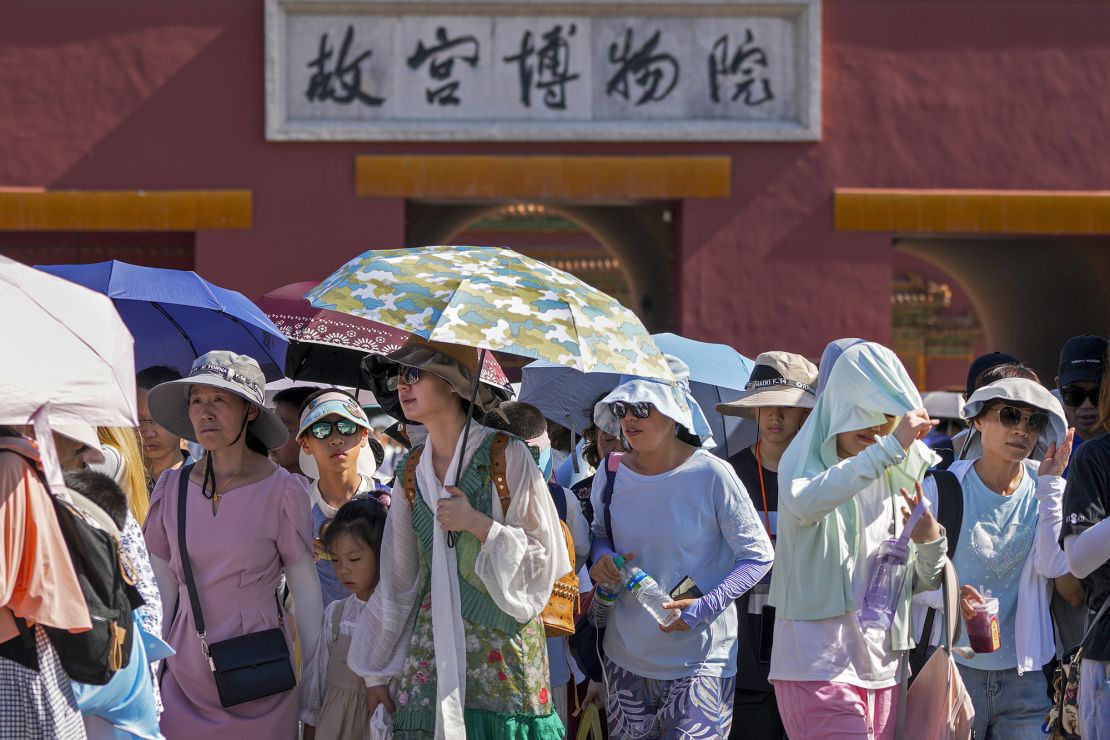 A symbolic trip
Kerry is the third US cabinet member to visit China in recent weeks, as the Biden administration steps up efforts to mend fractured communications and stabilize tense relations with Beijing.
Last month, US Secretary of State Antony Blinken met with Chinese leader Xi Jinping in Beijing, and US Treasury Secretary Janet Yellen met with China's Premier Li Qiang last week. On Thursday, Blinken met with China's top diplomat Wang Yi on the sidelines of a summit in Jakarta.
"In the wake of Covid and ever-worsening US-China relations, climate change promises to be an area where productive collaboration can benefit our two countries and the rest of the world," said Alex Wang, a professor of Law at the University of California, Los Angeles and an expert on Chinese climate policy.
"Each country now has major programs in place to invest in and promote decarbonization, but neither side is moving quickly enough," he added.
Kerry, 79, has traveled to China twice since being appointed as US President Joe Biden's special climate envoy. He visited Shanghai in April 2021 and Tianjin five months later, amid China's rigid zero-Covid restrictions.
This time, Kerry will spend four days in Beijing to meet senior Chinese officials.
"Secretary Kerry aims to engage with the PRC on addressing the climate crisis, including with respect to increasing implementation and ambition and promoting a successful COP28," the US State Department said in a statement Wednesday, referring to China by its formal title, the People's Republic of China.
China's Ministry of Ecology and Environment said the two sides will have an "in-depth exchange of views on cooperation to address climate change."
No breakthroughs expected
Like the visits by Blinken and Yellen, experts don't expect any major announcements from Kerry's trip, but they say the optics are significant.
Li, the Greenpeace analyst, said he would be closely watching who will meet with Kerry in Beijing. The default lineup, he said, includes Kerry's Chinese counterpart Xie zhenhua, Vice Premier Ding Xuexiang and a vice minister of ecology and environment.
If Kerry was granted an audience with Chinese leader Xi, it would send an important signal on Beijing's commitment for future engagement, Li said.
Kerry has previously met with Xi in Beijing and Washington as then-Secretary of state during the Obama administration.
He has also worked closely with Xie, China's special climate envoy, on a groundbreaking US-China climate deal that paved the way for the 2015 Paris climate agreement. The pair also inked the US-China Glasgow joint declaration at the COP26 climate summit in 2021.
Kerry told CNN in a recent interview that US officials were planning to press China on commitments to cut back on burning coal and to slash its emissions of methane, a potent greenhouse gas.
"What we're trying to achieve now is really to establish some stability, if we can in the relationship, without conceding anything," Kerry said. "I'm not going over with any concessions."
Beijing, meanwhile, is likely to ask Washington to remove tariffs on Chinese solar panels, according to Li. "But chances of breakthroughs are slim because these issues are highly political," he said.
A more realistic goal, according to Li, would be for the two sides to resume their joint working group on climate cooperation and pledge to continue communication before COP28 in Dubai, which begins November 30.
Both sides face pressure from their own domestic politics to walk a tightrope.
On Thursday, Republicans grilled Kerry in front of a House panel, attacking him for not doing enough to push China to cut emissions. Some criticized him for even engaging in climate negotiations with China, citing its human rights records and strategic rivalry with the US.
Kerry defended his trip, arguing it would be "malpractice of the worst order, diplomatic and political and common sense" for the US not to talk to China.
"What we're trying to do is find ways we can cooperate to actually address the crisis, because China as the world's second largest economy and as the world's largest emitter is critical to our being able to solve this problem," he said.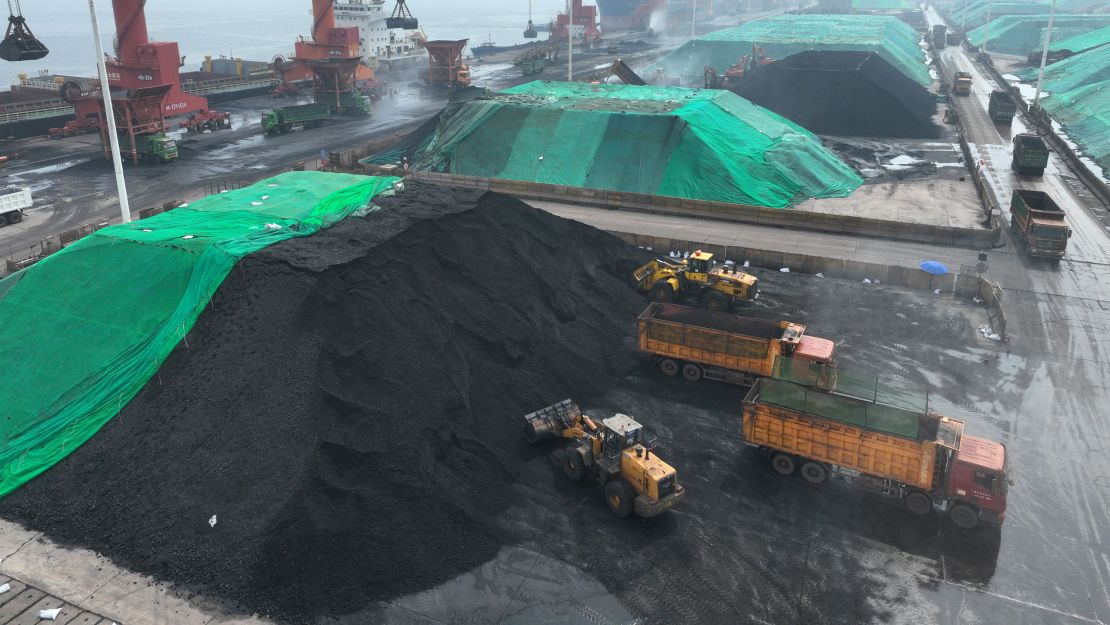 Phasing out coal
Wang, the expert at UCLA, said the speed of China's transition from coal would be a major topic of conversation for Kerry.
"It's almost the number one question that any outsider will have of Chinese officials," he said.
"It's important because it's such an enormous source of emissions and if China doesn't resolve it, all of their success on electric vehicles will not be as meaningful because you're just using electricity generated from coal."
Xi has pledged that China will reach peak carbon emissions by 2030 and become carbon neutral by 2060. That would require the country to phase out coal power, which accounts for about 60% of its total electricity generation.
To achieve that goal, China has massively ramped up installation of clean energy. Its solar capacity is now greater than the rest of the world combined, and its wind capacity is roughly equal to the combined total of the other top seven countries, according to a study from the non-profit Global Energy Monitor.
But at the same time, China has also been building a large number of new coal-fired power plants due to renewed concerns over energy security following months of power shortages in 2021 and 2022.
To many local governments, coal is still seen as the easiest and cheapest solution to power disruptions. "The idea of security and the idea of having sufficient backup for renewable energy are all part of the story of why coal is still being relied on to the degree that it is," Wang said.
In the first quarter of this year, provincial governments approved more new coal-fired electricity generation than they did in all of 2021, according a study of official documents by Greenpeace.
"The expansion of coal is a grave challenge for China's climate policy," Li said. "If coal consumption does not decrease in proportion and in absolute amount, it will be very difficult for China to achieve long-term and meaningful emission reductions."
CNN's Helen Regan and Ella Nilsen contributed reporting.